Abstract
Background
Currently, there is no consensus for an optimal minimally invasive esophagectomy (MIE) approach. This study aimed to compare hybrid MIE (hMIE) with neck-abdominal first approach to standard open esophagectomy (OE).
Methods
Data from a cohort of 301 patients were retrospectively analyzed. All participants received either hMIE or OE for the treatment of esophageal squamous cell carcinoma at Tokyo Medical and Dental University between January 2003 and December 2013. Analyses included propensity score matching and the Kaplan–Meier statistical method to determine overall survival (OS) and disease-free survival (DFS) of the cohort.
Results
After one-to-one propensity score matching, there were 68 patient pairs. The hMIE group had significantly lower incidence of severe postoperative complications (20.1% vs. 7.4%; p = 0.026) and severe respiratory complications (7.4% vs. 0%; p = 0.058) than the OE group. The 5-year oncological outcomes of the two groups were almost equivalent (OS: OE, 55.0%; hMIE, 69.0%; p = 0.063 and DFS: OE, 54.0%; hMIE, 62.0%; p = 0.28).
Conclusions
This study compared hMIE with neck-abdominal first approach to standard OE. The results showed significantly less severe postoperative complications for hMIE with neck-abdominal first approach in comparison with OE, without a compromise in long-term oncological outcomes.
This is a preview of subscription content, log in to check access.
Access options
Buy single article
Instant access to the full article PDF.
US$ 39.95
Price includes VAT for USA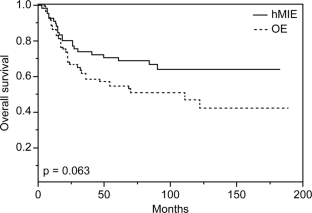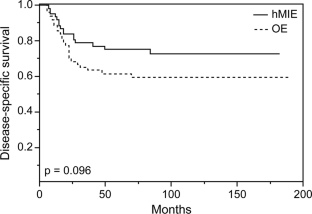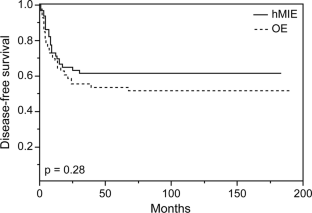 References
1.

Abunasra H, Lewis S, Beggs L et al (2005) Predictors of operative death after oesophagectomy for carcinoma. Br J Surg 92:1029–1033

2.

Pierre AF, Luketich JD (2002) Technique and role of minimally invasive esophagectomy for premalignant and malignant diseases of the esophagus. Surg Oncol Clin N Am 11:337–350

3.

Dolan JP, Kaur T, Diggs BS et al (2013) Impact of comorbidity on outcomes and overall survival after open and minimally invasive esophagectomy for locally advanced esophageal cancer. Surg Endosc 27:4094–4103

4.

Noble F, Kelly JJ, Bailey IS et al (2013) A prospective comparison of totally minimally invasive versus open Ivor Lewis esophagectomy. Dis Esophagus 26:263–271

5.

Pham TH, Perry KA, Dolan JP et al (2010) Comparison of perioperative outcomes after combined thoracoscopic-laparoscopic esophagectomy and open Ivor-Lewis esophagectomy. Am J Surg 199:594–598

6.

Ben-David K, Sarosi GA, Cendan JC et al (2012) Decreasing morbidity and mortality in 100 consecutive minimally invasive esophagectomies. Surg Endosc 26:162–167

7.

Mariette C, Markar SR, Dabakuyo-Yonli TS et al (2019) Hybrid minimally invasive esophagectomy for esophageal cancer. N Engl J Med 380:152–162

8.

Biere SS, van Berge Henegouwen MI, Maas KW et al (2012) Minimally invasive versus open oesophagectomy for patients with oesophageal cancer: a multicentre, open-label, randomised controlled trial. Lancet 379:1887–1892

9.

Palanivelu C, Prakash A, Senthilkumar R et al (2006) Minimally invasive esophagectomy: thoracoscopic mobilization of the esophagus and mediastinal lymphadenectomy in prone position–experience of 130 patients. J Am Coll Surg 203:7–16

10.

Sgourakis G, Gockel I, Radtke A et al (2010) Minimally invasive versus open esophagectomy: meta-analysis of outcomes. Dig Dis Sci 55:3031–3040

11.

Luketich JD, Pennathur A, Awais O et al (2012) Outcomes after minimally invasive esophagectomy: review of over 1000 patients. Ann Surg 256:95–103

12.

Rice TW, Blackstone EH, Rusch VW (2010) 7th Edition of the AJCC cancer staging manual: esophagus and esophagogastric junction. Ann Surg Oncol 17:1721–1724

13.

Rosenbaum PR, Rubin DB (1983) The central role of the propensity score in observational studies for causal effects. Biometrika 70:41–55

14.

Kawano T, Iwai T (2001) Hand-assisted thoracoscopic esophagectomy using a new supportive approach. Surg Endosc 15:330

15.

Dindo D, Demartines N, Clavien PA (2004) Classification of surgical complications: a new proposal with evaluation in a cohort of 6336 patients and results of a survey. Ann Surg 240:205–213

16.

Kinjo Y, Kurita N, Nakamura F et al (2012) Effectiveness of combined thoracoscopic-laparoscopic esophagectomy: comparison of postoperative complications and midterm oncological outcomes in patients with esophageal cancer. Surg Endosc 26:381–390

17.

Li J, Shen Y, Tan L et al (2015) Is minimally invasive esophagectomy beneficial to elderly patients with esophageal cancer? Surg Endosc 29:925–930

18.

Lv L, Hu W, Ren Y et al (2016) Minimally invasive esophagectomy versus open esophagectomy for esophageal cancer: a meta-analysis. Onco Targets Ther 9:6751–6762

19.

Guo W, Ma X, Yang S et al (2016) Combined thoracoscopic-laparoscopic esophagectomy versus open esophagectomy: a meta-analysis of outcomes. Surg Endosc 30:3873–3881

20.

Nagpal K, Ahmed K, Vats A et al (2010) Is minimally invasive surgery beneficial in the management of esophageal cancer? A meta-analysis. Surg Endosc 24:1621–1629

21.

Ahmadi N, Crnic A, Seely AJ et al (2018) Impact of surgical approach on perioperative and long-term outcomes following esophagectomy for esophageal cancer. Surg Endosc 32:1892–1900

22.

Osugi H, Takemura M, Higashino M et al (2003) A comparison of video-assisted thoracoscopic oesophagectomy and radical lymph node dissection for squamous cell cancer of the oesophagus with open operation. Br J Surg 90:108–113

23.

Iwahashi M, Nakamori M, Nakamura M et al (2014) Clinical benefits of thoracoscopic esophagectomy in the prone position for esophageal cancer. Surg Today 44:1708–1715

24.

Baba H, Tokai R, Hirano K et al (2019) Risk factors for postoperative pneumonia after general and digestive surgery: a retrospective single-center study. Surg Today. https://doi.org/10.1007/s00595-019-01911-9

25.

Howells P, Thickett D, Knox C et al (2016) The impact of the acute respiratory distress syndrome on outcome after oesophagectomy. Br J Anaesth 117:375–381

26.

Fiorelli S, Defraia V, Cipolla F et al (2018) Short-term one-lung ventilation does not influence local inflammatory cytokine response after lung resection. J Thorac Dis 10:1864–1874

27.

Li KK, Wang YJ, Liu XH et al (2019) Propensity-matched analysis comparing survival after hybrid thoracoscopic-laparotomy esophagectomy and complete thoracoscopic-laparoscopic esophagectomy. World J Surg 43:853–861. https://doi.org/10.1007/s00268-018-4843-z

28.

Berlth F, Plum PS, Chon SH et al (2018) Total minimally invasive esophagectomy for esophageal adenocarcinoma reduces postoperative pain and pneumonia compared to hybrid esophagectomy. Surg Endosc 32:4957–4965

29.

Seesing MFJ, Gisbertz SS, Goense L et al (2017) A propensity score matched analysis of open versus minimally invasive transthoracic esophagectomy in the Netherlands. Ann Surg 266:839–846

30.

Straatman J, van der Wielen N, Cuesta MA et al (2017) Minimally invasive versus open esophageal resection: three-year follow-up of the previously reported randomized controlled trial: the TIME trial. Ann Surg 266:232–236

31.

Ninomiya I, Okamoto K, Fushida S et al (2017) Efficacy of CO2 insufflation during thoracoscopic esophagectomy in the left lateral position. Gen Thorac Cardiovasc Surg 65:587–593

32.

Altorki NK, Zhou XK, Stiles B et al (2008) Total number of resected lymph nodes predicts survival in esophageal cancer. Ann Surg 248:221–226

33.

van der Schaaf M, Johar A, Wijnhoven B et al (2015) Extent of lymph node removal during esophageal cancer surgery and survival. J Natl Cancer Inst. https://doi.org/10.1093/jnci/djv043

34.

Lagergren J, Mattsson F, Zylstra J et al (2016) Extent of lymphadenectomy and prognosis after esophageal cancer surgery. JAMA Surg 151:32–39

35.

Lagarde SM, de Boer JD, ten Kate FJ et al (2008) Postoperative complications after esophagectomy for adenocarcinoma of the esophagus are related to timing of death due to recurrence. Ann Surg 247:71–76

36.

Saeki H, Tsutsumi S, Tajiri H et al (2017) Prognostic significance of postoperative complications after curative resection for patients with esophageal squamous cell carcinoma. Ann Surg 265:527–533
Acknowledgements
We would like to thank Editage (www.editage.com) for English language editing.
Ethics declarations
Conflict of interest
The authors declare that they have no conflict of interest.
Ethical approval
This study was approved by the Ethics Committee of Tokyo Medical and Dental University (Approval number: M2018-161), and was performed in accordance with the ethical principles of the Helsinki Declaration.
Informed consent
Written informed consent was obtained from all patients included in the study.
Additional information
Publisher's Note
Springer Nature remains neutral with regard to jurisdictional claims in published maps and institutional affiliations.
About this article
Cite this article
Hoshino, A., Nakajima, Y., Kawada, K. et al. The Impact of Hybrid Minimally Invasive Esophagectomy with Neck-Abdominal First Approach on the Short- and Long-Term Outcomes for Esophageal Squamous Cell Carcinoma. World J Surg (2020). https://doi.org/10.1007/s00268-020-05655-3