Abstract
Background
In the majority of cases, the sentinel node is the only positive node in the axilla and completion ALND (cALND) is a futile procedure. However, refraining from cALND will lead to less accurate staging and, possibly, undertreatment. To help resolve this dilemma, we examined the clinical value of cALND in staging and determining adjuvant treatment.
Methods
In a retrospective cohort, all consecutive patients over a five-year period with primary breast cancer who received ALND were identified and grouped based on timing of ALND. Total nodal yield and positive lymph nodes were defined and factors with possible impact identified. In the case of cALND, N-status upstaging and possible impact on adjuvant treatment were studied in detail.
Results
A total of 280 patients were selected of whom 204 underwent primary ALND (pALND) and 76 cALND. pALND resulted in a significantly higher total nodal yield and more positive nodes when compared to cALND (p = 0.003, and p < 0.001, respectively). Neoadjuvant chemotherapy (NAC) had no effect on total nodal yield (p = 0.413), but resulted in fewer positive nodes (p < 0.001). Due to the results of cALND, only 11 patients (14%) had upstaging of N-status. All these patients were advised more extensive adjuvant radiotherapy.
Conclusion
In the majority of patients, cALND does not lead to upstaging. cALND should be performed only after a careful discussion with the patient about the pros and cons of this procedure, and most probably only in the presence of multiple risk factors for axillary disease in the absence of systemic therapy.
This is a preview of subscription content, log in to check access.
Access options
Buy single article
Instant access to the full article PDF.
US$ 39.95
Price includes VAT for USA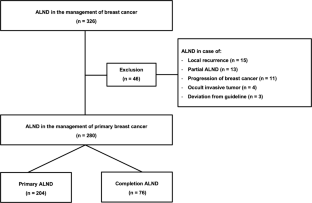 Acknowledgements
We would like to express our gratitude to Joost van Rosmalen, from the Department of Biostatistics, Erasmus MC, Rotterdam, for his assistance with the statistical analysis in our study.
Funding
This study did not receive any grants or funding.
Ethics declarations
Conflict of interest
The authors declare no conflicts of interest.
Informed consent
Consent was given for registration of medical data for anonymous research.
Additional information
Publisher's Note
Springer Nature remains neutral with regard to jurisdictional claims in published maps and institutional affiliations.
About this article
Cite this article
van Bekkum, S., Kraima, A.C., Westenend, P.J. et al. The Dilemma After an Unforeseen Positive Sentinel Node in Primary Breast Cancer: Is Completion Axillary Dissection Necessary?. World J Surg (2020). https://doi.org/10.1007/s00268-020-05650-8