Abstract
Purpose
Laparoscopic proximal gastrectomy (LPG) is a function-preserving surgery performed on patients with cancer of the upper third of the stomach. However, if much of the ingested food passes through the jejunum, LPG might function broadly like a total gastrectomy. We devised a jejunogastrostomy with double-tract reconstruction (DTR) to ensure that most food flows easily to the remnant stomach.
Methods
A side-to-side jejunogastrostomy was created between the remnant stomach's posterior wall and the jejunum 10 cm below the esophagojejunostomy, and the common stab incision was also closed with a linear stapler. The jejunogastrostomy was created as a delta-shaped anastomosis by using only linear staplers. The 15 patients who underwent delta-shaped anastomosis from 2017 to 2018 were retrospectively reviewed to collect and analyze their surgical and postoperative outcomes, including nutritive conditions, in comparison to the reconstruction that was performed before then.
Results
Operative times and postoperative complications were not significantly different compared to the previous reconstruction. We confirmed significant differences in operative bleeding and passage of food through the remnant stomach. The level of nutritional indicators at the end of postoperative year one did not tend to be lower, but total weight loss (TWL) and %TWL were significantly lower. As expected, there was a correlation between differences in jejunogastrostomy type and postoperative malnutrition.
Conclusions
This method devised for intracorporeal DTR provided patients with improved postoperative nutritional status by directing more food through the remnant stomach after LPG.
This is a preview of subscription content, log in to check access.
Access options
Buy single article
Instant access to the full article PDF.
US$ 39.95
Price includes VAT for USA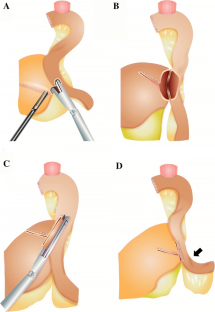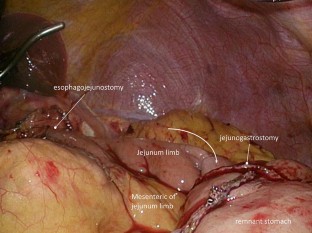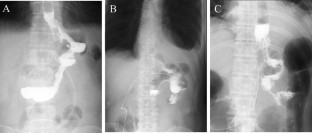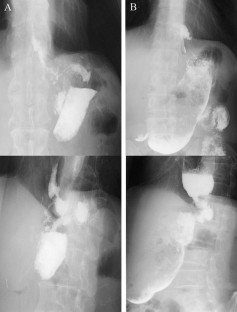 References
1.

Ahn HS, Lee HJ, Yoo MW et al (2011) Changes in clinicopathological features and survival after gastrectomy for gastric cancer over a 20-year period. Br J Surg 98:255–260

2.

Japanese Gastric Cancer Association (2017) Japanese gastric cancer treatment guidelines 2014 (ver. 4). Gastric Cancer 20:1–9

3.

Giacopuzzi S, Bencivenga M, Weidelmayer J et al (2017) Western strategy for EGJ carcinoma. Gastric Cancer 20:60–68

4.

Takiguchi N, Takahashi M, Ikeda M et al (2015) Long-term quality-of-life comparison of total gastrectomy and proximal gastrectomy by postgastrectomy syndrome assessment scale (PGSAS-45): a nationwide multi-institutional study. Gastric Cancer 18:407–416

5.

Nakamura M, Yamaue H (2016) Reconstruction after proximal gastrectomy for gastric cancer in upper third of the stomach: a review of the literature published from 2000 to 2014. Surg Today 46:517–527

6.

Yamashita K, Iwatsuki M, Koga Y et al (2019) Preservation of physiological passage through the remnant stomach prevents postoperative malnutrition after proximal gastrectomy with double tract reconstruction. Surg Today 49:748–754

7.

Abdiev S, Kodera Y, Fujiwara M et al (2011) Nutritional recovery after open and laparoscopic gastrectomies. Gastric Cancer 14:144–149

8.

Climent M, Munarriz M, Blazeby JM et al (2017) Weight loss and quality of life in patients surviving 2 years after gastric cancer resection. Eur J Surg Oncol 43:1337–1343

9.

Yu W, Seo BY, Chung HY (2002) Postoperative body-weight loss and survival after curative resection for gastric cancer. Br J Surg 89:467–470

10.

Ahn SH, Jung DH, Son SY et al (2014) Laparoscopic double-tract proximal gastrectomy for proximal early gastric cancer. Gastric Cancer 17:562–570

11.

Weimann A, Braga M, Carli F et al (2017) ESPEN guideline: clinical nutrition in surgery. Clin Nutr 36:623–650

12.

Adachi Y, Kitano S, Sugimachi K (2001) Surgery for gastric cancer: 10-year experience worldwide. Gastric Cancer 4:166–174

13.

Takiguchi S, Masuzawa T, Hirao M et al (2011) Pattern of surgical treatment for early gastric cancers in upper third of stomach. Hepatogastroenterology 58:1823–1827

14.

Nunobe S, Hiki N (2017) Function-preserving surgery for gastric cancer: current status and future perspectives. Transl Gastroenterol Hepatol 2:77

15.

Kojima M, Hosoda H, Date Y et al (1999) Ghrelin is a growth-hormone-releasing acylated peptide from stomach. Nature 402:656–660

16.

Wang S, Lin S, Wang H et al (2018) Reconstruction methods after radical proximal gastrectomy: a systemic review. Medicine 97:11

17.

Nomura E, Lee SW, Kawai M et al (2014) Functional outcomes by reconstruction technique following laparoscopic proximal gastrectomy for gastric cancer: double tract versus jejunal interposition. World J Surg Oncol 12:20

18.

Takase M, Sumiyama Y, Nagano J (2003) Quantitative evaluation of reconstruction methods after gastrectomy using a new type of examination: digestion and absorption test with stable isotope 13C-labeled lipid compound. Gastric Cancer 6:134–141

19.

Masuzawa T, Takiguchi S, Hirao M et al (2014) Comparison of perioperative and long-term outcomes of total and proximal gastrectomy for early gastric cancer: a multi-institutional retrospective study. World J Surg 38:1100–1106. https://doi.org/10.1007/s00268-013-2370-5

20.

Tokunaga M, Ohyama S, Hiki N et al (2008) Endoscopic evaluation of reflux esophagitis after proximal gastrectomy: comparison between esophagogastric anastomosis and jejunal interposition. World J Surg 32:1473–1477. https://doi.org/10.1007/s00268-007-9459-7

21.

Baba S, Sasaki A, Nakajima J et al (2009) Assessment of gastric motor function by cine magnetic resonance imaging. Gastroenterol Hepatol 24:1401–1406

22.

Hong J, Qian L, Wang YP et al (2016) A novel method of delta-shaped intracorporeal double-tract reconstruction in totally laparoscopic proximal gastrectomy. Surg Endosc 30:2396–2403
Funding
This study received no funding.
Ethics declarations
Conflict of interest
The authors declare that they have no conflict of interest.
Ethical approval
All procedures performed in this study were in accordance with the ethical standards of the institutional and/or national research committee and with the 1964 Helsinki Declaration and its later amendments or comparable ethical standards. Ethical approval was obtained from the institutional review board of the Teikyo University (No 18-207).
Informed consent
Informed consent was obtained prior to recruitment from all individual participants included in this study.
Additional information
Publisher's Note
Springer Nature remains neutral with regard to jurisdictional claims in published maps and institutional affiliations.
About this article
Cite this article
Fujimoto, D., Taniguchi, K. & Kobayashi, H. Double-Tract Reconstruction Designed to Allow More Food Flow to the Remnant Stomach After Laparoscopic Proximal Gastrectomy. World J Surg 44, 2728–2735 (2020). https://doi.org/10.1007/s00268-020-05496-0