Abstract
Background
Pancreato-duodenectomy (PD) is a technically challenging operation with significant morbidity and mortality. Over the period of time, Tata Memorial Centre has evolved into a high-volume centre for management of pancreatic cancer. Aim of this study is to report the short- and long-term outcomes of 1200 consecutive PDs performed at single tertiary cancer centre in India.
Methods
1200 PDs were performed from 1992 to 2017. Prospectively maintained database was used to retrospectively assess the short- and long-term outcomes.
Results
Study cohort was divided into periods A and B (500 and 700 patients, respectively). Both groups were comparable for demographic variables. Overall morbidity and mortality in entire cohort were 31.2% and 3.9%, respectively. Period B documented significant reduction in post-operative mortality (5.4% vs 2.8%), post-pancreatectomy haemorrhage (5.8% vs 3%) and bile leaks (3.4% vs 1.3%). However, incidence of delayed gastric emptying and clinically relevant post-operative pancreatic fistula was higher in period B. With median follow-up of 25 months, 3-year overall survival and disease-free survival for patients with pancreatic cancer were 43.7% and 38.7%, respectively, and that for periampullary tumours were 65.9% and 59.4%, respectively. Period B also corresponded with dissemination of technical expertise across diverse regions of India with specialised training of 35 surgeons.
Conclusion
Our study demonstrates the feasibility of delivering high-quality care in a dedicated high-volume centre even in a country with low incidence of pancreatic cancer with marked disparities in medical care and socio-economic conditions. Improved outcomes underscore the need to promote regionalisation via a dedicated training programme.
This is a preview of subscription content, log in to check access.
Access options
Buy single article
Instant access to the full article PDF.
US$ 39.95
Price includes VAT for USA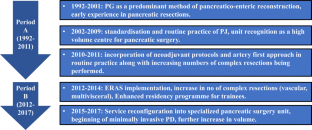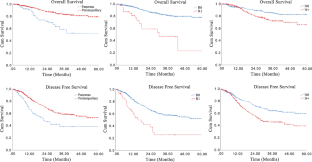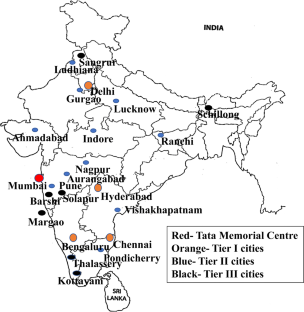 References
1.

Anderson K, Mack T, Silverman D (2018) Cancer of the pancreas. In: Cancer epidemiology and prevention. Oxford University Press; ISBN: 9780190238667

2.

Salim EI, Moore MA, Bener A et al (2010) Cancer epidemiology in South-West Asia—past, present and future. Asian Pac J Cancer Prev 11(Suupl 2):33–48

3.

Ilic M, Ilic I (2016) Epidemiology of pancreatic cancer. World J Gastroenterol 22:9694–9705

4.

Dal Molin M, Zhang M, de Wilde RF et al (2015) Very long term survival following resection for pancreatic cancer is not explained by commonly mutated genes: results of whole-exome sequencing analysis. Clin Cancer Res 21:1944–1950

5.

Birkmeyer JD, Finlayson SR, Tosteson AN et al (1997) Effect of hospital volume on in-hospital mortality with pancreaticoduodenectomy. Surgery 125:250–256

6.

Yeo CJ, Cameron JL, Sohn TA et al (1997) Six hundred fifty consecutive pancreaticoduodenectomies in the 1990s: pathology, complications, and outcomes. Ann Surg 226:248–257

7.

Cameron JL, Riall TS, Coleman J, Belcher KA (2006) One thousand consecutive pancreaticoduodenectomies. Ann Surg 244:10–15

8.

Winter JM, Cameron JL, Lillemoe KD et al (2006) Periampullary and pancreatic incidentaloma: a single institution's experience with an increasingly common diagnosis. Ann Surg 243:673–680

9.

Neoptolemos JP, Russell RC, Bramhall S et al (1997) Low mortality following resection for pancreatic and periampullary tumours in 1026 patients: UK survey of specialist pancreatic units. UK pancreatic cancer group. Br J Surg 84:1370–1376

10.

Riall TS, Cameron JL, Lillemoe KD et al (2006) Resected periampullary adenocarcinoma: 5-year survivors and their 6- to 10-year follow-up. Surgery 140:764–772

11.

Winter JM, Cameron JL, Campbell KA et al (2006) 1423 pancreaticoduodenectomies for pancreatic cancer: a single-institution experience. J Gastrointest Surg. 10:1199–1210

12.

Shrikhande SV, Barreto SG, Somashekar BA et al (2013) Evolution of pancreatoduodenectomy in a tertiary cancer center in India: improved results from service reconfiguration. Pancreatology 13:63–71

13.

Shrikhande SV, Barreto G, Shukla PJ (2008) Pancreatic fistula after pancreaticoduodenectomy: the impact of a standardized technique of pancreaticojejunostomy. Langenbecks Arch Surg 393:87–91

14.

Bal M, Rane S, Talole S et al (2018) Tumour origin and R1 rates in pancreatic resections: towards consilience in pathology reporting. Virchows Arch 473:293–303

15.

Kimmings AN, van Deventer SJ, Obertop H et al (2000) Endotoxin, cytokines, and endotoxin binding proteins in obstructive jaundice and after preoperative biliary drainage. Gut 46:725–731

16.

Isenberg G, Gouma DJ et al (2002) The ongoing debate about preoperative biliary drainage in jaundiced patients undergoing pancreaticoduodenectomy. Gastrointest Endosc 56:310–315

17.

Jagannath P, Dhir V, Shrikhande SV et al (2005) Effect of preoperative biliary stenting on immediate outcome after pancreaticoduodenectomy. Br J Surg 92:356–361

18.

Shrikhande SV, Sivasankar M, Vollmer CM et al (2017) Pancreatic anastomosis after pancreatoduodenectomy: a position statement by the International Study Group of Pancreatic Surgery (ISGPS). Surgery 161:1221–1234

19.

Bassi C, Dervenis C, Butturini G et al (2005) Postoperative pancreatic fistula: an international study group (ISGPS) definition. Surgery 138:8–13

20.

Bassi C, Marchegiani G, Dervenis C et al (2017) The 2016 update of the International Study Group (ISGPS) definition and grading of postoperative pancreatic fistula: 11 years after. Surgery 161:584–591

21.

Wente MN, Bassi C, Dervenis C et al (2007) Delayed gastric emptying (DGE) after pancreatic surgery: a suggested definition by the International Study Group of Pancreatic Surgery (ISGPS). Surgery 142:761–768

22.

Wente MN, Veit JA, Bassi C et al (2007) Post pancreatectomy haemorrhage (PPH): an International Study Group of Pancreatic Surgery (ISGPS) definition. Surgery 142:20–25

23.

Bockhorn M, Uzunoglu FG, Adham M et al (2014) Borderline resectable pancreatic cancer: a consensus statement by the International Study Group of Pancreatic Surgery (ISGPS). Surgery 155:977–988

24.

Dindo D, Demartines N, Clavien PA (2004) Classification of surgical complications. A new proposal with evaluation in a cohort of 6336 patients and results of a survey. Ann Surg 240:205–213

25.

Sanjay P, Takaori K, Govil S et al (2012) Artery first approaches to pancreatoduodenectomy. Br J Surg 99:1027–1035

26.

Shrikhande SV, Barreto SG, Bodhankar YD et al (2011) Superior mesenteric artery first combined with uncinate process approach versus uncinate process first approach in pancreatoduodenectomy: a comparative study evaluating perioperative outcomes. Langenbecks Arch Surg 396:1205–1212

27.

Mitra A, Pai E, Dusane R et al (2018) Extended pancreatectomy as defined by the ISGPS: useful in selected cases of pancreatic cancer but invaluable in other complex pancreatic tumors. Langenbecks Arch Surg. 403:203–212

28.

Shrikhande SV, Barreto SG (2010) Extended pancreatic resections and lymphadenectomy: an appraisal of the current evidence. World J Gastrointest Surg 2:39–46

29.

Kumar NAN, Bhandare MS, Chaudhari V et al (2019) Analysis of 50 cases of solid pseudopapillary tumor of pancreas: aggressive surgical resection provides excellent outcomes. Eur J Surg Oncol 45:187–191

30.

Ironside N, Barreto SG, Loveday B et al (2018) Meta-analysis of an artery-first approach versus standard pancreatoduodenectomy on perioperative outcomes and survival. Br J Surg 105:628–636

31.

Batra S, Suradkar K, Talole S et al (2016) Major gastrointestinal cancer resections in the elderly in India: poised for future challenges. Dig Surg 33(146–1):56

32.

Buchler MW, Wagner M, Schimied BM et al (2003) Changes in morbidity after pancreatic resection, towards the end of completion pancreatectomy. Arch Surg 138:1310–1314

33.

El Nakeeb A, Askar W, Atef E et al (2017) Trends and outcomes of pancreaticoduodenectomy for periampullary tumors: a 25-year single-centre study of 1000 consecutive cases. World J Gastroenterol 23:7025–7036

34.

De Pastena M, Marchegiani G, Paiella S et al (2018) Impact of preoperative biliary drainage on postoperative outcome after pancreaticoduodenectomy: an analysis of 1500 consecutive cases. Dig Endosc 30:777–784

35.

Van Roessel S, Mackay TM, Tol JAMG et al (2019) Impact of expanding indications on surgical and oncological outcome in 1434 consecutive pancreatoduodenectomies. HPB (Oxford) 21:865–875

36.

He J, Ahuja N, Makary NA et al (2014) 2564 resected periampullary adenocarcinomas at a single institution: trends over three decades. HPB (Oxford) 16:83–90

37.

Myatra S, Divatia JV, Jibhkate B et al (2011) Preoperative assessment and optimization in periampullary and pancreatic cancer. Indian J Cancer 48:86–93

38.

Hanna MA, Feld M, Sampliner JE (2001) Preoperative Cardiac assessment of the candidate for major resective pancreatic surgery. Surg Clin North Am 81:575–578

39.

Agarwal V, Thomas MJ, Joshi R et al (2018) Improved outcomes in 394 pancreatic cancer resections: the impact of enhanced recovery pathway. J Gastrointest Surg. 22:1732–1742

40.

Sirohi B, Chalkidou K, Pramesh CS et al (2018) Developing institutions for cancer care in low-income and middle-income countries: from cancer units to comprehensive cancer centres. Lancet Oncol 19:398–408

41.

Vinchurkar K, Pattanshetti VM, Tagole M et al (2018) Outcome of Pancreaticoduodenectomy at low-volume centre in tier-ii city of India. Indian J Surg. Oncol 9:220–224

42.

Tseng JF, Pisters PW, Lee JE et al (2007) The learning curve in pancreatic surgery. Surgery 141:456–463

43.

Lieberman MD, Kilburn H, Lindsey M et al (1995) Relation of perioperative deaths to hospital volume among patients undergoing pancreatic resection for malignancy. Ann Surg 222:638–645

44.

Gordon TA, Burleyson GP, Tielsch JM et al (1995) The effects of regionalization on cost and outcome for one general high-risk surgical procedure. Ann Surg 221:43–49

45.

Birkmeyer JD, Siewers AE, Finlayson EV et al (2002) Hospital volume and surgical mortality in the United States. N Engl J Med 346:1128–1137

46.

Birkmeyer JD, Stukel TA, Siewers AE et al (2003) Surgeon volume and operative mortality in the United States. N Engl J Med 349:2117–2127

47.

Malleo G, Marchegiani G, Salvia R et al (2011) Pancreaticoduodenectomy for pancreatic cancer: the Verona experience. Surg Today 41:463–470

48.

Rosemurgy A, Cowgill S, Coe B et al (2008) Frequency with which surgeons undertake pancreaticoduodenectomy continues to determine length of stay, hospital charges, and in-hospital mortality. J Gastrointest Surg 12:442–449

49.

Shukla PJ, Barreto G, Shrikhande SV (2011) The evolution of pancreatoduodenectomy. Hepatogastroenterology 58:1409–1412

50.

Shrikhande SV (2013) Whipple resection: the need for specialization, standardization and centralization. South Asian J Cancer 2:158–159

51.

Basavaiah G, Rent PD, Rent EG et al (2018) Financial impact of complex cancer surgery in india: a study of pancreatic cancer. J Glob Oncol 4:1–9
Acknowledgements
We thank all team members in Division of Gastrointestinal and HPB Surgery, Department of Surgical Oncology and Mr. Rohit Dusane, Department of Biostatistics, for their contribution towards the conduct of this study.
Ethics declarations
Conflict of interest
None.
Additional information
Publisher's Note
Springer Nature remains neutral with regard to jurisdictional claims in published maps and institutional affiliations.
About this article
Cite this article
Shrikhande, S.V., Shinde, R.S., Chaudhari, V.A. et al. Twelve Hundred Consecutive Pancreato-Duodenectomies from Single Centre: Impact of Centre of Excellence on Pancreatic Cancer Surgery Across India. World J Surg 44, 2784–2793 (2020). https://doi.org/10.1007/s00268-019-05235-0