Acute Pancreatitis After Laparoscopic Transcystic Common Bile Duct Exploration: An Analysis of Predisposing Factors in 447 Patients
Abstract
Introduction
In laparoscopic transcystic common bile duct exploration (LTCBDE), the risk of acute pancreatitis (AP) is well recognized. The present study assesses the incidence, risk factors, and clinical impact of AP in patients with choledocholithiasis treated with LTCBDE.
Methods
A retrospective database was completed including patients who underwent LTCBDE between 2007 and 2017. Univariate and multivariate analyses were performed by logistic regression.
Results
After exclusion criteria, 447 patients were identified. There were 70 patients (15.7%) who showed post-procedure hyperamylasemia, including 20 patients (4.5%) who developed post-LTCBDE AP. Of these, 19 were edematous and one was a necrotizing pancreatitis. Patients with post-LTCBDE AP were statistically more likely to have leukocytosis (p < 0.004) and jaundice (p = 0.019) before surgery and longer operative times (OT, p < 0.001); they were less likely to have incidental intraoperative diagnosis (p = 0.031) or to have biliary colic as the reason for surgery (p = 0.031). In the final multivariate model, leukocytosis (p = 0.013) and OT (p < 0.001) remained significant predictors for AP. Mean postoperative hospital stay (HS) was significantly longer in AP group (p < 0.001).
Conclusion
The risk of AP is moderate and should be considered in patients with preoperative leukocytosis and jaundice and exposed to longer OT. AP has a strong impact on postoperative HS.
Introduction
Between 10 and 18% of people undergoing laparoscopic cholecystectomy (LC) for gallstones have common bile duct stones (CBDS) [1]. The currently available methods to restore biliary patency in these cases include endoscopic retrograde cholangiopancreatography (ERCP) with cholecystectomy and common bile duct exploration with cholecystectomy. In the recent years, the development of advanced laparoscopy has made surgical exploration, the method of choice in many high-volume centers. The laparoscopic approach provides irrefutable benefits: high efficacy [2, 3], shorter hospital stay, lower costs [4, 5, 6], and also maintains the function of the sphincter of Oddi [7]. Common bile duct exploration can be performed using either a transcholedochal or a transcystic approach. The latest is preferred as it avoids the iatrogenic injury induced by the incision in the common bile duct (CBD) and the possible adverse results arising from the T-tube placement. However, laparoscopic transcystic common bile duct exploration (LTCBDE) entails an anterograde manipulation of the ampulla that carries a well-recognized risk of acute pancreatitis (AP) [5, 6]. To the best of our knowledge, a comprehensive analysis of AP following LTCBDE has not been previously described. Therefore, the aim of the present study is to assess the incidence, risk factors, and clinical impact of AP after LTCBDE in a population of patients with concomitant gallstones and CBDS treated with LTCBDE at a high-volume center.
Materials and methods
A prospectively collected database of patients undergoing LC was reviewed in the period comprised between January 2007 and January 2017. The studied population included all consecutive patients with CBDS in whom LTCBDE was performed in our institution. In all patients, preoperative studies included complete blood count, basic metabolic panel, liver function tests, and serum amylase. Patients with missing biochemical and clinical data, those who had diagnosis of preoperative biliary pancreatitis or preoperative hyperamylasemia, were excluded to avoid confusion regarding the criteria for AP. Patients in whom choledochotomy was required were also excluded (Fig. 
1
).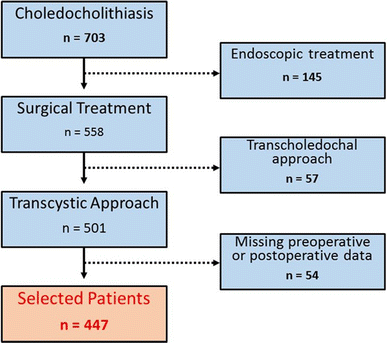 Definitions
AP was defined and classified, according to the Atlanta definition revised in 2012 [8], as the presence of at least two of the following three features: (1) abdominal pain consistent with AP (acute onset of a persistent, severe epigastric pain often radiating to the back), (2) a serum lipase or amylase concentration of at least three times the upper limit of normal, and (3) characteristic findings of AP on multiple detector computed tomography (MDCT) and less commonly magnetic resonance imaging (MRI). Interstitial edematous pancreatitis was defined as acute inflammation of the pancreatic parenchyma and peripancreatic tissues without recognizable tissue necrosis. Necrotizing pancreatitis was defined as inflammation associated with pancreatic parenchymal necrosis and/or peripancreatic necrosis. The normal serum amylase was 25–100 UI/L. A serum amylase or lipase concentration at least three times greater than the upper limit of normal, without other features of AP, was defined as pancreatic enzyme alteration (PEA). Jaundice was defined as a total serum bilirubin concentration of > 2 mg/dL. Operative time (OT) was defined as the interval between the initial skin incision and skin closure. Operative mortality (OM) was defined as death within 90 days after surgery. Morbidity included all postoperative complications and was classified according to Dindo classification [9]. Complications of grade III or higher were defined as major. Postoperative hospital stay (HS) was defined as the number of days spent in the hospital postoperatively.
Surgical procedures
A modified American technique of LC was employed, as previously described [10]. Intraopertative cholangiogram (IOC) was routinely used in all patients. Briefly, Calot's triangle is identified and dissected using monopolar electrocautery (hook). Once the cystic is recognized, a clip is placed at the cystic duct–infundibulum junction and a lateral incision is carried out medial to the clip. A 5-Fr catheter is introduced in the cystic duct and fixed with an Olsen clamp. When the cystic duct could not be identified easily during dissection, cholangiography is performed by direct puncture of the gallbladder. The biliary anatomy is visualized dynamically using a mobile C-arm unit and an image intensifier with immediate print for documentation.
When CBDS are detected under IOC, a transcystic approach with a Dormia basket (FG-24X-1; Olympus) is used to remove the stones. To obtain a higher success rate with cannulation, the cystic duct is usually dissected widely down to its junction with the CBD, unless this junction is very low and intrapancreatic. For patients with large solitary or impacted stones after unsuccessful retrieval attempts with the Dormia basket, a Fogarty catheter of an adequate diameter is used to free them. Gentle papillary pneumatic dilatation followed by flushing with saline was also employed to aid in clearing stone fragments and debris, normally coupled with intravenous glucagon administration (to assist in relaxing the sphincter of Oddi). After all stones were retrieved, clearance of the proximal and distal bile duct is confirmed by repeated IOC.
All operations are performed or supervised by a member of the hepatopancreatobiliary surgery section (staff surgeon or senior fellow). Blood is sampled on the day of the LTCBDE procedure and on postoperative day 1. Patients suspected to have AP undergo abdominal MDCT. After LTCBDE, patients are followed 1 week after the procedure for the assessment of wounds and overall status, 1 month after to discuss the pathology report, and either 6 months or 1 year after surgery for a remote postoperative control. Data for each patient are recorded prospectively from the date of index operation to a minimum of 12 months after surgery or death, whichever occurred first. Patients with a post-LTCBDE AP are assessed every 3 months during the first year (with clinical evaluation and liver function blood tests). According to the findings and clinical judgment, additional imaging studies are employed to rule out recurrence.
Statistical analysis
Data were analyzed using the software package SPSS 19.0 (SPSS, Inc., Chicago, IL, USA). Patient demographic and clinical characteristics were compared between patients with and without post-LTCBDE AP using the Chi-square test for categorical variables and the Student t test for continuous variables. Multivariable analysis was performed by logistic regression with AP as result variable in forward stepwise model. Results are reported as risk ratios (RRs) with two-sided 95% confidence intervals and p value. p < 0.05 was considered statistically significant.
Results
Patient characteristics
Demographic and preoperative characteristics of the cohort are summarized in Table 
1
. Over the 10-year study period, a total of 447 patients (136 males and 311 females; mean age ± SD, 62.1 ± 18.1) underwent LTCBDE in our institution and were included in the study. Most frequent reasons for surgery were pain (178 patients, 39.8%), acute cholangitis (115 patients, 25.7%), and acute cholecystitis (85 patients, 19%). In 269 (60.2%) patients, CBDS were suspected preoperatively. A total of 137 (30.6%) patients had leukocytosis in the preoperative blood test. The mean total and direct serum bilirubin concentration before LTCBDE were 3.26 ± 2.8 mg/dL and 1.74 ± 1.8 mg/dL, respectively.
Table 1
Demographic and preoperative characteristics of the cohort
 

Total LBDTE (N = 447)

No post-LBDTE AP (n = 427)

Post-LBDTE AP (n = 20)

p

Agea

62.1 ± 18.1

62.2 ± 18.1

60.5 ± 18.3

0.551

Sex, maleb

163 (36.5)

154 (36)

9 (45)

0.914

BMIa

27.5 ± 4.8

27.5 ± 4.8

27.7 ± 4.15

0.842

Obesityb

121 (27.1)

116 (27.1)

5 (25)

0.532

ASA > 2b

76 (17)

73 (17)

3 (15)

0.549

Previous UASb

42 (9.1)

39 (9.1)

3 (15)

0.420

Comorbiditiesb

 CVD

59 (13.8)

55 (12.8)

4 (20)

0.358

 Diabetes

99 (22.1)

96 (22.5)

3 (15)

0.431

 Renal failure

18 (4)

16 (4.6)

2 (10)

0.190

Etiologyb

 Biliary colic

178 (39.8)

175 (41)

3 (15)

0.031

 CL without jaundice

36 (8.1)

36 (8.4)

0 (–)

0.126

 Acute cholangitis

115 (25.7)

110 (25.7)

5 (25)

0.451

 CL with jaundice

63 (14.1)

58 (13.6)

5 (25)

0.152

 Acute cholecystitis

85 (19)

78 (18.3)

7 (35)

0.078

Jaundice

235 (52.6)

219 (51.2)

16 (80)

0.019

Suspected CL preoperativelyb

269 (60.2)

252 (59)

17 (85)

0.031

Preoperative laboratory values

 Leukocytes (mm3)a

8381 ± 4060

8262 ± 3941

11,274 ± 4969

0.016

 Leukocytosis > 10.000 mm3b

137 (30.6)

125 (29.3)

12 (60)

0.004

 Total bilirubin (mg/dL)a

3.26 ± 2.8

3.25 ± 2.86

3.36 ± 1.51

0.749

 Direct bilirubin (mg/dL)a

1.7 ± 1.8

1.7 ± 1.8

1.5 ± 1.3

0.561

 Alk-P (UI/mL)a

199 ± 154

202 ± 157

144 ± 59

0.071

 ALT (UI/mL)a

148 ± 166

146 ± 161

180 ± 239

0.299

 AST (UI/mL)a

228 ± 231

227 ± 234

246 ± 165

0.702

 Amylase (UI/mL)a

83 ± 110

82 ± 108

93 ± 138

0.636
Surgical procedures
Intraoperative data are summarized in Table 
2
. A total of 240 patients had an urgency (non-elective) operation. Mean operative time was 114 ± 75 min. An additional trocar due to technical difficulties was needed in six patients (1.3%). On exploration, stones (
n
 = 436, 97.5%) or intraluminal bile sludge (
n
 = 7, 1.6%) was found in 443 patients (99.1%), leaving four patients (0.9%) with negative explorations perhaps due to flushing of saline though bile duct at the onset of the procedure. At the end of the LTCBDE, the biliary tree was free of stones in 441 patients (98.7%) as showed by IOC. Six patients (1.3%) had unremovable small mural stones during the operation that required further intervention with ERCP. In 132 (29.5%) patients, one or more drainages were placed during surgery. Reoperations were required in five patients (1.1%) secondary to intra-abdominal bleeding (four patients) and a grade C bile leak (one patient). The median follow-up was 24 (range 6–60) months. Recurrence of CBDS was observed in 18 (4%) patients, all of whom the stone was successfully removed by ERCP.
Table 2
Surgical aspects of laparoscopic transcystic common bile duct exploration
|   | Total LBDTE (N = 447) | No Post-LBDTE AP (n = 427) | Post-LBDTE AP (n = 20) | p |
| --- | --- | --- | --- | --- |
| Urgent surgeryb | 240 (53.7) | 224 (52.5) | 16 (80) | 0.023 |
| CL at explorationb | 436 (97.5) | 416 (97.4) | 20 (100) | 0.541 |
| Bile sludge at explorationb | 7 (1.6) | 7 (1.6) | 0 (–) | 0.724 |
| Negative explorationb | 4 (0.9) | 4 (0.9) | – | NA |
| Placement of an additional trocarb | 6 (1.3) | 5 (1.2) | 1 (5) | 0.146 |
| Biliary stentb | 6 (1.3) | 5 (1.2) | 1 (5) | 0.146 |
| Operative timea | 114 ± 75 | 110 ± 64 | 167 ± 72 | <0.001 |
| Operative time > 120 minb | 180 (40.3) | 162 (37.9) | 18 (90) | <0.001 |
| Number of stones (single/multiple)b | 358 (80) | 340 (80) | 18 (90) | 0.389 |
| Drainage placement | 132 (29.5) | 126 (29.5) | 6 (30) | 0.962 |
Comparison of patients with and without AP
There were 70 patients (15.7%) who showed post-procedure hyperamylasemia, including 20 patients (4.5%: 9 males and 11 females; mean age ± SD, 60.5 ± 18.3) who developed post-LTCBDE AP. Of these, 19 (4.3%) were edematous pancreatitis and one (0.2%) was a necrotizing pancreatitis. Median postoperative amylasemia was 1020 in patients with AP (range 315–2919) and 180 in patients with no AP (range 12–3080,
p
 < 0.001). Logistic regression was performed to identify predictors of post-LTCBDE AP development. There were no significant differences in age, sex, body mass index (BMI), preoperative diagnosis, American Society of Anesthesiologists (ASA) score, medical, or surgical history (Table 
1
). However, patients with post-LTCBDE AP were statistically more likely to have leukocytosis (29.3 vs 60%, OR 3.624; 95% CI 1.446–9.082,
p
 < 0.001, Table 
1
) and jaundice (51.3 vs 80%; OR 3.799; 95% CI 1.250–11.55;
p
 = 0.019) in the preoperative course. Post-LTCBDE AP incidence was also higher after urgent procedures (52.3 vs 80%; OR 3.625; 95% CI 1.192–11.02;
p
 = 0.023, Table 
2
). Indeed, OT was longer in the AP group (110 ± 64 vs 167 ± 72 min,
p
 < 0.001), being operative time of > 120 min significantly associated with post-LTCBDE AP (37.9 vs 90%, OR 14.772; 95% CI 3.372–64.28;
p
 < 0.001, Table 
2
). In the final multivariate model (Table 
3
), preoperative leukocytosis (OR 3.312; 95% CI 1.289–8.503;
p
 = 0.013) and OT > 120 min (OR 13.998; 95% CI 3.191–61.41;
p
 < 0.001) remained significant predictors of post-LTCBDE AP.
Table 3
Risk factors for acute pancreatitis versus no acute pancreatitis following after laparoscopic bile duct transcystic exploration
 

Total LBDTE (N = 447)

No Post-LBDTE AP (n = 427)

Post-LBDTE AP (n = 20)

Univariate analysis

Multivariate analysis

OR

95% CI

P

OR

95% CI

p

Preoperative CL suspicionb

269 (60.2)

252 (59)

17 (85)

3.935

1.136–13.632

0.031

1.930

0.361–10.33

0.442

Biliary colicb

178 (39.8)

175 (41)

3 (15)

0.254

0.073–0.880

0.031

0.518

0.097–2.77

0.442

Leukocytosis > 10.000 mm3b

137 (30.6)

125 (29.3)

12 (60)

3.624

1.446–9.082

0.004

3.312

1.289–8.503

0.013

Jaundice

235 (52.6)

219 (51.3)

16 (80)

3.799

1.250–11.55

0.019

2.274

0.705–7.347

0.170

Urgent surgeryb

240 (53.7)

224 (52.3)

16 (80)

3.625

1.192–11.02

0.023

1.716

0.444–6.632

0.434

Operative time > 120 minb

180 (40.3)

162 (37.9)

18 (90)

14.772

3.372–64.28

<0.001

13.998

3.191–61.41

<0.001
Mean postoperative HS was significantly longer in AP group (1.8 ± 1.3 days vs 6.4 ± 4.3 days,
p
 < 0.001, Table 
4
). Patient with post-LTCBDE AP exhibited more CBDS recurrence during the follow-up compared to the non-AP group (3.7 vs 10%,
p
 = 0.190) but with no statistical significance. On the contrary, the diagnosis of PEA did not impact the postoperative outcome, neither in the HS (2.02 ± 1.4 vs 1.9 ± 1.45,
p
 = 0.441) nor in the recurrence rate (3.8 vs 2%,
p
 = 0.708).
Table 4
Postoperative outcomes after laparoscopic bile duct transcystic exploration
| Variables | Total LBDTE (N = 447) | No Post-LBDTE AP (n = 427) | Post-LBDTE AP (n = 20) | p |
| --- | --- | --- | --- | --- |
| Postoperative serum amylasea–c | 166 ± 334 (range 12–3080) | 129 ± 263 (range 12–3080) | 945 ± 636 (range 315–2919) | <0.001 |
| Postoperative serum amylase > 300b | 70 (15.6) | 50 (11.7) | 20 (100) | <0.001 |
| Bile leakb | 1 (0.2) | 1 (0.2) | 0 | NA |
| Major morbidity (DC > III) | 12 (2.7) | 10 (2.3) | 2 (10) | 0.096 |
| Mortalityb | 0 (–) | 0 (–) | 0 (–) | NA |
| Reoperationb | 5 (1.1) | 5 (1.1) | 0 (–) | NA |
| Hospital staya–c | 2.1 ± 1.9 (range 1–25) | 1.7 ± 1.3 (range 1–9) | 6.4 ± 4.3 (range 3–25) | <0.001 |
| Readmission within 30 daysb | 8 (1.8) | 7 (1.6) | 1 (5) | 0.309 |
| Stone recurrenceb | 18 (4) | 16 (3.7) | 2 (10) | 0.190 |
Discussion
It has been well documented in randomized clinical trials that ERCP and laparoscopic explorations have similar rates of stone clearance, morbidity, and mortality [1, 11]. However, when LC and LTCBDE are used as a single-session approach to treat choledocholithiasis, the procedure is associated with a shorter HS and is more cost-effective compared to ERCP [1]. Patients undergoing LC plus LTCBDE usually have a postoperative course that is not different from that of patients undergoing LC alone for gallstones [1]. However, antegrade manipulation of the distal bile duct and instrumental retrieval of distal biliary calculi is associated with a risk of AP in a minority of cases [12]. The present study is one of the largest single-center series of LTCBDE published to date. It is the first to implement an analytical model for exploring potential risk factors for post-LTCBDE AP development and the impact of this event on the postoperative outcomes.
The diagnosis of AP is based on hyperamylasemia of three times or more above normal in association with abdominal pain [13, 14]. Hyperamylasemia alone, however, is not uncommon after percutaneous or endoscopic biliary interventions, occurring in up to 70% of cases [15, 16, 17]. We have observed hyperamylasemia with or without clinical features of AP in 15.7% of patients who underwent LTCBDE in whom post-procedure serum amylase was measured. However, the incidence of AP in our study was 4.5% after LTCBDE procedures, higher than the one reported in the literature. The different incidence reported may be explained by the reluctance to perform choledochotomies, forcing the transcystic approach in tough cases. The difficulty of the case is likely to be reflected in the longer OT which proved to be an independent risk factor for AP in the present study. Consistent with this, only 8.1% of choleodocholithiasis are treated using choledochotomy (Fig. 1), a much lower proportion than that reported in other recent series [2, 18]. Secondly, amylasemia is routinely evaluated 24 h after each LTCBDE, which may prone to diagnose pancreatitis even in mild cases that can be unnoticed in the postoperative setting if not suspected (as an abdominal pain may be attributed to post-procedure pain). Also, it is likely that the exclusion of patients who did not have their postoperative serum amylase measured might have biased the results toward a higher incidence of AP. Interestingly, the rate of AP following LTCBDE appears similar to that reported after a diagnostic (0.09–5%) or therapeutic (1.4–14%) ERCP [12, 14]. Nevertheless, once occurred, the proportion of severe pancreatitis is considerably higher in patients undergoing ERCP, accounting for up to 20% of cases [12, 14]. In the present series, all but one case were mild edematous pancreatitis and no patient required an additional procedure or percutaneous drainage. Based on this, we believe that LTCBDE is still valuable resource and can be safely performed in patients with choledocholithiasis. Nevertheless, in the view of our results, care should be taken regarding the time of biliary explorations in patients with risk factors.
A difference between our series on other recent ones is the use of routine IOC. Currently, there is still great controversy about this matter. In our institution, routine IOC has several roles: identify CBD stones, provide extra evidence for anatomical decisions during dissection, training purposes, and to highlight biliary injury should it occur. Although results are controversial and often biased by retrospective data collection or poor data quality, many of the larger retrospective studies published to date associate a decrease in the frequency and severity of CBD injuries when an IOC is performed [10, 19, 20, 21]. Performing IOC means an increased OT, which has been reported in the literature as 8–20 min [22, 23, 24]. However, studies have indicated that despite the increased time in operative procedure and materials, routine IOC is cost-effective by reducing the severity of bile duct injury and the cost of treatment of patients with retained stones who did not receive IOC [25, 26, 27]. Routine IOC also decreases the readmission rate with post-cholecystectomy syndrome, which occurs in 10–40% of the post-cholecystectomy patients [28]. We believe that a policy of routine IOC sets operative priorities and improves the surgical skills that are necessary for LTCBDE. As for choledocholithiasis, routine IOC is probably responsible for the high number of incidental bile duct stones in our series. There are less data on the natural history of asymptomatic CBDS, and hence, there is uncertainty on the management of asymptomatic CBDS discovered incidentally at the time of laparoscopic cholecystectomy. Some authors consider that these stones may not need to be removed, as these only rarely cause any biliary complication and may move through the CBD without any CBD intervention at all [29, 30]. However, these postures are supported on series limited in terms of number of patients and follow-up. In this scenario, we believe data are not reassuring enough to leave known CBDS in situ that can be easily removed with a relatively safe and simple procedure, particularly in centers with extensive experience in laparoscopic biliary surgery. In fact, the main disadvantage of laparoscopic CBD exploration is the significant learning curve for the procedure. In this series, only a minority of patients display technical challenges that were more frequently related to the length, tortuosity, and caliber of the cystic duct. Long and tortuous ducts make it difficult for the devices to access the CBD preventing a precise and controlled manipulation of the stones. A useful technique to overcome this struggle is to dissect the cystic duct widely down to its junction with the CBD and to perform the incision as distal as possible in the cystic duct. In these cases, care should be taken to leave enough cystic duct close to the CBD for a stump to be close. As for the caliber, when stones cannot be retrieved through a narrow cystic duct, we attempt to do a careful pneumatic dilation with a balloon that is inflated with contrast dye at 6–10 atmospheres close to the junction of the cystic duct to the CBD.
The current study identified several important risk factors for post-LTCBDE AP, either patient-related (preoperative CBDS diagnosis, leukocytosis, and jaundice) or procedure-related factors (longer OT and non-elective surgery). The mechanisms by which LTCBDE induces AP are largely unknown. It is possible that, although the approach to the papila is different to that of ERCP (anterograde vs retrograde), the underlying mechanisms of the AP development in these two procedures may be similar. One possible mechanism may involve distal biliary manipulation [31]. During LTCBDE and stone removal, the ampullary area may be traumatized by the various devices used: stone or basket entrapment close to the biliary-duodenal junction may obstruct the pancreatic duct. It is also thought that trauma in the vicinity of the pancreatic orifice may produce edema of that orifice and obstruction to the flow of pancreatic juice. Consistent with this, patients with a patent minor papilla and an accessory pancreatic duct are reported to have a lower incidence of pancreatitis after ampulla manipulation [32]. It is also likely that AP complicating LTCBDE may, in some patients, be related to hemobilia, as some authors have previously reported [33, 34, 35]. In this regard, AP has been reported following percutaneous liver biopsy [33, 34], post-transhepatic biliary drainage [36], and transhepatic bile duct biopsies [37]. In the present series, longer OT was strongly associated with pancreatitis in both the univariate and multivariate analyses. The longer procedure time occurred mainly at the expense of a lengthy biliary exploration rather than a difficult cholecystectomy. In addition, other risk factors that have been shown to be associated with the development of AP (non-elective setting, presence of jaundice, and leukocytosis) may also correlate with the difficulty of the case as well as a pancreabiliary inflammatory context. The difficulty of the case and the excessive biliary manipulation could cause edema or bleeding that would explain the development of pancreatitis. Neither of these patients, however, developed overt signs of gastrointestinal bleeding in the postoperative time. Therefore, to prevent the occurrence of papillary edema, and therefore of AP, care should be taken during operation to avoid uncontrolled passage of the papilla with the basket to avoid papillary trauma, edema, and ultimately pancreatic obstruction.
Nonsteroidal anti-inflammatory drugs (NSAIDs) have been shown to inhibit prostaglandin synthesis, phospholipase A2 activity, and neutrophil-endothelial cell attachment, all of utmost importance in the pathogenesis of AP [38, 39, 40]. To date, eight meta-analyses demonstrated benefits of NSAIDs in preventing post-ERCP pancreatitis (PEP) [41, 42, 43, 44, 45, 46]. These studies have motivated numerous medical societies to formally endorse NSAIDs for preventing this event. At the present moment, the guidelines from the European Society of Gastrointestinal Endoscopy (ESGE) [17] recommend routine rectal administration of 100 mg of diclofenac or indomethacin immediately before or after ERCP unless there are contraindications. The Japanese guidelines recommend administration of intrarectal NSAIDs for all patients undergoing ERCP [47]. In the USA, the American Society for Gastrointestinal Endoscopy (ASGE) recommends rectal indomethacin in average-risk individuals [48]. If the pathophysiology that causes PEP is the same responsible for post-LTCBDE AP, it is possible that NSAIDs may have also a role in preventing the later. In this regard, identifying risk factors for post-LTCBDE may be useful in selecting those patients that would benefit from the use of NSAIDs, reducing postoperative HS and consequently lowering costs. This, however, is a speculation, and further studies are needed to confirm such hypothesis.
This study shows some limitations. Unfortunately, the amount of contrast used and the presence of contrast enhancement of the Wirsung duct during the procedure are two facts that we could not be reliably collected from the database and, therefore, could not be included in the analysis. The osmolarity and ionic nature of the contrast media are also believed to provoke AP. In fact, pancreatic duct contrast injections have been demonstrated by Freeman et al. [49] to be an independent risk factor for AP following ERCP. It is likely, however, that the amount of contrast administered correlates with the complexity of the surgery and the OT, which may partly explain the association between the latest and AP. Secondly, although the vast majority of the AP reported were mild, the low incidence of post-LTCBDE AP may have not been enough to definitely establish a clinical profile. Another criticism is that information from the reporting institution was analyzed over 10 years. The standard of care for CBDS and dependent and independent variables reported in this study, however, did not change during this period of time.
Conclusion
Two pieces of data emerge from the present study. First, evidence is presented that there exist preoperative (reason for surgery, preoperatively CBDS diagnosis, leukocytosis, and jaundice) and operative factors (urgent surgery and OT) associated with post-LTCBDE AP. Second, that AP occurred in this context has been mostly mild but has a major clinical relevance delaying discharge in patients undergoing the procedure. This report highlights the potential risk of development of AP following LTCBDE with anterograde manipulation of the ampulla, a risk that appears lower than that seen after ERCP. Therefore, it is essential for clinicians to inform patients of this risk when obtaining a consent for LTCBDE or even LC, and to be alert to the development of AP should severe abdominal pain ensue post-intervention, to provide timely diagnosis and management. NSAIDs may have a place in preventing post-LTCBDE AP, decreasing postoperative HS, and reducing costs, but larger prospective studies are needed to confirm this hypothesis.
Notes
Compliance with ethical standards
Conflict of interest
The authors declare that they have no conflict of interest.
Copyright information
© Société Internationale de Chirurgie 2018