Abstract
Despite numerous recent technical advances in minimally invasive surgical technique, the potential exists for serious morbidity during initial laparoscopic access. Safe access depends on adhering to well-recognized principles of trocar insertion, knowledge of abdominal anatomy, and recognition of hazards imposed by previous surgery. Applying these principles, we describe a safe, rapid, and cost-effective technique for laparoscopic access using readily available instruments. This technique emphasizes identification and incision of the point at which the midline abdominal fascia is fused with the base of the umbilicus, and the importance of the application of countertraction directly at the point of insertion. This method allows penetration under direct vision with minimal controlled axial force, and without the requirement for fascial sutures or other cumbersome aspects of the traditional open technique. While previous reports describe techniques for laparoscopic access entry based on similar anatomic and surgical principles, we describe an alternative method not yet discussed in the surgical literature.
Access options
Buy single article
Instant access to the full article PDF.
US$ 39.95
Tax calculation will be finalised during checkout.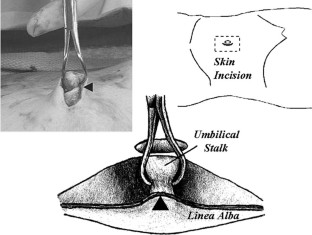 References
1.

JG Chandler SL Corson LW. Way (2001) ArticleTitleThree spectra of laparoscopic entry access injuries J. Am.Coll.Surg. 192 478 Occurrence Handle10.1016/S1072-7515(01)00820-1 Occurrence Handle11294405

2.

S Bhoyrul MA Vierra CR Nezhat et al. (2001) ArticleTitleTrocar injuries in laparoscopic surgery J. Am. Coll. Surg. 192 677 Occurrence Handle10.1016/S1072-7515(01)00913-9 Occurrence Handle11400960

3.

DM Rosen AM Lam M Chapmam et al. (1998) ArticleTitleMethods of creating pneumoperitoneum: a review of techniques and complications, Obstet Gynecol. Surg. 53 167

4.

M Schafer M Lauper L. Krahenbuhl (2001) ArticleTitleTrocar and Veress needle injuries during laparoscopy Surg. Endosc. 15 275 Occurrence Handle10.1007/s004640000337 Occurrence Handle11344428

5.

M Catarci M Carlini P Gentileschi et al. (2001) ArticleTitleMajor and minor injuries during the creation of pneumoperitoneum. A multicenter study in 12,919 cases Surg. Endosc. 15 566 Occurrence Handle10.1007/s004640000381 Occurrence Handle11591941

6.

MG. Munro (2002) ArticleTitleLaparoscopic access: complications, technologies, and techniques Obstet. Gynecol. 14 365

7.

S Bhoyrul J Payne B Steffes et al. (2000) ArticleTitleA randomized prospective study of radially expanding trocars in laparoscopic surgery J. Gastrointest. Surg. 4 392 Occurrence Handle10.1016/S1091-255X(00)80018-9 Occurrence Handle11058851

8.

GM Roy L Bazzurini E Solima et al. (2001) ArticleTitleSafe technique for laparoscopic entry into the abdominal cavity J. Am. Assoc. Gynecol. Laparosc. 8 519 Occurrence Handle10.1016/S1074-3804(05)60614-7 Occurrence Handle11677330

9.

P Lal R Sharma R Chanderg et al. (2002) ArticleTitleA technique for open trocar placement in laparoscopic surgery using the umbilical cicatrix tube Surg. Endosc. 16 1366 Occurrence Handle10.1007/s00464-001-8308-2 Occurrence Handle12296314

10.

MA Mochado JR da Rocha MC. Machado (1998) ArticleTitleAn alternative technique for open laparoscopy Rey. Hosp. Clin. Fac. Med. Sao Paulo 53 174

11.

A Karatassas D Walsh DW. Hamilton (1992) ArticleTitleA safe, new approach to establishing pneumoperitoneum at laparoscopy Aust. N.Z.J. Surg. 162 489

12.

JM Childers PR Brzechffa EA. Surwit (1993) ArticleTitleLaparoscopy using the left upper quadrant as the primary trocar site Gynecol. Oncol. 50 221 Occurrence Handle10.1006/gyno.1993.1196 Occurrence Handle8375738
Acknowledgment
The authors acknowledge Kirsty Sanders, R.N., C.N.O.R., for her assistance in filming and editing video footage demonstrating this access technique.
Additional information
The views expressed in this article are those of the authors and do not reflect the official policy or position of the Department of the Navy, Department of Defense, or the United States Government. This manuscript does not involve any grant support.
About this article
Cite this article
Antevil, J.L., Bhoyrul, S., Brunson, M.E. et al. Safe and Rapid Laparoscopic Access—a New Approach. World J. Surg. 29, 800–803 (2005). https://doi.org/10.1007/s00268-005-7730-3
Keywords
Veress Needle

Trocar Insertion

Laparoscopic Access

Intraabdominal Injury

Umbilical Cicatrix