Abstract
The importance of forests in providing a healthy environment and good quality of life for people is crucial. Sacred forests, in particular, play a significant role in the social and ecological aspects of life. Despite numerous studies and reports on the subject, there is a lack of an up-to-date and comprehensive analysis of research on sacred forests and their ecosystem services. Our review looked at 2811 papers from the Scopus database using keyword selection. After screening, 214 papers were used for bibliometric analysis to assess the research trends and distribution of studies done on the contribution of sacred forests to various ecosystem services. Seventy-seven publications focusing on cultural ecosystem services, biodiversity conservation, and carbon accumulation that met our eligibility criteria were chosen for detailed analysis of the methodological flows and gaps in the literature. The results revealed that studies on the subject are increasing, notably in developing countries. However, very limited investigations can be observed in the urban context. Furthermore, we discovered that most studies used field surveys to grasp sacred forests' ecological aspects. While this technique gave a thorough understanding of the forests, future research should use a combination of methods, including remote sensing, geospatial analysis, and social surveys, to better understand the forests and the ecosystem services they provide. Future studies ought to evaluate the multiple regulative services and non-material benefits of sacred forests to ensure long-term human well-being and provide scientific proof for acknowledging and conserving these critical places are required particularly in urban landscapes. Overall, more research is required to comprehend these gaps in a broader context and enhance our overall view of conservation and sociocultural significance, both of which are critical for long-term practice.
Access options
Buy single article
Instant access to the full article PDF.
USD 39.95
Price excludes VAT (USA)
Tax calculation will be finalised during checkout.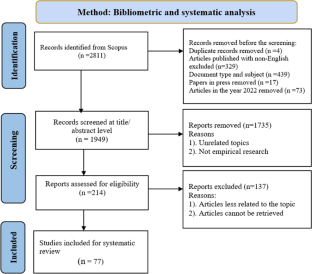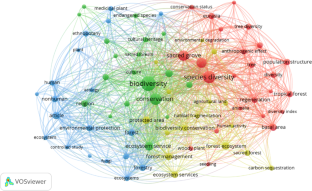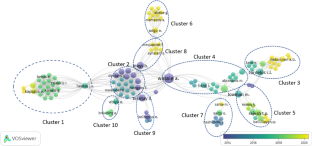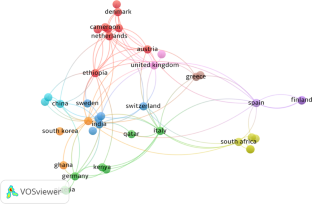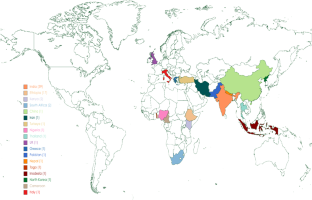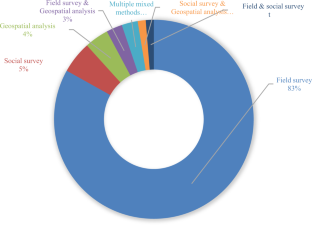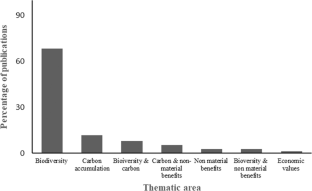 Data availability
Data generated or analysed during the study are available from the corresponding author on reasonable request
References
Allendorf TD, Brandt JS, Yang JM (2014). Local perceptions of Tibetan village sacred forests in northwest Yunnan. Biol Conserv 169. https://doi.org/10.1016/j.biocon.2013.12.001

Amanuel A, Dalle G (2018). Woody Species Diversity, Structure, and Regeneration Status of Yemrehane Kirstos Church Forest of Lasta Woreda, North Wollo Zone, Amhara Region, Ethiopia. Int J Forestry Res 2018. https://doi.org/10.1155/2018/5302523

Bhagwat SA (2009) Ecosystem services and sacred natural sites: Reconciling material and non-material values in nature conservation. Environ Values 18(4):417–427. https://doi.org/10.3197/096327109X12532653285731

Bhagwat SA, Nogué S, Willis KJ (2014) Cultural drivers of reforestation in tropical forest groves of the Western Ghats of India. For Ecol Manag 329:393–400. https://doi.org/10.1016/j.foreco.2013.11.017

Bhagwat SA, Rutte C (2006) Sacred groves: Potential for biodiversity management. Front Ecol Environ 4(10):519–524

Birhanu T, Mohammed AS, Mekonnen AB (2021). Floristic composition, structure and regeneration status of woody plants in church forests of Dangila, Northwestern Ethiopia. Cogent Food Agriculture 7(1). https://doi.org/10.1080/23311932.2021.1911438

Bitew M, Berhane G, Wassie WA, Tsegay BA (2019). Review: Church forests—the green spots of Ethiopian highlands. Asian J Forestry 3(2). https://doi.org/10.13057/asianjfor/r00300201

Cardelús CL, Scull P, Wassie Eshete A, Woods CL, Klepeis P, Kent E, Orlowska I (2017). Shadow conservation and the persistence of sacred church forests in northern Ethiopia. Biotropica 49(5). https://doi.org/10.1111/btp.12431

Chandrashekara UM, Sankar S (1998) Ecology and management of sacred groves in Kerala, India. For Ecol Manag 112(1–2):165–177. https://doi.org/10.1016/S0378-1127(98)00326-0

Dar JA, Subashree K, Raha D, Kumar A, Khare PK, Khan ML (2019) Tree diversity, biomass and carbon storage in sacred groves of Central India. Environ Sci Pollut Res 26(36):37212–37227. https://doi.org/10.1007/s11356-019-06854-9

Devi NB, Lepcha NT, Mahalik SS, Dutta D, Tsanglao BL (2021). Urban sacred grove forests are potential carbon stores: A case study from Sikkim Himalaya. Environmental Chall 4. https://doi.org/10.1016/j.envc.2021.100072

Donohue JC (1973). Understanding Scientific Literatures: A Bibliometric Approach. tric Approach; The Massachusetts Institute of Technology Press.

Dudley N, Bhagwat S, Higgins-Zogib L, Lassen B, Verschuuren B, Wild R (2012). Conservation of biodiversity in sacred natural sites in Asia and Africa: A review of the scientific literature. Sacred Natural Sites: Conserv Nat Culture. 1st edn. 19–32. Routledge. https://www.taylorfrancis.com/chapters/edit/10.4324/9781849776639-12/conservation-biodiversity-sacred-naturalsites-asia-africa-review-scientific-literature-nigel-dudley-shonil-bhagwat-liza-higgins-zogib-barbara-lassen-basverschuuren-robert-wild

Ewunetie GG, Miheretu BA, Mareke GT (2020). Carbon stock potential of Sekele Mariam forest in North Western Ethiopia: an implication for climate change mitigation. Modeling Earth Sys Environ Fao 2015. https://doi.org/10.1007/s40808-020-01044-w

Frascaroli F, Bhagwat S, Guarino R, Chiarucci A, Schmid B (2016) Shrines in Central Italy conserve plant diversity and large trees. Ambio 45:468–479

Funsten C, Borsellino V, Schimmenti E (2020) A systematic literature review of historic garden management and its economic aspects. Sustainability (Switz) 12(24):1–42. https://doi.org/10.3390/su122410679

Gao H, Ouyang Z, Chen S (2013) Role of culturally protected forests in biodiversity conservation in Southeast China. Biodivers Conserv 22:531–544. https://doi.org/10.1007/s10531-012-0427-7

Gao H, Xiao Y, Kopen C, Van, Ouyang Z (2018) Local perceptions of ecosystem services and protection of culturally protected forests in southeast. Ecosyst Health Sustainability 4(12):299–309

Gopal D, von der Lippe M, Kowarik I (2018) Sacred sites as habitats of culturally important plant species in an Indian megacity. Urban Forestry Urban Green 32:113–122. https://doi.org/10.1016/j.ufug.2018.04.003

Govigli M, Efthymiou A, Stara K (2021) From religion to conservation: unfolding 300 years of collective action in a Greek sacred forest. Forest Policy Econ 131. https://doi.org/10.1016/j.forpol.2021.102575

Guo D, Chen H, Long R, Lu H, Long Q (2017) A co-word analysis of organizational constraints for maintaining sustainability. Sustainability (Switz) 9(10):1–19. https://doi.org/10.3390/su9101928

Ishii H, Sato S, Iwasaki A (2005) Microclimate mitigation in shrine/temple forests of southeastern Hyogo prefecture. Nat Hum Activities 9:47–56

Ishii HT, Manabe T, Ito K, Fujita N, Imanishi A, Hashimoto D, Iwasaki A (2010) Integrating ecological and cultural values toward conservation and utilization of shrine/temple forests as urban green space in Japanese cities. Landsc Ecol Eng 6(2):307–315. https://doi.org/10.1007/s11355-010-0104-5

IUCN (2021). Post-2020 global biodiversity framework: IUCN issues briefs (Issue June). https://www.iucn.org/resources/issues-briefs/post-2020-global-biodiversity-framework

Jaganmohan M, Vailshery LS, Mundoli S, Nagendra H (2018) Biodiversity in sacred urban spaces of Bengaluru, India. Urban Forestry Urban Green 32:64–70. https://doi.org/10.1016/j.ufug.2018.03.021

Kalaba FK (2014) A conceptual framework for understanding forest socio-ecological systems. Biodivers Conserv 23:3391–3403. https://doi.org/10.1007/s10531-014-0792-5

Kanokwalee, S (2018). Urban Forests in Temple Landscapes The Cultural Services of an Urban Forest within a Temple Garden: The Bangkok Experience. Dissertation, University of California, Berkeley.

Khan ML, Khumbongmayum AD, Tripathi RS (2008) The sacred groves and their significance in conserving biodiversity an overview. Int J Ecol Environ Sci 34(3):277–291

Klepeis P, Orlowska IA, Kent EF, Cardelús CL, Scull P, Wassie Eshete A, Woods C (2016) Ethiopian Church Forests: A Hybrid Model of Protection. Hum Ecol 44(6):715–730. https://doi.org/10.1007/s10745-016-9868-z

Koricho HH, Shumi G, Gebreyesus T, Song S, Fufa F (2020) Woody plant species diversity and composition in and around Debre Libanos church forests of North Shoa Zone of Oromiya, Ethiopia. J Forestry Res 32(5):1929–1939. https://doi.org/10.1007/s11676-020-01241-4

Lacy P, Shackleton C (2017). Aesthetic and Spiritual Ecosystem Services Provided by Urban Sacred Sites. Sustainability 9(1628). https://doi.org/10.3390/su9091628

Locke H (2013) Nature needs half: A necessary and hopeful new Agenda for protected areas. Parks 19(2):13–22. https://doi.org/10.2305/IUCN.CH.2013.PARKS-19-2.HL.en

Lynch L, Kokou K, Todd S (2018). Comparison of the Ecological Value of Sacred and Nonsacred Community Forests in Kaboli, Togo. Trop Conserv Sci 11. https://doi.org/10.1177/1940082918758273

MEA (2005). Ecosystems and Human Wellbeing. In J. A. [et al.] (Ed.), Millennium Ecosystem Assessment. World Resources Institute

Mequanint F, Wassie A, Aynalem S, Adgo E, Nyssen J, Frankl A, Muys B, Lens L, Strubbe D (2020). Biodiversity conservation in the sacred groves of north-west Ethiopia: diversity and community structure of woody species. Global Ecol Conserv 24. https://doi.org/10.1016/j.gecco.2020.e01377

Metcalfe K, Ffrench-Constant R, Gordon I (2010) Sacred sites as hotspots for biodiversity the Three Sisters Cave complex in coastal Kenya Enhanced Reader.pdf. Oryx 44(1):118–123

Ormsby A (2013) Analysis of Local Attitudes Toward the Sacred Groves of Meghalaya and Karnataka, India. Conserv Soc 11(2):187–197. https://doi.org/10.4103/0972-4923.115722

Ormsby A (2021) Diverse values and benefits of urban sacred natural sites. Trees People 6:100136. https://doi.org/10.1016/j.tfp.2021.100136

Pandey DN (1998). Sacred Forestry: The Case of Rajasthan, India. In Sustainable Developments International (Issue 1997).

Pradhan A, Ormsby AA, Behera N (2019). A Comparative Assessment of Tree Diversity, Biomass and Biomass Carbon Stock between a Protected Area and a Sacred Forest of Western Odisha, India. Ecoscience 26(3). https://doi.org/10.1080/11956860.2019.1586118

Prashanth Ballullaya U, Reshmi KS, Rajesh TP, Manoj K, Lowman M, Allesh Sinu P (2019) Stakeholder motivation for the conservation of sacred groves in south India: An analysis of environmental perceptions of rural and urban neighbourhood communities. Land Use Policy 89(September):104213. https://doi.org/10.1016/j.landusepol.2019.104213

Roggema R, Tillie N, Keeffe G (2021). Nature‐based urbanization: Scan opportunities, determine directions and create inspiring ecologies. Land 10(6). https://doi.org/10.3390/land10060651

Rots AP (2015). Sacred forests, sacred nation: The shinto environmentalist paradigm and the rediscovery of Chinju no Mori. Japanese J Religious Stud 42(2). https://doi.org/10.18874/jjrs.42.2.2015.205-233

Sen UK (2019) Sacred groves: A traditional way of conserving plant diversity in West Midnapore District, West Bengal, India. J Threatened Taxa 11(3):13350–13359. https://doi.org/10.11609/jott.4310.11.3.13350-13359

Shakeri Z, Mohammadi-samani K, Bergmeier E, Plieninger T (2021). Spiritual values shape taxonomic diversity, vegetation composition, and conservation status in woodlands of the Northern Zagros, Iran. 26(1):30. https://doi.org/10.5751/ES-12290-260130

Sinthumule NI, Mashau ML (2020). Traditional ecological knowledge and practices for forest conservation in Thathe Vondo in Limpopo Province, South Africa. Global Ecol Conserv 22. https://doi.org/10.1016/j.gecco.2020.e00910

Soromessa T, Eshete A (2021). Carbon Storage of Selected Church Forests in Northern Ethiopia: Implication for Climate Change Mitigation. 1–28. https://doi.org/10.21203/rs.3.rs-864594/v1

Stara K, Tsiakiris R, Wong JLG (2015). The Trees of the Sacred Natural Sites of Zagori, NW Greece. Landsc Res 40(7). https://doi.org/10.1080/01426397.2014.911266

Tura TT, Argaw M, Eshetu Z (2013). Estimation of carbon stock in church forests: Implications for managing church forest to help with carbon emission reduction. In Climate Change Management (Issue January, pp. 403–414). https://doi.org/10.1007/978-3-642-37753-2_30

Woldegerima T, Yeshitela K, Lindley S (2017) Ecosystem services assessment of the urban forests of Addis Ababa, Ethiopia. Urban Ecosyst 20(3):683–699. https://doi.org/10.1007/s11252-016-0624-3

Yilma G, Derero A (2020) Carbon stock and woody species diversity patterns in church forests along church age gradient in Addis Ababa, Ethiopia. Urban Ecosyst 23(5):971–983. https://doi.org/10.1007/s11252-020-00961-z

Zannini P, Frascaroli F, Nascimbene J, Persico A, Halley JM, Stara K, Midolo G, Chiarucci A (2021) Sacred natural sites and biodiversity conservation: A systematic review. Biodivers Conserv 30(13):3747–3762. https://doi.org/10.1007/s10531-021-02296-3
Author contribution
All authors contributed to the study conception and design. Data collection, visualisation and analysis were performed by AM and MS. The first draft of the manuscript was written by AM. Review and editing were done by JPI, and all authors commented on previous versions of the manuscript. All authors read and approved the final manuscript.
Ethics declarations
Conflict of interest
The authors declare no competing interests.
Additional information
Publisher's note Springer Nature remains neutral with regard to jurisdictional claims in published maps and institutional affiliations.
Rights and permissions
Springer Nature or its licensor (e.g. a society or other partner) holds exclusive rights to this article under a publishing agreement with the author(s) or other rightsholder(s); author self-archiving of the accepted manuscript version of this article is solely governed by the terms of such publishing agreement and applicable law.
About this article
Cite this article
Melaku, A., Ivars, J.P. & Sahle, M. The state-of-the-art and future research directions on sacred forests and ecosystem services. Environmental Management (2023). https://doi.org/10.1007/s00267-023-01790-4
Received:

Accepted:

Published:

DOI: https://doi.org/10.1007/s00267-023-01790-4
Keywords
Conservation

Ecosystem services

Biocultural benefits

Biodiversity

Culturally protected forests

Cultural landscapes