Abstract
Little guidance is available to assist wetland managers in developing climate adaptation plans. To facilitate development of recommendations for adaptation strategies, it is essential to first determine if or how wetland managers are addressing these challenges. We used an online survey to solicit feedback from wetland managers and biologists in the Southern Great Plains of North America to gain information on perceptions of wetland managers regarding climate change; assess how the effects of climate change are being addressed through management; and identify barriers to implementing climate change adaptation. The majority of wetland managers (63%) agreed they are currently experiencing effects of climate change in wetlands, and most respondents (76%) reported that changes in the timing of water availability throughout the year was the most likely impact. Managers reported using a diversity of approaches in managing for changing precipitation, with management of native and invasive plant species being the two most common practices. Lack of funding and personnel were the most commonly identified factors limiting manager's response to changing precipitation patterns. In addition, >50% of managers indicated uncertainty about the effects of climate change on wetlands as a barrier to management, which may relate to limited access to peer-reviewed science. While most of the management practices reported were short-term measures and may not reflect long-term adaptation for climate change, the fact that many managers are considering climate change in their management suggests that there is considerable opportunities to continue developing capacity for climate change adaptation in the region.
Access options
Buy single article
Instant access to the full article PDF.
USD 39.95
Price excludes VAT (USA)
Tax calculation will be finalised during checkout.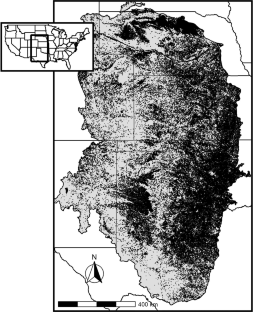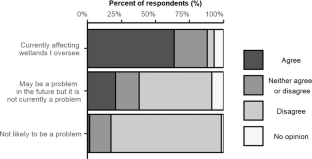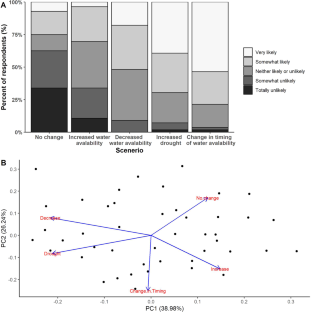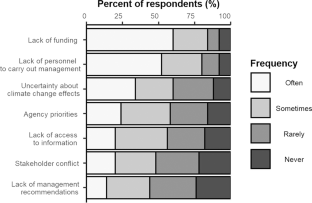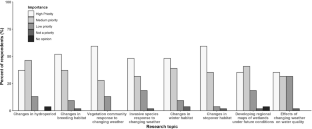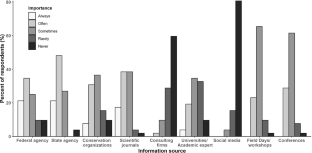 References
Archie KM, Dilling L, Milford JB, Pampel FC (2012) Climate change and western public lands: a survey of US federal land managers on the status of adaptation efforts. Ecol Soc 17:20

Albanese G, Davis CA (2013) Broad-scale relationships between shorebirds and landscapes in the Southern Great Plains. Auk 130:88–97

Anhalt-Depies CM, Knoot TG, Rissman AR, Sharp AK, Martin KJ (2016) Understanding climate adaptation on public lands in the Upper Midwest: implications for monitoring and tracking progress. Environ Manag 57:987–997

Bradley BA, Blumenthal DM, Wilcove DS, Ziska LH (2010) Predicting plant invasions in an era of global change. Trends Ecol Evol 25:310–318

Bartuszevige AM, Pavlacky DC, Burris L, Herbener K (2012) Inundation of playa wetlands in the western Great Plains relative to landcover context. Wetlands 32:1103–1113

Battle JM, Golladay SW (2001) Hydroperiod influence on breakdown of leaf litter in cypress-gum wetlands. Am Midl Naturalist 146:128–145

Bayliss H, Stewart G, Wilcox A, Randall N (2013) A perceived gap between invasive species research and stakeholder priorities. NeoBiota 19:67–82

Berrang-Ford L, Ford JD, Paterson J (2011) Are we adapting to climate change? Glob Environ Change 21:25–33

Beaury EM, Fusco EJ, Jackson MR, Laginhas BB, Morelli TL, Allen JM, Pasquarella VJ, Bradley BA (2020) Incorporating climate change into invasive species management: insights from managers. Biol Invasions 22:233–252

Biesbroek GR, Klostermann JE, Termeer CJ, Kabat P (2013) On the nature of barriers to climate change adaptation. Regional Environ Change 13:1119–1129

Bierbaum R, Lee A, Smith J, Blair M, Carter LM, Chapin III FS, Fleming P, Ruffo S, McNeeley S, Stults M, Verduzco L, and Seyller E (2014) Adaptation. In: Melillo JM, Richmond TTC, and Yohe GW, editors. Climate change impacts in the United States: the third national climate assessment. U.S. Global Change Research Program, Washington, D.C., USA, p 670–706 . https://doi.org/10.7930/j07h1ggt

Blennow K (2012) Adaptation of forest management to climate change among private individual forest owners in Sweden. For Policy Econ 24:41–47

Burris L, Skagen SK (2013) Modeling sediment accumulation in North American playa wetlands in response to climate change, 1940–2100. Clim Change 117:69–83

Busnardo MJ, Gersberg RM, Langis R, Sinicrope TL, Zedler JB (1992) Nitrogen and phosphorus removal by wetland mesocosms subjected to different hydroperiods. Ecol Eng 1:287–307

Cash DW, Clark WC, Alcock F, Dickson NM, Eckley N, Guston DH, Jäger J, Mitchell RB (2003) Knowledge systems for sustainable development. Proc Natl Acad Sci 100:8086–8091

Cariveau AB, Pavlacky DC, Bishop AA, LaGrange TG (2011) Effects of surrounding land use on playa inundation following intense rainfall. Wetlands 31:65–73

Chen I-C, Hill JK, Ohlemüller R, Roy DB, Thomas CD (2011) Rapid range shifts of species associated with high levels of climate warming. Science 333:1024–1026

Christian J, Christian K, Basara JB (2015) Drought and pluvial dipole events within the great plains of the United States. J Appl Meteorol Climatol 54:1886–1898

Clark JS, Grimm EC, Donovan JJ, Fritz SC, Engstrom DR, Almendinger JE (2002) Drought cycles and landscape responses to past aridity on prairies of the northern Great Plains, USA. Ecology 83:595–601

Collins S, Heintzman L, Starr S, Wright C, Henebry G, McIntyre N (2014) Hydrological dynamics of temporary wetlands in the southern Great Plains as a function of surrounding land use. J Arid Environ 109:6–14

Dahl TE (2011) Status and trends of wetlands in the conterminous United States 2004 to 2009. US Department of theInterior, US Fish and Wildlife Service, Fisheries and Habitat Conservation

Downard R, Endter-Wada J, Kettenring KM (2014) Adaptive wetland management in an uncertain and changing arid environment. Ecol Soc 19:23

Dudgeon D, Arthington AH, Gessner MO, Kawabata Z-I, Knowler DJ, Lévêque C, Naiman RJ, Prieur-Richard A-H, Soto D, Stiassny ML (2006) Freshwater biodiversity: importance, threats, status and conservation challenges. Biol Rev 81:163–182

Duell EB, Londe DW, Hickman K, Greer MJ, Wilson GW (2021) Superior performance of invasive grasses over native counterparts will remain problematic under warmer and drier conditions. Plant Ecol 222:993–1006

Ellenwood MS, Dilling L, Milford JB (2012) Managing United States public lands in response to climate change: a view from the ground up. Environ Manag 49:954–967

Eller F, Lambertini C, Nguyen LX, Brix H (2014) Increased invasive potential of non‐native Phragmites australis: elevated CO2 and temperature alleviate salinity effects on photosynthesis and growth. Glob Change Biol 20:531–543

Enquist CA, Jackson ST, Garfin GM, Davis FW, Gerber LR, Littell JA, Tank JL, Terando AJ, Wall TU, Halpern B (2017) Foundations of translational ecology. Front Ecol Environ 15:541–550

Erwin KL (2009) Wetlands and global climate change: the role of wetland restoration in a changing world. Wetl Ecol Manag 17:71–84

Euliss NH, LaBaugh JW, Fredrickson LH, Mushet DM, Laubhan MK, Swanson GA, Winter TC, Rosenberry DO, Nelson RD (2004) The wetland continuum: a conceptual framework for interpreting biological studies. Wetlands 24:448–458

Fay PA, Guntenspergen GR, Olker JH, Johnson WC (2016) Climate change impacts on freshwater wetland hydrology and vegetation cover cycling along a regional aridity gradient. Ecosphere 7:e01504

Gray MJ, Hagy HM, Nyman JA, Stafford JD (2013) Management of wetlands for wildlife. In: Anderson JT, Davis CA (Eds) Wetland techniques. Springer, New York, p 121–180

Grimm NB, Chapin III FS, Bierwagen B, Gonzalez P, Groffman PM, Luo Y, Melton F, Nadelhoffer K, Pairis A, Raymond PA (2013) The impacts of climate change on ecosystem structure and function. Front Ecol Environ 11:474–482

Haukos DA, Smith LM (1994) The importance of playa wetlands to biodiversity of the Southern High Plains. Landsc Urban Plan 28:83–98

Hollander M, Wolfe DA, Chicken E (2013) Nonparametric statistical methods. John Wiley & Sons, Hoboken, New Jersey

Iknayan KJ, Beissinger SR (2018) Collapse of a desert bird community over the past century driven by climate change. Proc Natl Acad Sci 115:8597–8602

IPCC 2021: Climate Change (2021) The Physical Science Basis. Contribution of Working Group I to the Sixth Assessment Report of the Intergovernmental Panel on Climate Change [Masson-Delmotte V, Zhai P, Pirani A, Connors SL, Péan C, Berger S, Caud N, Chen Y, Goldfarb L, Gomis MI, Huang M, Leitzell K, Lonnoy E, Matthews JBR, Maycock TK, Waterfield T, Yelekçi O, Yu R, and Zhou B (eds)]. Cambridge University Press, Cambridge, United Kingdom and New York, NY, USA, p 2391. https://doi.org/10.1017/9781009157896

IPCC (2022) Climate Change 2022: Impacts, Adaptation, and Vulnerability. Contribution of Working Group II to the Sixth Assessment Report of the Intergovernmental Panel on Climate Change. Pörtner H-O, Roberts DC, Tignor M, Poloczanska ES, Mintenbeck K, Alegría A, Craig M, Langsdorf S, Löschke S, Möller V, Okem A, and Rama B (Eds). Cambridge University Press, Cambridge, UK and New York, NY, USA, 3056 pp. https://doi.org/10.1017/9781009325844

James G, Witten D, Hastie T, Tibshirani R (2013) An introduction to statistical learning. Springer, New York

Jantarasami LC, Lawler JJ, Thomas CW (2010) Institutional barriers to climate change adaptation in US national parks and forests. Ecology and Society 15:33

Johnson WP, Rice MB, Haukos DA, Thorpe PP (2011) Factors influencing the occurrence of inundated playa wetlands during winter on the Texas High Plains. Wetlands 31:1287–1296

Joyce LA, Blate GM, McNulty SG, Millar CI, Moser S, Neilson RP, Peterson DL (2009) Managing for multiple resources under climate change: national forests. Environ Manag 44:1022–1032

Junk WJ, Brown M, Campbell IC, Finlayson M, Gopal B, Ramberg L, Warner BG (2006) The comparative biodiversity of seven globally important wetlands: a synthesis. Aquat Sci 68:400–414

Kelly AE, Goulden ML (2008) Rapid shifts in plant distribution with recent climate change. Proc Natl Acad Sci 105:11823–11826

Kemp KB, Blades JJ, Klos PZ, Hall TE, Force JE, Morgan P, Tinkham WT (2015) Managing for climate change on federal lands of the western United States: perceived usefulness of climate science, effectiveness of adaptation strategies, and barriers to implementation. Ecol Soc 20:17

Klein RJT, Huq S, Denton F, Downing TE, Richels RG, Robinson JB, and Toth FL (2007) Inter-relationships between adaptation and mitigation. In: Parry ML, Canziani OF, Palutikof JP, Linden, PJvd and Hanson CE (Eds), Climate Change 2007: Impacts, Adaptation and Vulnerability, Contribution of Working Group II to the Fourth Assessment Report of the Intergovernmental Panel on Climate Change. Cambridge University Press, Cambridge, United Kingdom and New York, NY, USA, p 2391

Kloesel K, Bartush B, Banner J, Brown D, Lemery J, Lin X, Loeffler C, McManus G, Mullens E, Nielsen-Gammon J, Shafer M, Sorensen C, Sperry S, Wildcat D, and Ziolkowska J (2018) Southern Great Plains. In: Reidmiller DR, Avery CW, Easterling DR, Kunkel KE, Lewis KLM, Maycock TK, and Stewart BC (eds). Impacts, Risks, and Adaptation in the United States: Fourth National Climate Assessment, Volume II. U.S. Global Change Research Program, Washington, DC, USA, pp 987–1035

Knight AT, Cowling RM, Rouget M, Balmford A, Lombard AT, Campbell BM (2008) Knowing but not doing: selecting priority conservation areas and the research–implementation gap. Conserv Biol 22:610–617

Konapala G, Mishra AK, Wada Y, Mann ME (2020) Climate change will affect global water availability through compounding changes in seasonal precipitation and evaporation. Nat Commun 11:1–10

Lawler JJ, Tear TH, Pyke C, Shaw MR, Gonzalez P, Kareiva P, Hansen L, Hannah L, Klausmeyer K, Aldous A (2010) Resource management in a changing and uncertain climate. Front Ecol Environ 8:35–43

LeDee OE, Ribic C (2015) Determining climate change management priorities: a case study from Wisconsin. J Conserv Plan 11:1–12

Li S, Juhász-Horváth L, Harrison PA, Pintér L, Rounsevell MD (2017) Relating farmer's perceptions of climate change risk to adaptation behaviour in Hungary. J Environ Manag 185:21–30

Lockaby B, Murphy A, Somers G (1996) Hydroperiod influences on nutrient dynamics in decomposing litter of a floodplain forest. Soil Sci Soc Am J 60:1267–1272

Londe DW, Dvorett D, Davis CA, Loss SR, Robertson EP (2022) Inundation of depressional wetlands declines under a changing climate. Clim Change 172:1–19

McKenna OP, Sala OE (2016) Biophysical controls over concentration and depth distribution of soil organic carbon and nitrogen in desert playas. J Geophys Res: Biogeosci 121:3019–3029

McKenna OP, Sala OE (2018) Groundwater recharge in desert playas: current rates and future effects of climate change. Environ Res Lett 13:014025

McKenna OP, Renton DA, Mushet DM, DeKeyser ES (2021a) Upland burning and grazing as strategies to offset climate-change effects on wetlands. Wetl Ecol Manag 29:193–208

McKenna OP, Mushet DM, Kucia SR, McCulloch‐Huseby EC (2021b) Limited shifts in the distribution of migratory bird breeding habitat density in response to future changes in climate. Ecol Appl 31:e02428

Meijninger W, Jarmain C (2014) Satellite-based annual evaporation estimates of invasive alien plant species and native vegetation in South Africa. Water SA 40:95–108

Mitsch WJ, Hernandez ME (2013) Landscape and climate change threats to wetlands of North and Central America. Aquatic Sci 75:133–149

Moser SC, Ekstrom JA (2010) A framework to diagnose barriers to climate change adaptation. Proc Natl Acad Sci 107:22026–22031

Moser SC, Ekstrom JA, Kim J, Heintsch S (2018) Adaptation finance challenges: characteristic patterns facing California local governments and ways to overcome them. Publication number: CCCA4-CNRA-2018-007. California's Fourth Climate Change Assessment, California Natural Resources Agency, Sacramento, California, USA. [online] http://www.climateassessment.ca.gov/techreports/governance.html

Moser S, Ekstrom J, Kim J, Heitsch S (2019) Adaptation finance archetypes: local governments' persistent challenges of funding adaptation to climate change and ways to overcome them. Ecology and Society 24:28

Nelson HW, Williamson TB, Macaulay C, Mahony C (2016) Assessing the potential for forest management practitioner participation in climate change adaptation. For Ecol Manag 360:388–399

Omernik JM (1987) Ecoregions of the conterminous United States. Ann Assoc Am Geographers 77:118–125

Owen RK, Webb EB, Haukos DA, Goyne KW (2020) Projected climate and land use changes drive plant community composition in agricultural wetlands. Environ Exp Bot 175:104039

Parkhurst RS, Winter TC, Rosenberry DO, Sturrock AM (1998) Evaporation from a small prairie wetland in the Cottonwood Lake area, North Dakota—an energy-budget study. Wetlands 18:272–287

Parmesan C, Yohe G (2003) A globally coherent fingerprint of climate change impacts across natural systems. Nature 421:37–42

Reddy AR, Rasineni GK, Raghavendra AS (2010) The impact of global elevated CO2 concentration on photosynthesis and plant productivity. Curr Sci 99:46–57

Rocque RJ, Beaudoin C, Ndjaboue R, Cameron L, Poirier-Bergeron L, Poulin-Rheault R-A, Fallon C, Tricco AC, Witteman HO (2021) Health effects of climate change: an overview of systematic reviews. BMJ Open 11:e046333

Sklar FH, Chimney MJ, Newman S, McCormick P, Gawlik D, Miao S, McVoy C, Said W, Newman J, Coronado C (2005) The ecological–societal underpinnings of Everglades restoration. Front Ecol Environ 3:161–169

Sofaer HR, Skagen SK, Barsugli JJ, Rashford BS, Reese GC, Hoeting JA, Wood AW, Noon BR (2016) Projected wetland densities under climate change: habitat loss but little geographic shift in conservation strategy. Ecol Appl 26:1677–1692

South C, Susan C, Grimmond B, Wolfe CP (1998) Evapotranspiration rates from wetlands with different disturbance histories: Indiana Dunes National Lakeshore. Wetlands 18:216–229

Spidalieri K (2020) Where the wetlands are—and where they are going: legal and policy tools for facilitating coastal ecosystem migration in response to sea-level rise. Wetlands 40:1765–1776

Stein BA, Staudt A, Cross MS, Dubois NS, Enquist C, Griffis R, Hansen LJ, Hellmann JJ, Lawler JJ, Nelson EJ (2013) Preparing for and managing change: climate adaptation for biodiversity and ecosystems. Front Ecol Environ 11:502–510

Toomey AH, Knight AT, Barlow J (2017) Navigating the space between research and implementation in conservation. Conserv Lett 10:619–625

Tougas‐Tellier MA, Morin J, Hatin D, Lavoie C (2015) Freshwater wetlands: Fertile grounds for the invasive P hragmites australis in a climate change context. Ecol Evol 5:3421–3435

Tribbia J, Moser SC (2008) More than information: what coastal managers need to plan for climate change. Environ Sci Policy 11:315–328

Uden DR, Allen CR, Bishop AA, Grosse R, Jorgensen CF, LaGrange TG, Stutheit RG, Vrtiska MP (2015) Predictions of future ephemeral springtime waterbird stopover habitat availability under global change. Ecosphere 6:e 215

USFWS (2018) National Wetlands Inventory. U.S. Fish & Wildlife Service. https://data.nal.usda.gov/dataset/national-wetlands-inventory. Accessed 20 Sep 2022

van der Valk A, Mushet DM (2016) Interannual water-level fluctuations and the vegetation of prairie potholes: potential impacts of climate change. Wetlands 36:397–406

Voldseth RA, Johnson WC, Guntenspergen GR, Gilmanov T, Millett BV (2009) Adaptation of farming practices could buffer effects of climate change on northern prairie wetlands. Wetlands 29:635–647

Walters CJ (1986) Adaptive management of renewable resources. Collier Macmillan, New York, New York, USA

Whitehead PG, Wilby RL, Battarbee RW, Kernan M, Wade AJ (2009) A review of the potential impacts of climate change on surface water quality. Hydrological Sci J 54:101–123

Whitney CK, Ban NC (2019) Barriers and opportunities for social-ecological adaptation to climate change in coastal British Columbia. Ocean Coast Manag 179:104808

Wilson RJ, Gutierrez D, Gutierrez J, Monserrat VJ (2007) An elevational shift in butterfly species richness and composition accompanying recent climate change. Glob Change Biol 13:1873–1887

Yuguda TK, Wu Y, Leng Z, Gao G, Li G, Dai Z, Li J, Du D (2022) Impact of Spartina alterniflora invasion on evapotranspiration water loss in Phragmites australis dominated coastal wetlands of east China. Ecol Eng 179:106605

Zambreski ZT, Lin X, Aiken RM, Kluitenberg GJ, Pielke Sr. RA (2018) Identification of hydroclimate subregions for seasonal drought monitoring in the US Great Plains. J Hydrol 567:370–381
Acknowledgements
We would like to thank all the survey participants for all of their feedback, and to those who helped connect us with new managers for our survey. In addition, we would like to thank Dave Haukos, Bill Johnson and two anonymous reviewers for providing valuable comments that greatly improved this paper.
Ethics declarations
Conflict of Interest
The authors declare no competing interests.
Additional information
Publisher's note Springer Nature remains neutral with regard to jurisdictional claims in published maps and institutional affiliations.
Supplementary Information
Rights and permissions
Springer Nature or its licensor (e.g. a society or other partner) holds exclusive rights to this article under a publishing agreement with the author(s) or other rightsholder(s); author self-archiving of the accepted manuscript version of this article is solely governed by the terms of such publishing agreement and applicable law.
About this article
Cite this article
Londe, D.W., Joshi, O., York, B.C. et al. Climate Change and Wetlands in the Southern Great Plains: How Are Managers Dealing with an Uncertain Future?. Environmental Management 71, 379–392 (2023). https://doi.org/10.1007/s00267-022-01758-w
Received:

Accepted:

Published:

Issue Date:

DOI: https://doi.org/10.1007/s00267-022-01758-w
Keywords
Adaptation

Climate change

Ecological uncertainty

Precipitation

Wetland

Wetland management