Abstract
Clarifying the behavior motivation of herders participating in grassland governance has important theoretical and practical significance for the construction of ecological civilization and economic development in pastoral areas. Based on the data from 425 households in the Inner Mongolia Autonomous Region, this paper constructs a Double-Hurdle model to explore the impact of informal institutions and environmental emotion (individual emotion, collective emotion, and intergenerational dependence) on herders' grassland governance. The results show that informal institutions promote herders' willingness and payment for participating in grassland governance, and collective emotions hinder herders' participation, showing a "free-ride" mentality. Informal institutions moderate the relationship between collective emotions and grassland governance behavior. Informal institutions also help herders understand the collective sense of responsibility and morality behind grassland protection, thereby reducing the "free-ride" mentality. Therefore, it is necessary to maintain the informal institutions' role as a "glue" in the traditional culture of pastoral areas and to promote the realization of policy goals.
Access options
Buy single article
Instant access to the full article PDF.
USD 39.95
Price excludes VAT (USA)
Tax calculation will be finalised during checkout.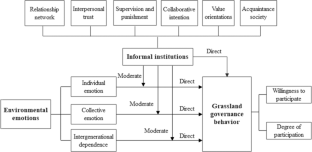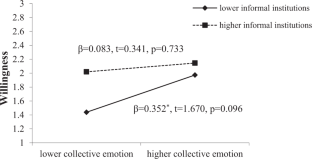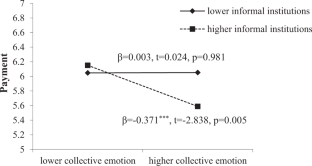 References
Andrews EJ, Wolfe S, Nayak PK, Armitage D (2020) Coastal Fishers Livelihood Behaviors and Their Psychosocial Explanations: Implications for Fisheries Governance in a Changing World. Front Mar Sci https://doi.org/10.3389/fmars.2021.634484

Bi Q, Gu L, Zhang J (2015) Traditional culture, environmental institution and corporate environmental information disclosure. Account Res 03:12-19+94. https://doi.org/10.3969/j.issn.1003-2886.2015.03.002

Bian Y (2018) The prevalence and the increasing significance of Guanxi. China Q 235:597–621. https://doi.org/10.1017/S0305741018000541

Brock G (2005) Organizational membership versus informal interaction: contributions to skills and perceptions that build social capital. Polit Psychol 26(1):1–25. https://doi.org/10.1111/j.1467-9221.2005.00407.x

Cai Q, Zhu Y (2016) Influence of social capital and income inequality on village collective action—based on farmers' participation in the maintenance of small irrigation systems in three provinces. J Public Manag 13(04):89-100+157. https://doi.org/10.16149/j.cnki.23-1523.2016.04.008

Chang KC (2011) A path to understanding guanxi in China's transitional economy: variations on network behavior. Socio Theor 29:315–339

Chu L, Jiang Z, Wang J (2020) The impact mechanism of herdsmen's grass-livestock balance maintenance: cognitive limitations and emotional dependence. China Rural Econ 06:95–114. https://kns.cnki.net/kcms/detail/detail.aspx?FileName=ZNJJ2020060

Cragg John G (1971) Some statistical models for limited dependent variables with application to the demand for durable goods. Econometrica 39(5):829–844. https://doi.org/10.2307/1909582

Dau LA, Chacar AS, Lyles MA, Li J (2022) Informal institutions and international business: Toward an integrative research agenda. J Int Bus Stud 53(6):985–1010. https://doi.org/10.1007/s11524-013-9812-0

Deephouse DL, Suchman M (2008) Legitimacy in organizational institutionalism. In: Greenwood C, Oliver R, Andersson K (eds.) The Handbook of Organizational Institutionalism. Sage, New York, p 49–77

Ding Z (2014) Research on the governance of animal husbandry cooperatives from the perspective of relevant interest groups. Dissertation, University of Chinese Academy of Social Sciences

Du Y, Liu P, Bao C, Su S (2016) A study on the rural environmental governance through the lens of social capita——a case of livestock farming pollution in the undeveloped region. J Public Manag 13(04):101-112+157-15810.

Fei D (2012) Affective Dependency, Rationality and Reasoning from a Cognitive Perspective. Soc Sci China 08:31-47+203-204. CNKI:SUN:ZSHK.0.2012-08-003

Feng X, Liu M, Qiu H (2019) Impact of grassland eco-compensation policy on herders' overgrazing behavior: the moderating role of social capital. China Population. Resour Environ 29(07):157–165. https://doi.org/10.12062/cpre.20190306

Fletcher AJ, Akwen NS, Hurlbert M, Diaz HP (2020) "You relied on God and your neighbour to get through it": social capital and climate change adaptation in the rural Canadian Prairies. Reg Environ Change 20:1–15. https://doi.org/10.1007/s10113-020-01645-2

Geng L, Zhuo M (2018) Reflection on environmental problems: from perspective of environmental psychology. J Nanjing Tech Univ (Soc Sci Ed) 17(01):78–96. CNKI:SUN:NJZS.0.2018-01-008

Guo L, Zhao J (2014) Informal institutions and farmers pro-environmental behavior: as an example of the farmers' straw processing behavior. China Population. Resour Environ 24(11):69–75. https://doi.org/10.3969/j.issn.1002-2104.2014.11.009

Han C (2017) Report of the State Council on Grassland Ecological Environmental Protection Work - at the 30th meeting of the Standing Committee of the 12th National People's Congress on November 1, 2017. Gazette of the Standing Committee of the National People's Congress of the People's Republic of China, (06): 977–981

Hou X, Han Y (2011) Herdsmen's perceptions and adaptation of climate change in typical areas of Inner Mongolia. Geogr Res 30(10):1753–1764. https://doi.org/10.11821/yj2011100002

Hu J, Song X, Wang H (2017) Informal institution, hometown identity and corporate environmental governance. J Manag World 03:76-94+187-188. https://doi.org/10.19744/j.cnki.11-1235/f.2017.03.006

Hu Z (2016) China Grassland Eco-compensation Mechanism: Empirical Research in Inner Mongolia and Gansu. Dissertation, China Agricultural University. CNKI:CDMD:1.1016.085503

Jia Y, Zhao M (2019) The influence of environmental concern and institutional trust on farmers' willingness to participate in rural domestic waste treatment. Resour Sci 41(08):1500–1512. CNKI:SUN:ZRZY.0.2019-08-010

Kahneman D (2003) Maps of bounded rationality: Psychology for behavioral economics. Am Econ Rev 93(5):1449–1475. https://doi.org/10.1257/000282803322655392

Khanam T, Reiner DM (2022) Evaluating gaps in knowledge, willingness and heating performance in individual preferences on household energy and climate policy: Evidence from the UK. Renew Sust Energ Rev 160:112229. https://doi.org/10.1016/j.rser.2022.112229

Klein A, Horak S, Ahlf H, Nihalani K (2022) Influence of informal institutions on commitment to customer service in confucian Asia. Manag Decis 60(9):2455–2481. https://doi.org/10.1108/MD-10-2021-1286

Leach CW, Ellemers N, Barreto M (2007) Group virtue: the importance of morality (vs. competence and sociability) in the positive evaluation of in-groups. J Pers Soc Psychol 93(2):234–249. https://doi.org/10.1037/0022-3514.93.2.234

Ledeneva A (1998) Russia's economy of favours: Blat, networking and informal exchange. Cambridge University Press, Cambridge, UK

Ledeneva A (ed) (2018) The Global Encyclopaedia of Informality: Understanding Social and Cultural Complexity, Volume 2. London: UCL Press. https://doi.org/10.14324/111.9781787351899

Li C (2013) An analysis of the operational mechanism of informal institutions under the background of acquaintance society. Soc Sci Yunnan 06:152–155. https://doi.org/10.3969/j.issn.1000-8691.2013.06.031

Li F, Zhang J, He K (2019) Impact of informal system and environmental regulation on farmers' green production behavior. Resour Sci 41(07):1227–1239. https://doi.org/10.18402/resci.2019.07.04

Li F, Zhang J, He K, Chang H (2020) Effect of sense of belonging on farmers' participation in rural environmental governance: based on the survey data of 1007 farmers in Hubei province. Resour Environ Yangtze Basin 29(04):1027–1039. CNKI:SUN:CJLY.0.2020-04-023

Li H, Li S, Nan L (2018) Why farmers' willingness of agricultural environmental protection results in lower behavior?—New insights from fairness perception. J Huazhong Agric Univ (Soc Sci Ed) 02:18-27+155. https://doi.org/10.13300/j.cnki.hnwkxb.2018.02.003

Li PP (2007) Social tie, social capital, and social behavior: Toward an integrative model of informal exchange. Asia Pac J Manag 24(2):227–246. https://doi.org/10.1007/s10490-006-9031-2

Liski AH, Ambros P, Metzger MJ et al. (2019) Governance and stakeholder perspectives of managed re-alignment: adapting to sea level rise in the Inner Forth estuary, Scotland. Reg Environ Change 19:2231–2243. https://doi.org/10.1007/s10113-019-01505-8

Liu X (2018) Choice Mechanism Research of Organizational Employees' Pro-environmental Behavior on the Perspective of Values Fit: The Mediating Effect of Anticipated Environmental Emotion. Dissertation, China University of Mining and Technology. CNKI:CDMD: 2.1018.826320

Lu M, Li S (2008) Social capital, informal institutions and economic development. J Manag World 09:161–165+179. https://doi.org/10.19744/j.cnki.11-1235/f.2008.09.016

Minbaeva DB, Ledeneva A, Muratbekova-Touron M, Horak S (2022) Explaining the persistence of informal institutions: the role of informal networks. Acad Manage Rev (ja). https://doi.org/10.5465/amr.2020.0224

Moser D, Steiglechner P, Schlueter A (2022) Facing global environmental change: The role of culturally embedded cognitive biases. Environ Dev 100735. https://doi.org/10.1016/j.envdev.2022.100735

North DC (1991) Institutions. J Econ Perspect 5(1):97–112. https://doi.org/10.2307/1182335.

North DC (1990) Institutions, institutional change and economic performance. Cambridge University Press, Cambridge

Ostrom E (1990) Governing the commons: The evolution of institutions for collective action. Cambridge university press.

Ostrom E (2008) Building trust to solve commons dilemmas: Taking small steps to test an evolving theory of collective action. In: Levin S (ed) Games, groups, and the global good. Springer, New York, p 207–228. pp

Pittman JA, Fortin S (2004) Auditor choice and the cost of debt capital for newly public firms. J Acc Econ 37(1):113–136. https://doi.org/10.1016/j.jacceco.2003.06.005

Poteete AR, Janssen MA, Ostrom E (2010) Working Together: Collective Action, the Commons, and Multiple Methods in Practice (STU-Student edition). Princeton University Press. http://www.jstor.org/stable/j.ctt3fgxrd

Qiu H, Zhang C, Liu L, Feng X (2020) Evolution of grassland management institutions and innovation of the local governance mechanism in China. Comp Econ Soc Syst 03:48–56

Ramkissoon H, Weiler B, Smith L (2012) Place attachment and pro-environmental behaviour in national parks: the development of a conceptual framework. J Sustain Tour 20:257–276. https://doi.org/10.1080/09669582.2011.602194

Ren J (2012) Grazing, the basic way of grassland ecosystem existence—Discussion on the transition of grazing. J Nat Resour 27(08):1259–1275. https://doi.org/10.11849/zrzyxb.2012.08.001

Rude J, Surry Y, Kron R (2014) A generalized double-hurdle model of swedish gambling expenditures. Appl Econ 46(34):4151–4163. https://doi.org/10.1080/00036846.2014.939376

Scannell L, Gifford R (2010) The relations between natural and civic place attachment and pro-environmental behavior. J Environ Psychol 30(3):289–297. https://doi.org/10.1016/j.jenvp.2010.01.010

Schein EH (2004) Organizational culture and leadership, 3rd ed. Jossey-Bass Publishers, San Francisco

Scott WR (2013) Institutions and organizations, 4th ed. Sage, Thousand Oaks, CA

Several Opinions of the State Council on Promoting the Sound and Rapid Development in Pastoral Areas. State Council Gazette Issue No. 23 Serial No. 1382. http://www.gov.cn/gongbao/content/2011/content_1927039.htm

Shi Y, Yao L, Zhao M (2018) The Effect of Social Capital on Herdsmen's Participation Willingness in Grassland Community Governance: An Analysis Based on Triple-Hurdle Model. China Rural Survey 03:35–50. https://kns.cnki.net/kcms/detail/detail.aspx? FileName=ZNCG201803003andDbName=CJFQ2018

Shi ZH, Zhang H (2022) Research on the effect of the same group effect on the disparity between the willingness and behavior of farmers to recycle plastic film——Based on the mediating effect of ecological rationality. J Agrotech Econ 08:97–111. https://doi.org/10.13246/j.cnki.jae.2022.08.002

Tian X, Chen L (2013) A study on the mechanism of risk-sharing in the mass farmland transfer process. J China Agric Univ (Soc Sci) 30(04):40–47. https://doi.org/10.13240/j.cnki.caujsse.2013.04.012

Tobin J (1958) Estimation of relationships for limited dependent variables. Econometrica 26(1):24–36. https://doi.org/10.2307/1907382

Wang H, Gao B, Qi X, Qiao G (2017) Empirical analysis on the impact of the grassland ecological protection subsidies and incentives policies on Herdsmen's reduced-livestock behavior: based on the 260 Herdsmen households in Inner Mongolia. Issues Agric Econ 38(12):73-80+112. CNKI:SUN:NJWT.0.2017-12-010

Wang J (2015) The dimensional structure of environmental emotions and its influence on consumption carbon emission reduction——a two-factor theory hypothesis of emotion-behavior and its verification. J Manag World 12:82–95. https://doi.org/10.19744/j.cnki.11-1235/f.2015.12.008

Wang J (2016) Research on Taoist value, environment attitude, and carbon emission reduction consumption. Jianghan Academic 35(06):5–13. https://doi.org/10.16388/j.cnki.cn42-1843/c.2016.06.001

Wang J, Shen M, Zhu D (2020) Research on the pro-environmental behaviors of rural residents under the background of comprehensive environmental governance. China Population. Resour Environ 30(07):128–139. https://doi.org/10.12062/cpre.20200319

Wang J, Wu L (2015) The categories, dimensions and mechanisms of emotions in the studies of pro-environmental behavior. Adv Psychological Sci 23(12):2153–2166. https://doi.org/10.3724/SP.J.1042.2015.02153

Wang X (2009) From "Rangeland Leasing" to "Recentralization in Rangeland Conservation" ——Policies of rangeland conservation in North China. China Rural Surv 3:36-46+95. CNKI:SUN:ZNCG.0.2009-03-007

Wang X, Zhang J, Tong Q (2020) Does place attachment help to enhance farmers' willingness to participate in rural environmental governance?—based on the survey data of Hubei Province. China Popul, Resour Environ 30(04):136–148. https://doi.org/10.12062/cpre.20191101

Wilson E (1984) Biophilia. Harvard University Press

Wynveen CJ, Kyle GT, Sutton SG (2013) Environmental worldview, place attachment, and awareness of environmental impacts in a marine environment. Environ Behav 46(8):993–1017. https://doi.org/10.1177/0013916513484325

Xie X, Li X, Zhao M, Shi H (2018) How does capital endowment affect herdsman to reduce livestock?—an empirical analysis based on 372 herdsmen in Inner Mongolia. Resources. Science 40(09):1730–1741. https://doi.org/10.18402/resci.2018.09.04

Xie J, Yang G, Wang G, Zhu Y, Guo Z (2022) Substitutes or complements? Exploring the impact of environmental regulations and informal institutions on the clean energy utilization behaviors of farmers. Environ Dev Sustain 1-30. https://doi.org/10.1007/s10668-022-02222-9

Xu F, He Y (2016) A review of environmental ethics and sustainable tourism behavior. Prog Geogr 35(06):724–736. https://kns.cnki.net/kcms/detail/detail.aspx?FileName=DLKJ201606006andDbName=CJFQ2016

Xu Y, Yao Y (2014) Informal institutions, collective action, and public investment in rural china. Am Polit Sci Rev 109(2):371–391. https://doi.org/10.2139/ssrn.2427983

Yang R (2014) The interaction between formal institutions and informal institutions in rural governance. Jianghai Acad J 01:130–137. https://doi.org/10.3969/j.issn.1000-856X.2014.01.020

Yang Y, Deng X, Bai Y, Wang G, Jia S (2017) Dynamics of typical grassland grasslands in China from 2000 to 2015 and their responses to management policies. Resources. Science 39(07):1272–1280. https://doi.org/10.18402/resci.2017.07.05

Zhang R, Shen X (2008) Empirical analysis of grassland degradation in pastoral areas. Issues Agric Econ S1:183–189. CNKI:SUN:NJWT.0.2008-S1-035

Zhang Y, Xu T, Zhao M (2019) Ecological cognition, family livelihood capital and willingness of herdsmen to participate in grassland protection. J Arid Land Resour Environ 33(04):35–42. https://doi.org/10.13448/j.cnki.jalre.2019.103

Zhang Z (2019) Elite Autonomy, Informal Institutions and the Provision of Public Goods in Rural China——A Case Study of "Cigarette Money" System. J Public Manag 16(04):61-71+171. https://doi.org/10.16149/j.cnki.23-1523.20190808.002

Zhou J (2015) Study on the function mechanism of village regulations and rules in the rural management. Dissertation, Nanjing Agricultural University

Horak S, Restel K (2016) A dynamic typology of informal institutions: learning from the case of guanxi. Manag Organ Rev 12(3):525–546. https://doi.org/10.1017/mor.2015.51

Ding W, Jimoh SO, Hou X, Shu X, Dong H, Bolormaa D, Wang D (2022) Grassland ecological subsidy policy and livestock reduction behavior: a case study of herdsmen in northern China. Rangel Ecol Manag 81:78–85. https://doi.org/10.1016/j.rama.2022.01.002

Helmke G, Levitsky S (2004) Informal institutions and comparative politics: a research agenda. Perspect Polit 2:725–740. https://doi.org/10.1017/S1537592704040472

Hofstede G (1984) Cultural dimensions in management and planning. Asia Pac J Manag 1:81–99. https://doi.org/10.1007/BF01733682

Van Kleef GA (2016) The Interpersonal Dynamics of Emotion: Toward an Integrative Theory of Emotions as Social Information. Cambridge: Cambridge University Press. https://doi.org/10.1017/CBO9781107261396

Etzioni A (1988) The moral dimension: Toward a new economics. Free Press

Barrett LF, Lindquist KA, Gendron M (2007) Language as context for the perception of emotion. Trends Cogn Sci Aug 11(8):327–332. https://doi.org/10.1016/j.tics.2007.06.003

Thagard P, Kroon FW (2006) Emotional consensus in group decision making. Mind Soc 5(1):85–104

Jiang Y (2009) The cost of equity, the cost of debt and the corporate governance: a study on the difference in influence. J Manag World 11:144–155. http://hdl.handle.net/20.500.11897/76173
Ethics declarations
Conflict of Interest
The authors declare no competing interests.
Additional information
Publisher's note Springer Nature remains neutral with regard to jurisdictional claims in published maps and institutional affiliations.
Supplementary Information
Rights and permissions
Springer Nature or its licensor (e.g. a society or other partner) holds exclusive rights to this article under a publishing agreement with the author(s) or other rightsholder(s); author self-archiving of the accepted manuscript version of this article is solely governed by the terms of such publishing agreement and applicable law.
About this article
Cite this article
Cai, Y., Ni, Q. & Zhao, M. Informal Institutions Moderate the Relationship Between Environmental Emotion and Grassland Governance Behavior. Environmental Management 71, 405–420 (2023). https://doi.org/10.1007/s00267-022-01754-0
Received:

Accepted:

Published:

Issue Date:

DOI: https://doi.org/10.1007/s00267-022-01754-0
Keywords
Grassland governance behavior

Informal institutions

Environmental emotions

Double-Hurdle model