Abstract
The Western United States is experiencing historic drought, increasing pressure on water management systems. Agricultural production that relies on surface water flows is therefore imperiled, requiring new innovations and partnerships in order to adapt and survive. In Arizona, some agriculture continues to rely on historic, low-tech irrigation infrastructure such as hand-dug open ditches that divert river water to flood fields. These ditch systems are managed through both formal ditch companies and informal associations. To address changing water availability and needs, ditch users regularly "tinker" with water infrastructure, experimenting and making changes beyond the original infrastructure plans. Such changes are informed and driven by local social relationships and realities of the physical infrastructure. These dynamics are critical to understanding the adaptive capacity and flexibility of the water system; however, they are challenging to recognize and record. In this paper, we apply the emerging conceptualization of sociotechnical tinkering to examine the adaptive management of irrigation ditches in the Verde Valley of Arizona. We find evidence that water users frequently tinker with their water delivery and monitoring infrastructure to respond to and anticipate changes in water availability. Viewed through the lens of sociotechnical tinkering, these interactions are understood as the material manifestations of situated practice and actor agency within a water management system. This case study contributes to literature on adaptive environmental management and the hydrosocial cycle.
Access options
Buy single article
Instant access to the full article PDF.
USD 39.95
Price excludes VAT (USA)
Tax calculation will be finalised during checkout.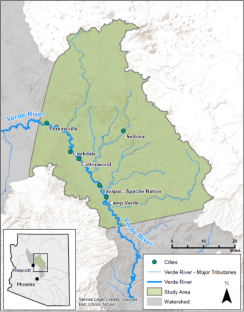 References
Abbott D (2003) Site structure, chronology, and population. In: Abbott David Ed. Centuries of decline during the Hohokam classic period at Pueblo Grande. University of Arizona Press, Tucson.

Acevedo Guerrero T (2018) Water infrastructure: a terrain for studying nonhuman agency, power relations, and socioeconomic change. Wiley Interdiscip Rev Water 5(5):e1298

Archidiacono S (2019) Socio-technical tinkering with rainwater harvesting infrastructure, the case of Cochabamba, Boliva. [Thesis]. IHE Delf Institute for Water Education, Delft

Arizona Department of Water Resources (2022) Fifth Management Plan: Phoenix Active Management Area 2020–2025. Phoenix, Arizona: ADWR. https://new.azwater.gov/sites/default/files/media/PhxAMA5MPDraft_Jan2022_0.pdf

Armitage D, Marschke M, Plummer R (2008) Adaptive Co-Management and the Paradox of Learning. Glob Environ Change- Hum Policy Dimensions 18(1):86–98

Armitage D, Plummer R, Berkes F, Arthur R, Charles A, Davidson-Hunt I, Diduck A (2009) Adaptive Co-Management for social-ecological complexity. Front Ecol Environ 7(2):95–102

Ayers S (2010) Camp Verde. Arcadia Publishing, South Carolina

Beresford M, Jones JL, Bausch JC, Williams CF, Wutich A, Porter S, Brasier KJ (2020) Third-party effects in stakeholder interviews. Int J Qual Methods 19:1609406920966482

Bernard HR (2018) Research methods in anthropology: qualitative and quantitative approaches. Rowman & Littlefield

Bernard HR, Wutich A, Ryan GW (2016) Analyzing qualitative data: systematic approaches. SAGE publications

Blair M (2021) 2020 census results show most of the Verde Valley is growing. https://www.journalaz.com/news/yavapai-county/62992-2020-census-results-show-most-of-the-verde-valley-is-growing.html. Accessed 5 Apr 2022

Bolin B, Collins T, Darby K (2008) Fate of the verde: water, environmental conflict, and the politics of scale in Arizona's central highlands. Geoforum 39(3):1494–1511. https://doi.org/10.1016/j.geoforum.2008.02.003

du Bray MV, Quimby B, Bausch JC, Wutich A, Eaton WM, Brasier KJ… & Williams C (2022) Red, white, and blue: environmental distress among water stakeholders in a US farming community. Weather, Climate, and Society, 1(aop).

Chaffin BC, Gosnell H, Cosens BA (2014) A decade of adaptive governance scholarship: synthesis and future directions. Ecol Soc 19(3). https://doi.org/10.5751/ES-06824-190356

Cottonwood Ditch Association. (n.d.). Irrigation in the Verde Valley. http://cottonwoodditch.com/

Dietz T, Ostrom E, Stern PC (2003) The struggle to govern the commons. Science 302:1907

Douglass-Gallagher E, Stuart D (2018) Crop growers' adaptive capacity to climate change: a situated study of agriculture in Arizona's Verde Valley. Environ Manag 63:94–109. https://doi.org/10.1007/s00267-018-1114-6

Eaton WM, Brasier KJ, Burbach ME, Whitmer W, Engle EW, Burnham M, Weigle J (2021) A conceptual framework for social, behavioral, and environmental change through stakeholder engagement in water resource management. Soc Nat Resour 34(8):1111–1132

Engle N, Lemos MC (2010) Unpacking governance: building adaptive capacity to climate change of river basins in Brazil. Global Environmental Change, Adaptive Capacity to Global Change in Latin America, vol 20. pp. 4–13. https://doi.org/10.1016/j.gloenvcha.2009.07.001

Ferris K, Porter S, & Gammage G, Jr (2018) The price of uncertainty. Kyl Center for Water Policy at Morrison Institute. https://morrisoninstitute.asu.edu/sites/default/files/the_price_of_uncertainty.pdf

Folke C, Hahn T, Olsson P, Norberg J (2005) Adaptive governance of social-ecological systems. Annu Rev Environ Resour 30(1):441–473. https://doi.org/10.1146/annurev.energy.30.050504.144511

Friends of the Verde River (2019). Website. https://verderiver.org/. Accessed 5 Apr 2022

Furlong K (2011) Small technologies, big change: rethinking infrastructure through STS and geography. Prog Hum Geogr 35(4):460–482

Goldstein JE, Faxon HO (2020) New data infrastructures for environmental monitoring in Myanmar: is digital transparency good for governance? Environ Plan E: Nat Space, 2514848620943892.

Gottschalk N (2012) Barriers and limitations to expanded participation in local food systems, Cottonwood, Arizona. (Publication No. 1517293). [Master's Dissertation, Northern Arizona University]. ProQuest UMI Dissertations Publishing. https://pqdtopen.proquest.com/doc/1039149399.html?FMT=ABS

Haney JA, Turner DS, Springer AE, Stromberg JC, Stevens LE, Pearthree PA, & Supplee V (2008) Ecological implications of verde river flows. A report by the Arizona Water Institute, The Nature Conservancy, and the Verde River Basin Partnership, 0–124. http://azconservation.org/dl/TNCAZ_VerdeRiver_Ecological_Flows.pdf

Hardin G (1968) The tragedy of the commons. Science 162(3859):1243–1248. https://doi.org/10.1126/science.162.3859.1243

Hawes JK, Burnham M, du Bray MV, Hillis V, Ma Z, Running K (2022) Social vulnerability to irrigation water loss: assessing the effects of water policy change on farmers in Idaho, USA. Environ Manag 69(3):543–557. https://doi.org/10.1007/s00267-021-01586-4

Hommes L, Boelens R, Maat H (2016) Contested hydrosocial territories and disputed water governance: struggles and competing claims over the Ilisu Dam development in southeastern Turkey. Geoforum 71:9–20

James I (2021) Dry wells, lower flows raise alarm about the Verde River's future. Arizona Republic. https://www.azcentral.com/in-depth/news/local/arizona-environment/2021/09/06/groundwater-pumping-verde-river-risk-arizona/7695748002/

Kemerink-Seyoum JS, Chitata T, Guzmán CD, Novoa-Sanchez LM, & Zwarteveen MZ (2019) Attention to sociotechnical tinkering with irrigation infrastructure as a way to rethink water governance. Water, 11(8). https://doi.org/10.3390/w11081670

Kochskämper E, Koontz TM, & Newig J (2021) Systematic learning in water governance: Insights from five local adaptive management projects for water quality innovation. Ecol Soc 26(1). https://doi.org/10.5751/ES-12080-260122

Kyl Center for Water Policy (2020) Lessons from the past: what changes to Arizona's adjudication and surface water statutes will survive constitutional review? Morrison Institute at Arizona State University. https://morrisoninstitute.asu.edu/sites/default/files/lessons_from_the_past_0.pdf

Lahmers T, Eden S (2018) Water and irrigated agriculture in Arizona. Water Resources Research Center at the University of Arizona

Linton J, Budds J (2014) The hydrosocial cycle: defining and mobilizing a relational-dialectical approach to water. Geoforum 57:170–180

Meehan KM (2014) Tool-power: water infrastructure as wellsprings of state power. Geoforum 57:215–224

Mukheibir P (2010) Water access, water scarcity, and climate change. Environ Manag 45(5):1027–1039. https://doi.org/10.1007/s00267-010-9474-6

Murtinho F, Eakin H, López-Carr D, Hayes TM (2013) Does external funding help adaptation? Evidence from community-based water management in the Colombian Andes. Environ Manag 52(5):1103–1114. https://doi.org/10.1007/s00267-013-0156-z

National Integrated Drought Information System (2021) Current U.S. Drought Monitor Conditions for Arizona. NIDIS, National Oceanic and Atmospheric Administration. https://www.drought.gov/states/Arizona

Nost E, Goldstein JE (2021) A political ecology of data. Environ Plan E: Nat Space, 25148486211043503

Obertreis J, Moss T, Mollinga P, Bichsel C (2016) Water, infrastructure and political rule: introduction to the Special Issue. Water Altern 9(2):168–181

Odell SD (2021) Desalination in Chile's mining regions: global drivers and local impacts of a technological fix to hydrosocial conflict. J Clean Prod 323:129104

Olsson P, Folke C, Berkes F (2004) Adaptive comanagement for building resilience in social-ecological systems. Environ Manag 34:75–90

Ostrom E (1990) Governing the Commons: the evolution of institutions for collective action. Cambridge University Press.

Ostrom E (2008) The challenge of common-pool resources. Environment 50(4):8–20.

Pahl-Wostl C (2009) A conceptual framework for analysing adaptive capacity and multi-level learning processes in resource governance regimes. Glob Environ Change 19(3):354–365

Pincetl S, Porse E, Mika KB, Litvak E, Manago KF, Hogue TS, Gillespie T, Pataki DE, Gold M (2019) Adapting Urban Water Systems to Manage Scarcity in the 21st Century: The Case of Los Angeles. Environ Manag 63(3):293–308. https://doi.org/10.1007/s00267-018-1118-2

Radonic L, Kelly-Richards S (2015) Pipes and praxis: a methodological contribution to the urban political ecology of water. J Political Ecol 22(1):389–409

Russell-Sluchansky, C (2014) Ditch boss helps keep a thirsty river flowing. National Geographic. https://www.nationalgeographic.com/history/article/140227-verde-river-arizona-ditch-boss-water-conservation

Salt River Project (2017) Verde Valley Historic Water Use Agreements. SRP Watershed Connection. https://www.watershedconnection.com/projects/verde-ditch.aspx

Sanchez LM, Kemerink-Seyoum JS, Zwarteveen M (2019) Water infrastructure always in-the-making: distributing water and authority through the water supply network in Moamba, Mozambique. Water, 11(9). https://doi.org/10.3390/w11091926

Schoeman J, Allan c, Finlayson CM (2019) Exploring the multiple meanings of adaptive management: a case study of the lachlan catchment in the murray–darling basin. Environ Manag 64(4):470–482

Swyngedouw E (2013) Into the sea: desalination as hydro-social fix in Spain. Ann Assoc Am Geogr 103(2):261–270

Swyngedouw E, Williams J (2016) From Spain's hydro-deadlock to the desalination fix. Water Int 41(1):54–73

The Nature Conservancy (2022) Places we protect: the Verde River, Arizona. https://www.nature.org/en-us/get-involved/how-to-help/places-we-protect/verde-river/. Accessed 5 Apr 2022

USDA (2017) USDA Census of Agriculture 2019: Arizona. United States Department of Agriculture, National Agricultural Statistics Service. https://www.nass.usda.gov/Publications/AgCensus/2017/Full_Report/Volume_1,_Chapter_2_County_Level/Arizona/

West P, Smith DH, Auberle W (2009) Valuing the Verde River watershed: an assessment: Working Paper Series-09-03. Working Paper. NAU W.A. Franke College of Business. https://openknowledge.nau.edu/1516/1/West_P_Etal_2009_FrankeWPS_09-03.pdf

Wutich A, Beresford M, Bausch C, Eaton W, Brasier K, Williams C, Porter S (2020) Identifying stakeholder groups in natural resource management: Comparing quantitative and qualitative social network approaches. Soc Nat Resour 7(33):941–948

York AM, Eakin H, Bausch JC, Smither Heisters S, Anderies JM, Aggarwal R, Leonard B, Wright K (2020) Agricultural water governance in the desert: shifting risks in Central Arizona. Water Altern 13(2):418–445

Zhao X, Du D, Xiong J, Springer A, Masek Lopez S R, Winkler B, Hubler K (2019) The impact of forest restoration on agriculture in the Verde River watershed, Arizona, USA. For Policy Econ, 109. https://doi.org/10.1016/j.forpol.2019.101999
Acknowledgements
This work was supported by the Agriculture and Food Research Initiative (AFRI) Water for Agriculture grant no. 2017- 68007-26584/project accession no. 1013079 from the USDA National Institute of Food and Agriculture. We wish to thank the Verde Valley community and our Water for Agriculture collaborators for their contributions to this study.
Ethics declarations
Conflict of Interest
The author declares no competing interests.
Ethical Approval
The study was completed in compliance with Institutional Review Board (IRB) Guidelines for studies of human subjects.
Additional information
Publisher's note Springer Nature remains neutral with regard to jurisdictional claims in published maps and institutional affiliations.
Independent Scholar: Julia C. Bausch
Rights and permissions
Springer Nature or its licensor (e.g. a society or other partner) holds exclusive rights to this article under a publishing agreement with the author(s) or other rightsholder(s); author self-archiving of the accepted manuscript version of this article is solely governed by the terms of such publishing agreement and applicable law.
About this article
Cite this article
Quimby, B., Nichols, C.M., du Bray, M.V. et al. Changing Flows: Sociotechnical Tinkering for Adaptive Water Management. Environmental Management 71, 421–431 (2023). https://doi.org/10.1007/s00267-022-01744-2
Received:

Accepted:

Published:

Issue Date:

DOI: https://doi.org/10.1007/s00267-022-01744-2
Keywords
Agriculture

Water infrastructure

Ditch irrigation

Adaptive capacity

Hydrosocial