Abstract
Local wetland-dependent communities in Bangladesh face numerous challenges in attaining sustainable livelihoods. To understand this phenomenon, it is imperative to explore the factors that prevent them from acquiring the necessary endowments for livelihood sustainability. Notably, literature exploring these is very scant. Using the Entitlement Theory proposed by Amartya Sen, we analyzed how the wetland management and policy of Bangladesh affected the legal entitlement and livelihood endowments of local wetland-dependent communities. Hakaluki Haor, Bangladesh, was selected as a case. Primary data were collected from four groups of participants, namely local users, local and national level administrative officials, officials of non-government organizations, and experts on environment and natural resources. A total of 31 interviews were conducted using a semi-structured interview schedule. Our findings reveal that both intrinsic limitations and implementation barriers of the wetland management policy barred many users from attaining legal entitlement to wetland resources. We observed that users' limited entitlement to resources impeded their access to at least four types of livelihood endowments, namely the natural, financial, human, and social, required for a sustainable livelihood.
Access options
Buy single article
Instant access to the full article PDF.
USD 39.95
Price excludes VAT (USA)
Tax calculation will be finalised during checkout.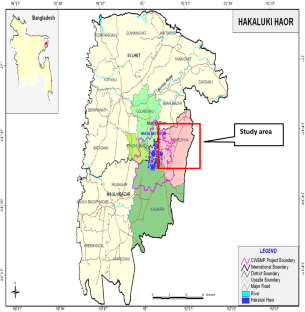 Data availability
As human research is sensitive in nature, qualitative data collected through semi-structured interviews and focus-group discussions will not be made publicly available.
References
Agrawal A (2002) Common resources and institutional sustainability. In: Ostrom E, Dietz T, Dolsak N, Stern PC, Stonich S, Weber EU (eds) The drama of the commons. National Academy Press, Washington, DC, p. 293–321

Ahmed Z et al. (2015) An integrated environmental assessment of Hakaloki Haor ecosystem using DPSIR framework: a case study on Moulovibazar district of Bangladesh. Am Res Thought 1:1631–1650

Aziz MSB et al. (2021) Decline in fish species diversity due to climatic and anthropogenic factors in Hakaluki Haor, an ecologically critical wetland in northeast Bangladesh. Hellyon 7:1–13

Bangladesh Bureau of Statistics (BBS) (2021) Statistical yearbook of Bangladesh. http://bbs.portal.gov.bd/sites/default/files/files/bbs.portal.gov.bd/page/b2db8758_8497_412c_a9ec_6bb299f8b3ab/2021-08-11-04-54-154c14988ce53f65700592b03e05a0f8.pdf

Berkes F (2009) Evolution of co-management: role of knowledge generation, bridging organizations and social learning. J Environ Manag 90:1692–1702. https://doi.org/10.1016/j.jenvman.2008.12.001

Berkes F (2007) Community-based conservation in a globalized world. PNAS 104:15188–15193. https://doi.org/10.1073/pnas.0702098104

Berkes F (2003) Alternatives to conventional management: lessons from small-scale fisheries. Environments 31:5–19

Chambers R (2004) Ideas for development: reflecting forwards. IDS working paper 238. Brington, Sussex. http://WWW.ids.ac.uk/ids

Chambers R (1994) The origins and practice of participatory rural appraisal. World Dev 22:953–969

Department of Environment (2018) Assessment report to identify the training needs. http://www.file:///E:/Folder%20for%20compliation/Compilation%201/My%20article/Article%20using%20entitlement%20theory/Wetland%20entitlement%20for%20journal%20submission/Government%20report%20on%20Hakaloki%20Haor.pdf. Accessed 24 Jul 2022

Department of Fisheries Bangladesh (2017) Yearbook of fisheries statistics of Bangladesh 2016-2017. http://ganges.bengaldelta.net/resources/year_book/17.pdf. Accessed 03 Mar 2021

Devereux S (2001) Sen's entitlement approach: critiques and counter-critiques. Oxf Dev Stud 29:243–263

Fine B (1999) The development state is dead: long live social capital? Dev Change 30:1–19

Fraser EDG (2003) Social vulnerability and ecological fragility: building bridges between social and natural sciences using the Irish potato famine as a case study. Conserv Ecol 7:1–10

Haider MS (2013) Impact of community-based natural resources management and co-management on the livelihoods of people in the Hakaluki Haor Area. In: Fox J, Mustafa G, Bushley, BR, Brennan, SM, Durand L (eds) Connecting communities and conservation: co-management initiatives implemented by IPAC in wetlands and forest of Bangladesh. West Center, Honolulu, Hawaii: USAID Online Publication. https://pdf.usaid.gov/pdf_docs/pnaec268.pdf#page=149. Accessed 27 Sep 2022

Hussain GM (2021) Threatened fish genetic resources and biological diversity of the Hakaluki Haor wetland in Bangladesh. https://www.fishinnovationlab.msstate.edu/newsroom/2021/07/threatened-fish-genetic-resources-and-biological-diversity-hakaluki-haor-wetland. Accessed 09 Sep 2022

Islam ARMT et al. (2021) Machine learning algorithm-based risk assessment of riparian wetlands in Padma basin of Northwest Bangladesh. Environ Sci Pollut Res 28:34450–34471. https://doi.org/10.1007/s11356-021-12806-z

Islam MT et al. (2014) Physico-chemical attributes of water of Hakaluki Haor, Sylhet, Bangladesh. Jahangir Nagar Univ J Bio Sci 3:67–72

Islam M et al. (2011) Economic activities decrease biodiversity in Hakaloki haor, the largest inland fresh water ecosystem in Bangladesh. Int J Environ Sci 2:946–956

Khan SMMH, Haque CE (2010) Wetland resource management in Bangladesh: implications for marginalization and vulnerability of local harvesters. Environ Hazards 9:54–73

Khondoker S et al. (2014) Wetland management in Bangladesh: a study on Beel Baker. Agric For Fish 3:320–328. https://doi.org/10.11648/j.aff.20140304.25

Kuperan K, Sutinen JG (1998) Blue water crime: deterrence, legitimacy, and compliance in fisheries. Law Soc Rev 32:309–338

Oakkas MA (2020) Fishing community in wetland region of Bangladesh: views from the field experiences of Hakaloki Haor. J Underrepresented Minority Pregress 4:287–301. http://ojed.org/jump

Orchard SE et al. (2015) Environmental entitlement: institutional influence on mangrove social-ecological systems in Northern Vietnam. Resources 4:903–938

Ostrom E (1990) Governing the commons: the evaluation of institutions for collective action. Cambridge University Press, Cambridge

Ostrom E, et al., (eds) (2002) The drama of the commons. National Academy Press, Washington, DC

Pomeroy RS, Berkes F (1997) Two to tango: the role of government in fisheries co-management. Mar Policy 21:465–480

Russ GR et al. (2004) Marine reserve benefits local fishers. Ecol Appl 14:597–606

Saha IM, Rahman M (2011) Economic activities decrease biodiversity in Hakaloki haor, the largest inland fresh water ecosystem in Bangladesh. Int J Env Sci 2:946–956

Scoones I (1998) Sustainable rural livelihoods: a framework for analysis. IDS working paper 72. Institute of Development Studies(IDS), Brighton, UK

Seaman JA et al. (2014) The household economy approach. Managing the impact of climate change on poverty and food security in developing countries. Clim Risk Manag 4-5:59–68

Sen A (1981) Poverty and famine: an essay on entitlement and deprivation. Clarendon Press, Oxford

Shamsuzzaman MM et al. (2020) The economic contribution of fish and fish trade in Bangladesh. Aquac Fish 5:174–181

Speranza CI et al. (2014) An indicator framework for assessing livelihood resilience in the context of social-ecological dynamics. Glob Environ Chang 28:109–119

Stirrat RL (2004) Yet another 'magic bullet': the case of social capital. Aquat Resour Cult Dev 1:25–33

Tima TA et al. (2021) Analyses implementation realities of legal frameworks for sustainable management of Tanguar Haor fisheries resources in Bangladesh. Sustainability 13:1–18. https://doi.org/10.3390/su13168784

Tikadar KK et al. (2022) Livelihood status of small-scale fishermen and determinants of their income: insights from north eastern floodplains of Bangladesh. Geogr Sustainability 3:204–2013. https://doi.org/10.1016/j-geosus.2022.06.002

Thompson PM et al. (2003) Lessons from community based management of floodplain fisheries in Bangladesh. J Environ Manag 69:307–321

Toufique KA (1997) Some observations on power and property rights in the inland fisheries of Bangladesh. World Dev 25:457–467
Acknowledgements
We would like to express our gratitude to Global Affairs Canada, formerly the Canadian International Developing Agency (CIDA), for supporting this study as a part of the SA's master's research. We are also grateful to the Center for Natural Resources Studies (CNRS), Bangladesh and all the staff of Barlekha branch for their cooperation during field investigations. We would also like to thank the research participants and the users of Hakaluki Haor, Barlekha area for their support and cooperation. We give our heartiest thanks and gratitude to the officials of the local government of the Barlekha area for supporting the research by providing valuable information and government documents.
Funding
This research was funded by Global Affairs Canada, formerly the Canadian International Developing Agency (CIDA).
Ethics declarations
Conflict of Interest
The authors declare no competing interests.
Consent to Participate
Consent forms were used and signed by the participants. Permissions were thus obtained from all participants.
Consent of Publication
All authors were informed and provided their consent to submit and publish this manuscript to Environmental Management.
Ethical Approval
The study obtained ethical approval by the University of Manitoba Joint Research Ethics Board. The University of Manitoba, Canada's human ethics protocol was followed throughout for primary data collection.
Additional information
Publisher's note Springer Nature remains neutral with regard to jurisdictional claims in published maps and institutional affiliations.
Rights and permissions
Springer Nature or its licensor (e.g. a society or other partner) holds exclusive rights to this article under a publishing agreement with the author(s) or other rightsholder(s); author self-archiving of the accepted manuscript version of this article is solely governed by the terms of such publishing agreement and applicable law.
About this article
Cite this article
Ahmed, S., Haque, C.E. Wetland Entitlement and Sustainable Livelihood of Local Users in Bangladesh: A Case Study of Hakaluki Haor Communities. Environmental Management 71, 334–349 (2023). https://doi.org/10.1007/s00267-022-01741-5
Received:

Accepted:

Published:

Issue Date:

DOI: https://doi.org/10.1007/s00267-022-01741-5
Keywords
Entitlement

Endowment

Resources

Wetland

Management

Policy