Abstract
As urbanization affects the quality of regional ecosystems, which are needed to ensure the well-being of residents, urban land management plans should consider ecosystem services. While several studies have assessed urbanization impacts on regional ecosystem services in developing urban areas, they used limited approaches that only considered options pertaining to urban green space management. A modeling approach that simulates changes in urban land use and associated ecosystem services can better support urban land management decisions by comparing the effects of different scenarios. We simulated urban land use change impacts on regional ecosystem services using a patch-based cellular automata model and assessment tools for seven ecosystem service indicators in different urban management scenarios regarding green space policies in Ansan, South Korea. The simulation results showed spatial patterns of land use changes and impacts on associated ecosystem services although their impacts varied according to different service types. While urbanization affected regional ecosystem services to a lesser extent than land use changes, urban green space policies contributed to increasing ecosystem services. Our approach provides useful information for improved policy decisions with regard to coupling urban management with ecosystem services, as urban green spaces are necessary for residents' well-being.
Access options
Buy single article
Instant access to the full article PDF.
US$ 39.95
Tax calculation will be finalised during checkout.
Subscribe to journal
Immediate online access to all issues from 2019. Subscription will auto renew annually.
US$ 79
Tax calculation will be finalised during checkout.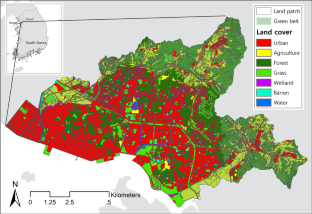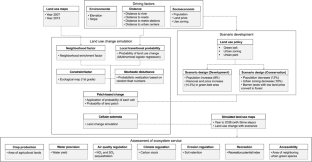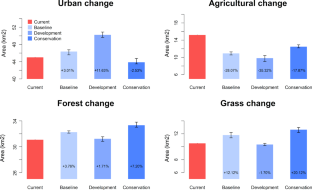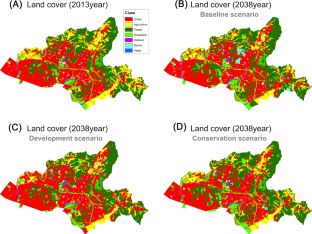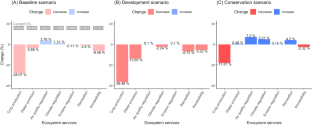 References
Alberti M, Marzluff JM (2004) Ecological resilience in urban ecosystems: linking urban patterns to human and ecological fractions. Urban Ecosyst 7:241–265. https://doi.org/10.1023/B:UECO.0000044038.90173.c6

Ansan (2016) Ansan comprehensive city plan 2020, Ansan-si

Bae CHC (1998) Korea's greenbelts: Impacts and options for change. Pac Rim Law Policy J 7:479

Bastian O, Haase D, Grunewald K (2012) Ecosystem properties, potentials and services—the EPPS conceptual framework and an urban application example. Ecol Indic 21:7–16. https://doi.org/10.1016/j.ecolind.2011.03.014

Baur JWR, Tynon JF, Gómez E (2013) Attitudes about urban nature parks: a case study of users and nonusers in Portland, Oregon. Landsc Urban Plan 117:100–111. https://doi.org/10.1016/j.landurbplan.2013.04.015

Boumans R, Roman J, Altman I, Kaufman L (2015) The Mutliscale Integrated Model of Ecosystem Services (MIMES): simulating the interactions of coupled human and natural systems. Ecosys Serv 12:30–41. https://doi.org/10.1016/j.ecoser.2015.01.004

Brunner P, Cozens P (2013) 'Where have all tree gone?' Urban consolidation and the demise of urban vegetation: a case study from Western Australia. Plan Pr Res 28:231–255. https://doi.org/10.1080/02697459.2012.733525

Burkhard B, Kroll F, Müller F, Windhost W (2009) Landscapes' capacity to provide ecosystem services-a concept for land-cover based assessments. Landsc Online 15:1–22. https://doi.org/10.3097/LO.200915

Chang J, Qu Z, Xu R, Pan K, Xu B, Min Y, Ren Y, Yang G, Ge Y (2017) Assessing the ecosystem services provided by urban green spaces along urban center-edge gradients. Sci Rep. 7:1111226. https://doi.org/10.1038/s41598-017-11559-5

Dadvand P, de Nazelle A, Triguero-Mas M, Schembari A, Cirach M, Amoly E, Figueras F, Basagana X, Ostro B, Nieuwenhuijsen M (2012) Surrounding greenness and exposure to air pollution during pregnancy: an analysis of personal monitoring data. Environ Health Persp 120:1286–1290. https://doi.org/10.1289/ehp.1104609

Delphin S, Escobedo FJ, Abd-Elrahman A, Cropper WP (2016) Urbanization as a land use change driver of forest ecosystem services. Land Use Policy 54:188–199. https://doi.org/10.1016/j.landusepol.2016.02.006

Dorning MA, Koch J, Shoemaker DA, Meentemeyer RK (2015) Simulating urbanization scenarios reveals tradeoffs between conservation planning strategies. Landsc Urban Plan 136:28–39. https://doi.org/10.1016/j.landurbplan.2014.11.011

Eigenbord F, Bell VA, Davies HN, Heinemeyer A, Armsworth PR, Gaston KJ (2011) The impact of projected increases in urbanization on ecosystem services. Proceedings B 278:3201–3208. https://doi.org/10.1098/rspb.2010.2754

Engelen G (2002) Cellular automata for modelling land use change as driven by socio-economic, environmental and policy factors I. Research Institute for Knowledge System (RIKS)

Estoque RC, Murayama Y (2016) Quantifying landscape pattern and ecosystem service value changes in four rapidly urbanizing hill stations of Southeast Asia. Landsc Ecol 31:1481–1507. https://doi.org/10.1007/s10980-016-0341-6

Farrell K (2017) The rapid urban growth triad: a new conceptual framework for examining the urban transition in developing countries. Sustainability 9:1407. https://doi.org/10.3390/su9081407

Feng Y, Liu Y, Tong X, Liu M, Deng S (2011) Modelling dynamic urban growth using cellular automata and particle swarm optimization. Landsc Urban Plan 102:188–196. https://doi.org/10.1016/j.landurbplan.2011.04.004

Fu B, Liu Y, Lü Y, He C, Zeng Y, Wu B (2011) Assessing the soil erosion control service of ecosystems change in the Loss Plateau of China. Ecol Complex 8:284–293. https://doi.org/10.1016/j.ecocom.2011.07.003

Fuglsang M, Münier B, Hansen HS (2013) Modelling land-use effects of future urbanization using cellular automata: an Eastern Danish case. Environ Model Softw 50:1–11. https://doi.org/10.1016/j.envsoft.2013.08.003

Graça M, Alves P, Goncalves J, Nowak DJ, Hoehn R, Farinha-Marques P, Cunha M (2018) Assessing how green space types affect ecosystem services delivery in Porto, Portugal. Landsc Urban Plan 170:195–208. https://doi.org/10.1016/j.landurbplan.2017.10.007

Gyeonggi Province (2017) Report on future population estimation of cities in Gyeonggi Province, Gyeonggi-do, Suwon. 341p

Haaland C, van den Bosch CK (2015) Challenges and strategies for urban green-space planning in cities undergoing densification: a review. Urban Urban Gree 14:750–771. https://doi.org/10.1016/j.ufug.2015.07.009

Haase D, Haase A, Kabisch N, Kabisch S, Rink D (2012) Actors and factors in land-use simulation: the challenge of urban shrinkage. Environ Model Softw 35:92–103. https://doi.org/10.1016/j.envsoft.2012.02.012

Heink U, Hauck J, Jax K, Sukopp U (2016) Requirements for the selection of ecosystem service indicators – The case of MAES indicators. Ecol Indic 61:18–26. https://doi.org/10.1016/j.ecolind.2015.09.031

Hitchings R (2010) Urban greenspace from the inside out: an argument for the approach and a study with city workers. Geoforum 41:855–864. https://doi.org/10.1016/j.geoforum.2010.07.004

Hunter AJ, Luck GW (2015) Defining and measuring the social-ecological quality of urban greenspace: a semi-systematic review. Urban Ecosyst 18:1139–1163. https://doi.org/10.1007/s11252-015-0456-6

Kabisch N (2015) Ecosystem service implementation and governance challenges in urban green space planning—the case of Berlin, Germany. Land Use Policy 42:557–567. https://doi.org/10.1016/j.landusepol.2014.09.005

Kabisch N, Frantzeskaki N, Pauleit S, Naumann S, Davis M, Artmann M, Haase D, Knapp S, Korn H, Stadler J, Zaunberger K, Bonn A (2016) Nature-based solutions to climate change mitigation and adaptation in urban areas: perspectives on indicators, knowledge gaps, barriers, and opportunities for action. Ecol Soc 21:39. https://doi.org/10.5751/ES-08373-210239

Kabisch N, Haase D (2014) Green justice or just green? Provision of urban green spaces in Berlin, Germany. Landsc Urban Plan 122:129–139. https://doi.org/10.1016/j.landurbplan.2013.11.016

Kang H, Seely B, Wang G, Innes J, Zheng D, Chen P, Wang T, Li Q (2016) Evaluating management tradeoffs between economic fiber production and other ecosystem services in a Chinese-fir dominated forest plantation in Fujian Province. Sci Tot Environ 557-558:80–90. https://doi.org/10.1016/j.scitotenv.2016.03.361

Kim I, Kim S, Lee J, Kwon H (2018) Analysis on ecosystem service hotspots based on regional environmental stakeholders' perception—a case study of Ansan. J Environ Impact Assess 27:417–430. https://doi.org/10.14249/eia.2018.27.5.417

Kim JI, Chung JH, Chung HW (2000) The estimate of the urban development effects of the subway construction using GIS. J Kor Assoc Geo Inform Stud 3(4):22–32

Korea Development Institute (2012) Study on land price change in residence development projects. Korea Development Institute Report 2012-23, Seoul

Korea Forest Research Institute (2017) The Lungs of the city, urban forests, Seoul

Lauf S, Haase D, Kleinschmit B (2014) Linkage between ecosystem services provisioning, urban growth and shrinkage—a modeling approach assessing ecosystem service trade-offs. Ecol Indic 42:73–94. https://doi.org/10.1016/j.ecolind.2014.01.028

Lauf S, Haase D, Kleinschmit B (2016) The effects of growth, shrinkage, population aging and preference shifts on urban development—a spatial scenario analysis of Berlin, Germany. Land Use Policy 52:240–254. https://doi.org/10.1016/j.landusepol.2015.12.017

Lee HK (2012) Shiwa regional reclamation development project and the changes in the environmental management policy. Environ L P 9:153–173

Lee HR, Lautenbach S (2016) A quantitative review of relationships between ecosystem services. Ecol Indic 66:340–351. https://doi.org/10.1016/j.ecolind.2016.02.004

Lee WK, Sohn SY, Heo J (2018) Utilizing mobile phone-based floating population data to measure the spatial accessibility to public transit. Appl Geogr 92:123–130. https://doi.org/10.1016/j.apgeog.2018.02.003

Li X, Gong P, Yu L, Hu T (2017) A segment derived patch-based logistic cellular automata for urban growth modeling with heuristic rules. Comput Environ Urban 65:140–149. https://doi.org/10.1016/j.compenvurbsys.2017.06.001

Liu Z, Yang Y, He C, Tu M (2019) Climate change will constrain the rapid urban expansion in drylands: a scenario analysis with the zoned Land Use Scenario Dynamics-urban model. Sci Total Environ 651:2772–2786. https://doi.org/10.1016/j.scitotenv.2018.10.177

Lo AYH, Jim CY (2010) Differential community effects on perception and use of urban greenspace. Cities 27:430–442. https://doi.org/10.1016/j.cities.2010.07.001

Lu Y, Cao M, Zhang L (2015) A vector-based cellular automata model for simulating urban land use change. Chin Geogr Sci 25:74–84. https://doi.org/10.1007/s11769-014-0719-9

Luederitz C, Brink E, Gralla F, Hermelingmeier V, Meyer M, Niven L, Panzer L, Partelow S, Rau AL, Sasaki R, Abson DJ, Lang DJ, Wamsler C, von Wehrden H (2015) A review of urban ecosystem services: six key challenges for future research. Ecosyst Serv 14:98–112. https://doi.org/10.1016/j.ecoser.2015.05.001

Lyu R, Zhang J, Xu M, Li J (2018) Impacts of urbanization on ecosystem services and their temporal relations: a case study in Northern Nigxia, China. Land Use Policy 77:163–173. https://doi.org/10.1016/j.landusepol.2018.05.022

Maas J, van Dillen SME, Verheij RA, Groenewegen PP (2009) Social contacts as a possible mechanism behind the relation between green space and health. Health Place 15:586–595. https://doi.org/10.1016/j.healthplace.2008.09.006

McMorris O, Villeneuve PJ, Su J, Jerrett M (2015) Urban greenness and physical activity in a national survey of Canadians. Environ Res 137:94–100. https://doi.org/10.1016/j.envres.2014.11.010

MEA (2005) Ecosystems and human well-being: current status and trends. Island Press, Washington, DC, USA

Ministry of Environment (2018) A pilot project for assessment and mapping of ecosystem services. Ministry of Environment, Sejong

Mustafa A, Heppenstall A, Omrani H, Saadi I, Cools M, Teller J (2018) Modelling built-up expansion and densification with multinomial logistic regression, cellular automata and genetic algorithm. Comput Environ Urban 67:147–156. https://doi.org/10.1016/j.compenvurbsys.2017.09.009

National Institute of Ecology (2017) Mapping and assessment of ecosystem services. National Institute of Ecology, Seocheon

Nelson E, Sander H, Hawthorne P, Conte M, Ennaanay D, Wolny S, Manson S, Polasky S (2010) Projecting global land-use change and its effect on ecosystem service provision and biodiversity with simple models. PLoS ONE 5:e14327. https://doi.org/10.1371/journal.pone.0014327

Niemelä J, Saarela SR, Söderman T, Kopperoinen L, Yli-Pelkonen V, Väre S, Kotze DJ (2010) Using the ecosystem service approach for better planning and conservation of urban green spaces: a Finland case study. Biodivers Conserv 19:3225–3243. https://doi.org/10.1007/s10531-010-9888-8

Ng E, Chen L, Wang Y, Yuan C (2012) A study on the cooling effects of greening in a high-density city: an experience from Hong Kong. Build Environ 47:256–271. https://doi.org/10.1016/j.buildenv.2011.07.014

Nor ANM, Costanje R, Harris JA, Brewer T (2017) Impact of rapid urban expansion on green space structure. Ecol Indic 81:274–284. https://doi.org/10.1016/j.ecolind.2017.05.031

Oldfield EE, Warren RJ, Felson AJ, Bradford MA (2013) Challenges and future directions in urban afforestation. J Appl Ecol 50:1169–1177. https://doi.org/10.1111/1365-2664.12124

Outeiro L, Häussermann V, Viddi F, Hucke-Gaete R, Försterra G, Oyarzo H, Kosiel K, Villasante S (2015) Using ecosystem services mapping for marine spatial planning in southern Chile under scenario assessment. Ecosyst Serv 16:341–353. https://doi.org/10.1016/j.ecoser.2015.03.004

Park M, Hagishima A, Tanimoto J, Narita K (2012) Effect of urban vegetation on outdoor thermal environment: Field measurement at a scale model site. Build Environ 56:38–46. https://doi.org/10.1016/j.buildenv.2012.02.015

Parrachini ML, Zulian G, Kopperoinen L, Maes J, Schägner JP, Termansen M, Zandersen M, Perez-Soba M, Schloefield PA, Bidoglio G (2014) Mapping cultural ecosystem services: a framework to assess the potential for outdoor recreation across the EU. Ecol Indic 45:371–385. https://doi.org/10.1016/j.ecolind.2014.04.018

Payne LL, Mowen AJ, Orsega-Smith E (2002) An examination of park preferences and behaviors among urban residents: the role of residential location, race and age. Leis Sci 24:181–198. https://doi.org/10.1080/01490400252900149

Peng J, Tian L, Liu Y, Zhao M, Hu Y, Wu J (2017) Ecosystem services responses to urbanization in metropolitan areas: threshold identification. Sci Total Environ 607-608:706–714. https://doi.org/10.1016/j.scitotenv.2017.06.218

Pickard BR, van Berkel D, Petrasova A, Meentemeyer RK (2017) Forecasts of urbanization scenarios reveal trade-offs between landscape change and ecosystem services. Landsc Ecol 32:617–634. https://doi.org/10.1007/s10980-016-0465-8

Plantinga AJ, Lubowski RN, Stavins RN (2002) The effects of potential land development on agricultural land prices. J Urban Econ 52(3):561–581. https://doi.org/10.1016/S0094-1190(02)00503-X

Portela R, Rademacher I (2001) A dynamic model of patterns of deforestation and their effect on the ability of the Brazilian Amazonia to provide ecosystem services. Ecol Model 143:115–146. https://doi.org/10.1016/S0304-3800(01)00359-3

Prestele R, Alexander P, Rounsevell MDA, Arneth A, Calvin K, Doelman J, Eitelberg DA, Engström K, Fujimori S, Hasegawa T, Havlik P, Humpenöder F, Jain AK, Krisztin T, Kyle P, Meiyappan P, Popp A, Sands RD, Schaldach R, Schüngel J, Stehfest E, Tabeau A, van Meiji H, van Vliet J, Verburg P (2016) Hotspots of uncertainty in land-use and land-cover change projections: a global-scale model comparison. Glob Change Biol 22:3967–3983. https://doi.org/10.1111/gcb.13337

Raudsepp-Hearne C, Peterson GD, Bennett EM (2010) Ecosystem service bundles for analyzing tradeoffs in diverse landscapes. Proc Natl Acad Sci USA 107:5242–5247. https://doi.org/10.1073/pnas.0907284107

Roh YH, Kim CK, Hong HJ (2016) Time-series changes to ecosystem regulating services in Jeju: focusing on estimating carbon sequestration and evaluating economic feasibility. J Envrion Policy Admin 24:29–44. https://doi.org/10.15301/jepa.2016.24.2.29

Santé I, García AM, Miranda D, Crecente R (2010) Cellular automata models for the simulation of real-world urban processes: a review and analysis. Landsc Urban Plan 96:108–122. https://doi.org/10.1016/j.landurbplan.2010.03.001

Schwarz N, Haase D, Seppelt R (2012) Omnipresent sprawl? A review of urban simulation models with respect to urban shrinkage. Environ Plann B Plann Des 37:265–283. https://doi.org/10.1068/b35087

Seto KC, Parnell S, Elmqvist T (2013) A global outlook on urbanization. In: Elmqvist T, Fragkias M, Goodness J, Güneralp B, Marcotullio PJ, McDonald RI, Parnell S, Schewenius M, Sendstad M, Seto KC, Wilkinson C (Eds.) Urbanization, biodiversity and ecosystem services: challenges and opportunities: a global assessment. Springer, Dordrecht

Song CH, Lee WK, Choi HA, Jeon SW, Kim JU, Kim JS, Kim JT(2015) Application of InVEST water yield model for assessing forest water provisioning ecosystem service Kor Assoc Geogr Inform Stud 18:120–134. https://doi.org/10.11108/kagis.2015.18.1.120

Sun X, Crittenden JC, Li F, Lu Z, Dou X (2018) Urban expansion simulation and the spatio-temporal changes of ecosystem services, a case study in Atlanta Metropolitan area, USA. Sci Total Environ 622-623:974–987. https://doi.org/10.1016/j.scitotenv.2017.12.062

Tan PY, Wang J, Sia A (2013) Perspectives on five decades of the urban greening of Singapore. Cities 32:24–32. https://doi.org/10.1016/j.cities.2013.02.001

Trisurat Y, Eawpanich P, Kalliola R (2016) Integrating land use and climate change scenarios and models into assessment of forested watershed services in Southern Thailand. Environ Res 147:611–620. https://doi.org/10.1016/j.envres.2016.02.019

United Nations (2017) World population prospects: The 2017 revision, key finding and advance tables. Working paper No. ESA/P/WP/248

United Nations (2018) 2018 Revision of world urbanization prospects. United Nations, New York, NY

Uy PD, Nakagoshi N (2008) Application of land suitability analysis and landscape ecology to urban greenspace planning in Hanoi, Vietnam. Urban Urban Gree 7:25–40. https://doi.org/10.1016/j.ufug.2007.09.002

Verburg PH, de Nijs TCM, van Eck JR, Visser H, de Jong K (2004) A method to analyse neighbourhood characteristics of land use patterns. Comput Environ Urban 28:667–690. https://doi.org/10.1016/j.compenvurbsys.2003.07.001

Wang F, Marceau DJ (2013) A patch-based cellular automaton for simulating land-use changes at fine spatial resolution. T GIS 17:828–846. https://doi.org/10.1111/tgis.12009

Wong CP, Jiang B, Kinzig AP, Lee KN, Ouyang Z (2015) Linking ecosystem characteristics to final ecosystem service for public policy. Ecol Lett 18:108–118. https://doi.org/10.1111/ele.12389

Xu L, You H, Li D, Yu K (2016) Urban green spaces, their spatial pattern, and ecosystem service value: the case of Beijing. Habitat Int 56:84–95. https://doi.org/10.1016/j.habitatint.2016.04.005

Yao Y, Liu X, Li X, Liu P, Hong Y, Zhang Y, Mai K (2017) Simulating urban land-use changes at a large scale by integrating dynamic land parcel subdivision and vector-based cellular automata. Int J Geogr Inform Sci 31:2452–2479. https://doi.org/10.1080/13658816.2017.1360494

Yirsaw E, Wu W, Shi X, Temesgen H, Bekele B (2017) Land use/land cover change modeling and the prediction of subsequent changes in ecosystem service values in a coastal area of China, the Su-Xi-Chang Region. Sustainability 9:1204. https://doi.org/10.3390/su9071204

Zank B, Bagstad KJ, Voigt B, Villa F (2016) Modeling the effects of urban expansion on natural capital stocks and ecosystem service flows: a case study in the Puget Sound, Washington, USA. Landsc Urban Plann 149:31–42. https://doi.org/10.1016/j.landurbplan.2016.01.004

Zhang S, Wu C, Liu H, Na X (2011) Impact of urbanization on natural ecosystem service value: a comparative study. Environ Monit Assess 179:575–588. https://doi.org/10.1007/s10661-010-1764-1

Zhou X, Wang YC (2011) Spatio-temporal dynamics of urban green space in response to rapid urbanization and greening policies. Landsc Urban Plan 100:268–277. https://doi.org/10.1016/j.landurbplan.2010.12.013

Zheng H, Li Y, Robinson BE, Liu G, Ma D, Wang F, Lu F, Ouyang Z, Daily GC (2016) Using ecosystem service trade-offs in inform water conservation policies and management practices. Front Ecol Environ 14:527–532. https://doi.org/10.1002/fee.1432

Zölch T, Wamsler C, Pauleit S (2018) Integrating the ecosystem-based approach into municipal climate adaptation strategies: The case of Germany. J Clean Prod 170:966–977. https://doi.org/10.1016/j.jclepro.2017.09.146
Acknowledgements
This work was funded by the National Institute of Ecology in Korea (NIE-Strategy research-2018-07).
Ethics declarations
Conflict of Interest
The authors declare that they have no conflict of interest.
Additional information
Publisher's note Springer Nature remains neutral with regard to jurisdictional claims in published maps and institutional affiliations.
Supplementary information
About this article
Cite this article
Kim, I., Kwon, H. Assessing the Impacts of Urban Land Use Changes on Regional Ecosystem Services According to Urban Green Space Policies Via the Patch-Based Cellular Automata Model. Environmental Management 67, 192–204 (2021). https://doi.org/10.1007/s00267-020-01394-2
Received:

Accepted:

Published:

Issue Date:
Keywords
Urbanization

Land use change

Ecosystem service

Scenario assessment

Cellular automata