Abstract
Voluntary private land conservation (PLC) is becoming an increasingly important complement to state protected areas around the world. PLC programs can serve as valuable strategies to increase biodiversity on agricultural lands, but their effectiveness depends on high participation rates. Amidst growing concerns regarding scalability and effectiveness of conservation strategies like national parks, researchers and practitioners are looking for new strategies to increase adoption of PLC. This study investigates the demographic, social, and psychological factors associated with participation in three classes of voluntary PLC programs—grant payments, land management agreements, and covenants—and how this relates to landholders' attitudes toward tree clearing. We compare participation rates between these programs in Queensland and identify the most frequently cited reasons why land managers have or have not participated. Land managers who are more involved in agricultural organizations and whose tree clearing decisions are more influenced by the aesthetic value of trees are more likely to have participated in one or more of these programs. Participation was highly biased toward once-off grant payments, and participation in covenants was lowest of all programs. Although 58% of land managers have never participated, nearly half expressed interest in one or more programs. A lack of program knowledge and perceived losses of autonomy were the most frequently cited barriers to participation. We conclude with recommendations for increasing participation rates and raise important questions that need to be answered in order to promote a PLC culture that effectively curbs ongoing habitat degradation.
This is a preview of subscription content, log in to check access.
Access options
Buy single article
Instant access to the full article PDF.
US$ 39.95
Price includes VAT for USA
Subscribe to journal
Immediate online access to all issues from 2019. Subscription will auto renew annually.
US$ 99
This is the net price. Taxes to be calculated in checkout.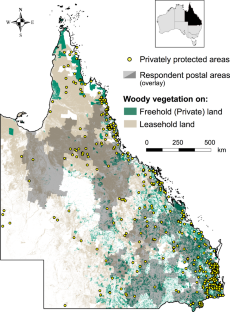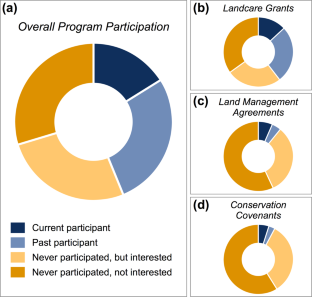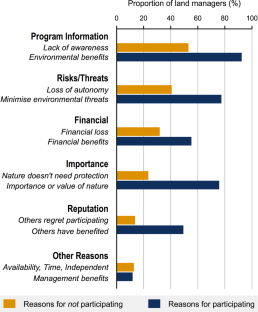 References
Adams VM, Pressey RL, Stoeckl N (2014) Estimating landholders' probability of participating in a stewardship program, and the implications for spatial conservation priorities. PLoS ONE 9:e97941

Agrawal A, Chhatre A, Gerber ER (2015) Motivational crowding in sustainable development interventions. Am Polit Sci Rev 109:470–487

Archibald CL, Barnes MD, Tulloch AIT, Fitzsimons JA, Morrison TH, Mills M, Rhodes JR (2020) Differences among protected area governance types matter for conserving vegetation communities at risk of loss and fragmentation. Biol Conserv 247:108533

Barnes MD, Glew L, Wyborn C, Craigie ID (2018) Prevent perverse outcomes from global protected area policy. Nat Ecol Evol 2:759–762

Blackmore L, Doole GJ (2013) Drivers of landholder participation in tender programs for Australian biodiversity conservation. Environ Sci Policy 33:143–153

Bos AB, Duchelle AE, Angelsen A et al. (2017) Comparing methods for assessing the effectiveness of subnational REDD+ initiatives. Environ Res Lett 12:074007

Bradshaw CJA (2012) Little left to lose: deforestation and forest degradation in Australia since European colonization. J Plant Ecol 5:109–120

Brown J, Burton M, Davis KJ, Iftekhar S, Olsen SB, Simmons BA, Strange N, Wilson KA (2020) Heterogeneity in preferences for non-financial incentives to engage landholders in native vegetation management. Land Econ. https://doi.org/10.13140/RG.2.2.31276.21121

Bryan BA, Crossman ND (2013) Impact of multiple interacting financial incentives on land use change and the supply of ecosystem services. Ecosyst Serv 4:60–72

CAPAD (2018) Data from 'Collaborative Australian Protected Areas Database (CAPAD) 2018—Terrestrial.' Commonwealth of Australia. http://www.environment.gov.au/fed/

Cardenas JC, Stranlund J, Willis C (2000) Local environmental control and institutional crowding-out. World Dev 28:1719–1733

CBD (2020) Strategic Plan for Biodiversity 2011-2020, including Aichi Biodiversity Targets. Convention on Biological Diversity. https://www.cbd.int/sp/

Cocklin C, Mautner N, Dibden J (2007) Public policy, private landholders: perspectives on policy mechanisms for sustainable land management. J Environ Manag 85:986–998

Cohen J (1988) Statistical power analysis for the behavioral sciences, 2nd ed. Erlbaum, Hillsdale, New Jersey

Comerford E (2014) Understanding why landholders chose to participate or withdraw from conservation programs: a case study from a Queensland conservation auction. J Environ Manag 141:169–176

Commonwealth of Australia (2017) Report on the review of the National Landcare Program. Department of the Environment and Energy and the Department of Agriculture and Water Resources, Canberra

Cooke B, Langford WT, Gordon A, Bekessy S (2012) Social context and the role of collaborative policy making for private land conservation. J Environ Plan Manag 55:469–485

Cooke B, Moon K (2015) Aligning 'public good' environmental stewardship with the landscape-scale: adapting MBIs for private land conservation policy. Ecol Econ 114:152–158

Dancey CP, Reidy J (2004) Statistics without Maths for Psychology. Prentice Hall, New York

De Martino S, Kondylis F, Pagiola S, Zwager A (2015) Do they do as they say? Stated versus revealed preferences and take up in an incentives for conservation program. PES Learning Paper 2015–1. World Bank, Washington, DC

Dresner S, Dunne L, Clinch P, Beuermann C (2006) Social and political responses to ecological tax reform in Europe: an introduction to the special issue. Energy Policy 34:895–904

Ens E, Burns E, Russell-Smith J, Sparrow B, Wardle GM (2013) The cultural imperative: broadening the vision of long-term ecological monitoring to enhance environmental policy and management outcomes. In: Lindenmayer D, Burns E, Thurgate N, Lowe A, (eds) Biodiversity and environmental change: monitoring, challenges and direction. CSIRO Publishing, Collingwood, Australia, pp 85–110

Evans MC (2016) Deforestation in Australia: drivers, trends and policy responses. Pacific Conserv Biol 22:130–150

Evans MC (2018) Effective incentives for reforestation: lessons from Australia's carbon farming policies. Curr Opin Environ Sustain 32:38–45

Fitzsimons JA (2015) Private protected areas in Australia: current status and future directions. Nat Conserv 10:1–23

Gooden J, Grenyer R (2018) The psychological appeal of owning private land for conservation. Conserv Biol 33:339–350

Green KM, Crawford BA, Williamson KA, DeWan AA (2019) A meta-analysis of social marketing campaigns to improve global conservation outcomes. Soc Mar Q 25:69–87

Greiner R (2015) Motivations and attitudes influence farmers' willingness to participate in biodiversity conservation contracts. Agric Syst 137:154–165

Greiner R, Gregg D (2011) Farmers' intrinsic motivations, barriers to the adoption of conservation practices and effectiveness of policy instruments: empirical evidence from northern Australia. Land Use Policy 28:257–265

Hajkowicz S (2007) Allocating scarce financial resources across regions for environmental management in Queensland, Australia. Ecol Econ 61:208–216

Hoyos D, Mariel P, Hess S (2015) Incorporating environmental attitudes in discrete choice models: an exploration of the utility of the awareness of consequences scale. Sci Total Environ 505:1100–1111

Ives CD, Taylor MP, Nipperess DA, Davies P (2010) New directions in urban biodiversity conservation: the role of science and its interaction with local environmental policy. Environ Plan Law J 27:249–271

Jack BK, Kousky C, Sims KRE (2008) Designing payments for ecosystem services: lessons from previous experience with incentive-based mechanisms. Proc Natl Acad Sci USA 105:9465–9470

Januchowski-Hartley SR, Moon K, Stoeckl N, Gray S (2012) Social factors and private benefits influence landholders' riverine restoration priorities in tropical Australia. J Environ Manag 110:20–26

Jones KR, Venter O, Fuller RA, Allan JR, Maxwell SL, Negret PJ, Watson JEM (2018) One-third of global protected land is under intense human pressure. Science 360:788–791

Jordan A, Matt E (2014) Designing policies that intentionally stick: policy feedback in a changing climate. Policy Sci 47:227–247

Kabii T, Horwitz P (2006) A review of landholder motivations and determinants for participation in conservation covenanting programmes. Environ Conserv 33:11–20

Kaiser FG, Hübner G, Bogner FX (2005) Contrasting the Theory of Planned Behavior with the Value-Belief-Norm model in explaining conservation behavior. J Appl Soc Psychol 25:2150–2170

Kamal S, Grodzińska-Jurczak M, Brown G (2015) Conservation on private land: a review of global strategies with a. proposed classification system. J Environ Plan Manag 58:576–597

Kassambara A (2020) rstatix: pipe-friendly framework for basic statistical test. R package version 0.5.0. https://CRAN.R-project.org/package=rstatix

Kauneckis D, York AM (2009) An empirical evaluation of private landowner participation in voluntary forest conservation programs. Environ Manag 44:468–484

Knight AT, Cowling RM, Difford M, Campbell BM (2010) Mapping human and social dimensions of conservation opportunity for the scheduling of conservation action on private land. Conserv Biol 24:1348–1358

Kothe EJ, Ling M, North M, Klas A, Mullan BA, Novoradovskaya L (2019) Protection motivation theory and pro-environmental behavior: a systematic mapping review. Aust J Psychol 71:411–432

Kusmanoff AM, Hardy MJ, Fidler F, Maffey G, Raymond C, Reed MS, Fitzsimons JA, Bekessy SA (2016) Framing the private land conservation conversation: strategic framing of the benefits of conservation participation could increase landholder engagement. Environ Sci Policy 61:124–128

Lambin EF, Meyfroidt P, Rueda X et al. (2014) Effectiveness and synergies of policy instruments for land use governance in tropical regions. Glob Environ Change 28:129–140

Land for Wildlife (2019) Land for Wildlife South East Queensland. Newsletter 13(3):1–16

Lastra-Bravo XB, Hubbard C, Garrod G, Tolón-Becerra A (2015) What drives farmers' participation in EU agri-environmental schemes?: results from a qualitative meta-analysis. Environ Sci Policy 54:1–9

Levin IP, Schneider SL, Gaeth GJ (1998) All frames are not created equal: a typology and critical analysis of framing effects. Organ Behav Hum Decis Process 76:149–188

Lockie S (2009) Agricultural biodiversity and neoliberal regimes of agri-environmental governance in Australia. Curr Socio 57:407–426

Lockie S, Higgins V (2007) Roll-out neoliberalism and hybrid practices of regulation in Australian agri-environmental governance. J Rural Stud 23:1–11

Lokocz E, Ryan RL, Sadler AJ (2011) Motivations for land protection and stewardship: exploring place attachment and rural landscape character in Massachusetts. Landsc Urban Plan 99:65–76

Lueck D, Michael JA (2003) Preemptive habitat destruction under the Endangered Species Act. J Law Econ 46:27–60

Lynam T, de Jong W, Sheil D, Kusumanto T, Evans K (2007) A review of tools for incorporating community knowledge, preferences, and values into decision making in natural resources management. Ecol Soc 12:5–19

Mase AS, Cho H, Prokopy LS (2015) Enhancing the Social Amplification of Risk Framework (SARF) by exploring trust, the availability heuristic, and agricultural advisors' belief in climate change. J Environ Psychol 41:166–176

Maybery D, Crase L, Gullifer C (2005) Categorising farming values as economic, conservation and lifestyle. J Econ Psychol 26:59–72

Mills M et al. (2019) How conservation initiatives go to scale. Nat Sustain 2:935–940

Moon K, Cocklin C (2011a) A landholder-based approach to the design of private-land conservation programs. Conserv Biol 25:493–503

Moon K, Cocklin C (2011b) Participation in biodiversity conservation: motivations and barriers of Australian landholders. J Rural Stud 27:331–342

Murphy GEP, Romanuk TN (2014) A meta-analysis of declines in local species richness from human disturbances. Ecol Evol 4:91–103

Murphy G, Hynes S, Murphy E, O'Donoghue C (2014) An investigation into the type of farmer who chose to participate in Rural Environment Protection Scheme (REPS) and the role of institutional change in influencing scheme effectiveness. Land Use Policy 39:199–210

Natural Decisions Pty Ltd (2015) Evidence for the economic impacts of investment in National Landcare Programme activities. Prepared for the Department of the Environment and Energy. Commonwealth of Australia, Canberra

Neldner VJ, Niehus RE, Wilson BA, McDonald WJF, Ford AJ, Accad A (2017) The Vegetation of Queensland. Descriptions of broad vegetation groups. Version 3. Queensland Herbarium, Department of Science, Information Technology and Innovation, Brisbane

Newbold T, Hudson LN, Arnell AP et al. (2016) Has land use pushed terrestrial biodiversity beyond the planetary boundary? A global assessment. Science 353:288–291

Nolte C, Meyer SR, Sims KRE, Thompson JR (2019) Voluntary, permanent land protection reduces forest loss and development in a rural-urban landscape. Conserv Lett 12:e12649

Pannell DJ (2008) Public benefits, private benefits, and policy mechanism choice for land-use change for environmental benefits. Land Econ 84:225–240

Prado JA, Puszka H, Forman A, Cooke B, Fitzsimons JA (2018) Trends and values of 'Land for Wildlife' programs for private land conservation. Ecol Manag Restor 19:136–146

Pretty J, Smith D (2004) Social capital in biodiversity conservation and management. Conserv Biol 18:631–638

Prokopy LS, Floress K, Arbuckle JG, Church SP, Eanes FR, Gao Y, Gramig BM, Ranjan P, Singh AS (2019) Adoption of agricultural conservation practices in the United States: evidence from 35 years of quantitative literature. J Soil Water Conserv 74:520–534

Queensland Spatial Catalogue (2016a) Data from 'Cadastral data—Queensland series'. Queensland Spatial Catalogue. https://qldspatial.information.qld.gov.au/catalogue

Queensland Spatial Catalogue (2016b) Data from 'Landsat Woody Vegetation Extent—Queensland 2014'. Queensland Spatial Catalogue. https://qldspatial.information.qld.gov.au/catalogue

Queensland Spatial Catalogue (2017) Data from 'Land use mapping series'. Queensland Spatial Catalogue. https://qldspatial.information.qld.gov.au/catalogue

R Core Team (2019) R: A language and environment for statistical computing. R Foundation for Statistical Computing, Vienna, Austria, https://www.R-project.org

Salzman J, Bennett G, Carroll N, Goldstein A, Jenkins M (2018) The global status and trends of payments for ecosystem services. Nat Sustain 1:136–144

Santos R, Antunes P, Baptista G, Mateus P, Madruga L (2006) Stakeholder participation in the design of environmental policy mixes. Ecol Econ 60:100–110

Schmidt CA, McDermott CL (2015) Deforestation in the Brazilian Amazon: local explanations for forestry law compliance. Soc Leg Stud 24:3–24

Seabrook L, McAlpine C, Fensham R (2008) What influences farmers to keep trees? A case study from the Brigalow Belt, Queensland, Australia. Landsc Urban Plan 84:266–281

Selinske MJ, Coetzee J, Purnell K, Knight AT (2015) Understanding the motivations, satisfaction, and retention of landowners in private land conservation programs. Conserv Lett 8:282–289

Selinske MJ, Cooke B, Torabi N, Hardy MJ, Knight AT, Bekessy SA (2017) Locating financial incentives among diverse motivations for long-term private land conservation. Ecol Soc 22:7–16

Selinske MJ, Howard N, Fitzsimons JA, Hardy MJ, Smillie K, Forbes J, Tymms K, Knight AT (2019) Monitoring and evaluating the social and psychological dimensions that contribute to privately protected area program effectiveness. Biol Conserv 229:170–178

Simmons BA, Law EA, Marcos-Martinez R, Bryan BA, McAlpine C, Wilson KA (2018a) Spatial and temporal patterns of land clearing during policy change. Land Use Policy 75:399–410

Simmons BA, Marcos-Martinez R, Law EA, Bryan BA, Wilson KA (2018b) Frequent policy uncertainty can negate the benefits of forest conservation policy. Environ Sci Policy 89:401–411

Simmons BA, Wilson KA, Marcos-Martinez R, Bryan BA, Holland O, Law EA (2018c) Effectiveness of regulatory policy in curbing deforestation in a biodiversity hotspot. Environ Res Lett 13:124003

Simmons BA, Wilson KA, Dean AJ (2020) Landholder typologies illuminate pathways for social change in a deforestation hotspot. J Environ Manag 254:109777

Smith S, Vos HB (1997) Evaluating economic instruments for environmental policy. OECD Publishing, Paris

Sorice MG, Oh C, Gartner T, Snieckus M, Johnson R, Donlan CJ (2013) Increasing participation in incentive programs for biodiversity conservation. Ecol Appl 23:1146–1155

Stolton S, Redford KH, Dudley N (2014) The futures of privately protected areas. International Union for Conservation of Nature, Gland, Switzerland

van Dijk WFA, Lokhorst AM, Berendse F, de Snoo GR (2016) Factors underlying farmers' intentions to perform unsubsidised agri-environmental measures. Land Use Policy 59:207–216

Ward MS, Simmonds JS, Reside AE et al. (2019) Lots of loss with little scrutiny: the attrition of habitat critical for threatened species in Australia. Conserv Sci Pr 1:e117

Wondolleck JM, Yaffee SL (2000) Making collaboration work: lessons from innovation in natural resource management. Island Press, Washington, DC

Yasué M, Kirkpatrick JB (2018) Do financial incentives motivate conservation on private land? Oryx. https://doi.org/10.1017/S0030605318000194

Zammit C (2013) Landowners and conservation markets: social benefits from two Australian government programs. Land Use Policy 31:11–16
Funding
This work was supported by the Discovery and Future Fellowship programs of the Australian Research Council, and the Australian Research Council Center of Excellence for Environmental Decisions (CE11001000104), funded by the Australian Government.
Ethics declarations
Conflict of Interest
The authors declare that they have no conflict of interest.
Ethics Approval
This research project complies with the requirements of the HREC from The University of Queensland (Approval #2017001054).
Consent to Participate
Informed consent was obtained from all individual participants included in the study.
Additional information
Publisher's note Springer Nature remains neutral with regard to jurisdictional claims in published maps and institutional affiliations.
Supplementary information
About this article
Cite this article
Simmons, B.A., Archibald, C.L., Wilson, K.A. et al. Program Awareness, Social Capital, and Perceptions of Trees Influence Participation in Private Land Conservation Programs in Queensland, Australia. Environmental Management (2020). https://doi.org/10.1007/s00267-020-01321-5
Received:

Accepted:

Published:
Keywords
Agri-environmental schemes

Conservation covenant

Deforestation

Land clearing

Land stewardship

Private land conservation