Abstract
The majority of research on organic farming has considered arable and grassland farming systems in Central and Northern Europe, whilst only a few studies have been carried out in Mediterranean agro-systems, such as vineyards, despite their economic importance. The main aim of the study was to test whether organic farming enhances local plant species richness in both crop and non-crop areas of vineyard farms located in intensive conventional landscapes. Nine conventional and nine organic farms were selected in an intensively cultivated region (i.e. no gradient in landscape composition) in northern Italy. In each farm, vascular plants were sampled in one vineyard and in two non-crop linear habitats, grass strips and hedgerows, adjacent to vineyards and therefore potentially influenced by farming. We used linear mixed models to test the effect of farming, and species longevity (annual vs. perennial) separately for the three habitat types. In our intensive agricultural landscapes organic farming promoted local plant species richness in vineyard fields, and grassland strips while we found no effect for linear hedgerows. Differences in species richness were not associated to differences in species composition, indicating that similar plant communities were hosted in vineyard farms independently of the management type. This negative effect of conventional farming was probably due to the use of herbicides, while mechanical operations and mowing regime did not differ between organic and conventional farms. In grassland strips, and only marginally in vineyards, we found that the positive effect of organic farming was more pronounced for perennial than annual species.
Access options
Buy single article
Instant access to the full article PDF.
US$ 39.95
Tax calculation will be finalised during checkout.
Subscribe to journal
Immediate online access to all issues from 2019. Subscription will auto renew annually.
US$ 79
Tax calculation will be finalised during checkout.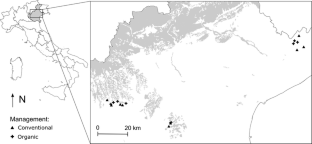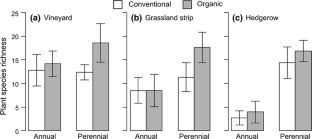 References
Batáry P, Báldi A, Kleijn D, Tscharntke T (2011) Landscape-moderated biodiversity effects of agri-environmental management—a meta-analysis. Proceedings of Royal Society B 278:1894–1902

Bengtsson J, Ahnstrom J, Weibull A-C (2005) The effects of organic agriculture on biodiversity and abundance: a meta-analysis. Journal of Applied Ecology 42:261–269

Boer M, Stafford Smith M (2003) A plant functional approach to the prediction of changes in Australian rangeland vegetation under grazing and fire. Journal of Vegetation Science 14:333–344

Brittain C, Bommarco R, Vighi M, Settele J, Potts SG (2010) Organic farming in isolated landscapes does not benefit flower-visiting insects and pollination. Biological Conservation 143:1860–1867

Brugisser OT, Schmidt-Entling MH, Bacher S (2010) Effects of vineyards management on biodiversity at three trophic levels. Biological Conservation 143:1521–1528

Caporali F, Mancinelli R, Campiglia E (2003) Indicators of cropping system diversity in organic and conventional farms in Central Italy. International Journal of Agricultural Sustainability 1:67–72

Cárdenas M, Ruano F, García P, Pascual F, Campos M (2006) Impact of agricultural management on spider populations in canopy of olive trees. Biological control 38:188–195

Clough Y, Kruess A, Tscharntke T (2007) Local and landscape factors in differently managed arable fields affect the insect herbivore community of a non-crop plant species. Journal of Applied Ecology 44:22–28

Dufrêne M, Legendre P (1997) Species assemblages and indicator species: the need for a flexible asymmetrical approach. Ecological Monographs 67:345–366

Ekroos J, Hyvönen T, Tiainen J, Tiira M (2010) Responses in plant and carabid communities to farming practises in boreal landscapes. Agriculture, Ecosystems & Environment 135:288–293

Fuller RJ, Norton LR, Feber RE, Johnson PJ, Chamberlain DE, Joys AC, Mathews F, Stuart RC, Townsend MC, Manley WJ, Wolfe MS, Macdonald DW, Firbank LG (2005) Benefits of organic farming to biodiversity vary among taxa. Biology Letters 1:431–434

Gabriel D, Roschewitz I, Tscharntke T, Thies C (2006) Beta diversity at different spatial scales: plant communities in organic and conventional agriculture. Ecological Applications 16:2011–2021

Gabriel D, Sait SM, Hodgson JA, Schmutz U, Kunin WE, Benton TG (2010) Scale matters: the impact of organic farming on biodiversity at different spatial scales. Ecology Letters 13:858–869

Gago P, Cabaleiro C, García J (2007) Preliminary study of the effect of soil management system on the adventitious flora of a vineyard in northwestern Spain. Crop Protection 26:584–591

Gomiero T, Pimentel D, Paoletti MG (2011) Environmental impact of different agricultural management practices: conventional vs. organic agriculture. Critical Reviews in Plant Sciences 30:95–124

Hadjicharalampous E, Kalburtji KL, Mamolos AP (2002) Soil arthropods (Coleoptera, Isopoda) in organic and conventional agroecosystems. Journal of Environmental Management 29:683–690

Hald AB (1999) Weed vegetation (wild flora) of long established organic versus conventional cereal fields in Denmark. Annals of Applied Biology 134:307–314

Hawesa C, Squirea GR, Hallett PD, Watsonb CA, Young M (2010) Arable plant communities as indicators of farming practice. Agriculture, Ecosystems & Environment 138:17–26

Hole DG, Perkins AJ, Wilson JD, Alexander IH, Grice PV, Evans AD (2005) Does organic farming benefit biodiversity? Biological Conservation 122:113–130

Hyvönen T (2007) Can conversion to organic farming restore the species composition of arable weed communities? Biological Conservation 137:328–390

Mäder P, Fließbach A, Dubois D, Gunst L, Fried P, Niggli U (2002) Soil fertility and biodiversity in organic farming. Science 296:1694–1697

Marini L, Scotton M, Klimek S, Pecile A (2008a) Patterns of plant species richness in Alpine hay meadows: local vs landscape controls. Basic and Applied Ecology 9:365–372

Marini L, Fontana P, Scotton M, Klimek S (2008b) Vascular plant and orthoptera diversity in relation to grassland management and landscape composition in the European alps. Journal of Applied Ecology 45:361–370

McCune B, Grace JB (2002) Analysis of ecological communities. MjM Software, Gleneden Beach

McCune B, Mefford MJ (1999) Multivariate analysis of ecological data. Version 4.25. MjM Software, Gleneden Beach

McIntyre S, Lavorel S, Landsberg J, Forbes TDA (1999) Disturbance response in vegetation—towards a global perspective on functional traits. Journal of Vegetation Science 10:621–630

Moreby SJ, Aebischer NJ, Southway SE, Sotherton NW (1994) A comparison of the flora and arthropod fauna of organically and conventionally grown winterwheat in southern England. Ann Appl Biol 125:13–27

Norton L, Johnson P, Joys A, Stuart R, Chamberlain D, Feber R, Firbank L, Manley W, Wolfe M, Hart B, Mathews F, Macdonald D, Fuller RJ (2009) Consequences of organic and non-organic farming practices for field, farm and landscape complexity. Agriculture, Ecosystems & Environment 129:221–227

Paoletti MG, Pimentel D (1992) Biotic diversity in agroecosystems. Elsevier, Amsterdam

Paoletti MG, Thomson LJ, Hoffmann AA (2007) Using invertebrate bioindicators to assess agricultural sustainability in Australia: proposals and current practices. Australian Journal of Experimental Agriculture 47:379–478

Pinheiro J, Bates D, DebRoy S, Sarkar, D, the R Core team, 2009. nlme: Linear and Nonlinear Mixed Effects Models. R package version 3. pp 1–92

Roschewitz I, Gabriel D, Tscharntke T, Thies T (2005) The effects of landscape complexity on arable weed species diversity in organic and conventional farming. Journal of Applied Ecology 42:873–882

Rundlöf M, Smith HG (2006) The effect of organic farming on butterfly diversity depends on landscape context. Journal of Applied Ecology 43:1121–1127

Rundlöf M, Nilsson H, Smith HG (2008) Interacting effects of farming practice and landscape context on bumble bees. Biological Conservation 141:417–426

Rundlöf M, Edlund M, Smith HG (2010) Organic farming at local and landscape scales benefits plant diversity. Ecography 33:514–522

Stockdale EA, Lampkin NH, Hovi M, Keatinge R, Lennartsson EKM, Macdonald DW, Padel S, Tattersall FH, Wolfe MS, Watson CA (2001) Agronomic and environmental implications for organic farming systems. Advances in Agronomy 70:261–327

R Development Core Team (2008) R: a language and environment for statistical computing. R foundation for statistical computing, Vienna. ISBN 3-900051-07-0. http://www.R-project.org

Tscharntke T, Klein AM, Kruess A, Steffan-Dewenter I, Thies C (2005) Landscape perspectives on agricultural intensification and biodiversity—ecosystem service management. Ecology Letters 8:857–874

Weibull AC, Östman Ö, Granqvist Å (2003) Species richness in agroecosystems: the effect of landscape, habitat and farm management. Biodiversity and Conservation 12:1335–1355
Acknowledgments
Part of this project was funded by the FP7 EU project "Indicators for biodiversity in organic and low-input farming systems" (GA 227161). We thank Péter Batáry and two anonymous reviewers for providing insightful comments on the manuscript. Bob Bunce and Tiziano Gomiero provided stimulating comments on the manuscript, which improved its clarity. Tommaso Zanetti is thanked for his precious support in the field work. Diego Ivan, Valeria Covre, and Giulia Moresco collaborated for the field work. Giovanni Caniglia and Mariano Brentan helped in the identification of some critical specimens. We are grateful to the owners of the farms who kindly allowed us to work in their vineyards and provided information on farm management. The experiment fulfils the current laws of the country in which it was performed.
About this article
Cite this article
Nascimbene, J., Marini, L. & Paoletti, M.G. Organic Farming Benefits Local Plant Diversity in Vineyard Farms Located in Intensive Agricultural Landscapes. Environmental Management 49, 1054–1060 (2012). https://doi.org/10.1007/s00267-012-9834-5
Received:

Accepted:

Published:

Issue Date:
Keywords
Conventional farming

Disturbance

Grassland strip

Hedgerow

Herbicide

Semi-natural habitats