Abstract
Background
Reduction rhinoplasties, regardless of the methods used (structural or preservation), can cause a reduction in the internal nasal volume, which may lead to breathing problems. In 1977, Webster proposed preserving a little triangle in the beginning of the lower lateral osteotomy line to prevent breathing problem. However, its importance is still controversial.
Objectives
and methods: This prospective randomized controlled study (level of evidence 1) included 46 patients without nasal breathing problem. High-to-low (Webster's triangle preservation) osteotomy (control group, n = 23) and low-to-low osteotomy (study group, n = 23) were performed. All operations were performed according to the proposed volumetric rhinoplasty steps (examination/measurement, prevention and treatment). Nasal obstruction symptom evaluation (NOSE) test, visual analog scale, acoustic rhinometry, rhinomanometry, peak nasal inspiratory flow (PNIF), and three-dimensional measurements were performed in all patients. Breathing tests were repeated before and 6 months after surgery with and without xylometazoline administration.
Results
No statistically significant difference in NOSE and visual analog scale scores was found between the two groups. Acoustic rhinometry, PNIF, and rhinomanometry findings showed no statistically significant breathing difference between the two groups.
Conclusions
In reduction rhinoplasties, a decrease in the internal volume may be expected as directly proportional with the reduction amount. The decrease in the internal volume may create nasal breathing problems. To prevent it, nasal airflow should be adjusted according to new anatomy. In this study, we discussed "volumetric rhinoplasty" steps to prevent breathing problems in reduction rhinoplasty. Following these steps, not preserving Webster's triangle (low-to-low osteotomy) has no effect on the nasal airway.
Level of Evidence IV
This journal requires that authors assign a level of evidence to each article. For a full description of these Evidence-Based Medicine ratings, please refer to Table of Contents or the online Instructions to Authors www.springer.com/00266.
Access options
Buy single article
Instant access to the full article PDF.
US$ 39.95
Tax calculation will be finalised during checkout.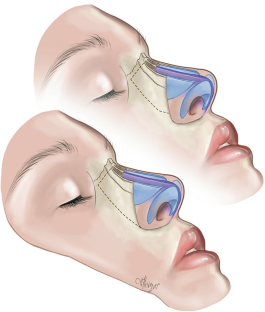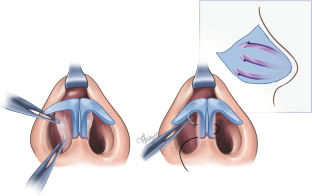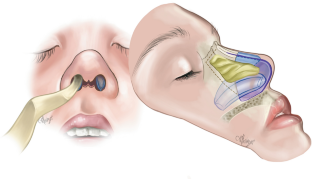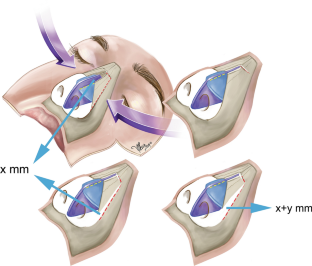 References
1.

Webster RC, Davidson TM, Smith RC (1977) Curved lateral osteotomy for airway protection in rhinoplasty. Arch Otolaryngol 103(8):454–458

2.

Grymer LF (1995) Reduction rhinoplasty and nasal patency: change in the cross-sectional area of the nose evaluated by acoustic rhinometry. Laryngoscope 105(4 Pt 1):429–431

3.

Guyuron B (1998) Nasal osteotomy and airway changes. Plast Reconstr Surg 102:856–860

4.

Grymer LF, Gregers-Petersen C, Baymler Pedersen H (1999) Influence of lateral osteotomies in the dimensions of the nasal cavity. Laryngoscope 109(6):936–938

5.

Erdogan M et al (2013) Evaluation of nasal airway alterations associated with septorhinoplasty by both objective and subjective methods. Eur Arch Otorhinolaryngol 270(1):99–106

6.

Zoumalan RA, Constantinides M (2012) Subjective and objective improvement in breathing after rhinoplasty. Arch Facial Plast Surg 14(6):423–428

7.

Celebi S et al (2014) Does rhinoplasty reduce nasal patency? Ann Otol Rhinol Laryngol 123(10):701–704

8.

Edizer DT et al (2013) Nasal obstruction following septorhinoplasty: how well does acoustic rhinometry work? Eur Arch Otorhinolaryngol 270(2):609–613

9.

Kandathil CK et al (2017) Natural history of nasal obstruction symptom evaluation scale following functional rhinoplasty. Facial Plast Surg 33(5):551–552

10.

Tomkinson A, Eccles R (1996) The effect of changes in ambient temperature on the reliability of acoustic rhinometry data. Rhinology 34(2):75–77

11.

Stewart MG et al (2004) Development and validation of the Nasal Obstruction Symptom Evaluation (NOSE) scale. Otolaryngol Head Neck Surg 130(2):157–163

12.

Mertz JS, McCaffrey TV, Kern EB (1984) Objective evaluation of anterior septal surgical reconstruction. Otolaryngol Head Neck Surg 92(3):308–311

13.

Metzler P et al (2014) Validity of the 3D VECTRA photogrammetric surface imaging system for cranio-maxillofacial anthropometric measurements. Oral Maxillofac Surg 18(3):297–304

14.

Savoldelli, C., et al., Accuracy, repeatability and reproducibility of a handheld three-dimensional facial imaging device: The Vectra H1. J Stomatol Oral Maxillofac Surg, 2019.

15.

Schumacher MJ (2002) Nasal congestion and airway obstruction: the validity of available objective and subjective measures. Curr Allergy Asthma Rep 2(3):245–251

16.

Hilberg O (2002) Objective measurement of nasal airway dimensions using acoustic rhinometry: methodological and clinical aspects. Allergy 57(Suppl 70):5–39

17.

van Spronsen E et al (2008) Evidence-based recommendations regarding the differential diagnosis and assessment of nasal congestion: using the new GRADE system. Allergy 63(7):820–833

18.

Grymer LF, Hilberg O, Pedersen OF (1997) Prediction of nasal obstruction based on clinical examination and acoustic rhinometry. Rhinology 35(2):53–57

19.

Eccles R, Jawad MS, Morris S (1990) The effects of oral administration of (-)-menthol on nasal resistance to airflow and nasal sensation of airflow in subjects suffering from nasal congestion associated with the common cold. J Pharm Pharmacol 42(9):652–654

20.

Mora F et al (2009) VAS in the follow-up of turbinectomy. Rhinology 47(4):450–453

21.

Chandra RK, Patadia MO, Raviv J (2009) Diagnosis of nasal airway obstruction. Otolaryngol Clin North Am 42(2):207–225

22.

Passali D et al (2000) The role of rhinomanometry, acoustic rhinometry, and mucociliary transport time in the assessment of nasal patency. Ear Nose Throat J 79(5):397–400

23.

Numminen J et al (2003) Comparison of rhinometric measurements methods in intranasal pathology. Rhinology 41(2):65–68

24.

Cole P (2000) Acoustic rhinometry and rhinomanometry. Rhinol Suppl 16:29–34

25.

Schumacher MJ (2004) Nasal dyspnea: the place of rhinomanometry in its objective assessment. Am J Rhinol 18(1):41–46

26.

Sheen JH (1984) Spreader graft: a method of reconstructing the roof of the middle nasal vault following rhinoplasty. Plast Reconstr Surg 73(2):230–239

27.

Beekhuis GJ (1976) Nasal obstruction after rhinoplasty: etiology, and techniques for correction. Laryngoscope 86(4):540–548

28.

Courtiss EH, Goldwyn RM (1983) The effects of nasal surgery on airflow. Plast Reconstr Surg 72(1):9–21

29.

Adamson P, Smith O, Cole P (1990) The effect of cosmetic rhinoplasty on nasal patency. Laryngoscope 100(4):357–359

30.

Lell MM et al (2015) Imaging the parasinus region with a third-generation dual-source CT and the effect of tin filtration on image quality and radiation dose. AJNR Am J Neuroradiol 36(7):1225–1230

31.

Lanfranchi PV et al (2004) Diagnostic and surgical endoscopy in functional septorhinoplasty. Facial Plast Surg 20(3):207–215

32.

Levine HL (1990) The office diagnosis of nasal and sinus disorders using rigid nasal endoscopy. Otolaryngol Head Neck Surg 102(4):370–373

33.

Sidle D, Hicks K (2018) Nasal Obstruction Considerations in Cosmetic Rhinoplasty. Otolaryngol Clin North Am 51(5):987–1002

34.

Kasperbauer JL, Kern EB (1987) Nasal valve physiology Implications in nasal surgery. Otolaryngol Clin North Am 20(4):699–719

35.

Kern, E. and T. Wang, Nasal valve surgery, in Aesthetic plastic surgery: rhinoplasty, R. Daniel, P. Regnault, and R. Goldwyn, Editors. 1993, Little, Brown and Co: Boston (MA). p. 613-630.

36.

Ozmen S et al (2008) Upper lateral cartilage fold-in flap: a combined spreader and/or splay graft effect without cartilage grafts. Ann Plast Surg 61(5):527–532

37.

Gruber RP et al (2007) The spreader flap in primary rhinoplasty. Plast Reconstr Surg 119(6):1903–1910

38.

Rezaeian F et al (2016) New suturing techniques to reconstruct the keystone area in extracorporeal septoplasty. Plast Reconstr Surg 138(2):374–382

39.

Zholtikov V et al (2020) Rhinoplasty: a sequential approach to managing the bony vault. Aesthet Surg J 40(5):479–492

40.

Gerbault O et al (2018) Reassessing surgical management of the bony vault in rhinoplasty. Aesthet Surg J 38(6):590–602

41.

Bitik O, Kamburoglu HO, Uzun H (2019) The composite spreader flap. Aesthet Surg J 39(2):137–147

42.

Palhazi P, Daniel RK, Kosins AM (2015) The osseocartilaginous vault of the nose: anatomy and surgical observations. Aesthet Surg J 35(3):242–251

43.

Pousti SB et al (2011) Does cosmetic rhinoplasty affect nose function? ISRN Otolaryngol 2011:615047

44.

Simmen D et al (1999) A dynamic and direct visualization model for the study of nasal airflow. Arch Otolaryngol Head Neck Surg 125(9):1015–1021

45.

Rohrich RJ et al (2001) Rationale for submucous resection of hypertrophied inferior turbinates in rhinoplasty: an evolution. Plast Reconstr Surg 108(2):536–544

46.

Acevedo JL, Camacho M, Brietzke SE (2015) Radiofrequency ablation turbinoplasty versus microdebrider-assisted turbinoplasty: a systematic review and meta-analysis. Otolaryngol Head Neck Surg 153(6):951–956

47.

Kisser U et al (2014) Diode laser versus radiofrequency treatment of the inferior turbinate - a randomized clinical trial. Rhinology 52(4):424–430

48.

Robotti E, Khazaal A, Leone F (2020) Piezo-assisted turbinoplasty: a novel rapid and safe technique. Facial Plast Surg 36(3):235–241

49.

Mahler D, Reuven S (1985) The role of turbinectomy in rhinoplasty. Aesthetic Plast Surg 9(4):277–279

50.

Feldman EM et al (2010) Contemporary techniques in inferior turbinate reduction: survey results of the American society for aesthetic plastic surgery. Aesthet Surg J 30(5):672–679
Funding
No funding was received for this article.
Ethics declarations
Conflict of interest
Authors have nothing to conflict of interest.
Informed consent
All study participants provided informed consent, and the study was performed according to the Helsinki Declaration and local ethical board approval.
Additional information
Publisher's Note
Springer Nature remains neutral with regard to jurisdictional claims in published maps and institutional affiliations.
Supplementary information
About this article
Cite this article
Kamburoglu, H.O., Bitik, O. & Vargel, İ. Airflow Considerations and the Effect of Webster's Triangle in Reduction Rhinoplasty. Aesth Plast Surg (2021). https://doi.org/10.1007/s00266-021-02168-9
Received:

Accepted:

Published:
Keywords
Rhinoplasty

Reduction rhinoplasty

Nasal breathing

Nasal osteotomy

Septum

Turbinate

Nasal airway