Abstract
Background
The objective of this clinical review is to provide an overview of the use of breast implants after capsular contracture (CC) surgical treatment, with a focus on type of implants used. Furthermore, our experience in this field is also reviewed.
Methods
MEDLINE, EMBASE, Web of Science, Scopus, the Cochrane Central, and Google Scholar databases were reviewed to identify literature related to surgical treatment of capsular contracture and implant replacement. Each article was reviewed by two independent reviewers to ensure all relevant publications were identified. The literature search identified 54 applicable articles. Of these, 26 were found to have a therapeutic level of evidence. The reference lists in each relevant paper were screened manually to include relevant papers not found through the initial search.
Results
Only four articles report the replacement of implants after surgical treatment of capsular contracture. Six articles reported an implant exchange with only smooth silicone gel filled implants. Two reviews advice to use smooth implants in implant replacement.
Conclusion
With our expertise in the field and the results of this up-to-date literature review, it can be concluded that implant exchange is recommended in case of breast revision for capsular contracture, and the use of subpectoral smooth silicone gel breast implants is a good option after surgical treatment in patients with primary or recurrence Baker III–IV.
Level of Evidence III
This journal requires that authors assign a level of evidence to each article. For a full description of these Evidence-Based Medicine ratings, please refer to the Table of Contents or the online Instructions to Authors www.springer.com/00266.
Access options
Buy single article
Instant access to the full article PDF.
US$ 39.95
Tax calculation will be finalised during checkout.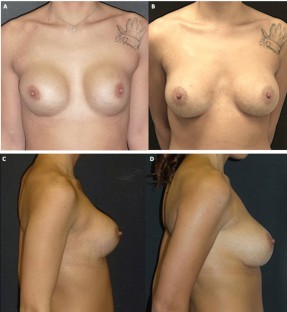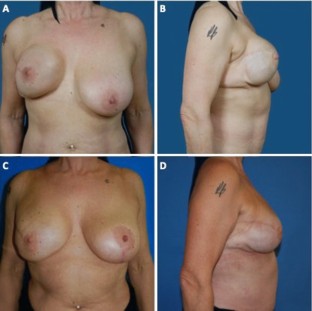 References
1.

Wan D, Rohrich R (2016) Revisiting the management of capsular contracture in breast augmentation: a systematic review. Plast Reconstr Surg. 137:826–841

2.

Zingaretti N, Galvano P, Vittorini P et al (2019) Smooth prosthesis: our experience and current state of art in the use of smooth sub-muscular silicone gel breast implants. Aesthetic Plast Surg 43:1454–1466

3.

Cheng A, Lakhiani C, Saint-Cyr M (2013) Treatment of capsular contracture using complete implant coverage by acellular dermal matrix: a novel technique. Plast Reconstr Surg. 132:519–529

4.

Pereira Leite L, Correia Sa I, Marques M (2013) Etiopathogenesis and treatment of breast capsular contracture. Acta Med Port 26:737–745

5.

Lardi AM, Farhadi J (2019) Physiopathology, prevention, and treatment of capsular contracture. In: Urban C et al (eds) Oncoplastic and reconstructive breast surgery. Springer, New York, pp 601–607

6.

American Society of Plastic Surgeons (2011) Evidence-based clinical practice guidelines. https://www.plasticsurgery.org/Medical_Professionals/Health_Policy_and_Advocacy/Health_Policy_Resources/Evidencebased_GuidelinesPractice_Parameters/Description_and_Development_of_Evidence-based_Practice_Guidelines/ ASPS_Grade_Recommendation_Scale.html. Accessed 3 March 2011

7.

Johnson JD, Oven SD, Skalicky RJ (2018) A novel technique for treatment of recurrent capsular contracture using acellular dermal matrix in aesthetic revisional breast surgery. Am J Cosm Surg. 36:7–14

8.

Xue H, Lee SY (2011) Correction of capsular contracture by insertion of a breast prosthesis anterior to the original capsule and preservation of the contracted capsule: technique and outcomes. Aesth Plast Surg 35:1056–1060

9.

Hung CC (2020) Endoscopic transaxillary capsulectomy with immediate reimplantation performed as a single operator outpatient procedure. J Plast Reconstr Aesthet Surg. 26:S1748-6815(20)30211-X

10.

Sigalove S, Maxwell P, Gabriel A (2019) Outcomes utilizing inspira implants in revisionary reconstructive surgery. Plast Reconstr Surg 144:66S-72S

11.

Lesavoy MA, Trussler AP, Dickinson BP (2010) Difficulties with subpectoral augmentation mammaplasty and its correction: the role of subglandular site change in revision aesthetic breast surgery. Plast Reconstr Surg. 125:363–371

12.

Wagner DS, Mirhaidari SJ (2019) Capsulectomy, implant exchange, and placement of acellular dermal matrix is effective in treating capsular contracture in breast augmentation patients. Aesthet Surg J. 2019: sjz358

13.

Hester TR Jr, Ghazi BH, Moyer HR, Nahai FR, Wilton M, Stokes L (2012) Use of dermal matrix to prevent capsular contracture in aesthetic breast surgery. Plast Reconstr Surg. 130:126S-136S

14.

Zingaretti N, De Lorenzi F, Dell'Antonia F et al (2016) The use of precapsular space in secondary breast reconstruction. Aesthetic Plast Surg 40:716–723

15.

Caffee HH (2002) Capsule injection for the prevention of contracture. Plast Reconstr Surg. 110:1325–1328

16.

Baran CN, Peker F, Ortak T, Sensoz O, Baran N (2001) A different strategy in the surgical treatment of capsular contracture: leave capsule intact. Aesth Plast Surg. 25:427–431

17.

Collis N, Sharpe DT (2000) Recurrence of subglandular breast implant capsular contracture: anterior versus total capsulectomy. Plast Reconstr Surg. 106:792–797

18.

Hoffman S (1989) Correction of established capsular contractures with polyurethane implants. Aesthetic Plast Surg. 13:33–40

19.

Melmed EP (1990) Treatment of breast contractures with open capsulotomy and replacement of gel prostheses with polyurethane-covered implants. Plast Reconstr Surg. 86:270–274

20.

Costagliola M, Atiyeh BS, Rampillon F (2013) An innovative procedure for the treatment of primary and recurrent capsular contracture (cc) following breast augmentation. Aesth Surg J. 33:1008–1017

21.

Maxwell GP et al (2009) Efficacy of neopectoral pocket in revisionary breast surgery. Aesthet Surg J. 29:379–385

22.

Castello MF, Lazzeri D, Silvestri A et al (2011) Maximizing the use of precapsular space and the choice of implant type in breast augmentation mammaplasty revisions: review of 49 consecutive procedures and patient satisfaction assessment. Aesthetic Plast Surg. 35:828–838

23.

Lee HK, Jin US, Lee YH (2011) Subpectoral and Precapsular Implant Repositioning technique: correction of capsular contracture and implant malposition. Aesth Plast Surg. 35:1126–1132

24.

Florin W, Haiavy J (2018) Capsular contracture in breast augmentation: medical management and indications for capsulectomy. Am J Cosmetic Surg. 35:110–123

25.

Adams WP Jr (2009) Capsular contracture: what is it? What causes it? How can it be prevented and managed? Clin Plast Surg 36:119–126

26.

Swanson E (2020) Evaluating the necessity of capsulectomy in cases of textured breast implant. In press, Ann Plast Surg

27.

Reischies FMJ, Krause R, Holzer J, Tiefenbacher F, Winter R, Eylert G et al (2017) What can we learn from sonication results of breast implants? PLoS ONE 12:e0182267

28.

Walker JN, Pinkner CI, Pinkner JS, Hulgreen SJ, Myckatyn TM (2019) The detection of bacteria and matrix proteins on clinically benign and pathologic implants. Plast Reconstr Surg Glob Open 7:e2037

29.

Tamboto H, Vickery K, Deva AK (2010) Subclinical (Biofilm) Infection causes capsular contracture in a porcine model following augmentation mammaplasty. Plast Reconstr Surg 126:835–842

30.

Embrey M, Adams EE, Cunningham B, Peters W, Young VL, Carlo GL (1999) A review of the literature on the etiology of capsular contracture and a pilot study to determinate the outcome of capsular contracture interventions. Aesthet Plast Surg. 23:197–206

31.

Jacombs A, Tahir S, Hu H et al (2014) In vitro and in vivo investigation of the influence of implant surface on the formation of bacterial biofilm in mammary implants. Plast Reconstr Surg 133:471e–480e

32.

James GA, Boegli L, Hancock J, Bowersock L, Parker A, Kinney BM (2019) Bacterial adhesion and biofilm formation on textured breast implant shell materials. Aesth Plast Surg 43:490–497

33.

Barr S, Hill EW, Bayat A (2017) Functional biocompatibility testing of silicone breast implants and a novel classification system based on surface roughness. J Mech Behav Biomed Mater 75:75–81

34.

Cappellano G, Ploner C, Lobenwein S, Sopper S, Hoernagl P, Mayerl C, Wick N, Pierer G, Wick G, Wolfram D (2018) Immunophenotypic characterization of human T cells after in vitro exposure to different silicone breast implant surfaces. PLoS ONE 13:e0192108

35.

Agnello M, Shah P, Tucci J, Bodison JTS, Johnson M, Gardner D, Wong AK (2016) Association of microbial growth on silicone breast implants with capsular contracture: a systematic review. J Aesthet Reconstr Surg 1:1–7

36.

Spear SL, Sinkin JC, Al-Attar A (2013) Porcine acellular dermal matrix (strattice) in primary and revision cosmetic breast surgery. Plast Reconstr Surg. 131:1140–1148

37.

Swanson E (2016) Open capsulotomy: an effective but overlooked treatment for capsular contracture after breast augmentation. Plast Reconstr Surg Glob Open. 4:1–9

38.

Hardt NS, Yu L, LaTorre G et al (1995) Complications related to retained breast implant capsules. Plast Reconstr Surg. 95:364–371

39.

Copeland M, Choi M, Bleiweiss IJ (1994) Silicone breakdown and capsular synovial metaplasia in textured-wall saline breast prostheses. Plast Reconstr Surg. 94:628–633

40.

Young VL (1998) Guidelines and indications for breast implant capsulectomy. Plast Reconstr Surg. 102:884–891

41.

Araco A, Caruso R, Araco F, Overton J, Gravante G (2009) Capsular contractures: a systematic review. Plast Reconstr Surg 124:1808–1819

42.

Henriksen TF, Fryzek JP, Holmich LR et al (2005) Surgical intervention and capsular contracture after breast augmentation. Ann Plast Surg. 54:343–351

43.

Sforza M, Husein R, Atkinson C, Zaccheddu R (2016) Unraveling factors influencing early seroma formation in breast augmentation surgery. Aesthet Surg J 37:301–307

44.

Barnsley GP, Sigurdson LJ, Barnsley SE (2006) Textured surface breast implants in the prevention of capsular contracture among breast augmentation patients: a meta-analysis of randomized controlled trials. Plast Reconstr Surg 117:2182–2190

45.

Adams WP Jr, Mallucci P (2012) Breast augmentation. Plast Reconstr Surg 130:597e–611e

46.

Hammond D, Handel N, Canady J, et al (2014) Impact of surgical approach, together with placement and breast implant texturing on capsular contracture: an analysis of 10-year prospective multicenter data. Plast Reconstr Surg 134(4S-1):90–91.

47.

Handel N, Cordray T, Gutierrez J, et al (2006) A long-term study of outcomes, complications, and patient satisfaction with breast implants. Plast Reconstr Surg 117:757–767; discussion 768.

48.

Hall-Findlay EJ (2011) Breast implant complication review: double capsules and late seromas. Plast. Reconstr. Surg. 2011(127):56–66

49.

Danino MA, Nizard N, Paek LS, Govshievich A, Giot JP (2017) Do bacteria and biofilm play a role in double-capsule formation around macrotextured implants? Plast Reconstr Surg 140:878–883

50.

Webcast. General and Plastic surgery devices panel meeting. Day 1. http//fda.yorkcast.com/webcast/play/a6baa43b37004ecab288779ac3a263bd1d. Accessed 31 Mar 2019.

51.

Brody GS, Deapen D, Taylor CR et al (2015) Anaplastic large cell lymphoma occurring in women with breast implants: analysis of 173 cases. Plast Reconstr Surg. 135:695–705

52.

Loch-Wilkinson A, Beath KJ, Knight RJW, Wessels WLF, Magnusson M, Papadopoulos T, Connell T, Lofts J, Locke M, Hopper I et al (2017) Breast implant-associated anaplastic large cell lymphoma in Australia and New Zealand: high-surface-area textured implants are associated with increased risk. Plast. Reconstr. Surg. 140:645–654

53.

FDA. (2020) Medical device reports of breast implant-associated anaplastic large cell lymphoma. https://www.fda.gov/medical-devices/breast-implants/medical-device-reports-breast-implant-associated-anaplastic-large-cell-lymphoma. Accessed Oct 2020.

54.

Hidalgo DA, Sinno S (2016) Current trends and controversies in breast augmentation. Plast Reconstr Surg. 137:1142–1150

55.

Chong SJ, Deva AK (2015) Understanding the etiology and prevention of capsular contracture: translating science into practice. Clin Plast Surg 42:427–436

56.

Pozner JN, White JB, Newman MI (2013) Use of porcine acellular dermal matrix in revisionary cosmetic breast augmentation. Aesthet Surg J 33:681–690

57.

Spear SL, Carter ME, Ganz JC (2003) The correction of capsular contracture by conversion to dual plane positioning: technique and outcomes. Plast Reconstr Surg 112:456–466
Ethics declarations
Conflict of interest
The authors declare that they have no conflicts of interest to disclose.
Human and Animal Rights or Ethical Approval
Our institutional ethics committee approved the study design.
Informed Consent
Written informed consent was obtained from each patient prior to the study.
Additional information
Publisher's Note
Springer Nature remains neutral with regard to jurisdictional claims in published maps and institutional affiliations.
About this article
Cite this article
Zingaretti, N., Vittorini, P., Savino, V. et al. Surgical Treatment of Capsular Contracture (CC): Literature Review and Outcomes Utilizing Implants in Revisionary Surgery. Aesth Plast Surg (2021). https://doi.org/10.1007/s00266-021-02148-z
Received:

Accepted:

Published:
Keywords
Revisionary surgery

Capsular contracture

Breast augmentation

Prosthetic breast reconstruction

Smooth silicone gel breast implants