Abstract
Background
The scroll area of the nose is important for breathing; thereby, its reconstruction can improve the nasal patency.
Objective
To evaluate the effect of scroll reconstruction on breathing in patients following open rhinoplasty.
Methods
Using the prospective controlled study design, we enrolled a cohort of patients undergoing open rhinoplasty. The patients were randomly divided into two groups (each group with n = 14). The predictor variable was scroll reconstruction (yes/no). The main outcome variables include pre- and postoperative third-month peak nasal inspiratory flowmeter (PNIF) value (ml/min) and 10-Item Standardized Cosmesis and Health Nasal Outcomes Survey (SCHNOS). Appropriate statistics were computed, and a P < 0.05 was considered significant.
Results
There was no demographic difference between both groups. Scroll reconstruction was associated with significantly improved PNIF post-surgery (P = 0.047). However, postoperative mean SCHNOS-O and SCHNOS-C was not different between the study and control groups (P = 0.58)
Conclusions
This study suggests that scroll reconstruction helps improve nasal patency during forced inspiration in open rhinoplasty patients and provides a similar aesthetic outcome compared to the non-scroll-reconstructed group. Future research works should be done in a larger patient cohort.
Level of evidence IV
This journal requires that authors assign a level of evidence to each article. For a full description of these Evidence-Based Medicine ratings, please refer to the Table of Contents or the online Instructions to Authors www.springer.com/00266.
Access options
Buy single article
Instant access to the full article PDF.
US$ 39.95
Tax calculation will be finalised during checkout.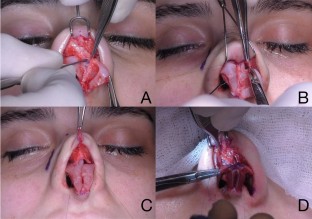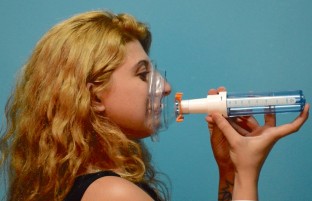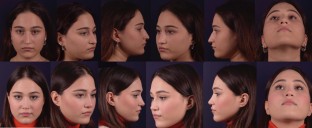 References
1.

Vaiman M, Shlamkovich N, Kessler A, Eviatar E, Segal S (2005) Biofeedback training of nasal muscles using internal and external surface electromyography of the nose. Am J Otolaryngol 26(5):302–307

2.

Saban Y, Amodeo CA, Hammou JC, Polselli R (2008) An anatomical study of the nasal superficial musculoaponeurotic system: surgical applications in rhinoplasty. Arch Facial Plast Surg 10:109–115

3.

Bitik O, Uzun H, Konas E (2019) Scroll reconstruction: fine tuning of the interface between middle and lower thirds in rhinoplasty. Aesthet Surg J 39(5):481–494

4.

Moubayed SP, Ioannidis JP, Saltychev M, Most SP (2018) The 10-item standardized cosmesis and health nasal outcomes survey (SCHNOS) for functional and cosmetic rhinoplasty. JAMA Facial Plast Surg 20(1):37–42

5.

Gode S, Ozturk A, Sahin M, Berber V, Apaydin F (2019) Turkish validation of the standardized cosmesis and health nasal outcomes survey. Facial Plast Surg 35(04):397–399

6.

Toriumi DM (2005) Structure approach in rhinoplasty. Facial Plast Surg Clin North Am 13(1):93–113

7.

Sajjadian A, Guyuron B (2010) Primary rhinoplasty. Aesthet Surg J 30(4):527–539

8.

Most SP (2008) Trends in functional rhinoplasty. Arch Facial Plast Surg 10(6):410–413

9.

Daniel RK, Palhazi P (2018) The nasal ligaments and tip support in rhinoplasty: an anatomical study. Aesthet Surg J 38(4):357–368

10.

Mann DG, Sasaki CT, Fukuda H, Suzuki M, Hernandez JR (1977) Dilator naris muscle. Ann Otol Rhinol Laryngol 86(3):362–370

11.

Guyuron B, Bigdeli Y, Sajjadian A (2015) Dynamics of the alar rim graft. Plast Reconstr Surg 135(4):981–986

12.

Cakır B, Oreroglu AR, Doğan T, Akan M (2012) A complete subperichondrial dissection technique for rhinoplasty with management of the nasal ligaments. Aesthet Surg J 32(5):564–574

13.

Daniel RK, Palhazi P, Gerbault O, Kosins AM (2014) Rhinoplasty: the lateral crura-alar ring. Aesthet Surg J 34(4):526–537
Ethics declarations
Conflict of Interest
None of the authors has declared any conflict of interest.
Ethical Approval
The ethics committee approval was received for this study from the Ege University Ethical Committee (IRB No: 19-5.1T/46).
Informed Consent
Written informed consent was obtained from patients who participated in this study.
Additional information
Publisher's Note
Springer Nature remains neutral with regard to jurisdictional claims in published maps and institutional affiliations.
Supplementary Information
Supplementary file1 (mp4 50,703kb)
About this article
Cite this article
Ozturk, A., Eroglu, S., Batmaz, T. et al. Functional Role of Scroll Reconstruction in Open Rhinoplasty. Aesth Plast Surg (2021). https://doi.org/10.1007/s00266-020-02125-y
Received:

Accepted:

Published:
Keywords
Nasal obstruction

Rhinoplasty

Scroll reconstruction