Abstract
Background
Gynecomastia is a common disease in male patients that is characterized by benign breast enlargement. Gynecomastia may involve fibroglandular tissue (FGT), supramammary fat tissue, and retromammary fat tissue (RMFT). Gynecomastia is usually treated surgically; however, some patients undergo reoperation because of dissatisfaction with the results of the first operation. This study aimed to analyze the breast conditions requiring reoperation and to identify factors requiring attention during the first gynecomastia surgery.
Methods
We retrospectively evaluated 98 patients who underwent reoperation because of unsatisfactory esthetic outcomes from January 2014 to April 2020. According to the reasons for dissatisfaction, patients were divided into undercorrection and overcorrection groups. Patients with remnant breast tissue were assigned to the undercorrection group, while those in whom excess breast tissue was removed and was assigned to the overcorrection group.
Results
The undercorrection and overcorrection groups comprised 81 and 17 patients, respectively. In the undercorrection group, 49 (60.5%) patients had residual FGT and fat tissue necessitating simultaneous FGT excision and liposuction, while 32 (39.5%) patients had no residual FGT and were treated with liposuction only. In the overcorrection group, 13 (76.5%) patients had undergone excessive removal of RMFT at the inferolateral aspect of the pectoralis major muscle margin and were treated by autologous fat grafting.
Conclusions
The most common cause of undercorrection was incomplete FGT removal, and the most common cause of overcorrection was excessive RMFT removal. Complete FGT excision and proper RMFT preservation can reduce the reoperation rate after gynecomastia surgery.
Level of Evidence IV
This journal requires that authors assign a level of evidence to each article. For a full description of these evidence-based Medicine ratings, please refer to Table of Contents or the online Instructions to Authors www.springer.com/00266.
Access options
Buy single article
Instant access to the full article PDF.
US$ 39.95
Tax calculation will be finalised during checkout.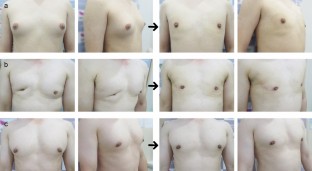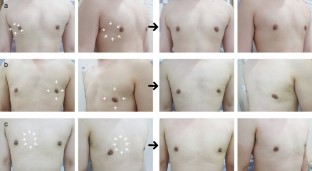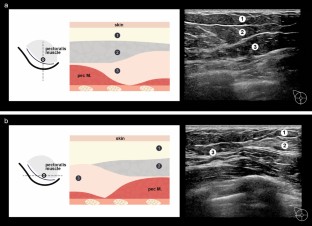 References
1.

Carlson HE (1980) Gynecomastia. N Engl J Med 303:795–799

2.

Choi BS, Lee SR, Byun GY, Hwang SB, Koo BH (2017) The characteristics and short-term surgical outcomes of adolescent gynecomastia. Aesthetic Plast Surg 41:1011–1021

3.

Narula HS, Carlson HE (2014) Gynaecomastia–pathophysiology, diagnosis and treatment. Nat Rev Endocrinol 10:684–698

4.

Johnson RE, Murad MH (2009) Gynecomastia: pathophysiology, evaluation, and management. Mayo Clin Proc 84:1010–1015

5.

Courtiss EH (1987) Gynecomastia: analysis of 159 patients and current recommendations for treatment. Plast Reconstr Surg 79:740–753

6.

Hammond DC, Arnold JF, Simon AM, Capraro PA (2003) Combined use of ultrasonic liposuction with the pull-through technique for the treatment of gynecomastia. Plast Reconstr Surg 112:891–895

7.

Lee SR, Lee SG, Byun GY, Kim MJ, Koo BH (2018) Clinical characteristics of asymmetric bilateral gynecomastia: suggestion of desirable surgical method based on a single-institution experience. Aesthetic Plast Surg 42:708–715

8.

Blau M, Hazani R (2015) Correction of gynecomastia in body builders and patients with good physique. Plast Reconstr Surg 135:425–432

9.

Zavlin D, Jubbal KT, Friedman JD, Echo A (2017) Complications and outcomes after gynecomastia surgery: analysis of 204 pediatric and 1583 adult cases from a national multi-center database. Aesthetic Plast Surg 41:761–767

10.

Webster JP (1946) Mastectomy for gynecomastia through a semicircular intra-areolar incision. Ann Surg 124:557–575

11.

Lista F, Ahmad J (2008) Power-assisted liposuction and the pull-through technique for the treatment of gynecomastia. Plast Reconstr Surg 121:740–747

12.

Prado AC, Castillo PF (2005) Minimal surgical access to treat gynecomastia with the use of a power-assisted arthroscopic-endoscopic cartilage shaver. Plast Reconstr Surg 115:939–942

13.

Ohyama T, Takada A, Fujikawa M, Hosokawa K (1998) Endoscope-assisted transaxillary removal of glandular tissue in gynecomastia. Ann Plast Surg 40:62–64

14.

Qutob O, Elahi B, Garimella V, Ihsan N, Drew PJ (2010) Minimally invasive excision of gynaecomastia—a novel and effective surgical technique. Ann R Coll Surg Eng 92:198–200

15.

Ratnam BV (2009) A new classification and treatment protocol for gynecomastia. Aesthet Surg J 29:26–31

16.

Lee SG, Park PJ, Lee SR, Koo BH, Byun GY, Kim MJ, Kang HJ, Kim SR, Oh BS, Lee YH (2019) Influence of postoperative finasteride therapy on recurrence of gynecomastia after mastectomy in men taking finasteride for alopecia. Am J Mens Health 13:1557988319871423

17.

Fruhstorfer BH, Malata CM (2003) A systematic approach to the surgical treatment of gynaecomastia. Br J Plast Surg 56:237–246

18.

Morselli PG, Morellini A (2012) Breast reshaping in gynecomastia by the "pull-through technique": considerations after 15 years. Eur J Plast Surg 35:365–371
Acknowledgements
The authors thank Beom Seok Oh and Young Hyun Lee from the Research Center of Damsoyu Hospital for assisting with the statistical analysis and organizing the data in the manuscript. We thank Hyejin Park for editing of this manuscript. We thank Kelly Zammit, BVSc, and Jane Charbonneau, DVM, from Edanz Group (https://en-author-services.edanz.com/ac), for editing a draft of this manuscript.
Ethics declarations
Conflict of interest
The author has no conflict of interest to declare regarding any of the products or devices mentioned in this report.
Ethical Approval
All procedures performed in studies involving human participants were in accordance with the ethical standards of our institutional and/or national research committee and with the 1964 Helsinki declaration and its later amendments or comparable ethical standards. This study was approved by the Institutional Review Board of Damsoyu Hospital (DSY-2020-005).
Informed Consent
Informed consent is not required for this type of retrospective study.
Additional information
Publisher's Note
Springer Nature remains neutral with regard to jurisdictional claims in published maps and institutional affiliations.
About this article
Cite this article
Lee, S.R., Lee, S.G. Reoperation Because of Dissatisfaction with the Aesthetic Results of Gynecomastia Surgery: Technical Considerations. Aesth Plast Surg (2021). https://doi.org/10.1007/s00266-020-02124-z
Received:

Accepted:

Published:
Keywords
Gynecomastia

Mastectomy

Reoperation

Fibroglandular tissue

Retromammary fat