Abstract
Background
The recent rise in popularity of minimally invasive facial aesthetic procedures has resulted in the overall heightened patient interest in lip rejuvenation. There is a variety of techniques and modifications for surgical upper lip enhancement described in the literature but no single method is considered optimal. The aim of this literature review is to provide a comprehensive analysis of the studies dealing with surgical upper lip enhancement and evaluate their short- and long-term outcomes, as well as complication profiles.
Methods
A comprehensive review of the published literature through July of 2019 was performed. The PUBMED and Cochrane databases were searched for all English language articles on aesthetic surgical enhancement of the upper lip. Only articles dealing with the aesthetic aspect of the upper lip subunit were included. Preoperative assessment, patient selection and technique execution were assessed. Data were abstracted on all postoperative complications and outcomes.
Results
Overall, 52 articles were screened for inclusion, of which 17 met the inclusion criteria. The total number of patients treated in these studies was 2265. The average follow-up period was 30 months. The most commonly used surgical method across the studies was the subnasal lip lift (93.6%). The bull's horn excision pattern was utilized to perform the subnasal lip lift in 71.7% of the cases, and the wavy ellipse excision was used in 18.1% of patients. Lip advancement by vermillion border excision pattern was the technique of choice for 49 patients (2.2%). Across all patients the most common complication was a non-aesthetically appealing result or adverse scarring with a mean incidence of 7.23%. Overall, the studies reported improvement in the aesthetic appearance of the upper lip after surgical enhancement, along with few but promising reports of high patient satisfaction. There is a relative paucity of high-quality data regarding complication profiles, patient selection, indications and contraindications.
Conclusions
This review provides an overview of several techniques and modifications for upper lip enhancement. It highlights the paucity of high-quality data on their application and optimizing patient selection. Promising satisfaction rates and relatively low complication rates suggest a more prominent role for surgical cheiloplasty in facial rejuvenation.
Level of evidence III
This journal requires that authors assign a level of evidence to each article. For a full description of these Evidence-Based Medicine ratings, please refer to the Table of Contents or the online Instructions to Authors www.springer.com/00266.
Access options
Buy single article
Instant access to the full article PDF.
US$ 39.95
Tax calculation will be finalised during checkout.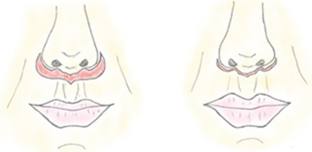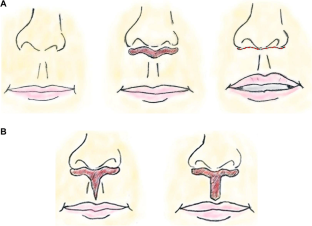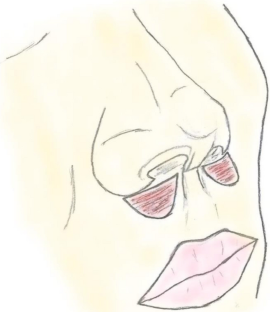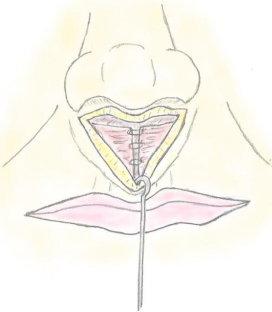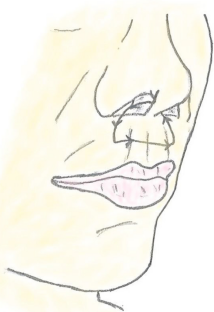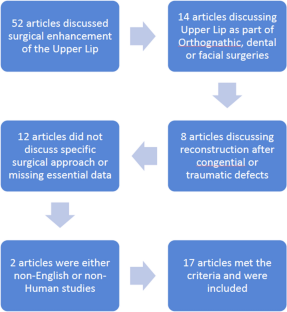 References
1.

Marques A, Brenda E (1994) Lifting of the upper lip using a single extensive incision. Br J Plast Surg 47(1):50–53

2.

American Society of Plastic Surgeons. 2018 Cosmetic plastic surgery statistics. https://www.plasticsurgery.org/documents/News/Statistics/2018/plastic-surgery-statistics-full-report-2018.pdf. Accessed 3 Apr 2020

3.

Gondes-Ulloa M (1976) The ageing upper lip. Transactions of the 6th International Congress of Plastic and Reconstructive Surgery, 1975. Ed. Marchac D and Hueston JT. Paris. Masson

4.

Lee DE, Hur SW, Lee JH, Kim YH, Seul JH (2015) Central lip lift as aesthetic and physiognomic plastic surgery: the effect on lower facial profile. Aesthet Surg J 35(6):698–707

5.

Salibian AA, Bluebond-Langner R (2019) Lip lift. Facial Plast Surg Clin North Am 27(2):261–266

6.

Austin HW (1986) The lip lift. Plast Reconstr Surg 77(6):990–994

7.

Fanous N (1983) Correction of thin lips: "lip lift". Plast Reconstr Surg 74(1):33–41

8.

Holden PK, Sufyan AS, Perkins SW (2011) Long-term analysis of surgical correction of the senile upper lip. Arch Facial Plast Surg 13(5):332–336

9.

Tonnard PL, Verpaele AM, Ramaut LE, Blondeel PN (2019) Aging of the upper lip: part II. evidence-based rejuvenation of the upper lip—a review of 500 consecutive cases. Plast Reconstr Surg. 143(5):1333–1342

10.

Cardoso AD, Sperli AE (1971) Rhytidoplasty of the upper lip. In: Hueston JT (ed): Transactions of the 5th International Congress of the IPRS. Melbourne: Butterworth

11.

Rozner L, Isaacs GW (1981) Lip lifting. Br J Plast Surg 34(4):481–484

12.

Talei B (2019) The modified upper lip lift. Facial Plast Surg Clin North Am 27(3):385–398

13.

Felman G (1993) Direct upper-lip lifting: a safe procedure. Aesthet Plast Surg 17(4):291–295

14.

Santanch P, Bonarrigo C (2004) Lifting of the upper lip: personal technique. Plast Reconstr Surg 113(6):1828–1835

15.

Li YK, Ritz M (2018) The modified bulls horn upper lip lift. J Plast Reconstr Aesthet Surg 71(8):1216–1230

16.

Jung J-A, Kim K-B, Park H, Dhong E-S, Han S-K, Kim W-K (2019) Subnasal lip lifting in aging upper lip. Plast Reconstr Surg 143(3):701–709

17.

Pan B-L (2017) Upper lip lift with a "T"-shaped resection of the orbicularis oris muscle for Asian perioral rejuvenation: a report of 84 patients. J Plast Reconstr Aesthet Surg 70(3):392–400

18.

Echo A, Momoh AO, Yuksel E (2011) The no-scar lip-lift: upper lip suspension technique. Aesthetic Plast Surg 35(4):617–623

19.

Mommaerts MY, Blythe JN (2016) Rejuvenation of the ageing upper lip and nose with suspension lifting. J Craniomaxillofac Surg 44(9):1123–1125

20.

Raphael P, Harris R, Harris SW (2014) The endonasal lip lift: Personal technique. Aesthet Surg J 34(3):457–468

21.

Waldman SR (2007) The subnasal lift. Facial Plast Surg Clin North Am 15(4):513–516

22.

Farkas LG, Munro IR (1987) Anthropomorphic facial proportions in medicine. Charles C Thomas Publisher, Springfield, IL, pp 25–79

23.

Powell N, Humphreys B (1984) Proportions of the aesthetic face. Thieme-Stratton Inc, New York, NY

24.

Morrison SD, Vyas KS, Motakef S, Gast KM, Chung MT, Rashidi V, Satterwhite T, Kuzon W, Cederna P (2016) Facial feminization: systematic review of the literature. Plast Reconstr Surg 137:1759–1770

25.

Georgiou CA, Benatar M, Bardot J, Santini J, Sicard BC (2014) Morphologic variations of the philtrum and their effect in the upper lip lift. Plast Reconstr Surg 134(6):996e–e997

26.

Lambros V (2020) Facial aging: a 54-year, three-dimensional population study. Plast Reconstr Surg 145(4):921–928

27.

Lambros V, Amos G (2016) Three-dimensional facial averaging: A tool for understanding facial aging. Plast Reconstr Surg 138:980e–982e

28.

Glaser DA, Lambros V, Kolodziejczyk J, Magyar A, Dorries K, Gallagher CJ (2018) Relationship between midface volume deficits and the appearance of tear troughs and nasolabial folds. Dermatol Surg 44(12):1547–1554

29.

Iblher N, Kloepper J, Penna V, Bartholomae JP, Stark GB (2008) Changes in the aging upper lip: a photomorphometric and MRI-based study (on a quest to find the right rejuvenation approach). J Plast Reconstr Aesthet Surg 61:1170–1176

30.

Ramaut L, Tonnard P, Verpaele A, Verstraete K, Blondeel P (2019) Aging of the upper lip: part I: a retrospective analysis of metric changes in soft tissue on magnetic resonance imaging. Plast Reconstr Surg 143(2):440–446

31.

Zeltzer AA, Tonnard PL, Verpaele AM (2012) Sharp-needle intradermal fat grafting (SNIF). Aesthet Surg J 32(5):554–561

32.

Tonnard PL, Verpaele AM, Zeltzer AA (2013) Augmentation blepharoplasty: a review of 500 consecutive patients. Aesthetic Surg J 33(3):341–352
Funding
No funding was received for this study.
Ethics declarations
Conflict of interest
The authors declare that they have no conflicts of interest.
Ethical Approval
All procedures performed in studies involving human participants were in accordance with the ethical standards of the institutional and/or national research committee and with the 1964 Helsinki declaration and its later amendments or comparable ethical standards.
Informed Consent
This article does not contain any studies with human participants or animals performed by any of the authors.
Additional information
Publisher's Note
Springer Nature remains neutral with regard to jurisdictional claims in published maps and institutional affiliations.
About this article
Cite this article
Yamin, F., McAuliffe, P.B. & Vasilakis, V. Aesthetic Surgical Enhancement of the Upper Lip: A Comprehensive Literature Review. Aesth Plast Surg 45, 173–180 (2021). https://doi.org/10.1007/s00266-020-01871-3
Received:

Accepted:

Published:

Issue Date:
Keywords
Upper lip

Lip lift

Lip surgery

Facial rejuvenation

Facial aging