Abstract
Mature colonies of many social insect species exhibit division of labor (DOL) where individual workers specialize in doing only a subset of the multiple tasks needed to maintain homeostasis. In newly initiated ant colonies, however, the first workers (called nanitics) are few in number and much smaller in size than those in mature colonies. This limited workforce must perform most of the tasks of mature colonies, but it is unknown if they also exhibit DOL. In this study, we tracked several inside-nest and outside-nest behaviors of nanitics in incipient Pogonomyrmex rugosus colonies. DOL arises in these colonies, whereby the relatively oldest workers (even if only by a few hours) are biased towards foraging, while younger nanitics concentrate on brood care. The addition of new nanitics shifts behavior in the oldest individual away from brood care but does not immediately increases its foraging. Conversely, nanitics left alone due to mortality of nest-mates forage more, but do not reduce brood care. The results suggest P. rugosus nanitics follow an age-related task specialization pattern that is broadly similar to mature colonies. The nanitic life stage may be, however, unique for ants in how fine-grained the DOL is in terms of absolute age differences and flexibility for task switching.
Significance statement
The ecological success of ants is thought to be facilitated by workers dividing their labor across tasks. Commonplace in mature colonies is that individuals will perform safer, within-nest tasks such as brood care when young, and shift as they age towards riskier, outside-nest tasks such as foraging. Because many do the same task, the death of any single worker has minimal effect. We show, for the first time, a similar age-related, task specialization pattern also occurs in newly founded colonies. In this earliest life, history stage workers are small and few in number, precluding the massive task redundancy that characterizes mature colonies. Nevertheless, a division of labor correlating with relative age differences arises even when workers differ in age by only a few hours. This supports the hypothesis that a similar developmental pathway for task allocation in worker behavior occurs at all stages in colony life history.
Access options
Buy single article
Instant access to the full article PDF.
US$ 39.95
Tax calculation will be finalised during checkout.
Subscribe to journal
Immediate online access to all issues from 2019. Subscription will auto renew annually.
US$ 79
Tax calculation will be finalised during checkout.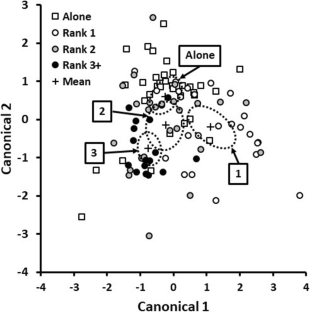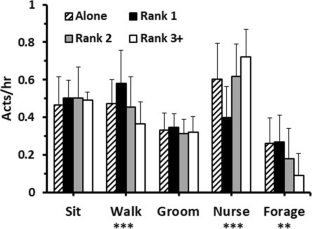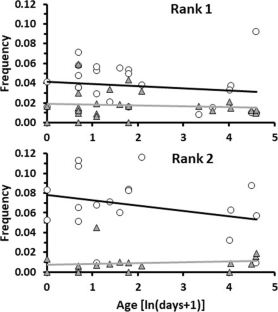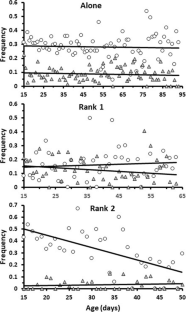 Data availability
Data for each colony and observation will be submitted to Dryad upon manuscript acceptance. Data can be provided upon request.
References
Amdam GV, Norberg K, Fondrk MK, Page RE (2004) Reproductive ground plan may mediate colony-level selection effects on individual foraging behavior in honey bees. Proc Natl Acad Sci U S A 101:11350–11355

Beshers SM, Fewell JH (2001) Models of division of labor in social insects. Annu Rev Entomol 46:413–440

Bhatkar A, Whitcomb WH (1970) Artificial diet for rearing various species of ants. Fla Entomol 53:229–232

Charbonneau D, Sasaki T, Dornhaus A (2017) Who needs 'lazy' workers? Inactive workers act as a 'reserve' labor force replacing active workers, but inactive workers are not replaced when they are removed. PLoS One 12:e0184074

Crosland MWJ, Lok CM, Wong TC, Shakarad M, Traniello JFA (1997) Division of labour in a lower termite: the majority of tasks are performed by older workers. Anim Behav 54:999–1012

Gordon DM (1989) Dynamics of task switching in harvester ants. Anim Behav 38:194–204

Heinrich B (1979) Bumblebee economics. Harvard University Press, Cambridge

Holbrook CT, Barden PM, Fewell JH (2011) Division of labor increases with colony size in the harvester ant Pogonomyrmex californicus. Behav Ecol 22:960–966

Hölldobler B, Wilson EO (1990) The ants. Harvard University Press, Cambridge

István K, Wenzel JW (1998) Productivity, individual-level and colony-level flexibility, and organization of work as consequences of colony size. Proc Natl Acad Sci U S A 95:8665–8669

Jeanne RL (1986) The evolution of the organization of work in social insects. Monit Zool Ital 20:119–133

Jeanne RL (1991) Polyethism. In: Ross KG, Matthews RW (eds) The social biology of wasps. Cornell University Press, Ithaca, pp 389–425

Jeanson R, Fewell JH (2009) Influence of the social context on division of labor in ant foundress associations. Behav Ecol 19:567–574

Jeanson R, Fewell JH, Gorelick R, Bertram SM (2007) Emergence of increased division of labor as a function of group size. Behav Ecol Sociobiol 62:289–298

Johnson RA (2000) Seed-harvester ants (Hymenoptera:Formicidae) of North America: an overview of ecology and biogeography. Sociobiology 36:88–122

Johnson RA (2002) Semi-claustral colony founding in the seed-harvester ant Pogonomyrmex californicus: a comparative analysis of colony founding strategies. Oecol 132:60–67

Johnson RA (2006) Capital and income breeding and the evolution of colony founding strategies in ants. Insect Soc 53:316–322

Kapheim KM, Johnson MM (2017) Support for the reproductive ground plan hypothesis in a solitary bee: links between sucrose response and reproductive status. Proc R Soc Lond B 284:20162406

Kwapich CL, Tschinkel WR (2013) Demography, demand, death, and the seasonal allocation of labor in the Florida harvester ant (Pogonomyrmex badius). Behav Ecol Sociobiol 67:2011–2027

Kwapich CL, Tschinkel WR (2016) Limited flexibility and unusual longevity shape forager allocation in the Florida harvester ant (Pogonomyrmex badius). Behav Ecol Sociobiol 70:221–235

MacKay WP (1981) A comparison of the nest phenologies of three species of Pogonomyrmex harvester ants (Hymenoptera: Formicidae). Psyche 88:25–74

Muscedere ML, Willey TA, Traniello JFA (2009) Age and task efficiency in the ant Pheidole dentata: young minor workers are not specialist nurses. Anim Behav 77:911–918

O'Donnell S, Jeanne RL (1990) Forager specialization and the control of nest repair in Polybia occidentalis Olivier (Hymenoptera: Vespidae). Behav Ecol Sociobiol 27:359–364

Oettler J, Johnson RA (2009) The old ladies of the seed harvester ant Pogonomyrmex rugosus: foraging performed by two groups of workers. J Insect Behav 22:217–226

Oster GF, Wilson EO (1978) Caste and ecology in the social insects. Mono Pop Biol 12:1–352

Page RE Jr, Robinson GE, Britton DS, Fondrk MK (1992) Genotypic variability for rates of behavioral development in worker honeybees (Apis mellifera L.). Behav Ecol 3:173–180

Peeters C, Ito F (2001) Colony dispersal and the evolution of queen morphology in social Hymenoptera. Annu Rev Entomol 46(601):630

Porter SD, Jorgensen CD (1981) Foragers of the harvester ant, Pogonomyrmex owyheei: a disposable caste? Behav Ecol Sociobiol 9:247–256

Porter SD, Tschinkel WR (1986) Adaptive value of nanitic workers in newly founded red imported fire ant colonies (Hymenoptera: Formicidae). Ann Entomol Soc Am 79:723–726

Rissing SW, Pollock GB, Higgins MR, Hagen RH, Smith DR (1989) Foraging specialization without relatedness or dominance among co-founding ant queens. Nature 338:420–422

Robinson GE (1992) Regulation of division of labor in insect societies. Annu Rev Entomol 37:637–665

Robinson GE, Page RE, Huang ZY (1994) Temporal polyethism in social insects is a developmental process. Anim Behav 48:467–469

Robinson EJH, Feinerman O, Franks NR (2009) Flexible task allocation and the organization of work in ants. Proc R Soc Lond B 276:4373–4380

Rosengaus RB, Traniello JFA (1993) Temporal polyethism in incipient colonies of the primitive termite Zootermopsis angusticollis: a single multiage caste. J Insect Behav 6:237–252

Seeley TD (1982) Adaptive significance of the age polyethism schedule in honeybee colonies. Behav Ecol Sociobiol 11:287–293

Seid MA, Traniello JFA (2006) Age-related repertoire expansion and division of labor in Pheidole dentata (Hymenoptera:Formicidae): a new perspective on temporal polyethism and behavioral plasticity in ants. Behav Ecol Sociobiol 60:631–644

Shorter JR, Tibbetts EA (2009) The effect of juvenile hormone on temporal polyethism in the paper wasp Polistes dominulus. Insect Soc 56:7–13

Sorensen AA, Busch TM, Vinson SB (1984) Behavioral flexibility of temporal subcastes in the fire ant Solenopsis invicta in response to food. Psyche 91:319–332

Thomas ML, Elgar MA (2003) Colony size affects division of labour in the ponerine ant Rhytidoponera metallica. Naturwissen 90:88–92

Traniello JFA, Rosengaus RB (1997) Ecology, evolution and division of labour in social insects. Anim Behav 53:209–213

Tripet F, Nonacs P (2004) Foraging for work and age-based polyethism: the roles of age and previous experience in task choice in ants. Ethology 110:863–877

Warners MR, Qiu L, Holmes MJ, Mikheyev AS, Linksvayer TA (2019) Convergent eusocial evolution is based on a shared reproductive groundplan plus lineage-specific plastic genes. Nature Comm 10:2651

Wenzel JW, Pickering J (1991) Cooperative foraging, productivity, and the central-limit-theorem. Proc Natl Acad Sci U S A 88:36–38

Wilson EO (1971) The insect societies. Belknap/Harvard University Press, Cambridge

Wilson EO (1990) Success and dominance in ecosystems: the case of the social insects. In: Kinne O (ed) Excellence in ecology 2, Ecological Institute, D-2124 Oldendorf/Luhe, FRG, pp 1-104

Winston ML, Fergusson LA (1985) The effect of worker loss on temporal caste structure in colonies of the honeybee (Apis mellifera L.). Can J Zool 63:777–780

Wood LA, Tschinkel WR (1981) Quantification and modification of worker size variation in the fire ant Solenopsis invicta. Insect Soc 28:117–128
Acknowledgments
We thank Robert A. Johnson and Juergen Gadau for generously supplying us with P. rugosus foundresses from Arizona and Jennifer Fewell for supplying the lab space to carry out observations. We extend our appreciation to Kelsey Cozzolino and Jennifer DePew who conducted many of the behavioral observations for this study.
Code availability
Not applicable.
Ethics declarations
Conflict of interest
The authors declare that they have no conflict of interest.
Ethics approval
Not applicable.
Consent to participate
Not applicable.
Consent for publication
BLE and PN both consent to submission and publication.
Additional information
Publisher's note
Springer Nature remains neutral with regard to jurisdictional claims in published maps and institutional affiliations.
Communicated by L. Keller
Supplementary information
About this article
Cite this article
Enzmann, B.L., Nonacs, P. Age-related division of labor occurs in ants at the earliest stages of colony initiation. Behav Ecol Sociobiol 75, 35 (2021). https://doi.org/10.1007/s00265-021-02974-w
Received:

Revised:

Accepted:

Published:
Keywords
Pogonomyrmex

Harvester ant

Nanitic

Age polyethism