Abstract
Purpose
The purpose of this study is to evaluate the results of using a lateral hinged external fixator as an adjunct stabilizer in the treatment of a variety of acute destabilizing elbow injuries.
Methods
A retrospective review was performed on the medical records of patients in whom a lateral monolateral elbow hinged external fixator was applied by the senior author. The indication to apply the fixator corresponded to a variety of acute injury patterns ranging from simple elbow trauma or dislocation to complex fracture–dislocation, and the decision was based on either the presence of recurrent or persistent instability in any direction and/or to secure a vulnerable or weak bony fixation or soft tissue repair as intra-operatively judged by the surgeon. The fixator was inserted in the same setting after the repair of the associated ligamentous and/or bony structures. Patients operated after one month of the trauma and those presented with open elbow injury or associated humeral or ulnar shaft fracture were excluded. Rehabilitation was immediately started and the fixator removed at six to eight weeks with elbow testing and gentle manipulation under general anaesthesia, and resuming of rehabilitation after removal. Clinical assessment was performed for all patients according to the Mayo Elbow Performance Score (MEPS) with evaluation of range of motion at regular intervals till the end of the post-operative first year, then at final follow-up for the purpose of the study with radiographic assessment for evaluation of elbow reduction and concentricity.
Results
There were 13 patients with a mean age of 42 years. Two patients had instability secondary to LCL rupture; one patient had redislocation because of associated coronoid process fracture; one patient had radial head fracture with rupture of both collateral ligaments; five patients had terrible triad injury with variable association of collateral ligaments lesions; and four patients had posterior Monteggia fracture–dislocation. The mean MEPS was 90 at a mean follow-up of seven years with six excellent, six good, and one fair result. All patients had a concentrically reduced and stable elbow as assessed clinically and radiologically with a mean functional arc of motion of 132° for extension–flexion and 178° for pronation–supination.
Conclusion
The hinged elbow external fixator represents a valuable adjunct in the therapeutic arsenal for the treatment of unstable elbows after bony and soft tissue repair. It provides satisfactory results in terms of stability and function and should be available in the operating room when a surgeon treats a complex elbow dislocation or fracture–dislocation.
Access options
Buy single article
Instant access to the full article PDF.
US$ 39.95
Tax calculation will be finalised during checkout.
Subscribe to journal
Immediate online access to all issues from 2019. Subscription will auto renew annually.
US$ 119
Tax calculation will be finalised during checkout.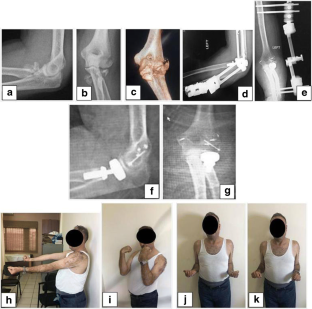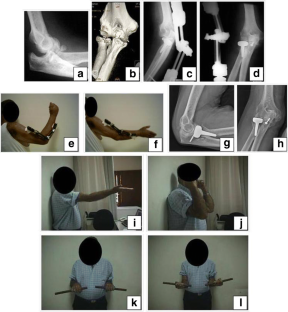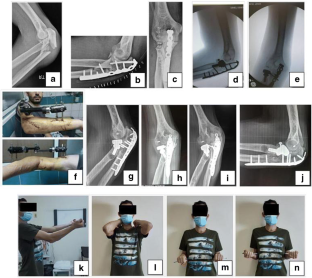 References
1.

Ring D, Jupiter JB (1998) Current concepts review: fracture-dislocation of the elbow. J Bone Joint Surg Am 80-A:566–580

2.

O'Driscoll SW, Jupiter JB, King GJW, Hotchkiss RN, Morrey BF (2000) The unstable elbow. J Bone Joint Surg Am 82-A:724–738

3.

Broberg MA, Morrey BF (1987) Results of treatment of fracture-dislocations of the elbow. Clin Orthop Relat Res 216:109–119

4.

Pugh DM, Wild LM, Schemitsch EH, King GJ, McKee MD (2004) Standard surgical protocol to treat elbow dislocations with radial head and coronoid fractures. J Bone Joint Surg Am 86-A:1122–1130

5.

Sorensen AK, Sojbjerg JO (2011) Treatment of persistent instability after posterior fracture-dislocation of the elbow: restoring stability and mobility by internal fixation and hinged external fixation. J Shoulder Elb Surg 20:1300–1309

6.

Tan V, Daluiski A, Capo J, Hotchkiss R (2005) Hinged elbow external fixators: indications and uses. J Am Acad Orthop Surg 13:503–514

7.

Iordens GIT, Hartog DD, Van Lieshout EMM, Tuinebreijer WE, De Haan J, Patka P, Verhofstad MHJ, Schep NWL (2015) Good functional recovery of complex elbow dislocations treated with hinged external fixation: a multicenter prospective study. Clin Orthop Relat Res 473:1451–1461. https://doi.org/10.1007/s11999-014-3959-1

8.

McKee MD, Bowden SH, King GJ, Patterson SD, Jupiter JB, Bamberger HB, Paksima N (1998) Management of recurrent, complex instability of the elbow with a hinged external fixator. J Bone Joint Surg (Br) 80-B:1031–1036

9.

Regan W, Morrey B (1989) Fractures of the coronoid process of the ulna. J Bone Joint Surg Am 71-A:1348–1354

10.

von Knoch F, Marsh JL, Steyers C, McKinley T, O'Rourke M, Bottlang M (2001) A new articulated elbow external fixation technique. Iowa Orthop J 21:13–19

11.

Morrey BF, An KN, Chao EYS (1993) Functional evaluation of the elbow. In: Morrey BF (ed) The elbow and its disorders. WB Saunders, Philadelphia, pp 86–97

12.

Ring D, Jupiter JB (2002) Fracture-dislocation of the elbow. Hand Clin 18:55–63

13.

O'Driscoll SW (2000) Classification and evaluation of recurrent instability of the elbow. Clin Orthop Relat Res 370:34–43

14.

Mehta JA, Bain GI (2004) Posterolateral rotatory instability of the elbow. J Am Acad Orthop Surg 12:405–415

15.

Nestor BJ, O'Driscoll SW, Morrey BF (1992) Ligamentous reconstruction for posterolateral rotatory instability of the elbow. J Bone Joint Surg Am 74-A:1235–1241

16.

Ring D, Jupiter JB (2000) Reconstruction of posttraumatic elbow instability. Clin Orthop Relat Res 370:44–56

17.

Hopf JC, Berger V, Krieglstein CF, Müller LP, Koslowsky TC (2015) Treatment of unstable elbow dislocations with hinged elbow fixation - subjective and objective results. J Shoulder Elb Surg 24:250–257

18.

Bennett JB (1996) Unstable bony triad of the elbow. J Shoulder Elb Surg 5:S113

19.

Hildebrand KA, Patterson SD, King GJW (1999) Acute elbow dislocations: simple and Complex. Orthop Clin N Am 30:63–79

20.

Zeiders GJ, Patel MK (2008) Management of unstable elbows following complex fracture-dislocations—the "terrible triad" injury. J Bone Joint Surg Am 90-A Suppl 4:75–84. https://doi.org/10.2106/JBJS.H.00893

21.

Pizzoli A, Bondi M, Schirru L, Bortolazzi R (2019) The use of articulated external fixation for complex elbow trauma treatment. Musculoskelet Surg Published online 27 November 2019. https://doi.org/10.1007/s12306-019-00632-z

22.

Cobb TK, Morrey BF (1995) Use of distraction arthroplasty in unstable fracture dislocations of the elbow. Clin Orthop Relat Res 312:201–210

23.

Madey SM, Bottlang M, Steyers CM, Marsh JL, Brown TD (2000) Hinged external fixation of the elbow: Optimal axis alignment to minimize motion resistance. J Orthop Trauma 14:41–47

24.

Bigazzi P, Biondi M, Corvi A, Pfanner S, Checcucci G, Ceruso M (2015) A new autocentering hinged external fixator of the elbow: a device that stabilizes the elbow axis without use of the articular pin. J Shoulder Elb Surg 24:1197–1205. https://doi.org/10.1016/j.jse.2015.05.036
Ethics declarations
Ethical approval
The authors declare that the current study was approved by the Ethical Committee of their institution.
Participation consent
The authors declare that an informed consent was obtained from all patients to participate in the current study and that the data will be subject for publication.
Publication consent
The authors agree and give their consent to publish the current manuscript in "International Orthopaedics."
Competing interests
The authors declare no competing interests.
Disclaimer
The authors, their immediate families, and any research foundation with which they are affiliated did not receive any financial payments or other benefits from any commercial entity related to the subject of the current study.
Additional information
Publisher's note
Springer Nature remains neutral with regard to jurisdictional claims in published maps and institutional affiliations.
About this article
Cite this article
Chamseddine, A.H., Asfour, A.H., Rahal, M.J.H. et al. The adjunct use of lateral hinged external fixator in the treatment of traumatic destabilizing elbow injuries. International Orthopaedics (SICOT) (2021). https://doi.org/10.1007/s00264-021-04985-8
Received:

Accepted:

Published:
Keywords
Hinged elbow external fixator

Monteggia fracture–dislocation

Mayo Elbow Performance Score

Complex elbow dislocation

Terrible triad of the elbow