Abstract
Introduction
Prediction of recurrence in first-time patellar dislocation is an unsolved mystery. The purpose of our study is to compare patellar instability patients and normal control groups with anatomical risk factors and validation of newer parameters patello-trochlear index (PTI) and tibial tuberosity-posterior cruciate ligament (TT-PCL) and also to find the significant risk factors that help to predict the recurrence of dislocation in first-time dislocators.
Methods
This is a comparison study between 50 normal individuals as a control population (group-1) and 94 patients with patellar instability done between 2013 and 2017. Further, 94 patients (group-2) were divided into first-time dislocators (group-2A) and recurrent dislocators (group-2B) which include 39 and 55 patients, respectively. Demographic factors like age, sex, the age of the first dislocation, mechanism of injury, and laterality and MRI risk factors like trochlear dysplasia, patellar height, patellar malalignment, and lateralization of tibial tuberosity were statistically analyzed.
Results
All parameters used to measure each MRI factors showed significant difference with p value < 0.0001 between group 1 and group 2 except PTI (0.035) and TT-PCL (0.036). While comparing demographic factors between first-time dislocators and recurrent dislocator groups, patients with first-time dislocation < 16 years of age (OR-3.6) and bilateral involvement are associated with recurrence and among MRI factors, trochlear dysplasia (odds ratio OR-12), patellar tilt (OR-0.2), and patella alta (OR-4.9) were known to be associated with higher chance of recurrence.
Conclusion
There is a significant difference in anatomic risk factors between normal and patellar instability knees. PTI and TT-PCL are less significant than the previous parameters. Age < 16 years, the presence of trochlear dysplasia, patella alta, and bilateral involvement have a significant role as prediction factors in a recurrent dislocation in both adolescents and adults.
This is a preview of subscription content, log in to check access.
Access options
Buy single article
Instant access to the full article PDF.
US$ 39.95
Price includes VAT for USA
Subscribe to journal
Immediate online access to all issues from 2019. Subscription will auto renew annually.
US$ 199
This is the net price. Taxes to be calculated in checkout.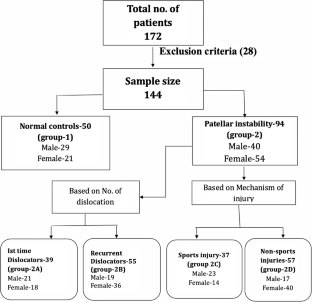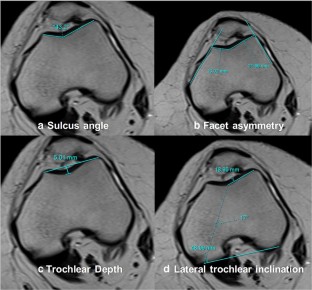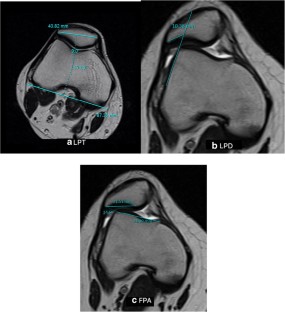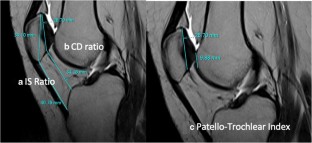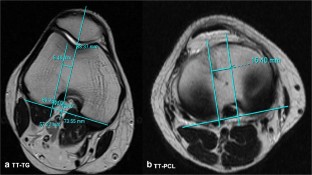 References
1.

Fithian DC, Paxton EW, Stone ML, Silva P, Davis DK, Elias DA et al (2004) Epidemiology and natural history of acute patellar dislocation. Am J Sports Med 32(5):1114–1121

2.

Sillanpää P, Mattila VM, Iivonen T, Visuri T, Pihlajamäki H (2008) Incidence and risk factors of acute traumatic primary patellar dislocation. Med Sci Sports Exerc 40(4):606–611

3.

Nietosvaara Y, Aalto K, Kallio PE (1994) Acute patellar dislocation in children: incidence and associated osteochondral fractures. J Pediatr Orthop 14(4):513–515

4.

Shea KG, Grimm NL, Belzer J, Burks RT, Pfeiffer R (2010) The relation of the femoral physis and the medial patellofemoral ligament. Arthroscopy: The Journal of Arthroscopic & Related Surgery 26(8):1083–1087

5.

Stefancin JJ, Parker RD (2007) First-time traumatic patellar dislocation: a systematic review. Clin Orthop Relat Res 455:93–101

6.

Mäenpää H, Lehto MU (1997) Patellar dislocation. The long-term results of nonoperative management in 100 patients. Am J Sports Med 25(2):213–217

7.

Buchner M, Baudendistel B, Sabo D, Schmitt H (2005) Acute traumatic primary patellar dislocation: long-term results comparing conservative and surgical treatment. Clinical Journal of Sports Medicine 15(2):62–66

8.

Balcarek P, Oberthür S, Hopfensitz S, Frosch S, Walde TA et al (2014) Which patellae are likely to redislocate? Knee Surg Sports Traumatol Arthrosc 22(10):2308–2314

9.

Jaquith BP, Parikh SN (2017) Predictors of recurrent patellar instability in children and adolescents after the first-time dislocation. J Pediatr Orthop 37(7):484–490

10.

Lewallen L, McIntosh A, Dahm D (2015) First-time patellofemoral dislocation: risk factors for recurrent instability. The journal of knee surgery 28(04):303–310

11.

Biedert RM, Albrecht S (2006) The patello-trochlear index: a new index for assessing patellar height. Knee Surg Sports Traumatol Arthrosc 14(8):707–712

12.

Seitlinger G, Scheurecker G, Högler R, Labey L, Innocenti B, Hofmann S (2012) Tibial tubercle–posterior cruciate ligament distance: a new measurement to define the position of the tibial tubercle in patients with patellar dislocation. Am J Sports Med 40(5):1119–1125

13.

Carrillon Y, Abidi H, Dejour D, Fantino O, Moyen B, Tran-Minh VA (2000) Patellar instability: assessment on MR images by measuring the lateral trochlear inclination—initial experience. Radiology 216(2):582–585

14.

Pfirrmann CW, Zanetti M, Romero J, Hodler J (2000) Femoral trochlear dysplasia: MR findings. Radiology 216(3):858–864

15.

Charles MD, Haloman S, Chen L, Ward SR, Fithian D, Afra R (2013) Magnetic resonance imaging-based topographical differences between control and recurrent patellofemoral instability patients. Am J Sports Med 41(2):374–384

16.

Tscholl PM, Wanivenhaus F, Fucentese SF (2017) Conventional radiographs and magnetic resonance imaging for the analysis of trochlear dysplasia: the influence of selected levels on magnetic resonance imaging. Am J Sports Med 45(5):1059–1065

17.

Haj-Mirzaian A, Thawait GK, Tanaka MJ, Demehri S (2017) Diagnosis and characterization of patellofemoral instability: review of available imaging modalities. Sports Med Arthrosc Rev 25(2):64–71

18.

Mesquita RDT, Lopes PMM, Castro M, Cardoso R, Lisboa PT, Paranhos-Porto PT, et al. (2014) Patellar instability – what a radiologist should know! EPOS-(Cited: 23rd May 2018) Available from:https://posterng.netkey.at/esr/viewing/index.php?module=viewing_poster&doi=10.1594/ecr2014/C-2236

19.

Diederichs G, Issever AS, Scheffler S (2010) MR imaging of patellar instability: injury patterns and assessment of risk factors. Radiographics 30(4):961–981

20.

Escala JS, Mellado JM, Olona M, Giné J, Saurí A, Neyret P (2006) Objective patellar instability: MR-based quantitative assessment of potentially associated anatomical features. Knee Surg Sports Traumatol Arthrosc 14(3):264–272

21.

Insall J, Salvati E (1971) Patella position in the normal knee joint. Radiology 101(1):101–104

22.

Caton J, Deschamps G, Chambat P, Lerat JL, Dejour H (1982) Patella infera. Apropos of 128 cases. Rev Chir Orthop Reparatrice Appar Mot 68(5):317–325

23.

Goutallier D, Bernageau J, Lecudonnec B (1978) The measurement of the tibial tuberosity. Patella groove distanced technique and results (author's transl) [in French]. Rev Chir Orthop Reparatrice Appar Mot 64(5):423–428

24.

Dejour H, Walch G, Nove-Josserand L, Guier CH (1994) Factors of patellar instability: an anatomic radiographic study. Knee Surg Sports Traumatol Arthrosc 2(1):19–26

25.

AskenbergerM JPM, Finnbogason T et al (2017) Morphology and anatomic patellar instability risk factors in first-time traumatic lateral patellar dislocations: a prospective magnetic resonance imaging study in skeletally immature children. Am J Sports Med 45(1):50–58

26.

Köhlitz T, Scheffler S, Jung T et al (2013) Prevalence and patterns of anatomical risk factors in patients after patellar dislocation: a case-control study using MRI. Eur Radiol 23(4):1067–1074

27.

Seeley M, Bowman KF, Walsh C, Sabb BJ, Vanderhave KL (2012) Magnetic resonance imaging of acute patellar dislocation in children: patterns of injury and risk factors for recurrence. J Pediatr Orthop 32(2):145–155

28.

Ward SR, Shellock FG, Terk MR, Salsich GB, Powers CM (2002) Assessment of patellofemoral relationships using kinematic MRI: comparison between qualitative and quantitative methods. J Magn Reson Imaging 16(1):69–74

29.

Lewallen LW, McIntosh AL, Dahm DL (2013) Predictors of recurrent instability after acute patellofemoral dislocation in pediatric and adolescent patients. Am J Sports Med 41(3):575–581

30.

Balcarek P, Jung K, Ammon J, Walde TA, Frosch S, Schüttrumpf JP et al (2010) Anatomy of lateral patellar instability: trochlear dysplasia and tibial tubercle–trochlear groove distance is more pronounced in women who dislocate the patella. Am J Sports Med 38(11):2320–2327

31.

Tompkins MA, Rohr SR, Agel J, Arendt EA (2018) Anatomic patellar instability risk factors in primary lateral patellar dislocations do not predict injury patterns: an MRI-based study. Knee Surg Sports Traumatol Arthrosc 26(3):677–684
Ethics declarations
Conflict of interest
The authors declare that there is no conflict of interest.
Additional information
Publisher's note
Springer Nature remains neutral with regard to jurisdictional claims in published maps and institutional affiliations.
Level of evidence: III Retrospective study
About this article
Cite this article
Sundararajan, S.R., Raj, M., Ramakanth, R. et al. Prediction of recurrence based on the patellofemoral morphological profile and demographic factors in first-time and recurrent dislocators. International Orthopaedics (SICOT) (2020). https://doi.org/10.1007/s00264-020-04639-1
Received:

Accepted:

Published:
Keywords
Patellofemoral morphology

First-time Patellar dislocators

Recurrent Patellar dislocators