Abstract
Background
Elderly patients with proximal femoral fractures face elevated risk of post-operative deep vein thrombosis and pulmonary embolism, due to the lack of suitable treatment plans after surgery and hospital discharge. This study aimed to investigate the effect of omega-3 fatty acid supplementation in the above-described clinical setting.
Methods
Five hundred and seven elderly patients (> 60 years of age) suffering from proximal femoral fractures were recruited. After exclusion, 452 eligible patients were assigned in a random manner to receive either omega-3 fatty acids at the daily dose of 1000 mg or placebo, via oral administration for a period of 30 days after surgery. At the end of intervention, the incidences of pulmonary embolism, deep vein thrombosis, and other related complications were compared between the two study groups.
Results
Incidences of pulmonary embolism as well as deep vein thrombosis, including events leading to fatality, were significantly reduced by the 30-day omega-3 fatty acid intervention. But other related complications, such as haematoma evacuation, post-operative wound bleed, wound infection with frank pus, and other bleed events that required transfusion, were not affected after omega-3 fatty acid consumption.
Conclusion
Daily supplementation of omega-3 fatty acids decreases the risk of pulmonary embolism as well as symptomatic deep vein thrombosis, after surgery among elderly patients with proximal femoral fractures, without causing elevated risk of bleeding episodes.
Access options
Buy single article
Instant access to the full article PDF.
US$ 39.95
Tax calculation will be finalised during checkout.
Subscribe to journal
Immediate online access to all issues from 2019. Subscription will auto renew annually.
US$ 119
Tax calculation will be finalised during checkout.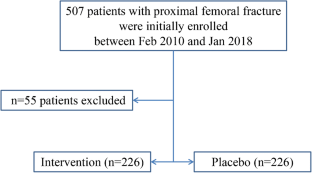 References
1.

Roche JJ, Wenn RT, Sahota O, Moran CG (2005) Effect of comorbidities and postoperative complications on mortality after hip fracture in elderly people: prospective observational cohort study. BMJ 331(7529):1374. https://doi.org/10.1136/bmj.38643.663843.55

2.

Kenzora JE, McCarthy RE, Lowell JD, Sledge CB (1984) Hip fracture mortality. Relation to age, treatment, preoperative illness, time of surgery, and complications. Clin Orthop Relat Res 186:45–56

3.

Keene GS, Parker MJ, Pryor GA (1993) Mortality and morbidity after hip fractures. BMJ 307(6914):1248–1250. https://doi.org/10.1136/bmj.307.6914.1248

4.

Todd CJ, Freeman CJ, Camilleri-Ferrante C, Palmer CR, Hyder A, Laxton CE, Parker MJ, Payne BV, Rushton N (1995) Differences in mortality after fracture of hip: the east Anglian audit. BMJ 310(6984):904–908. https://doi.org/10.1136/bmj.310.6984.904

5.

Omsland TK, Emaus N, Tell GS, Magnus JH, Ahmed LA, Holvik K, Center J, Forsmo S, Gjesdal CG, Schei B, Vestergaard P, Eisman JA, Falch JA, Tverdal A, Sogaard AJ, Meyer HE (2014) Mortality following the first hip fracture in Norwegian women and men (1999-2008). A NOREPOS study. Bone 63:81–86. https://doi.org/10.1016/j.bone.2014.02.016

6.

Collins R, Scrimgeour A, Yusuf S, Peto R (1988) Reduction in fatal pulmonary embolism and venous thrombosis by perioperative administration of subcutaneous heparin. Overview of results of randomized trials in general, orthopedic, and urologic surgery. N Engl J Med 318(18):1162–1173. https://doi.org/10.1056/NEJM198805053181805

7.

Scurr JH, Coleridge-Smith PD, Hasty JH (1988) Deep venous thrombosis: a continuing problem. BMJ 297(6640):28. https://doi.org/10.1136/bmj.297.6640.28

8.

Sanchez C, Poggi M, Morange PE, Defoort C, Martin JC, Tanguy S, Dutour A, Grino M, Alessi MC (2012) Diet modulates endogenous thrombin generation, a biological estimate of thrombosis risk, independently of the metabolic status. Arterioscler Thromb Vasc Biol 32(10):2394–2404. https://doi.org/10.1161/ATVBAHA.112.250332

9.

Brummel-Ziedins KE, Vossen CY, Butenas S, Mann KG, Rosendaal FR (2005) Thrombin generation profiles in deep venous thrombosis. J Thromb Haemost 3(11):2497–2505. https://doi.org/10.1111/j.1538-7836.2005.01584.x

10.

Lutsey PL, Folsom AR, Heckbert SR, Cushman M (2009) Peak thrombin generation and subsequent venous thromboembolism: the Longitudinal Investigation of Thromboembolism Etiology (LITE) study. J Thromb Haemost 7(10):1639–1648. https://doi.org/10.1111/j.1538-7836.2009.03561.x

11.

Reiner MF, Stivala S, Limacher A, Bonetti NR, Mean M, Egloff M, Rodondi N, Aujesky D, von Schacky C, Luscher TF, Camici GG, Beer JH (2017) Omega-3 fatty acids predict recurrent venous thromboembolism or total mortality in elderly patients with acute venous thromboembolism. J Thromb Haemost 15(1):47–56. https://doi.org/10.1111/jth.13553

12.

Kuma H, Nagashima R, Hatae H, Tsuda T, Hamasaki N (2013) Beneficial effect of EPA (20:5 n-3 PUFA) on preventing venous thromboembolism: a rat tail thrombosis model experiment. Thromb Res 131(1):107–108. https://doi.org/10.1016/j.thromres.2012.09.014

13.

Isaksen T, Evensen LH, Johnsen SH, Jacobsen BK, Hindberg K, Braekkan SK, Hansen JB (2019) Dietary intake of marine n-3 polyunsaturated fatty acids and future risk of venous thromboembolism. Res Pract Thromb Haemost 3(1):59–69. https://doi.org/10.1002/rth2.12168

14.

Braekkan SK, Mathiesen EB, Njolstad I, Wilsgaard T, Stormer J, Hansen JB (2008) Family history of myocardial infarction is an independent risk factor for venous thromboembolism: the Tromso study. J Thromb Haemost 6(11):1851–1857. https://doi.org/10.1111/j.1538-7836.2008.03102.x

15.

Cher EWL, Allen JC, Howe TS, Koh JSB (2019) Comorbidity as the dominant predictor of mortality after hip fracture surgeries. Osteoporos Int 30(12):2477–2483. https://doi.org/10.1007/s00198-019-05139-8

16.

Daabiss M (2011) American Society of Anaesthesiologists physical status classification. Indian J Anaesth 55(2):111–115. https://doi.org/10.4103/0019-5049.79879

17.

Strom A (1948) Examination into the diet of Norwegian families during the war-years 1942-1945. Acta Med Scand 131(Suppl. 214)

18.

Jensen RA (1952) Postoperative thrombosis-emboli; their frequency in the period 1940-1948 at the III department of Ulveval Sykehus and the surgical department of Akers Sykehus. Acta Chir Scand 103(4):263–275

19.

Steffen LM, Folsom AR, Cushman M, Jacobs DR Jr, Rosamond WD (2007) Greater fish, fruit, and vegetable intakes are related to lower incidence of venous thromboembolism: the Longitudinal Investigation of Thromboembolism Etiology. Circulation 115(2):188–195. https://doi.org/10.1161/CIRCULATIONAHA.106.641688

20.

Huber O, Bounameaux H, Borst F, Rohner A (1992) Postoperative pulmonary embolism after hospital discharge. An underestimated risk. Arch Surg 127(3):310–313. https://doi.org/10.1001/archsurg.1992.01420030076014

21.

(2000) Prevention of pulmonary embolism and deep vein thrombosis with low dose aspirin: Pulmonary Embolism Prevention (PEP) trial. Lancet 355(9212):1295–1302
Funding
This work was supported by Wujieping Medical Fund (#320.6750.16050).
Ethics declarations
Conflict of interest
The authors declare that they have no conflict of interest.
Research involving human participants and/or animals
This research obtained approval from the ethics committee of Cangzhou Central Hospital.
Informed consent
All participants in this study were informed and gave a written consent.
Additional information
Publisher's note
Springer Nature remains neutral with regard to jurisdictional claims in published maps and institutional affiliations.
About this article
Cite this article
Zheng, X., Jia, R., Li, Y. et al. Omega-3 fatty acids reduce post-operative risk of deep vein thrombosis and pulmonary embolism after surgery for elderly patients with proximal femoral fractures: a randomized placebo-controlled, double-blind clinical trial. International Orthopaedics (SICOT) 44, 2089–2093 (2020). https://doi.org/10.1007/s00264-020-04610-0
Received:

Accepted:

Published:

Issue Date:
Keywords
Omega-3 fatty acids

Deep vein thrombosis

Pulmonary embolism

Proximal femoral fractures

Post-operative risk