Abstract
Purpose
Currently, knowledge regarding the intra-articular pathology and its relationship to outcomes after joint-preserving surgery in patients with osteonecrosis of the femoral head (ONFH) is lacking. The purposes were to evaluate the intra-articular pathology and its relationship with outcomes of joint-preserving surgery in ONFH.
Methods
We reviewed 41 hips with ONFH in 41 patients (27 women; mean age, 34.9 years old) who underwent intertrochanteric curved varus osteotomy. Radiographic evaluations were based on pre-operative imaging studies, including radiographs, computed tomography (CT), and magnetic resonance imaging (MRI). Intra-articular pathology was evaluated by arthroscopic inspection of the femoral head, labrum, and acetabular cartilage during surgery. In addition, we performed radiographic measurements of the hip, including the collapse of the femoral head and minimal joint space width at three  years post-operatively and at final follow-up.
Results
Arthroscopy revealed damage to the acetabular cartilage and labrum in 22 (54%) and 13 patients (32%), respectively. However, these lesions could be detected on imaging in only 13 (32%) and ten patients (24%), respectively. The change in joint space width after surgery was significantly higher in patients with cartilage degeneration and labral injury (P = 0.02, P = 0.02). Logistic regression analysis for subsequent progression of osteoarthritis showed an association with degenerative changes of articular cartilage and the labral tear as independent predictors (P = 0.001, P = 0.03).
Conclusions
Our data demonstrate the presence of labral and acetabular cartilage lesions in ONFH patients, while images do not reveal the full extent of the tissue damage. These intra-articular pathologies can be associated with the outcomes after joint-preserving surgery.
This is a preview of subscription content, log in to check access.
Access options
Buy single article
Instant access to the full article PDF.
US$ 39.95
Price includes VAT for USA
Subscribe to journal
Immediate online access to all issues from 2019. Subscription will auto renew annually.
US$ 199
This is the net price. Taxes to be calculated in checkout.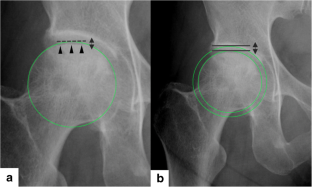 References
1.

Fukushima W, Yamamoto T, Takahashi S, Sakaguchi M, Kubo T, Iwamoto Y, Hirota Y (2013) Idiopathic ONFH multicenter case-control study. The effect of alcohol intake and the use of oral corticosteroids on the risk of idiopathic osteonecrosis of the femoral head: a case-control study in Japan. Bone joint J 95-B(3):320–325

2.

Larson E, Jones LC, Goodman SB, Koo KH, Cui Q (2018) Early-stage osteonecrosis of the femoral head: where are we and where are we going in year 2018? Int Orthop 42(7):1723–1728

3.

Sultan AA, Mohamed N, Samuel LT, Chughtai M, Sodhi N, Krebs VE, Stearns KL, Molloy RM, Mont MA (2019) Classification systems of hip osteonecrosis: an updated review. Int Orthop 43(5):1089–1095

4.

McCarthy J, Puri L, Barsoum W (2003) Articular cartilage changes in avascular necrosis: an arthroscopic evaluation. Clin Orthop Relat Res 406:64–70

5.

Ruch DS, Satterfield W (1998) The use of arthroscopy to document accurate position of core decompression of the hip. Arthroscopy 14:617–619

6.

Guo KJ, Zhao FC, Guo Y, Li FL, Zhu L, Zheng W (2014) The influence of age, gender and treatment with steroids on the incidence of osteonecrosis of the femoral head during the management of severe acute respiratory syndrome: a retrospective study. Bone Joint J 96-B(2):259–262

7.

Potter HG, Schachar J (2012) High resolution noncontrast MRI of the hip. J Magn Reson Imag 2010 31:268–278

8.

Gold SL, Burge AJ, Potter HG (2012) MRI of hip cartilage. Clin Orthop Relat Res 470:3321–3331

9.

Sutter R, Zubler V, Hoffmann A et al (2014) Hip MRI: how useful is intraarticular contrast material for evaluating surgically proven lesions of the labrum and articular cartilage? Am J Roentgenol 202:160–169

10.

Zlatkin MB, Pevsner D, Sanders TG et al (2010) Acetabular labral tears and cartilage lesions of the hip: indirect MR arthrographic correlation with arthroscopy–a preliminary study. Am J Roentgenol 194:709–714

11.

Perdikakis E, Karachalios T, Katonis P et al (2011) Comparison of MRarthrography and MDCT-arthrography for detection of labral and articular cartilage hip pathology. Skelet Radiol 40:1441–1447

12.

Ho CP, Ommen ND, Bhatia S et al (2016) Predictive value of 3-t magnetic resonance imaging in diagnosing grade 3 and 4 chondral lesions in the hip. Arthroscopy 32:1808–1813

13.

Biswal S, Hazra S, Yun HH, Hur CY, Shon WY (2009) Transtrochanteric rotational osteotomy for nontraumatic osteonecrosis of the femoral head in young adults. Clin Orthop Relat Res 467:1529–1537

14.

Trăistaru MR, Kamal D, Kamal KC et al (2015) Imaging and histopathological aspects in aseptic osteonecrosis of the femoral head. Romanian J Morphol Embryol 56:1447–1453

15.

Yamasaki T, Yasunaga Y, Ishikawa M, Hamaki T, Ochi M (2010) Bone-marrow-derived mononuclear cells with a porous hydroxyapatite scaffold for the treatment of osteonecrosis of the femoral head: a preliminary study. J Bone Joint Surg Br 92:337–341

16.

Hernigou P, Dubory A, Homma Y, Guissou I, Flouzat Lachaniette CH, Chevallier N, Rouard H (2018) Cell therapy versus simultaneous contralateral decompression in symptomatic corticosteroid osteonecrosis: a thirty year follow-up prospective randomized study of one hundred and twenty five adult patients. Int Orthop Jul 42(7):1639–1649

17.

Tomaru Y, Yoshioka T, Sugaya H, Shimizu Y, Aoto K, Wada H, Akaogi H, Yamazaki M, Mishima H (2018) Mid-term results of concentrated autologous bone marrow aspirate transplantation for corticosteroid-associated osteonecrosis of the femoral head in systemic lupus erythematosus. Int Orthop Jul 42(7):1623–1630

18.

Hamanishi M, Yasunaga Y, Yamasaki T, Mori R, Shoji T, Ochi M (2014) The clinical and radiographic results of intertrochanteric curved varus osteotomy for idiopathic osteonecrosis of the femoral head. Arch Orthop Trauma Surg 134:305–310

19.

Kubo Y, Motomura G, Ikemura S, Sonoda K, Yamamoto T, Nakashima Y (2017) Factors influencing progressive collapse of the transposed necrotic lesion after transtrochanteric anterior rotational osteotomy for osteonecrosis of the femoral head. Orthop Traumatol Surg Res 103:217–222

20.

Nishio A, Sugioka Y (1971) A new technique of the varus osteotomy at the upper end of the femur. Orthop Trauma 20:381–386

21.

Sugano N, Atsumi T, Ohzono K et al (2002) The 2001 revised criteria for diagnosis, classification, and staging of idiopathic osteonecrosis of the femoral head. J Orthop Sci 7:601–605

22.

Gardeniers JWM (1993) ARCO (Association Research Circulation Osseous) Committee on Terminology and Classification. ARCO News 5:79–82

23.

Barer M (1978) Role of innominate osteotomy in the treatment of children with Legg-Perthes disease. Clin Orthop Relat Res 135:2–9

24.

Leunig M, Werlen S, Ungersböck A, Ito K, Ganz R (1997) Evaluation of the acetabular labrum by MR arthrography. J Bone Joint Surg [Br] 79-B:230–234

25.

Beck M, Kalhor M, Leunig MGanz R (2005) Hip morphology influences the pattern of damage to the acetabular cartilage: femoroacetabular impingement as a cause of early osteoarthritis of the hip. J Bone Joint Surg Br 87:1012–1018

26.

Faul F, Erdfelder E, Lang A-G, Buchner A (2007) G*power 3: a flexible statistical power analysis program for the social, behavioral, and biomedical sciences. Behav Res Methods 39:175–191

27.

Mintz DN, Hooper T, Connell D, Buly R, Padgett DE, Potter HG (2005) Magnetic resonance imaging of the hip: detection of labral and chondral abnormalities using noncontrast imaging. Arthroscopy 21:385–393

28.

Agten CA, Sutter R, Buck FM, Pfirrmann CWA (2016) Hip imaging in athletes: sports imaging series. Radiology 280:351–369

29.

Ruch DS, Sekiya J, Dickson SW et al (2001) The role of hip arthroscopy in the evaluation of avascular necrosis. Orthopedics 24:339–343

30.

Steinberg ME, Corces A, Fallon M (1999) Acetabular involvement in osteonecrosis of the femoral head. J Bone Joint Surg Am 81:60–65

31.

Mukisi-Mukaza M, Gomez-Brouchet A, Donkerwolcke M, Hinsenkamp M, Burny F (2011) Histopathology of aseptic necrosis of the femoral head in sickle cell disease. Int Orthop 35:1145–1150

32.

Magnussen RA, Guilak F, Vail TP (2005) Articular cartilage degeneration in post-collapse osteonecrosis of the femoral head. Radiographic staging, macroscopic grading, and histologic changes. J Bone Joint Surg Am 87(6):1272–1277

33.

Izumida H, Kanaji A, Nishiwaki T (2014) Acetabular labral tear complicating idiopathic osteonecrosis of the femoral head treated by labral repair with hip arthroscopy: a case report. J Med Case Rep 8:372

34.

Kloen P, Leunig M, Ganz R (2002) Early lesions of the labrum and acetabular cartilage in osteonecrosis of the femoral head. J Bone Joint Surg Br 84:66–69

35.

Arkill KP, Winlove CP (2008) Solute transport in the deep and calcified zones of articular cartilage. Osteoarthr Cartil 16:708–714

36.

Yamamoto S, Watanabe A, Nakamura J et al (2011) Quantitative T2 mapping of femoral head cartilage in systemic lupus erythematosus patients with noncollapsed osteonecrosis of the femoral head associated with corticosteroid therapy. J Magn Reson Imaging 34:1151–1158
Ethics declarations
Conflict of interest
The authors declare that they have no conflict of interest.
Ethics approval
Ethics approval was granted by the Institutional Review Board (# E-677, 7/Feb/2017), and informed consent was obtained from all individual participants included in the study.
Additional information
Publisher's note
Springer Nature remains neutral with regard to jurisdictional claims in published maps and institutional affiliations.
The proof reading of the manuscript; editage (www.editage.jp)
About this article
Cite this article
Shoji, T., Yamasaki, T., Ota, Y. et al. Intra-articular pathology affects outcomes after joint preserving surgery for osteonecrosis of the femoral head. International Orthopaedics (SICOT) 44, 1295–1303 (2020). https://doi.org/10.1007/s00264-020-04550-9
Received:

Accepted:

Published:

Issue Date:
Keywords
Osteonecrosis of the femoral head

Intra-articular pathology

Arthroscopy

Hip preservation surgery

Articular cartilage

Labral tear