Abstract
Tumor mutation burden (TMB) predicts response to immunotherapy in non-small cell lung cancer (NSCLC). The current TMB evaluation is expensive and not satisfactory. Here, novel tumor mutation score (TMS) was defined as the number of genes with mutations in candidate genes and compared with TMB and PD-L1 in 240 NSCLC patients and validated in 34 NSCLC patients. Eighteen genes were significantly associated with longer progression-free survival (PFS) or better response. The number of mutated genes within 18 favorable genes were defined as TMS18. TMS18 (HR = 0.307, P < 0.001) had smaller hazard ratio and P value than TMB (HR = 0.455, P = 0.004) and PD-L1 expression (HR = 0.403, P = 0.005) in survival analysis. Moreover, TMS18 had significantly higher AUC than TMB and TMS18 combined with PD-L1 improved the accuracy. Universal cutoff of TMS18 enriched more patients with benefits. These findings were largely consistent in the validation cohort. Taken together, TMS18 was more powerful than TMB in predicting response of ICIs in NSCLC. Selective TMS was more feasible and cost-effective than unselective TMB. TMS18 combined with PD-L1 might yield better efficiency in predicting response of ICIs in NSCLC with future validation in larger cohorts.
Access options
Buy single article
Instant access to the full article PDF.
US$ 39.95
Tax calculation will be finalised during checkout.
Subscribe to journal
Immediate online access to all issues from 2019. Subscription will auto renew annually.
US$ 119
Tax calculation will be finalised during checkout.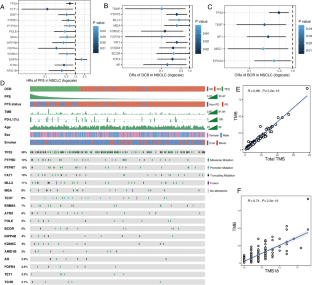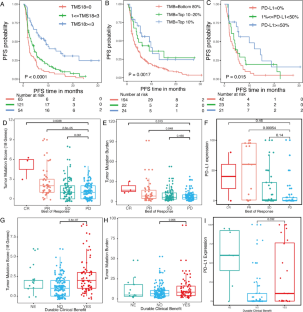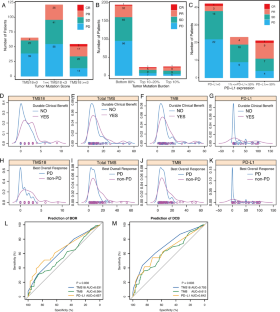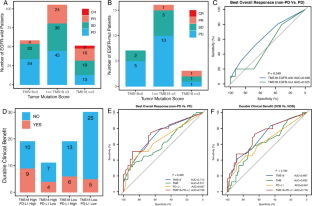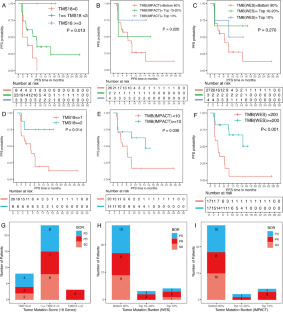 References
1.

Chan TA, Yarchoan M, Jaffee E, Swanton C, Quezada SA, Stenzinger A, Peters S (2019) Development of tumor mutation burden as an immunotherapy biomarker: utility for the oncology clinic. Ann Oncol 30(1):44–56. https://doi.org/10.1093/annonc/mdy495

2.

Yu H, Chen Z, Ballman KV, Watson MA, Govindan R, Lanc I, Beer DG, Bueno R, Chirieac LR, Chui MH, Chen G, Franklin WA, Gandara DR, Genova C, Brovsky KA, Joshi MM, Merrick DT, Richards WG, Rivard CJ, Harpole DH, Tsao MS, van Bokhoven A, Shepherd FA, Hirsch FR (2019) Correlation of PD-L1 Expression with Tumor Mutation Burden and Gene Signatures for Prognosis in Early-Stage Squamous Cell Lung Carcinoma. J Thorac Oncol 14(1):25–36. https://doi.org/10.1016/j.jtho.2018.09.006

3.

Reck M, Rodriguez-Abreu D, Robinson AG, Hui R, Csoszi T, Fulop A, Gottfried M, Peled N, Tafreshi A, Cuffe S, O'Brien M, Rao S, Hotta K, Leiby MA, Lubiniecki GM, Shentu Y, Rangwala R, Brahmer JR, Investigators K (2016) Pembrolizumab versus Chemotherapy for PD-L1-Positive Non-Small-Cell Lung Cancer. N Engl J Med 375(19):1823–1833. https://doi.org/10.1056/NEJMoa1606774

4.

Rizvi H, Sanchez-Vega F, La K, Chatila W, Jonsson P, Halpenny D, Plodkowski A, Long N, Sauter JL, Rekhtman N, Hollmann T, Schalper KA, Gainor JF, Shen R, Ni A, Arbour KC, Merghoub T, Wolchok J, Snyder A, Chaft JE, Kris MG, Rudin CM, Socci ND, Berger MF, Taylor BS, Zehir A, Solit DB, Arcila ME, Ladanyi M, Riely GJ, Schultz N, Hellmann MD (2018) Molecular Determinants of Response to Anti-Programmed Cell Death (PD)-1 and Anti-Programmed Death-Ligand 1 (PD-L1) Blockade in Patients With Non-Small-Cell Lung Cancer Profiled With Targeted Next-Generation Sequencing. J Clin Oncol 36(7):633–641. https://doi.org/10.1200/JCO.2017.75.3384

5.

Schumacher TN, Schreiber RD (2015) Neoantigens in cancer immunotherapy. Science 348(6230):69–74. https://doi.org/10.1126/science.aaa4971

6.

Jiang T, Shi J, Dong Z, Hou L, Zhao C, Li X, Mao B, Zhu W, Guo X, Zhang H, He J, Chen X, Su C, Ren S, Wu C, Zhou C (2019) Genomic landscape and its correlations with tumor mutational burden, PD-L1 expression, and immune cells infiltration in Chinese lung squamous cell carcinoma. J Hematol Oncol 12(1):75. https://doi.org/10.1186/s13045-019-0762-1

7.

Samstein RM, Lee CH, Shoushtari AN, Hellmann MD, Shen R, Janjigian YY, Barron DA, Zehir A, Jordan EJ, Omuro A, Kaley TJ, Kendall SM, Motzer RJ, Hakimi AA, Voss MH, Russo P, Rosenberg J, Iyer G, Bochner BH, Bajorin DF, Al-Ahmadie HA, Chaft JE, Rudin CM, Riely GJ, Baxi S, Ho AL, Wong RJ, Pfister DG, Wolchok JD, Barker CA, Gutin PH, Brennan CW, Tabar V, Mellinghoff IK, DeAngelis LM, Ariyan CE, Lee N, Tap WD, Gounder MM, D'Angelo SP, Saltz L, Stadler ZK, Scher HI, Baselga J, Razavi P, Klebanoff CA, Yaeger R, Segal NH, Ku GY, DeMatteo RP, Ladanyi M, Rizvi NA, Berger MF, Riaz N, Solit DB, Chan TA, Morris LGT (2019) Tumor mutational load predicts survival after immunotherapy across multiple cancer types. Nat Genet 51(2):202–206. https://doi.org/10.1038/s41588-018-0312-8

8.

Goto Y (2018) Tumor Mutation Burden: Is It Ready for the Clinic? J Clin Oncol:JCO2018793398. https://doi.org/10.1200/JCO.2018.79.3398

9.

Soo RA, Lim SM, Syn NL, Teng R, Soong R, Mok TSK, Cho BC (2018) Immune checkpoint inhibitors in epidermal growth factor receptor mutant non-small cell lung cancer: Current controversies and future directions. Lung Cancer 115:12–20. https://doi.org/10.1016/j.lungcan.2017.11.009

10.

Skoulidis F, Goldberg ME, Greenawalt DM, Hellmann MD, Awad MM, Gainor JF, Schrock AB, Hartmaier RJ, Trabucco SE, Gay L, Ali SM, Elvin JA, Singal G, Ross JS, Fabrizio D, Szabo PM, Chang H, Sasson A, Srinivasan S, Kirov S, Szustakowski J, Vitazka P, Edwards R, Bufill JA, Sharma N, Ou SI, Peled N, Spigel DR, Rizvi H, Aguilar EJ, Carter BW, Erasmus J, Halpenny DF, Plodkowski AJ, Long NM, Nishino M, Denning WL, Galan-Cobo A, Hamdi H, Hirz T, Tong P, Wang J, Rodriguez-Canales J, Villalobos PA, Parra ER, Kalhor N, Sholl LM, Sauter JL, Jungbluth AA, Mino-Kenudson M, Azimi R, Elamin YY, Zhang J, Leonardi GC, Jiang F, Wong KK, Lee JJ, Papadimitrakopoulou VA, Wistuba II, Miller VA, Frampton GM, Wolchok JD, Shaw AT, Janne PA, Stephens PJ, Rudin CM, Geese WJ, Albacker LA, Heymach JV (2018) STK11/LKB1 Mutations and PD-1 Inhibitor Resistance in KRAS-Mutant Lung Adenocarcinoma. Cancer Discov 8(7):822–835. https://doi.org/10.1158/2159-8290.CD-18-0099

11.

Garassino MC, Cho BC, Kim JH, Mazieres J, Vansteenkiste J, Lena H, Corral Jaime J, Gray JE, Powderly J, Chouaid C, Bidoli P, Wheatley-Price P, Park K, Soo RA, Huang Y, Wadsworth C, Dennis PA, Rizvi NA, Investigators A (2018) Durvalumab as third-line or later treatment for advanced non-small-cell lung cancer (ATLANTIC): an open-label, single-arm, phase 2 study. Lancet Oncol 19(4):521–536. https://doi.org/10.1016/S1470-2045(18)30144-X

12.

Lee CK, Man J, Lord S, Links M, Gebski V, Mok T, Yang JC (2017) Checkpoint Inhibitors in Metastatic EGFR-Mutated Non-Small Cell Lung Cancer-A Meta-Analysis. J Thorac Oncol 12(2):403–407. https://doi.org/10.1016/j.jtho.2016.10.007

13.

Scheel AH, Ansen S, Schultheis AM, Scheffler M, Fischer RN, Michels S, Hellmich M, George J, Zander T, Brockmann M, Stoelben E, Groen H, Timens W, Perner S, von Bergwelt-Baildon M, Buttner R, Wolf J (2016) PD-L1 expression in non-small cell lung cancer: Correlations with genetic alterations. Oncoimmunology 5(5):e1131379. https://doi.org/10.1080/2162402X.2015.1131379

14.

Yarchoan M, Johnson BA 3rd, Lutz ER, Laheru DA, Jaffee EM (2017) Targeting neoantigens to augment antitumour immunity. Nat Rev Cancer 17(4):209–222. https://doi.org/10.1038/nrc.2016.154

15.

Yarchoan M, Hopkins A, Jaffee EM (2017) Tumor Mutational Burden and Response Rate to PD-1 Inhibition. N Engl J Med 377(25):2500–2501. https://doi.org/10.1056/NEJMc1713444

16.

Van Allen EM, Miao D, Schilling B, Shukla SA, Blank C, Zimmer L, Sucker A, Hillen U, Foppen MHG, Goldinger SM, Utikal J, Hassel JC, Weide B, Kaehler KC, Loquai C, Mohr P, Gutzmer R, Dummer R, Gabriel S, Wu CJ, Schadendorf D, Garraway LA (2015) Genomic correlates of response to CTLA-4 blockade in metastatic melanoma. Science 350(6257):207–211. https://doi.org/10.1126/science.aad0095

17.

Snyder A, Makarov V, Merghoub T, Yuan J, Zaretsky JM, Desrichard A, Walsh LA, Postow MA, Wong P, Ho TS, Hollmann TJ, Bruggeman C, Kannan K, Li Y, Elipenahli C, Liu C, Harbison CT, Wang L, Ribas A, Wolchok JD, Chan TA (2014) Genetic basis for clinical response to CTLA-4 blockade in melanoma. N Engl J Med 371(23):2189–2199. https://doi.org/10.1056/NEJMoa1406498

18.

Carbone DP, Reck M, Paz-Ares L, Creelan B, Horn L, Steins M, Felip E, van den Heuvel MM, Ciuleanu TE, Badin F, Ready N, Hiltermann TJN, Nair S, Juergens R, Peters S, Minenza E, Wrangle JM, Rodriguez-Abreu D, Borghaei H, Blumenschein GR Jr, Villaruz LC, Havel L, Krejci J, Corral Jaime J, Chang H, Geese WJ, Bhagavatheeswaran P, Chen AC, Socinski MA, CheckMate I (2017) First-Line Nivolumab in Stage IV or Recurrent Non-Small-Cell Lung Cancer. N Engl J Med 376(25):2415–2426. https://doi.org/10.1056/NEJMoa1613493

19.

Rizvi NA, Hellmann MD, Snyder A, Kvistborg P, Makarov V, Havel JJ, Lee W, Yuan J, Wong P, Ho TS, Miller ML, Rekhtman N, Moreira AL, Ibrahim F, Bruggeman C, Gasmi B, Zappasodi R, Maeda Y, Sander C, Garon EB, Merghoub T, Wolchok JD, Schumacher TN, Chan TA (2015) Cancer immunology Mutational landscape determines sensitivity to PD-1 blockade in non-small cell lung cancer. Science 348(6230):124–128. https://doi.org/10.1126/science.aaa1348

20.

Hellmann MD, Ciuleanu TE, Pluzanski A, Lee JS, Otterson GA, Audigier-Valette C, Minenza E, Linardou H, Burgers S, Salman P, Borghaei H, Ramalingam SS, Brahmer J, Reck M, O'Byrne KJ, Geese WJ, Green G, Chang H, Szustakowski J, Bhagavatheeswaran P, Healey D, Fu Y, Nathan F, Paz-Ares L (2018) Nivolumab plus Ipilimumab in Lung Cancer with a High Tumor Mutational Burden. N Engl J Med 378(22):2093–2104. https://doi.org/10.1056/NEJMoa1801946

21.

Hellmann MD, Callahan MK, Awad MM, Calvo E, Ascierto PA, Atmaca A, Rizvi NA, Hirsch FR, Selvaggi G, Szustakowski JD, Sasson A, Golhar R, Vitazka P, Chang H, Geese WJ, Antonia SJ (2018) Tumor Mutational Burden and Efficacy of Nivolumab Monotherapy and in Combination with Ipilimumab in Small-Cell Lung Cancer. Cancer Cell 33(5):853–861. https://doi.org/10.1016/j.ccell.2018.04.001

22.

Balar AV, Galsky MD, Rosenberg JE, Powles T, Petrylak DP, Bellmunt J, Loriot Y, Necchi A, Hoffman-Censits J, Perez-Gracia JL, Dawson NA, der vanHeijden MS, Dreicer R, Srinivas S, Retz MM, Joseph RW, Drakaki A, Vaishampayan UN, Sridhar SS, Quinn DI, Duran I, Shaffer DR, Eigl BJ, Grivas PD, Yu EY, Li S, Kadel EE, Boyd Z, Bourgon R, Hegde PS, Mariathasan S, Thastrom A, Abidoye OO, Fine GD, Bajorin DF, Group IMS (2017) Atezolizumab as first-line treatment in cisplatin-ineligible patients with locally advanced and metastatic urothelial carcinoma: a single-arm, multicentre, phase 2 trial. Lancet 389(10064):67–76. https://doi.org/10.1016/S0140-6736(16)32455-2

23.

Duffy MJ, Crown J (2019) Biomarkers for Predicting Response to Immunotherapy with Immune Checkpoint Inhibitors in Cancer Patients. Clin Chem 65(10):1228–1238. https://doi.org/10.1373/clinchem.2019.303644

24.

Nandakumar V, Mills JR (2019) The Now and Beyond of Tumor Mutational Burden as a Predictor of Response to Immune Checkpoint Inhibitors. Clin Chem 65(2):357. https://doi.org/10.1373/clinchem.2018.295097

25.

Li Y, Chen Z, Wu L, Tao W (2020) Novel tumor mutation score versus tumor mutation burden in predicting survival after immunotherapy in pan-cancer patients from the MSK-IMPACT cohort. Annals of Translational Medicine 8(7):446

26.

Li Y, Chen Z, Wu L, Tao W (2019) Novel tumour mutation score versus tumour mutation burden in predicting survival after immunotherapy in pan-cancer from MSK-IMPACT cohort. Ann Oncol. https://doi.org/10.1093/annonc/mdz438.006

27.

Zehir A, Benayed R, Shah RH, Syed A, Middha S, Kim HR, Srinivasan P, Gao J, Chakravarty D, Devlin SM, Hellmann MD, Barron DA, Schram AM, Hameed M, Dogan S, Ross DS, Hechtman JF, DeLair DF, Yao J, Mandelker DL, Cheng DT, Chandramohan R, Mohanty AS, Ptashkin RN, Jayakumaran G, Prasad M, Syed MH, Rema AB, Liu ZY, Nafa K, Borsu L, Sadowska J, Casanova J, Bacares R, Kiecka IJ, Razumova A, Son JB, Stewart L, Baldi T, Mullaney KA, Al-Ahmadie H, Vakiani E, Abeshouse AA, Penson AV, Jonsson P, Camacho N, Chang MT, Won HH, Gross BE, Kundra R, Heins ZJ, Chen HW, Phillips S, Zhang H, Wang J, Ochoa A, Wills J, Eubank M, Thomas SB, Gardos SM, Reales DN, Galle J, Durany R, Cambria R, Abida W, Cercek A, Feldman DR, Gounder MM, Hakimi AA, Harding JJ, Iyer G, Janjigian YY, Jordan EJ, Kelly CM, Lowery MA, Morris LGT, Omuro AM, Raj N, Razavi P, Shoushtari AN, Shukla N, Soumerai TE, Varghese AM, Yaeger R, Coleman J, Bochner B, Riely GJ, Saltz LB, Scher HI, Sabbatini PJ, Robson ME, Klimstra DS, Taylor BS, Baselga J, Schultz N, Hyman DM, Arcila ME, Solit DB, Ladanyi M, Berger MF (2017) Mutational landscape of metastatic cancer revealed from prospective clinical sequencing of 10,000 patients. Nat Med 23(6):703–713. https://doi.org/10.1038/nm.4333

28.

Truesdell J, Miller VA, Fabrizio D (2018) Approach to evaluating tumor mutational burden in routine clinical practice. Transl Lung Cancer Res 7(6):678–681. https://doi.org/10.21037/tlcr.2018.10.10

29.

Torralvo J, Friedlaender A, Achard V, Addeo A (2019) The Activity of Immune Checkpoint Inhibition in KRAS Mutated Non-small Cell Lung Cancer: A Single Centre Experience. Cancer Genomics Proteomics 16(6):577–582. https://doi.org/10.21873/cgp.20160

30.

Tazdait M, Mezquita L, Lahmar J, Ferrara R, Bidault F, Ammari S, Balleyguier C, Planchard D, Gazzah A, Soria JC, Marabelle A, Besse B, Caramella C (2018) Patterns of responses in metastatic NSCLC during PD-1 or PDL-1 inhibitor therapy: Comparison of RECIST 1.1, irRECIST and iRECIST criteria. Eur J Cancer 88:38–47. https://doi.org/10.1016/j.ejca.2017.10.017
Funding
This work is supported by National Natural Science Foundation of China under Grant 81902369.
Ethics declarations
Conflicts of interest
The authors declare that there is no conflict of interest.
Availability of data and material
The data and material are available as described in the methods and within this publication and its supplementary material.
Additional information
Publisher's Note
Springer Nature remains neutral with regard to jurisdictional claims in published maps and institutional affiliations.
Supplementary information
Below is the link to the electronic supplementary material.
About this article
Cite this article
Li, Y., Chen, Z., Tao, W. et al. Tumor mutation score is more powerful than tumor mutation burden in predicting response to immunotherapy in non-small cell lung cancer. Cancer Immunol Immunother (2021). https://doi.org/10.1007/s00262-021-02868-w
Received:

Accepted:

Published:
Keywords
Tumor mutation score

Tumor mutation burden

Immunotherapy

Biomarker

Lung cancer