Abstract
Immune-checkpoint inhibitors (ICI) are monoclonal antibodies which target molecules to enhance antitumor response. Several adverse events have been described and the major ICI-related endocrinopathies are thyroid dysfunction and hypophysitis. Its occurrence has been associated with improved outcomes, but it is still to be proven. We performed a retrospective study of patients treated with ICI between 2014 and 2019 at an oncologic center to characterize thyroid function test abnormalities (TFTA) and to evaluate clinical outcomes. We excluded patients without regular monitoring of thyroid function, with previous thyroid or pituitary disease, previous head/neck radiotherapy and who performed only one ICI cycle. We included 161 of 205 patients treated with pembrolizumab, nivolumab or ipilimumab for several neoplasms, with a median duration of 18.9 weeks (9.1–42.6) of ICI treatment and 49.4 weeks (26.5–75.8) of follow-up. New-onset TFTA was diagnosed in 18% of patients (n = 29), in median at 10.6 weeks (6.1–31.1) of ICI therapy. On the whole, 8.7% had primary hypothyroidism, 4.3% central hypothyroidism, 2.5% biphasic thyroiditis and 2.5% thyrotoxicosis. Patients who experienced primary or central thyroid dysfunction had a significantly improved overall response rate (58.6% vs 34.2%, p = 0.015) and overall survival (3.27 vs 1.76 years, p = 0.030), compared to the control group. The risk of mortality was two times higher for control group (adjusted HR = 2.43, 95% CI 1.13–5.23, p = 0.023). This study recognizes that primary and central thyroid dysfunction can be a predictive clinical biomarker of a better response to ICI across several neoplasms.
Access options
Buy single article
Instant access to the full article PDF.
US$ 39.95
Tax calculation will be finalised during checkout.
Subscribe to journal
Immediate online access to all issues from 2019. Subscription will auto renew annually.
US$ 119
Tax calculation will be finalised during checkout.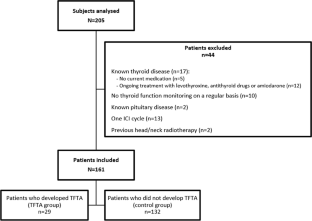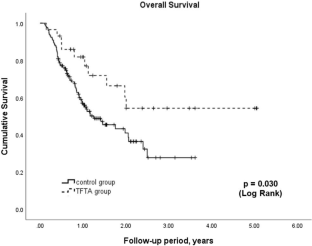 Data availability
Data are protected in accordance with indications of Local Ethical Committee.
Abbreviations
Abs:

Antibodies

BB:

Beta-blocker

CI:

Confidence interval

CTCAE:

Common terminology criteria for adverse events

CTLA-4:

Cytotoxic T-lymphocyte-associated protein 4

DIRE:

Delayed immune-related events

18FDG-PET/CT:

18Fluorodeoxyglucose positron emission tomography/computed tomography

fT3:

Free triiodothyronine

fT4:

Free thyroxine

HR:

Hazard ratio

ICI:

Immune checkpoint inhibitors

IQR:

Interquartile range

irAEs:

Immune-related adverse events

MSI-H:

Microsatellite instability-high

NSCLC:

Non-small-cell lung cancer

PD-L1:

Programmed cell death ligand 1

PD-1:

Programmed cell death protein 1

TFTA:

Thyroid function tests abnormalities

Tg:

Thyroglobulin

TPO:

Thyroid peroxidase

TRAbs:

Thyrotropin receptor antibodies

TSH:

Thyroid-stimulating hormone

vs:

Versus
Acknowledgements
The authors thank Darlene Rodrigues (Gerontology and Geriatrics PhD student and Radiation Oncology Resident of Department of Radiotherapy, Centro Hospitalar e Universitário de São João, E.P.E., Porto, Portugal) for support in survival data analysis (orcid number 0000-0001-8170-3952).
Funding
This research did not receive any specific grant from funding agencies in the public, commercial, or not-for-profit sectors. No writing assistance was utilized in the production of this manuscript.
Ethics declarations
Conflict of interest
The authors declare that they have no conflicts of interest, namely relevant affiliations or financial involvement with any organization or entity with a financial interest in or financial conflict with the subject matter or materials discussed in the manuscript.
Ethical approval
This research study was conducted retrospectively from data obtained for clinical purposes. This study was approved by the Local Ethical Committee of the Instituto Português de Oncologia do Porto (CES.180/020) and has been performed in accordance with the ethical standards as laid down in the 1964 Declaration of Helsinki and its later amendments or comparable ethical standards.
Informed consent
Informed consent was not obtained from each patient, because this retrospective analysis of existing data did not require any interaction with patients and did not intervene in their treatment.
Code availability
Not applicable.
Additional information
Publisher's Note
Springer Nature remains neutral with regard to jurisdictional claims in published maps and institutional affiliations.
Electronic supplementary material
Below is the link to the electronic supplementary material.
About this article
Cite this article
Lima Ferreira, J., Costa, C., Marques, B. et al. Improved survival in patients with thyroid function test abnormalities secondary to immune-checkpoint inhibitors. Cancer Immunol Immunother 70, 299–309 (2021). https://doi.org/10.1007/s00262-020-02664-y
Received:

Accepted:

Published:

Issue Date:
Keywords
Thyroid

Hypophysitis

Immunotherapy

Anti-PD-1

Anti-CTLA-4

Survival