Abstract
Objective
To explore which computed tomography (CT) features can predict pathological complete response (pCR) (ypT0N0) after neoadjuvant chemotherapy (NAC) in patients with gastric adenocarcinoma (GC).
Materials and Methods
This study reviewed an institutional database of patients who underwent resection of GC after NAC and identified patients with pCR from January 2010 to December 2013. The correlations between pre-chemotherapy and post-chemotherapy CT features and pCR were analyzed.
Results
Eleven of 199 patients with GC who achieved ypT0N0 status after NAC were classified as the pCR group in this study. After matching pCR (n = 11) and non-pCR patients (n = 44) in the ratio of 1:4, a total of 55 cases were analyzed. The binary logistic regression analysis showed that the post-chemotherapy short diameter of the largest lymph node and tumor thickness ratio reduction were independent predictors of pCR, with an area under the curve (AUC) of 0.94 on the receiver operating characteristic (ROC) curve analysis.
Conclusion
Two CT features, including the short diameter of the largest lymph node post-chemotherapy and tumor thickness ratio reduction, are good predictors of pCR after NAC in patients with GC.
Access options
Buy single article
Instant access to the full article PDF.
US$ 39.95
Tax calculation will be finalised during checkout.
Subscribe to journal
Immediate online access to all issues from 2019. Subscription will auto renew annually.
US$ 79
Tax calculation will be finalised during checkout.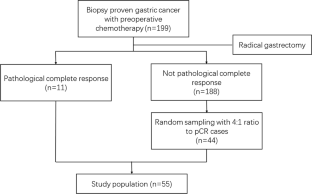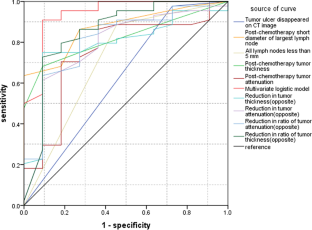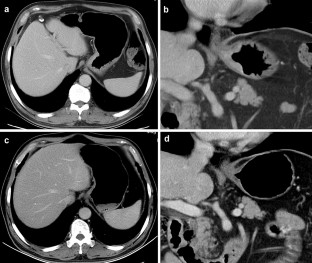 Abbreviations
CT:

Computed tomography

pCR:

Pathological complete response

NAC:

Neoadjuvant chemotherapy

ROC:

Receiver operating characteristic curve
References
1.

Jaffer A Ajani, Thomas A D'Amico, Khaldoun Almhanna, David J Bentrem, Joseph Chao, Prajnan Das, et al. Gastric Cancer, Version 3.2016, NCCN Clinical Practice Guidelines in Oncology. J Natl Compr Canc Netw 2016;14:1286-1312.

2.

David Cunningham, William H Allum, Sally P Stenning, Jeremy N Thompson, Cornelis J H Van de Velde, Marianne Nicolson, et al. Perioperative Chemotherapy Versus Surgery Alone for Resectable Gastroesophageal Cancer. N Engl J Med 2006;355:11-20.

3.

Marc Ychou, Valérie Boige, Jean-Pierre Pignon, Thierry Conroy, Olivier Bouché, Gilles Lebreton, et al. Perioperative Chemotherapy Compared With Surgery Alone for Resectable Gastroesophageal Adenocarcinoma: An FNCLCC and FFCD Multicenter Phase III Trial. J Clin Oncol 2011;29:1715-1721

4.

Ziyu Li, Fei Shan, Yinkui Wang, Yan Zhang, Lianhai Zhang, Shuangxi Li, et al. Correlation of Pathological Complete Response With Survival After Neoadjuvant Chemotherapy in Gastric or Gastroesophageal Junction Cancer Treated With Radical Surgery: A Meta-Analysis. PLoS One 2018;13:e0189294.

5.

Alexander P Stark, Naruhiko Ikoma, Yi-Ju Chiang, Jeannelyn S Estrella, Prajnan Das, Bruce D Minsky, et al. Characteristics and Survival of Gastric Cancer Patients With Pathologic Complete Response to Preoperative Therapy. Ann Surg Oncol;26:3602-3610.

6.

Fahima Dossa, Tyler R Chesney, Sergio A Acuna, Nancy N Baxter. A Watch-And-Wait Approach for Locally Advanced Rectal Cancer After a Clinical Complete Response Following Neoadjuvant Chemoradiation: A Systematic Review and Meta-Analysis. Lancet Gastroenterol Hepatol 2017;2:501-513.

7.

A Y Kim, H J Kim, H K Ha. Gastric Cancer by Multidetector Row CT: Preoperative Staging. Abdom Imaging 2005;30:465-72.

8.

Robert Michael Kwee, Thomas Christian Kwee. Imaging in Assessing Lymph Node Status in Gastric Cancer. Gastric Cancer 2009;12:6-22.

9.

Seishi Kumano, Takamichi Murakami, Tonsok Kim, Masatoshi Hori, Riccardo Iannaccone, Saki Nakata, et al. T Staging of Gastric Cancer: Role of Multi-Detector Row CT. Radiology 2005;237:961-966.

10.

Joon Seok Lim, Mi Jin Yun, Myeong-Jin Kim, Woo Jin Hyung, Mi-Suk Park, Jin-Young Choi, et al. CT and PET in Stomach Cancer: Preoperative Staging and Monitoring of Response to Therapy. Radiographics 2006;26:143-156.

11.

Jin Woong Kim, Sang Soo Shin, Suk Hee Heo, Yoo Duk Choi, Hyo Soon Lim, Young Kyu Park. Diagnostic Performance of 64-section CT Using CT Gastrography in Preoperative T Staging of Gastric Cancer According to 7th Edition of AJCC Cancer Staging Manual. Eur Radiol 2012;22:654-662.

12.

In Joon Lee, Jeong Min Lee, Seung Ho Kim, Cheong-Ii Shin, Jae Young Lee, Se Hyung Kim, et al. Diagnostic Performance of 64-channel Multidetector CT in the Evaluation of Gastric Cancer: Differentiation of Mucosal Cancer (T1a) From Submucosal Involvement (T1b and T2). Radiology 2010;255:805-814.

13.

Sook Ryun Park, Jong Seok Lee, Chan Gyoo Kim, Hark Kyun Kim, Myeong-Cherl Kook, Young-Woo Kim, et al. Endoscopic Ultrasound and Computed Tomography in Restaging and Predicting Prognosis After Neoadjuvant Chemotherapy in Patients With Locally Advanced Gastric Cancer. Cancer 2008;112:2368-2376.

14.

Takaki Yoshikawa, Kazuaki Tanabe, Kazuhiro Nishikawa, Yuichi Ito, Takanori Matsui, Yutaka Kimura, et al. Accuracy of CT Staging of Locally Advanced Gastric Cancer After Neoadjuvant Chemotherapy: Cohort Evaluation Within a Randomized Phase II Study. Ann Surg Oncol 2014;21 Suppl 3:S385-9.

15.

Robert Michael Kwee, Thomas Christian Kwee. Role of Imaging in Predicting Response to Neoadjuvant Chemotherapy in Gastric Cancer. World J Gastroenterol 2014;20:1650-1656.

16.

Francesco Giganti, Francesco De Cobelli, Carla Canevari, Elena Orsenigo, Francesca Gallivanone, Antonio Esposito, et al. Response to Chemotherapy in Gastric Adenocarcinoma With Diffusion-Weighted MRI and (18) F-FDG-PET/CT: Correlation of Apparent Diffusion Coefficient and Partial Volume Corrected Standardized Uptake Value With Histological Tumor Regression Grade. J Magn Reson Imaging 2014;40:1147-1157.

17.

. Zongqiong Sun, Xiaofang Cheng, Yuxi Ge, Lin Shao, Yinghua Xuan, Gen Yan. An Application Study of Low-Dose Computed Tomography Perfusion Imaging for Evaluation of the Efficacy of Neoadjuvant Chemotherapy for Advanced Gastric Adenocarcinoma. Gastric Cancer 2018;21:413-420.

18.

Katja Ott, Ulrich Fink, Karen Becker, Alexander Stahl, Hans-Joachim Dittler, Raymonde Busch, et al. Prediction of response to preoperative chemotherapy in gastric carcinoma by metabolic imaging: results of a prospective trial. J Clin Oncol 2003;21:4604-4610.

19.

Chiao-Yun Chen, Jui-Sheng Hsu, Deng-Chyang Wu, Wan-Yi Kang, Jan-Sing Hsieh, Twei-Shiun Jaw, et al. Gastric Cancer: Preoperative Local Staging With 3D Multi-Detector Row CT--correlation With Surgical and Histopathologic Results. Radiology 2007;242:472-482.

20.

S P Mönig , T K Zirbes, W Schröder, S E Baldus, D G Lindemann, H P Dienes, A H Hölscher. Staging of Gastric Cancer: Correlation of Lymph Node Size and Metastatic Infiltration. AJR Am J Roentgenol 1999;173:365-367.

21.

N Noda, M Sasako, N Yamaguchi, Y Nakanishi. Ignoring Small Lymph Nodes Can Be a Major Cause of Staging Error in Gastric Cancer. Br J Surg 1998;85:831-834.
Acknowledgements
This work was supported by the Digestive Medical Coordinated Development Center of Beijing Municipal Administration of Hospitals (No. XXT20), Beijing Municipal Administration of Hospitals Clinical Medicine Development of Special Funding Support(No. ZYLX201803), and Beijing Hospitals Authority' Ascent Plan (Code: 20191103).
Ethics declarations
Conflict of interest
The authors declare that they have no conflicts of interest.
Additional information
Publisher's Note
Springer Nature remains neutral with regard to jurisdictional claims in published maps and institutional affiliations.
About this article
Cite this article
Wang, ZL., Li, YL., Li, XT. et al. Role of CT in the prediction of pathological complete response in gastric cancer after neoadjuvant chemotherapy. Abdom Radiol (2021). https://doi.org/10.1007/s00261-021-02967-3
Received:

Revised:

Accepted:

Published:
Keywords
Gastric cancer

Computed tomography

Pathological complete response

Neoadjuvant chemotherapy