Abstract
Purpose
In the clinical workflow of radiology services, a critical connection exists between technologists and radiologists, yet there is often limited communication between this key link in the chain of patient imaging. Our aim was to quantify and detail the communication between CT technologists and radiologists in our tertiary oncology practice.
Methods
Using the note function in our EMR, as standard operating procedure, CT technologists are instructed to place pertinent notes for the radiologist relevant to any portion of the patient encounter. Note categories pertain to quality and/or safety: patient limitations (e.g., patient unable to raise arm), protocol confirmation (e.g., rectal contrast given), critical finding communication, scan range considerations, IV issues, reduction in eGFR, oral contrast issues, allergy information, general feedback, equipment malfunction, and radiologist approval information. The percentage of notes within each category were recorded upon review of contiguous abdominal CT scans in July 2018 with the primary outcome measure of overall note volume compared to baseline in July 2016 after which time technologists were educated on the importance of notes and were requested to increase use of this tool. Notes were regularly reviewed to identify practice improvement opportunities.
Results
Compared to baseline 2 years earlier (8860 CT scans, 812 technologist notes), there was a 32% increase in technologist note volume (10,948 CT scans, 1330 technologist notes), representing an increase of notes from 9.2% of exams to 12.1% of exams (p < .001) and there were 14 related practice improvements.
Conclusion
After communicating the importance of CT technologist notes and requesting increased notation frequency, technologist note volume significantly increased and 14 specific case examples of related practice improvement demonstrate the electronic medical record note function to be a robust tool in the management of patient imaging.
Access options
Buy single article
Instant access to the full article PDF.
US$ 39.95
Tax calculation will be finalised during checkout.
Subscribe to journal
Immediate online access to all issues from 2019. Subscription will auto renew annually.
US$ 79
Tax calculation will be finalised during checkout.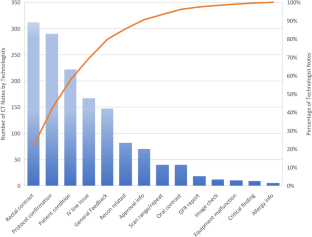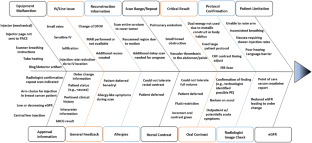 Abbreviations
MAR:

Metallic artifact reduction

DFOV:

Display field of view

PACS:

Picture archiving and communication system

IRB:

Institutional review board

PE:

Pulmonary embolism
References
1.

Ong L, Elnajjar P, Nyman CG, Mair T, Juluru K (2017) Implementation of a Point-of-Care Radiologist-Technologist Communication Tool in a Quality Assurance Program. AJR Am J Roentgenol 209 (1):W18-W25. doi:https://doi.org/10.2214/AJR.16.17517

2.

Nagy PG, Pierce B, Otto M, Safdar NM (2008) Quality control management and communication between radiologists and technologists. J Am Coll Radiol 5 (6):759-765. doi:https://doi.org/10.1016/j.jacr.2008.01.013

3.

Bastawrous S, Carney B (2017) Improving Patient Safety: Avoiding Unread Imaging Exams in the National VA Enterprise Electronic Health Record. J Digit Imaging 30 (3):309-313. doi:https://doi.org/10.1007/s10278-016-9937-2

4.

Duong PA, Pastel DA, Sadigh G, Ballard D, Sullivan JC, Bresnahan B, Buch K, Duszak R, Jr. (2016) The Value of Imaging Part II: Value beyond Image Interpretation. Acad Radiol 23 (1):23-29. doi:https://doi.org/10.1016/j.acra.2015.09.017

5.

Duong PA, Bresnahan B, Pastel DA, Sadigh G, Ballard D, Sullivan JC, Buch K, Duszak R, Jr. (2016) Value of Imaging Part I: Perspectives for the Academic Radiologist. Acad Radiol 23 (1):18-22. doi:https://doi.org/10.1016/j.acra.2015.10.006

6.

Sarwar A, Boland G, Monks A, Kruskal JB (2015) Metrics for Radiologists in the Era of Value-based Health Care Delivery. Radiographics 35 (3):866-876. doi:https://doi.org/10.1148/rg.2015140221

7.

Hayatghaibi SE, Davenport MS, Trout AT, Dillman JR (2019) Quantifying Value-Based Imaging. J Am Coll Radiol 16 (9 Pt A):1177-1178. https://doi.org/10.1016/j.jacr.2019.04.022

8.

Lee VS (2017) Annual Oration: Driving Value through Imaging. Radiology 285 (1):3-11. doi:https://doi.org/10.1148/radiol.2017170798

9.

Maizlin NN, Somers S (2019) The Role of Clinical History Collected by Diagnostic Imaging Staff in Interpreting of Imaging Examinations. J Med Imaging Radiat Sci 50 (1):31-35. doi:https://doi.org/10.1016/j.jmir.2018.07.009

10.

Savoie B, Lexa FJ, Nagy P (2013) Radiologist technologist communication. J Am Coll Radiol 10 (2):144-145. doi:https://doi.org/10.1016/j.jacr.2012.10.014

11.

Rosner B (2011) Fundamentals of biostatistics. 7th edn. Brooks/Cole, Cengage Learning, Boston

12.

Alabousi M, Zha N, Patlas MN (2020) Use of Enteric Contrast for Abdominopelvic CT in Penetrating Traumatic Injury in Adults: Comparison of Diagnostic Accuracy Systematic Review and Meta-Analysis. AJR Am J Roentgenol. doi:10.2214/AJR.20.24636

13.

DuBrow RA, David CL, Curley SA (1995) Anastomotic leaks after low anterior resection for rectal carcinoma: evaluation with CT and barium enema. AJR Am J Roentgenol 165 (3):567-571. doi:https://doi.org/10.2214/ajr.165.3.7645472

14.

Mandava A, Koppula V, Sharma G, Kandati M, Raju K, Subramanyeshwar Rao T (2020) Evaluation of genitourinary fistulas in pelvic malignancies with etiopathologic correlation: role of cross sectional imaging in detection and management. Br J Radiol 93 (1111):20200049. doi:https://doi.org/10.1259/bjr.20200049

15.

Fielding JC, Wagner-Bartak NA, Javadi S, Morani AC, Ganeshan D, Ibarra-Rovira JJ, Liu X, Jensen CT (2020) Improved Computed Tomography Contrast Injection Rates Through Implantable Chest Power Ports. J Comput Assist Tomogr. doi:https://doi.org/10.1097/RCT.0000000000001048

16.

Jensen CT, Blair KJ, Wagner-Bartak NA, Vu LN, Carter BW, Sun J, Bathala TK, Gupta S (2019) Comparison of Abdominal Computed Tomographic Enhancement and Organ Lesion Depiction Between Weight-Based Scanner Software Contrast Dosing and a Fixed-Dose Protocol in a Tertiary Care Oncologic Center. J Comput Assist Tomogr 43 (1):155-162. doi:https://doi.org/10.1097/RCT.0000000000000789

17.

Jensen CT, Khetan R, Adkins J, Javadi S, Liu X, Sun J, Hassan SA, Morani AC (2020) Delayed bolus-tracking trigger at CT correlates with cardiac dysfunction and suboptimal portovenous contrast phase. Abdom Radiol (NY). doi:https://doi.org/10.1007/s00261-020-02655-8

18.

Murphy A, Ekpo E, Steffens T, Neep MJ (2019) Radiographic image interpretation by Australian radiographers: a systematic review. J Med Radiat Sci 66 (4):269-283. doi:https://doi.org/10.1002/jmrs.356

19.

Miller J PA (2018) A good tech-rad relationship is vital to patient care. Appl Radiol 47(8):8-9
Acknowledgements
We thank our technologists and their supervisors including Chris Fielding, Ramon Yap, Terrell Evans for their contributions to our practice and improvements described in this manuscript.
Funding
Supported by institutional CCSG (cancer center support grant) from the NIH/National Cancer Institute under award number P30CA016672.
Ethics declarations
Conflicts of interest
All authors declare that they have no conflict of interest.
Ethical approval
This retrospective study was approved by our institutional review board as Health Insurance Portability and Accountability Act compliant, and the need for informed consent was waived.
Additional information
Publisher's Note
Springer Nature remains neutral with regard to jurisdictional claims in published maps and institutional affiliations.
About this article
Cite this article
Jensen, C.T., Javadi, S., Bhosale, P. et al. Computed tomography technologist notes in PACS to radiologists: what are they telling us and how does it increase value?. Abdom Radiol (2021). https://doi.org/10.1007/s00261-021-02962-8
Received:

Revised:

Accepted:

Published:
Keywords
Abdomen

CT

PACS

Quality

Improvement