Abstract
Objective
To assess whether delayed trigger during bolus-tracking for CT correlates with reduced heart function and suboptimal portovenous contrast phase.
Methods and Materials
Patients who underwent portovenous abdominal CT using bolus-tracking and echocardiography within 2 weeks were included and excluded if there was a non-standard contrast injection. The bolus trigger time (BTT) at 100 Hounsfield units in the abdominal aorta, patient age, congestive heart failure (CHF) history, and ejection fraction were recorded. Two radiologists scored the liver contrast phase (1–5, 5 being an optimal portovenous phase). When applicable, the BTT and contrast score of the most recent comparison examination with equivalent technical parameters were also recorded. Simple linear regression (univariate) was used to test for associations with trigger time.
Results
114 patients with a mean age of 61 ± 15 years fulfilled criteria. The mean trigger time was 18 ± 6 s (range: 6–38 s) and the mean ejection fraction was 52 ± 12% (range: 19–69%).
A longer bolus trigger had a significant correlation with reduced ejection fraction (P = 0.0018), lower hepatic contrast score (P < 0.0001), history of CHF (P = 0.0212), and older age (P = 0.0223).
Contrast score differences between the study exam and available prior exams revealed score differences of 0 (n = 73), 1 (n = 15) and 2 (n = 5); these were associated, respectively, with a mean bolus trigger time difference between exams of 2 s (range, 0–6 s), 6 s (range, 1–15 s), and 11 s (range, 5–13). The P-value comparing bolus trigger time and contrast score differences was less than 0.0001.
A lower ejection fraction also significantly correlated with suboptimal PV contrast phase (P < 0.0001).
Conclusion
Delayed time to trigger during bolus-tracking for CT can indicate cardiac dysfunction and may not adequately adjust to provide an optimal portovenous contrast phase.
We're sorry, something doesn't seem to be working properly.
Please try refreshing the page. If that doesn't work, please contact support so we can address the problem.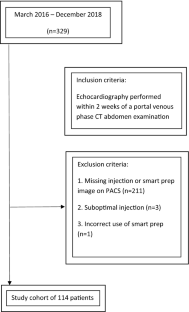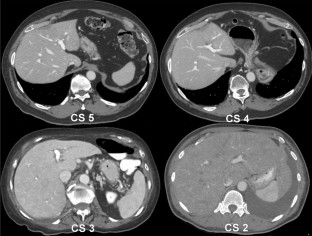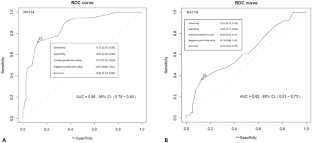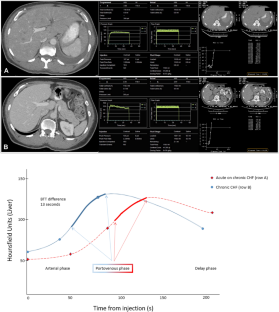 References
1.

Johnson DY, Farjat AE, Vernuccio F, Hurwitz LM, Nelson RC, Marin D (2020) Evaluation of Intraindividual Contrast Enhancement Variability for Determining the Maximum Achievable Consistency in CT. AJR Am J Roentgenol 214 (1):18–23. https://doi.org/10.2214/AJR.19.21628

2.

Kai N, Oda S, Utsunomiya D, Nakaura T, Funama Y, Kidoh M, Taguchi N, Iyama Y, Nagayama Y, Hirata K, Yuki H, Sakabe D, Hatemura M, Yamashita Y (2018) Dual-region-of-interest bolus-tracking technique for coronary computed tomographic angiography on a 320-row scanner: reduction in the interpatient variability of arterial contrast enhancement. Br J Radiol 91 (1081):20170541. https://doi.org/10.1259/bjr.20170541

3.

Kalra MK, Becker HC, Enterline DS, Lowry CR, Molvin LZ, Singh R, Rybicki FJ (2019) Contrast Administration in CT: A Patient-Centric Approach. J Am Coll Radiol 16 (3):295–301. https://doi.org/10.1016/j.jacr.2018.06.026

4.

Bashir MR, Weber PW, Husarik DB, Howle LE, Nelson RC (2012) Improved aortic enhancement in CT angiography using slope-based triggering with table speed optimization: a pilot study. Int J Cardiovasc Imaging 28 (6):1533–1543. https://doi.org/10.1007/s10554-011-9945-8

5.

Bae KT, Heiken JP, Brink JA (1998) Aortic and hepatic contrast medium enhancement at CT. Part II. Effect of reduced cardiac output in a porcine model. Radiology 207 (3):657–662. https://doi.org/10.1148/radiology.207.3.9609887

6.

Sakai S, Yabuuchi H, Chishaki A, Okafuji T, Matsuo Y, Kamitani T, Setoguchi T, Honda H (2010) Effect of cardiac function on aortic peak time and peak enhancement during coronary CT angiography. Eur J Radiol 75 (2):173–177. https://doi.org/10.1016/j.ejrad.2009.04.022

7.

Shors SM, Cotts WG, Pavlovic-Surjancev B, Francois CJ, Gheorghiade M, Finn JP (2003) Heart failure: evaluation of cardiopulmonary transit times with time-resolved MR angiography. Radiology 229 (3):743–748. https://doi.org/10.1148/radiol.2293021363

8.

Mahnken AH, Henzler D, Klotz E, Hennemuth A, Wildberger JE, Gunther RW (2004) Determination of cardiac output with multislice spiral computed tomography: a validation study. Invest Radiol 39 (8):451–454. https://doi.org/10.1097/01.rli.0000128655.58691.14

9.

Garrett JS, Lanzer P, Jaschke W, Botvinick E, Sievers R, Higgins CB, Lipton MJ (1985) Measurement of cardiac output by cine computed tomography. Am J Cardiol 56 (10):657–661. https://doi.org/10.1016/0002-9149(85)91030-6

10.

Lang RM, Badano LP, Mor-Avi V, Afilalo J, Armstrong A, Ernande L, Flachskampf FA, Foster E, Goldstein SA, Kuznetsova T, Lancellotti P, Muraru D, Picard MH, Rietzschel ER, Rudski L, Spencer KT, Tsang W, Voigt JU (2015) Recommendations for cardiac chamber quantification by echocardiography in adults: an update from the American Society of Echocardiography and the European Association of Cardiovascular Imaging. Journal of the American Society of Echocardiography : official publication of the American Society of Echocardiography 28 (1):1–39.e14. https://doi.org/10.1016/j.echo.2014.10.003

11.

Hota P, Simpson S (2019) Going beyond Cardiomegaly: Evaluation of Cardiac Chamber Enlargement at Non–Electrocardiographically Gated Multidetector CT: Current Techniques, Limitations, and Clinical Implications. Radiology: Cardiothoracic Imaging 1 (1):e180024

12.

Chaturvedi A, Oppenheimer D, Rajiah P, Kaproth-Joslin KA, Chaturvedi A (2017) Contrast opacification on thoracic CT angiography: challenges and solutions. Insights Imaging 8 (1):127–140. https://doi.org/10.1007/s13244-016-0524-3

13.

Bae KT (2010) Intravenous contrast medium administration and scan timing at CT: considerations and approaches. Radiology 256 (1):32–61. https://doi.org/10.1148/radiol.10090908

14.

Ma J, Dercle L, Lichtenstein P, Wang D, Chen A, Zhu J, Piessevaux H, Zhao J, Schwartz LH, Lu L, Zhao B (2020) Automated Identification of Optimal Portal Venous Phase Timing with Convolutional Neural Networks. Acad Radiol 27 (2):e10–e18. https://doi.org/10.1016/j.acra.2019.02.024
Acknowledgements
We thank Carol Pieranunzi for her crucial database search support.
Funding
Supported by institutional CCSG (cancer center support grant) from the NIH/National Cancer Institute under award number P30CA016672.
Ethics declarations
Conflict of interest
The authors have no relevant disclosures.
IRB Statement
This retrospective study was approved by our institutional review board as Health Insurance Portability and Accountability Act compliant, and the need for informed consent was waived.
Additional information
Publisher's Note
Springer Nature remains neutral with regard to jurisdictional claims in published maps and institutional affiliations.
About this article
Cite this article
Jensen, C.T., Khetan, R., Adkins, J. et al. Delayed bolus-tracking trigger at CT correlates with cardiac dysfunction and suboptimal portovenous contrast phase. Abdom Radiol 46, 826–835 (2021). https://doi.org/10.1007/s00261-020-02655-8
Received:

Revised:

Accepted:

Published:

Issue Date:
Keywords
Congestive heart failure

Bolus-tracking

Abdomen

CT

Contrast