Abstract
Purpose
To objectively compare structured and freeform abdominopelvic CT reports based on the number and types of errors as well as report length.
Methods
90 structured and 89 freeform reports from abdominopelvic CT scans with IV contrast obtained for the indication of abdominal pain were randomly selected for review. Each report was reviewed for errors, which were counted and categorized based on the type of error. The total number of words in each report was tallied.
Results
105 total errors were found in the structured reports, compared to 157 total errors in freeform reports. There were 1.16 errors per structured report and 1.76 errors per freeform report (p < 0.001). 48% of structured reports contained at least one error, while 71% of freeform reports contained at least one error (p = 0.002). When a difference existed between the styles with regard to error categories, more errors were observed in freeform reports, with the exception of the duplicated period error where structured reports had more errors. No difference on the basis of average words per report existed, with 219.2 words per report for each reporting style.
Conclusion
The use of structured reporting for abdominopelvic CT results in less errors in the report when compared to freeform reporting, potentially reducing clinically significant adverse outcomes in patient care. The report length on the basis of number of words per report is not different between the two reporting styles.
Access options
Buy single article
Instant access to the full article PDF.
US$ 39.95
Tax calculation will be finalised during checkout.
Subscribe to journal
Immediate online access to all issues from 2019. Subscription will auto renew annually.
US$ 79
Tax calculation will be finalised during checkout.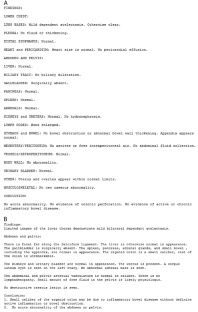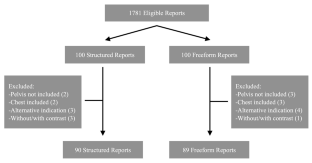 References
1.

Johnson AJ, Easterling D, Williams LS, Glover S, Frankel RM. Insight from patients for radiologists: improving our reporting systems. J Am Coll Radiol 2009; 6:786-794

2.

Mityul MI, Gilcrease-Garcia B, Mangano MD, Demertzis JL, Gunn AJ. Radiology reporting: current practices and an introduction to patient-centered opportunities for improvement. AJR Am J Roentgenol 2018; 210:376-385

3.

Cistrom CL, Langlotz CP. A framework for improving radiology reporting. J Am Coll Radiol 2005; 2:159-167

4.

Naik SS, Hanbridge A, Wilson SR. Radiology reports: examining radiologist and clinician preferences regarding style and content. AJR Am J Roentgenol 2001; 176:591-598

5.

Reiner BI, Knight N, Siegel EL. Radiology reporting, past, present, and future: the radiologist's perspective. J Am Coll Radiol 2007; 4:313-319

6.

Srinivasa Babu A, Brooks ML. The malpractice liability of radiology reports: minimizing the risk. RadioGraphics 2015; 35:547-554

7.

Cistrom CL, Honeyman-Buck J. Free text versus structured format: information transfer efficiency of radiology reports. AJR Am J Roentgenol 2005; 185:804-812

8.

Schoeppe F, Sommer WH, Norenberg D, et al. Structured reporting adds clinical value in primary CT staging of diffuse large B-cell lymphoma. Eur Radiol 2018; 28:3702-3709

9.

Duszak R, Nossal M, Schofield L, Picus D. Physician documentation deficiencies in abdominal ultrasound reports: frequency, characteristics, and financial impact. J Am Coll Radiol 2012; 9:403-408

10.

Jain BM, Bhagwat KA, Shashikiran RB, et al. Structured reporting of facial skeletal CT scan as a tool to reduce report turnaround time. European Congress of Radiology (2017); Vienna, Austria. https://doi.org/10.1594/ecr2017/B-0103

11.

Lin E, Powell DK, Kagetsu NJ. Efficacy of a checklist-style structured radiology reporting template in reducing resident misses on cervical spine computed tomography examinations. J Digit Imaging 2014; 27:588-593

12.

McWilliams JP, Shah RP, Quirk M, et al. Standardized reporting in IR: a prospective multi-institutional pilot study. J Vasc Interv Radiol 2016; 27:1779-1785

13.

Hawkins CM, Hall S, Zhang B, Towbin AJ. Creation and implementation of department-wide structured reports: an analysis of the impact on error rate in radiology reports. J Digit Imaging 2014; 27:581-587

14.

Gunn AJ, Alabre CI, Bennett SE, et al. Structured feedback from referring physicians: a novel approach to quality improvement in radiology reporting. AJR Am J Roentgenol 2013; 201:853-857

15.

Gunn AJ, Gilcrease-Garcia B, Mangano MD, Sahani DV, Boland GW, Choy G. Structured feedback from patients on actual radiology reports: a novel approach to improve reporting practices. AJR Am J Roentgenol 2017; 208:1262-1270

16.

Nguyen Q, Sarwar A, Luo M, Berkowitz S, Ahmed M, Brook OR. Structured reporting of IR procedures: effect on report compliance, accuracy, and satisfaction. J Vasc Interv Radiol 2018; 29:345-352

17.

Park SB, Kim MJ, Ko Y, Sim JY, Kim HJ, Lee KH. Structured reporting versus free-text reporting for appendiceal computed tomography in adolescents and young adults: preference survey of 594 referring physicians, surgeons, and radiologists from 20 hospitals. Korean J Radiol 2019; 20:246-255

18.

Lather JD, Che Z, Saltzman B, Bieszczad J. Structured reporting in the academic setting: what the referring clinician wants. J Am Coll Radiol 2018; 15:772-775
Acknowledgements
Authors acknowledge Yufeng Li, PhD from the University of Alabama at Birmingham for her assistance with the statistical analysis
Funding
The authors have no sources of support in association with this manuscript.
Ethics declarations
Conflict of interest
The authors have no conflict of interest in association with this manuscript.
Ethical approval
The study was approved by our institutional review board (IRB) at the University of Alabama at Birmingham, which waived any requirement for patients to consent to participate or have the data published.
Additional information
Publisher's Note
Springer Nature remains neutral with regard to jurisdictional claims in published maps and institutional affiliations.
Electronic supplementary material
Below is the link to the electronic supplementary material.
About this article
Cite this article
McFarland, J.A., Elkassem, A.M.A., Casals, L. et al. Objective comparison of errors and report length between structured and freeform abdominopelvic computed tomography reports. Abdom Radiol 46, 387–393 (2021). https://doi.org/10.1007/s00261-020-02646-9
Received:

Revised:

Accepted:

Published:

Issue Date:
Keywords
Radiology reports

Structured reporting

Freeform reporting

Free text reporting

Reporting errors