Abstract
Purpose
To describe a novel technique of percutaneous transhepatic (PTH) placement of a plastic biliary stent (PBS), report the feasibility and safety of the technique, and present the preliminary results of a pilot study that included 32 patients with symptomatic obstructive jaundice (SOJ) treated with the technique.
Materials and methods
This was a prospective, single-arm, single-center, pilot study of a cohort of patients with the diagnosis of benign or malignant obstructive jaundice that underwent PTH placement of a PBS to relieve the obstruction.
Results
Thirty-two patients were included, 16 men and 16 women (age range, 35–88 years). There were 26 malignant and six benign lesions. Cholangiocarcinoma was the most common tumor (n=13, 40.6%), followed by pancreatic adenocarcinoma (n=6, 18.75%) and metastasis (n=5, 15.6%). A total of 35 PBSs were placed in 32 procedures. The bile duct was accessed and drained to the right side in 18 cases, to the left side in 14 cases, and bilaterally in three cases. Technical success was achieved in 100% and clinical success in 93.7% of cases. Using a modified Bismuth-Cortelle classification system, type I was observed in nine patients, type II in nine patients, type III in six patients, and type IV in eight patients. The mean follow-up was 426.1 days for the total sample, and 349.4 days for patients with malignancy. Two complications were observed: transient hemobilia and cholangitis.
Conclusion
PTH placement of a PBS in patients with SOJ is feasible, safe, and effective.
Access options
Buy single article
Instant access to the full article PDF.
US$ 39.95
Tax calculation will be finalised during checkout.
Subscribe to journal
Immediate online access to all issues from 2019. Subscription will auto renew annually.
US$ 79
Tax calculation will be finalised during checkout.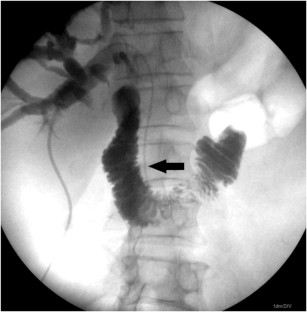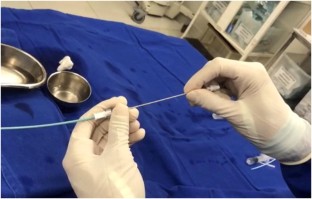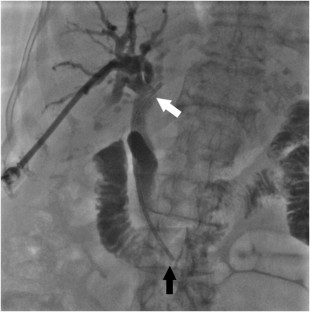 Availability of data and material
All relevant data are within the paper.
References
1.

Moss AC, Morris E, Mac Mathuna P (2006) Palliative biliary stents for obstructing pancreatic carcinoma. Cochrane Database Syst Rev 1:CD004200. https://doi.org/10.1002/14651858.CD004200.pub4

2.

Fogel EL, Sherman S, Lehman GA (1998) Increased selective biliary cannulation rates in the setting of periampullary diverticula: main pancreatic duct stent placement followed by pre-cut biliary sphincterotomy. Gastrointest Endosc 47:396-400. https://doi.org/10.1016/S0016-5107(98)70226-3

3.

Born P, Rosch T, Triptrap A, Frimberger E, Allescher HD, Ott R, et al (1998) Long-term results of percutaneous transhepatic biliary drainage for benign and malignant bile duct strictures. Scand J Gastroenterol 33:544-549. https://doi.org/10.1080/00365529850172142

4.

Soderlund C, Linder S (2006) Covered metal versus plastic stents for malignant common bile duct stenosis: a prospective, randomized, controlled trial. Gastrointest Endosc 63:986-695. https://doi.org/10.1016/j.gie.2005.11.052

5.

Walter D, van Boeckel PG, Groenen MJ, Weusten BL, Witteman BJ, Tan G, et al (2015) Cost efficacy of metal stents for palliation of extrahepatic bile duct obstruction in a randomized controlled trial. Gastroenterology 149:130-138. https://doi.org/10.1053/j.gastro.2015.03.012

6.

Doctor N, Dick R, Rai R, Dafnios N, Salamat A, Whiteway H, et al (1999) Results of percutaneous plastic stents for malignant distal biliary obstruction following failed endoscopic stent insertion and comparison with current literature on expandable metallic stents. Eur J Gastroenterol Hepatol 11:775-780. https://doi.org/10.1097/00042737-199907000-00016

7.

Keshava SN, Mammen S (2011) Percutaneous placement of a biliary plastic stent. Indian J Radiol Imaging 21:231-233. https://doi.org/10.4103/0971-3026.85375

8.

Bismuth H, Nakache R, Diamond T (1992) Management strategies in resection for hilar cholangiocarcinoma. Ann Surg 215:31-38. https://doi.org/10.1097/00000658-199201000-00005

9.

Nunes TF, Tibana TK, Santos RFT, de Faria BB, Marchiori E (2019) Percutaneous transhepatic cholangiobiopsy. Radiol Bras 52:41-42. https://doi.org/10.1590/0100-3984.2017.0228

10.

Filippiadis DK, Binkert C, Pellerin O, Hoffmann RT, Krajina A, Pereira PL (2017) Cirse quality assurance document and standards for classification of complications: the cirse classification system. Cardiovasc Intervent Radiol 40:1141-1146. https://doi.org/10.1007/s00270-017-1703-4

11.

Ballinger AB, McHugh M, Catnach SM, Alstead EM, Clark ML (1994) Symptom relief and quality of life after stenting for malignant bile duct obstruction. Gut 35:467-470. http://dx.doi.org/10.1136/gut.35.4.467

12.

Gardner TB, Spangler CC, Byanova KL, Ripple GH, Rockacy MJ, Levenick JM, et al (2016) Cost-effectiveness and clinical efficacy of biliary stents in patients undergoing neoadjuvant therapy for pancreatic adenocarcinoma in a randomized controlled trial. Gastrointest Endosc 84:460-466. https://doi.org/10.1016/j.gie.2016.02.047

13.

Nunes TF, Tristão-Santos RF, Tibana TK, Szejnfeld D (2020) Percutaneous transhepatic approach to endoscopic placement of a 10F plastic biliary stent: step-by-step description of a novel technique. Radiol Bras [Ahead of Print]
Funding
This study was not supported by any funding.
Ethics declarations
Conflict of interest
The authors declare that they have no conflict of interest.
Ethical approval
All procedures performed in studies involving human participants were in accordance with the ethical standards of the institutional and/or national research committee (CAAE: 22858019.5.0000.0021) and with the 1964 Helsinki declaration and its later amendments or comparable ethical standards.
Informed consent
Informed consent was obtained from all individual participants included in the study.
Consent for publication
Consent for publication was obtained for every individual person's data included in the study.
Additional information
Publisher's Note
Springer Nature remains neutral with regard to jurisdictional claims in published maps and institutional affiliations.
Electronic supplementary material
Below is the link to the electronic supplementary material.
Video of surgical procedure. Supplementary material 1 (MP4 11547 kb)
About this article
Cite this article
Nunes, T.F., Santos, R.F.T., Tibana, T.K. et al. Percutaneous transhepatic placement of plastic biliary stents: technical description and preliminary results. Abdom Radiol 46, 380–386 (2021). https://doi.org/10.1007/s00261-020-02626-z
Received:

Accepted:

Published:

Issue Date:
Keywords
Obstructive jaundice

Biliary obstruction

Percutaneous drainage

Biliary stent

Radiology

Interventional radiology