Abstract
Purpose
To determine the MRU imaging findings of calyceal diverticula in a large cohort of children and to compare the frequency of calyceal diverticula in our cohort with what has been previously reported.
Methods
This was a HIPAA-compliant, IRB-approved retrospective study of all patients with suspected CD based on their medical records. All patients in this study underwent MRU at our institution between 2010 and 2017. Two pediatric radiologists reviewed each MRU blinded to clinical information and other urologic imaging regarding the presence, size, location, and morphology of the cyst and presence/absence of contrast within it. The time when contrast first appeared within the cystic mass was recorded, and a χ2 test was used to determine significance on differences between the different characteristics of renal cysts and diverticula.
Results
Fifty children (29 girls and 21 boys; median age of 11.5 years, IQR 7–16) with a total of 66 individual cystic masses were included. 21 (21/66, 31.8%) Cystic masses demonstrated contrast filling and were characterized as diverticula, resulting in a frequency of 26.6 cases per 1000 patients (21/787). The remaining 45 cystic masses (45/66, 68.1%) were cysts. The median diameter of CD was 2.5 cm (IQR 1.5–3.7). Contrast was observed within the cystic mass on average at 4.6 min (SD ± 2.4; range 1.5–13 min). The agreement between both radiologists was 91% (k = 0.78). 6 Cysts and 18 CD were confirmed surgically, MRU demonstrated accurate diagnosis in 100% of those cases.
Conclusion
Magnetic resonance urography is reliable in differentiating calyceal diverticula from renal cysts. On MRU, all diverticula were identified within 15 min of contrast administration; hence longer delays in imaging are unnecessary.
This is a preview of subscription content, log in to check access.
Access options
Buy single article
Instant access to the full article PDF.
US$ 39.95
Price includes VAT for USA
Subscribe to journal
Immediate online access to all issues from 2019. Subscription will auto renew annually.
US$ 99
This is the net price. Taxes to be calculated in checkout.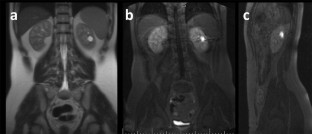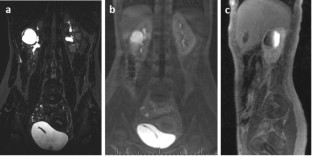 References
1.

Waingankar N, Hayek S, Smith AD, Okeke Z. Calyceal diverticula: a comprehensive review. Rev Urol 2014;16:29–43.

2.

Michel W, Funke PJ, Tunn UW, Senge T. Pyelocalyceal diverticula. Int Urol Nephrol 1985;17:225–30. https://doi.org/10.1007/BF02085408.

3.

Ito H, Aboumarzouk OM, Abushamma F, Keeley FX. Systematic Review of Caliceal Diverticulum. J Endourol 2018;32:961–72. https://doi.org/10.1089/end.2018.0332.

4.

Karmazyn B, Kaefer M, Jennings SG, Nirmala R, Raske ME. Caliceal diverticulum in pediatric patients: The spectrum of imaging findings. Pediatr Radiol 2011;41:1369–73. https://doi.org/10.1007/s00247-011-2113-4.

5.

Estrada CR, Datta S, Schneck FX, Bauer SB, Peters CA, Retik AB. Caliceal Diverticula in Children: Natural History and Management. J Urol 2009;181:1306–11. https://doi.org/10.1016/j.juro.2008.10.043.

6.

Timmons JW, Malek RS, Hattery RR, Deweerd JH. Caliceal diverticulum. J Urol 1975;114:6–9. https://doi.org/10.1016/S0022-5347(17)66930-1.

7.

Wood CG, Stromberg LJ, Harmath CB, Horowitz JM, Feng C, Hammond NA, et al. CT and MR imaging for evaluation of cystic renal lesions and diseases. Radiographics 2015;35:125–41. https://doi.org/10.1148/rg.351130016.

8.

Mullett R, Belfield JC, Vinjamuri S. Calyceal diverticulum - A mimic of different pathologies on multiple imaging modalities. J Radiol Case Rep 2012;6:10–7. https://doi.org/10.3941/jrcr.v6i9.1123.

9.

Stunell H, McNeill G, Browne RFJ, Grainger R, Torreggiani WC. The imaging appearances of calyceal diverticula complicated by uroliathasis. Br J Radiol 2010;83:888–94. https://doi.org/10.1259/bjr/22591022.

10.

Terada N, Arai Y, Kinukawa N, Terai A. The 10-Year Natural History of Simple Renal Cysts. Urology 2008;71:7–11. https://doi.org/10.1016/j.urology.2007.07.075.

11.

Bombiński P, Warchoł S, Brzewski M, Biejat A, Warchoł TD, Krzemień G, et al. Calyceal diverticulum of the kidney – diagnostic imaging dilemma in pediatric patients – case report. Polish J Radiol 2015;80:27–30. https://doi.org/10.12659/PJR.892053.

12.

Rodigas J, Kirsch H, John U, Seifert P, Winkens T, Stenzel M, et al. Static and functional mr urography to assess congenital anomalies of the kidney and urinary tract in infants and children: Comparison with mag3 renal scintigraphy and sonography. Am J Roentgenol 2018;211:193–203. https://doi.org/10.2214/AJR.17.17891.

13.

Dillman JR, Trout AT, Smith EA. MR urography in children and adolescents: techniques and clinical applications. Abdom Radiol 2016;41:1007–19. https://doi.org/10.1007/s00261-016-0669-z.

14.

Dickerson EC, Dillman JR, Smith EA, Dipietro MA, Lebowitz RL, Darge K. Pediatric MR urography: Indications, techniques, and approach to review. Radiographics 2015;35:1208–30. https://doi.org/10.1148/rg.2015140223.

15.

Grattan-Smith JD, Jones RA. Magnetic Resonance Urography in Children. Magn Reson Imaging Clin N Am 2008;16:515–31. https://doi.org/10.1016/j.mric.2008.04.002.

16.

Chua ME, Ming JM, Farhat WA. Magnetic resonance urography in the pediatric population: a clinical perspective. Pediatr Radiol 2016;46:791–5. https://doi.org/10.1007/s00247-016-3577-z.

17.

Leyendecker JR, Clingan MJ. Magnetic Resonance Urography Update-Are We There Yet? Semin Ultrasound, CT MRI 2009;30:246–57. https://doi.org/10.1053/j.sult.2009.03.004.

18.

Borthne A, Nordshus T, Reiseter T, Geitung JT, Gjesdal KI, Babovic A, et al. MR urography: The future gold standard in paediatric urogenital imaging? Pediatr Radiol 1999;29:694–701. https://doi.org/10.1007/s002470050677.

19.

Sahin H, Sarioglu FC, Alaygut D, Akdogan AI, Pekcevik Y. Differentiation of simple renal parenchymal cyst and calyceal diverticulum. Pediatr Int 2019:ped.14127. https://doi.org/10.1111/ped.14127.

20.

Grattan-Smith JD, Little SB, Jones RA. MR urography evaluation of obstructive uropathy. Pediatr. Radiol., vol. 38, 2008. https://doi.org/10.1007/s00247-007-0667-y.

21.

de Bruyn R, Marks SD. Postnatal investigation of fetal renal disease. Semin Fetal Neonatal Med 2008;13:133–41. https://doi.org/10.1016/j.siny.2007.10.008.

22.

Middleton AW, Pfister RC. Stone containing pyelocaliceal diverticulum: embryogenic, anatomic, radiologic and clinical characteristics. J Urol 1974;111:2–6. https://doi.org/10.1016/S0022-5347(17)59872-9.

23.

Wulfsohn MA. Pyelocaliceal diverticula. J Urol 1980;123:1–8. https://doi.org/10.1016/S0022-5347(17)55748-1.

24.

Kavukcu S, Cakmakci H, Babayigit A. Diagnosis of caliceal diverticulum in two pediatric patients: A comparison of sonography, CT, and urography. J Clin Ultrasound 2003;31:218–21. https://doi.org/10.1002/jcu.10154.

25.

Rohrer M, Bauer H, Mintorovitch J, Requardt M, Weinmann HJ. Comparison of magnetic properties of MRI contrast media solutions at different magnetic field strengths. Invest Radiol 2005;40:715–24. https://doi.org/10.1097/01.rli.0000184756.66360.d3.

26.

Elster AD. How much contrast is enough? Dependence of enhancement on field strength and MR pulse sequence. vol. 7. Springer-Verlag; 1997. https://doi.org/10.1007/pl00006908.

27.

Davenport, Matthew S. Daniella AJC et al. ACR Manual On Contrast Media 2020 ACR Committee on Drugs and Contrast Media. 2020.

28.

Blumfield E, Moore MM, Drake MK, Goodman TR, Lewis KN, Meyer LT, et al. Survey of gadolinium-based contrast agent utilization among the members of the Society for Pediatric Radiology: a Quality and Safety Committee report. Pediatr Radiol 2017;47:665–73. https://doi.org/10.1007/s00247-017-3807-z.

29.

Woolen SA, Shankar PR, Gagnier JJ, MacEachern MP, Singer L, Davenport MS. Risk of Nephrogenic Systemic Fibrosis in Patients with Stage 4 or 5 Chronic Kidney Disease Receiving a Group II Gadolinium-Based Contrast Agent: A Systematic Review and Meta-analysis. JAMA Intern Med 2020;180:223–30. https://doi.org/10.1001/jamainternmed.2019.5284.

30.

Exhibit E, Ochoa Y, Pacheco A. Radiological and clinical findings of calyceal diverticula in children. Electron Poster Present Eur Soc Radiol ECR Conf Meet 2016:1–19. https://doi.org/10.1594/ecr2016/C-1982.

31.

Abeshouse BS, Abeshouse GA. Calyceal Diverticulum: A Report of Sixteen Cases and Review of the Literature. Urol Int 1963;15:329–57. https://doi.org/10.1159/000279027.

32.

McGarry L, Sahadev R, Hogan G, Long C, Otero H, Srinivasan AK, et al. Calyceal diverticula in children: laparoscopic marsupialization is the optimal intervention. J Pediatr Urol 2020. https://doi.org/10.1016/j.jpurol.2020.01.014.

33.

Gross AJ, Herrmann TRW. Management of stones in calyceal diverticulum. Curr Opin Urol 2007;17:136–40. https://doi.org/10.1097/MOU.0b013e328011bcd3.

34.

Long CJ, Weiss DA, Kolon TF, Srinivasan AK, Shukla AR. Pediatric calyceal diverticulum treatment: An experience with endoscopic and laparoscopic approaches. J Pediatr Urol 2015;11:172.e1–172.e6. https://doi.org/10.1016/j.jpurol.2015.04.013.

35.

Sahin H, Pekcevik Y, Alaygut DE. The utility of static fluid magnetic resonance urography in differentiation of renal parenchymal cyst and calyceal diverticulum in children. Esr 2017:1–13.
Funding
No financial grants were applied to this study.
Ethics declarations
Conflict of interest
Authors declare no conflict.
Ethical approval
This study was approved by our Institutional Review Board.
Informed consent
Informed consent waiver was obtained.
Additional information
Publisher's Note
Springer Nature remains neutral with regard to jurisdictional claims in published maps and institutional affiliations.
About this article
Cite this article
Calle-Toro, J.S., Back, S.J., Maya, C. et al. Identification and characterization of calyceal diverticula with MR urography (MRU) in children. Abdom Radiol (2020). https://doi.org/10.1007/s00261-020-02623-2
Keywords
Calyceal diverticula

Diagnosis

Magnetic resonance urography (MRU)

Children