Abstract
Purpose
Incorporation of virtual angioscopy (VA) in the diagnostic work-up of aortic diseases could improve the clinical value and efficiency of multidetector computed tomography angiography (MDCTA). We aim to evaluate the clinical usefulness of virtual aortic navigation by CT angiography in various aortic diseases as a complement to standard MDCTA.
Materials and methods
We retrospectively selected 211 patients who performed MDCTA for suspected or operated aortic diseases. VA endoluminal images of the aorta were obtained by a fly-through technique. Two senior vascular radiologists independently evaluated all MDCTA images. After 1 month, the same two radiologists independently reviewed the MDCTA images combined with CTVA images. The respective accuracy of CTVA in delineating aortic abnormalities was compared to that of MDCTA using Fisher's exact test. The Fleiss kappa (κ) statistic was used to assess the inter-reader agreement (IRA).
Results
We detected 229 abnormalities in 203 patients on MDCTA and 231 abnormalities in 205 patients on CTVA. CTVA provided significant additional findings in 63.8% (146/229) of all abnormalities diagnosed by MDCTA (p < 0.001, odd ratio [OR] = 42). Although CTVA diagnosed two abnormalities overlooked by MDCTA, the value was statistically insignificant (p = 0.787, OR = 1.3). Regarding postoperative abnormalities, the CTVA added significant additional findings over MDCTA (p = 0.006, OR = 87.4). The overall IRA for the performance of CTVA was good (κ = 0.699).
Conclusions
CTVA yields extra findings and improves diagnostic efficiency of MDCTA, especially in postoperative patients.
This is a preview of subscription content, log in to check access.
Access options
Buy single article
Instant access to the full article PDF.
US$ 39.95
Price includes VAT for USA
Subscribe to journal
Immediate online access to all issues from 2019. Subscription will auto renew annually.
US$ 99
This is the net price. Taxes to be calculated in checkout.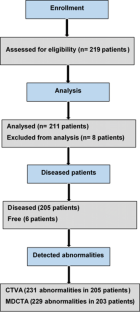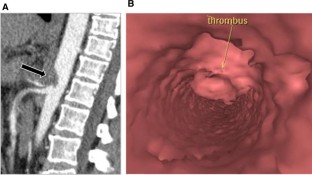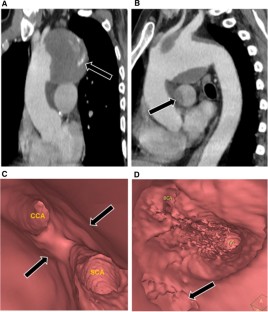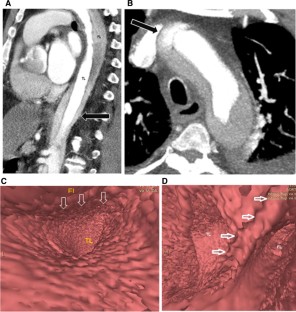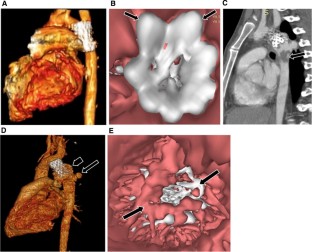 References
1.

Schroeder S, Kopp AF, Ohnesorge B, Loke-Gie H, Kuettner A, Baumbach A, et al. Virtual coronary angioscopy using multislice computed tomography. Heart 2002; 87: 205-209.

2.

Fletcher JG, Luboldt W. CT colonography and MR colonography: current status, research directions and comparison. European radiology 2000; 10:786-801.

3.

Potchen EJ. Prospects for progress in diagnostic imaging. Journal of internal medicine 2001; 249: 95-108.

4.

Davis CP, Ladd ME, Romanowski BJ, Wildermuth S, Knoplioch JF, Debatin JF. Human aorta: preliminary results with virtual endoscopy based on three-dimensional MR imaging data sets. Radiology 1996; 199: 37-40.

5.

Smith PA, Heath DG, Fishman EK. Technical Report. Virtual Angioscopy Using Spiral CT and Real-Time Interactive Volume-Rendering Techniques. Journal of computer assisted tomography 1998; 22: 212–214.

6.

Maldjian PD, Partyka L. Intimal tears in thoracic aortic dissection: appearance on MDCT with virtual angioscopy. American Journal of Roentgenology 2012; 198: 955-961.

7.

Haigron P, Bellemare ME, Acosta O, Goksu C, Kulik C, Rioual K, et al. Depth-map-based scene analysis for active navigation in virtual angioscopy. IEEE Transactions on Medical Imaging 2004; 23: 1380-1390.

8.

Louis N, Desgranges P, Kobeiter H, Kirsch M, Becquemin JP. Virtual angioscopy and 3-dimensional navigation findings of the aortic arch after vascular surgery. Circulation 2009; 119: 1052-1055.

9.

Izquierdo L, Leiva L. Virtual angioscopy assessment for acute type B aortic dissection endovascular repair. Catheterization and Cardiovascular Interventions 2010; 75: 32-34.

10.

Sun Z, Mwipatayi BP, Allen YB, Hartley DE, Lawrence‐Brown MM. Computed tomography virtual intravascular endoscopy in the evaluation of fenestrated stent graft repair of abdominal aortic aneurysms. ANZ journal of surgery 2009; 79: 836-840.

11.

Louis N, Bruguiere E, Kobeiter H, Desgranges P, Allaire E, Kirsch M, et al. Virtual angioscopy and 3D navigation: a new technique for analysis of the aortic arch after vascular surgery. European Journal of Vascular and Endovascular Surgery 2010; 40: 340-347.

12.

Tomás AC, Santos ÁL, Fragata J. Virtual angioscopy and 3D navigation of the aorta. Journal of cardiac surgery 2017; 32: 33-37.

13.

Bates WB, Franco A, Keshavamurthy JH. Application of computed tomographic virtual vascular intraluminal endoscopy. The international journal of cardiovascular imaging 2016; 32: 1461-1462.

14.

Urbanik A, Chrzan R, Wojciechowski W, Popiela TJ. Virtual angioscopy as an additional feature of angio-CT. InCARS 2003 (p. 1322).

15.

Carrascosa P, Capunay C, Vembar M, Ciancibello L, Carrascosa J. Multislice CT virtual angioscopy of the abdomen. Abdominal imaging 2005; 30: 249-258.

16.

Nijhof WH, Baltussen EJ, Kant IM, Jager GJ, Slump CH, Rutten MJ. Low-dose CT angiography of the abdominal aorta and reduced contrast medium volume: assessment of image quality and radiation dose. Clinical radiology 2016; 71: 64-73.

17.

Diehm N, Herrmann P, Dinkel HP. Multidetector CT angiography versus digital subtraction angiography for aortoiliac length measurements prior to endovascular AAA repair. Journal of Endovascular Therapy 2004; 11: 527-534.

18.

Rydberg J, Kopecky KK, Lalka SG, Johnson MS, Dalsing MC, Persohn SA. Stent grafting of abdominal aortic aneurysms: pre-and postoperative evaluation with multislice helical CT. Journal of computer assisted tomography 2001; 25: 580-586.

19.

Rydberg J, Kopecky KK, Johnson MS, Patel NH, Persohn SA, Lalka SG. Endovascular repair of abdominal aortic aneurysms: assessment with multislice CT. American Journal of Roentgenology 2001; 177: 607-614.

20.

Sun Z, Cao Y. Multislice CT virtual intravascular endoscopy of aortic dissection: a pictorial essay. World J Radiol 2010; 2: 440–448.

21.

Sommer WH, Clevert DA, Bamberg F, Helck A, Albrecht E, Reiser MF, et al. Time-resolved computed tomography imaging of the aorta: a feasibility study. Journal of thoracic imaging 2010; 25:161-167.

22.

Meinel FG, Nikolaou K, Weidenhagen R, Hellbach K, Helck A, Bamberg F, et al. Time-resolved CT angiography in aortic dissection. European journal of radiology 2012; 81: 3254-3261.

23.

Hornero F, Cervera V, Estornell J, Rodriguez I, Buendía JA, Esteban JM, et al. Virtual vascular endoscopy for acute aortic dissection. The Annals of thoracic surgery 2005; 80: 708-710.

24.

Sun Z, Winder J, Kelly B, Ellis P, Hirst D. CT virtual intravascular endoscopy of abdominal aortic aneurysms treated with suprarenal endovascular stent grafting. Abdom Imaging 2003; 28: 580–587.

25.

Sun Z, Winder RJ, Kelly BE, Ellis PK, Kennedy PT, Hirst DG. Diagnostic value of CT virtual intravascular endoscopy in aortic stent grafting.J Endovasc Ther 2004; 11: 13–15.

26.

Sun Z, Allen Y, Nadkarni S, Wright R, Hartley D, Lawrence-Brown M. CT virtual intravascular endoscopy in the visualization of fenestrated endovascular grafts. J Endovasc Ther 2008; 15: 42–51.

27.

Sun Z, Chaichana T. Fenestrated stent graft repair of abdominal aortic aneurysm: hemodynamic analysis of effect of fenestrated stents on renal arteries. Korean J Radiol 2010; 11: 95–106.

28.

Sun Z, Mwipatayi BP, Semmens JB, Lawrence-Brown MM. Short to midterm outcomes of fenestrated endovascular grafts in the treatment of abdominal aortic aneurysms: a systematic review. J Endovasc Ther 2006; 13: 747–753.
Acknowledgements
The authors thank all staff members and colleagues in the Radiology Departments-Zagazig University for their helpful cooperation.
Funding
This research did not receive any specific grant from funding agencies in the public, commercial, or not-for-profit sectors.
Ethics declarations
Conflict of interest
The authors of this manuscript declare no relevant conflicts of interest, and no relationships with any companies, whose products or services may be related to the subject matter of the article.
Ethical approval
Institutional review board approval was obtained.
Informed consent
Written informed consent was waived.
Additional information
Publisher's Note
Springer Nature remains neutral with regard to jurisdictional claims in published maps and institutional affiliations.
Electronic supplementary material
Below is the link to the electronic supplementary material.
Supplementary file1 (MP4 10530 kb)
Supplementary file2 (MP4 20683 kb)
About this article
Cite this article
Basha, M.A.A., Salem, A.F., Azmy, T.M. et al. The added value of CT virtual angioscopy to MDCT angiography in the evaluation of aortic diseases. Abdom Radiol 45, 2576–2584 (2020). https://doi.org/10.1007/s00261-020-02607-2
Keywords
Computed tomography angiography

Virtual angioscopy

Aortic diseases