Abstract
The visceral organs of the male pelvis have complex anatomic relationships with the surrounding extraperitoneal spaces, supplying arteries and adjacent pelvic musculature. Since various neoplastic, vascular, and traumatic pathologies can often involve multiple organs and spread into adjacent pelvic spaces, a keen understanding of this intricate anatomy can help radiologists to accurately characterize findings and improve recognition of the routes in which these conditions can spread. The purpose of this review is to examine the relationships between the anatomic compartments of the pelvic extraperitoneal space, summarize the pelvic arterial anatomy, and identify the pelvic muscles that support normal genitourinary function.
Access options
Buy single article
Instant access to the full article PDF.
US$ 39.95
Tax calculation will be finalised during checkout.
Subscribe to journal
Immediate online access to all issues from 2019. Subscription will auto renew annually.
US$ 79
Tax calculation will be finalised during checkout.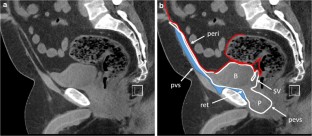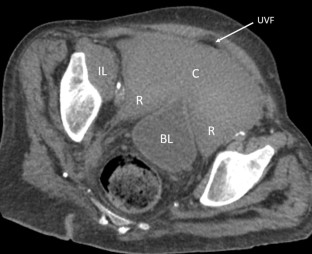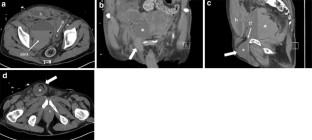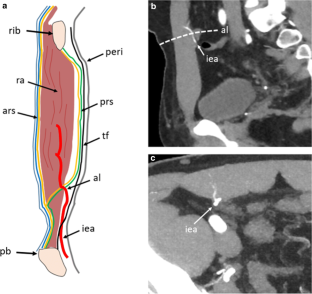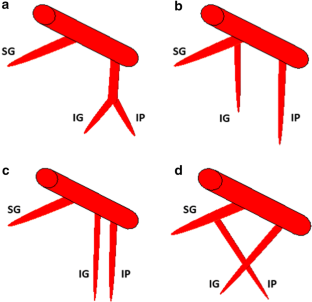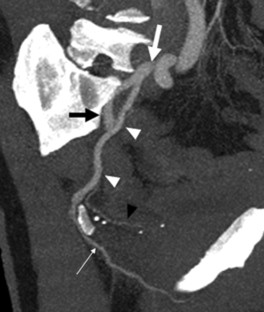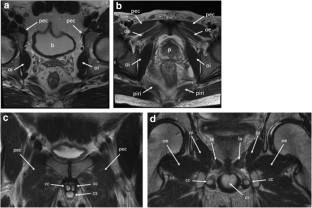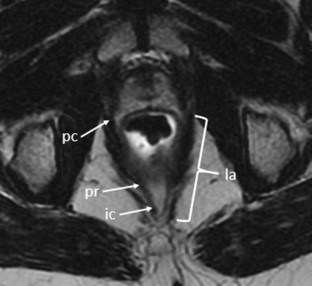 References
1.

Auh YH, Rubenstein WA, Schneider M, et al. Extraperitoneal paravesical spaces: CT delineation with US correlation. Radiology 1986;159:319e28.

2.

O'connell AM, Duddy L, Lee C, Lee MJ. CT of pelvic extraperitoneal spaces: an anatomical study in cadavers. Clinical radiology. 2007 May 1;62(5):432-8.

3.

Standring S. (2016). True pelvis, pelvic floor and perineum. Elsevier Limited (41st ed.), Gray's Anatomy (pp 1221-1236).

4.

Korobkin M, Silverman PM, Quint LE, Francis IR. CT of the extraperitoneal space: normal anatomy and fluid collections. AJR. American journal of roentgenology. 1992;159(5):933-42.

5.

Salerno G, Daniels IR, Brown G. Magnetic resonance imaging of the low rectum: defining the radiological anatomy. Colorectal Disease. 2006;8:10-3.

6.

Leffler KS, Thompson JR, Cundiff GW et al: Attachment of the rectovaginal septum to the pelvic sidewall. Am J Obstet Gynecol 2001; 185:41–43.

7.

Mellnick VM, Balfe DM, Peterson CM (2015). Anatomy and Imaging of the Peritoneum and Retroperitoneum. Saunders (4th ed.), Textbook of Gastrointestinal Radiology (pp 1983-2005).

8.

Auh, Y. H., Lim, J. H., & Kung, S. T. (2010). The Extraperitoneal Pelvic Compartments. In Meyers' Dynamic Radiology of the Abdomen (pp. 203-221). Springer, New York, NY.

9.

Kim SW, Kim HC, Yang DM, Min GE. The prevesical space: anatomical review and pathological conditions. Clinical radiology. 2013;68(7):733-40

10.

Vaccaro JP, Brody JM. CT cystography in the evaluation of major bladder trauma. Radiographics. 2000;20(5):1373-81.

11.

Chen N, Min PQ, Liu ZY, Wu B, Yang KQ, Lu CY. Radiologic and anatomic study of the extraperitoneal space associated with the rectum. American Journal of Roentgenology. 2010;194(3):642-52.

12.

Mirilas P, Skandalakis JE. Surgical anatomy of the retroperitoneal spaces part II: the architecture of the retroperitoneal space. The American surgeon. 2010;76(1):33-42.

13.

Kelley MP, Efron J, Fang SH, et al (2019). Operative Anatomy of the Colon, Rectum and Anus. In Shackelford's Surgery of the Alimentary Tract 8th ed (pp 1662-1675). Elsevier Health Sciences.

14.

Mastromatteo JF, Mindell HJ, Mastromatteo MF, Magnant MB, Sturtevant NV, Shuman WP. Communications of the pelvic extraperitoneal spaces and their relation to the abdominal extraperitoneal spaces: helical CT cadaver study with pelvic extraperitoneal injections. Radiology. 1997;202(2):523-30.

15.

Peters 3rd WA, Thornton Jr WN. Surgical anatomy of the perirectal fascia: a gynecologic perspective. Obstetrical & gynecological survey. 1987;42(10):605.

16.

Grabbe E, Lierse W, Winkler R. The perirectal fascia: morphology and use in staging of rectal carcinoma. Radiology. 1983;149(1):241-6.

17.

Tan CH, Vikram R, Boonsirikamchai P, Faria SC, Charnsangavej C, Bhosale PR. Pathways of extrapelvic spread of pelvic disease: imaging findings. Radiographics. 2011;31(1):117-33.

18.

Trerotola SO, Kuhlman JE, Fishman EK. CT and anatomic study of postcatheterization hematomas. Radiographics. 1991;11(2):247-58.

19.

Loukas M, Myers C, Shah R, Tubbs RS, Wartmann C, Apaydin N, Betancor J, Jordan R. Arcuate line of the rectus sheath: clinical approach. Anatomical science international. 2008;83(3):140-4.

20.

Pannu HK, Oliphant M. The subperitoneal space and peritoneal cavity: basic concepts. Abdominal imaging. 2015;40(7):2710-22.

21.

Aikawa H, Tanoue S, Okino Y, Tomonari K, Miyake H. Pelvic extension of retroperitoneal fluid: analysis in vivo. AJR. American journal of roentgenology. 1998;171(3):671-7.

22.

Mauro MA. Can hyperplastic prostate follow uterine fibroids and be managed with transcatheter arterial embolization? Radiology 2008; 246:657–658

23.

Babaev A, Jhaveri RR. Angiography and endovascular revascularization of pudendal artery atherosclerotic disease in patients with medically refractory erectile dysfunction. J Invasive Cardiol 2012; 24:236–240

24.

Kim KR. Embolization Treatment of High-Flow Priapism. Semin Intervent Radiol. 2016;33(3):177–181.

25.

Yamaki K, Saga T, Doi Y, et al. A statistical study of the branching of the human internal iliac ar- tery. Kurume Med J 1998; 45:333–340

26.

Bilhim T, Casal D, Furtado A, Pais D, O'Neill JE, Pisco JM. Branching patterns of the male internal iliac artery: imaging findings. Surgical and radiologic anatomy. 2011;33(2):151-9.

27.

Bilhim T, Pereira JA, Fernandes L, Tinto HR, Pisco JM. Angiographic anatomy of the male pelvic arteries. American Journal of Roentgenology. 2014;203(4):W373-82.

28.

Pereira JA, Bilhim T, Rio Tinto H, Fernandes L, Martins Pisco J. Goyri-O'Neill J. Radiologic anatomy of arteriogenic erectile dysfunction: a systematized approach. Acta Med Port 2013; 26:219–225

29.

Mostafa T, Labib I, El-Khayat Y, El-Shahat AE, Gadallah A. Human testicular arterial supply: gross anatomy, corrosion cast, and radiologic study. Fertility and sterility. 2008;90(6):2226-30.

30.

Bilhim T, Pisco JM, Furtado A, Casal D, Pais D, Pinheiro LC, O'Neill JE. Prostatic arterial supply: demonstration by multirow detector angio CT and catheter angiography. European radiology. 2011;21(5):1119-26.

31.

Blue RC, Fischman AM, Rastinehad AR. Selective Arterial Prostate Embolization. Smith's Textbook of Endourology. 2019 30:1488-94.

32.

Chorney ET, Ramchandani P, Jaffe WI, Siegelman ES. CT and MR imaging features of artificial urinary sphincters, penile prostheses, and other devices in the male lower genitourinary tract. RadioGraphics. 2018;38(3):794-805.

33.

Tappouni RF, Sarwani NI, Tice JG, Chamarthi S. Imaging of unusual perineal masses. American Journal of Roentgenology. 2011;196(4):W412-20.
Additional information
Publisher's Note
Springer Nature remains neutral with regard to jurisdictional claims in published maps and institutional affiliations.
About this article
Cite this article
Luk, L., Taffel, M.T. Cross-sectional anatomy of the male pelvis. Abdom Radiol 45, 1951–1960 (2020). https://doi.org/10.1007/s00261-019-02369-6
Keywords
Male pelvis

Extraperitoneal

Anatomy