Abstract
Background
The accurate detection of nodal invasion is an unmet need in the clinical staging of renal cancer. Positron emission tomography (PET) with 18F-fluoroazomycin arabinoside (18F-FAZA), a hypoxia specific tracer, is a non-invasive imaging method that detects tumour hypoxia. The aim of this work was to evaluate the role of 18F-FAZA PET/CT in the identification of lymph node metastases in renal cancer.
Methods
A proof-of-concept phase 2 study including 20 kidney cancer patients (ClinicalTrials.gov Identifier: NCT03955393) was conducted. Inclusion criteria were one or more of the following three criteria: (1) clinical tumour size > 10 cm, (2) evidence of clinical lymphadenopathies at preoperative CT scan and (3) clinical T4 cancer. Before surgery, 18F-FAZA PET/CT was performed, 2 h after the intravenous injection of the radiotracer. An experienced nuclear medicine physician, aware of patient's history and of all available diagnostic imaging, performed a qualitative and semi-quantitative analysis on 18F-FAZA images. Histopathological analysis was obtained in all patients on surgical specimen.
Results
Fourteen/19 (74%) patients had a non-organ confined renal cell carcinoma (RCC) at final pathology (either pT3 or pT4). Median number of nodes removed was 12 (IQR 7–15). The rate of lymph node invasion was 16%. No patient with pN1 disease showed positive 18F-FAZA PET, thus suggesting the non-hypoxic behaviour of the lesions. In addition, neither primary tumour nor distant metastases presented a pathological 18F-FAZA uptake. No adverse events were recorded during the study.
Conclusions
18F-FAZA PET/CT scan did not detect RCC lymph neither nodal nor distant metastases and did not show any uptake in the primary renal tumour.
Access options
Buy single article
Instant access to the full article PDF.
US$ 39.95
Tax calculation will be finalised during checkout.
Subscribe to journal
Immediate online access to all issues from 2019. Subscription will auto renew annually.
US$ 119
Tax calculation will be finalised during checkout.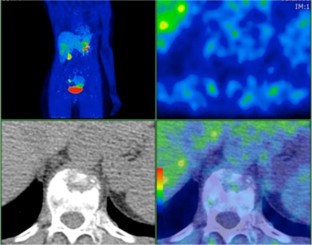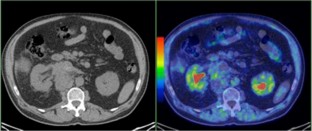 References
1.

Capitanio U, Leibovich BC. The rationale and the role of lymph node dissection in renal cell carcinoma. World J Urol. [Review. 2017;35(4):497–506.

2.

Capitanio U, Montorsi F. Renal cancer. Lancet. [Review. 2016;387(10021):894–906.

3.

Lopci E, Grassi I, Chiti A, Nanni C, Cicoria G, Toschi L, et al. PET radiopharmaceuticals for imaging of tumor hypoxia: a review of the evidence. Am J Nucl Med Mol Imaging. [Review. 2014;4(4):365–84.

4.

Wilson WR, Hay MP. Targeting hypoxia in cancer therapy. Nat Rev Cancer. [Research Support, Non-U.S. Gov't Review. 2011;11(6):393–410.

5.

Fleming IN, Manavaki R, Blower PJ, West C, Williams KJ, Harris AL, et al. Imaging tumour hypoxia with positron emission tomography. Br J Cancer. [Research Support, Non-U.S. Gov't Review]. 2015;112(2):238–50.

6.

Tafreshi NK, Lloyd MC, Bui MM, Gillies RJ, Morse DL. Carbonic anhydrase IX as an imaging and therapeutic target for tumors and metastases. Subcell Biochem [Review]. 2014;75:221–54.

7.

Chapman DW, Jans HS, Ma I, Mercer JR, Wiebe LI, Wuest M, et al. Detecting functional changes with [(18)F]FAZA in a renal cell carcinoma mouse model following sunitinib therapy. EJNMMI Res. 2014;4(1):27.

8.

Benjamin EJ, Muntner P, Alonso A, Bittencourt MS, Callaway CW, Carson AP, et al. Heart disease and stroke statistics-2019 update: a report from the American Heart Association. Circulation. 2019;139(10):e56–e528.

9.

van Elmpt W, Zegers CML, Reymen B, Even AJG, Dingemans AC, Oellers M, et al. Multiparametric imaging of patient and tumour heterogeneity in non-small-cell lung cancer: quantification of tumour hypoxia, metabolism and perfusion. Eur J Nucl Med Mol Imaging. [Clinical Trial Research Support, Non-U.S. Gov't]. 2016;43(2):240–8.

10.

Capitanio U, Bensalah K, Bex A, Boorjian SA, Bray F, Coleman J, et al. Epidemiology of renal cell carcinoma. Eur Urol. [Review]. 2019;75(1):74–84.

11.

Gofrit ON, Orevi M. Diagnostic challenges of kidney cancer: a systematic review of the role of positron emission tomography-computerized tomography. J Urol. [Review Systematic Review]. 2016;196(3):648–57.

12.

Capitanio U, Deho F, Dell'Oglio P, Larcher A, Capogrosso P, Nini A, et al. Lymphadenopathies in patients with renal cell carcinoma: clinical and pathological predictors of pathologically confirmed lymph node invasion. World J Urol. 2016;34(8):1139–45.

13.

Kuusk T, De Bruijn R, Brouwer OR, De Jong J, Donswijk M, Hendricksen K, et al. Outcome of sentinel lymph node biopsy in patients with clinically non-metastatic renal cell carcinoma. Scand J Urol. 2018;52(5–6):411–8.

14.

Lughezzani G, Capitanio U, Jeldres C, Isbarn H, Shariat SF, Arjane P, et al. Prognostic significance of lymph node invasion in patients with metastatic renal cell carcinoma: a population-based perspective. Cancer. [Evaluation Study]. 2009;115(24):5680–7.

15.

Ouzaid I, Capitanio U, Staehler M, Wood CG, Leibovich BC, Ljungberg B, et al. Surgical metastasectomy in renal cell carcinoma: a systematic review. Eur Urol Oncol. [Review]. 2019;2(2):141–9.

16.

Carlin S, Zhang H, Reese M, Ramos NN, Chen Q, Ricketts SA. A comparison of the imaging characteristics and microregional distribution of 4 hypoxia PET tracers. J Nucl Med. [Comparative Study Research Support, N.I.H., Extramural Research Support, Non-U.S. Gov't]. 2014;55(3):515–21.

17.

Savi A, Incerti E, Fallanca F, Bettinardi V, Rossetti F, Monterisi C, et al. First evaluation of PET-based human biodistribution and dosimetry of (18)F-FAZA, a tracer for imaging tumor hypoxia. J Nucl Med. [Research Support, Non-U.S. Gov't]. 2017;58(8):1224–9.

18.

Piert M, Machulla HJ, Picchio M, Reischl G, Ziegler S, Kumar P, et al. Hypoxia-specific tumor imaging with 18F-fluoroazomycin arabinoside. J Nucl Med. [Comparative Study Evaluation Study Research Support, Non-U.S. Gov't Validation Study]. 2005;46(1):106–13.

19.

Rozsa D, Trencsenyi G, Kertai P, Marian T, Nagy G, Banfalvi G. Lymphatic spread of mesenchymal renal tumor to metastatic parathymic lymph nodes in rat. Histol Histopathol. [Research Support, Non-U.S. Gov't]. 2009;24(11):1367–79.

20.

Mortensen LS, Johansen J, Kallehauge J, Primdahl H, Busk M, Lassen P, et al. FAZA PET/CT hypoxia imaging in patients with squamous cell carcinoma of the head and neck treated with radiotherapy: results from the DAHANCA 24 trial. Radiother Oncol. [Clinical Trial Research Support, Non-U.S. Gov't]. 2012;105(1):14–20.

21.

Beck R, Roper B, Carlsen JM, Huisman MC, Lebschi JA, Andratschke N, et al. Pretreatment 18F-FAZA PET predicts success of hypoxia-directed radiochemotherapy using tirapazamine. J Nucl Med. [Research Support, Non-U.S. Gov't]. 2007;48(6):973–80.

22.

Picchio M, Beck R, Haubner R, Seidl S, Machulla HJ, Johnson TD, et al. Intratumoral spatial distribution of hypoxia and angiogenesis assessed by 18F-FAZA and 125I-Gluco-RGD autoradiography. J Nucl Med. [Research Support, Non-U.S. Gov't]. 2008;49(4):597–605.

23.

Souvatzoglou M, Grosu AL, Roper B, Krause BJ, Beck R, Reischl G, et al. Tumour hypoxia imaging with [18F] FAZA PET in head and neck cancer patients: a pilot study. Eur J Nucl Med Mol Imaging. [Research Support, Non-U.S. Gov't]. 2007;34(10):1566–75.

24.

Addeo A, Weiss GJ, Gyawali B. Association of industry and academic sponsorship with negative phase 3 oncology trials and reported outcomes on participant survival: a pooled analysis. JAMA Netw Open. [Review]. 2019;2(5):e193684.
Funding
The current study has been supported by a grant of Ministero Italiano della Salute—Ricerca Finalizzata. Protocol Study coding: FAZA RCC LNI Giovani Ricercatori (EudraCT Number: 2016-001774-15).
Ethics declarations
Conflict of interest
Dr. Umberto Capitanio received grants/research supports, honoraria or consultation fees by the following: Ipsen, IBSA, Recordati, Konpharma.
Prof. Maria Picchio received GE Healthcare travel meeting support not related to the work.
The other authors declare no conflict of interest.
Ethical approval
All procedures performed in studies involving human participants were in accordance with the ethical standards of the institutional and/or national research committee and with the 1964 Helsinki Declaration and its later amendments or comparable ethical standards.
Informed consent
Informed consent was obtained from all individual participants included in the study.
Additional information
Publisher's note
Springer Nature remains neutral with regard to jurisdictional claims in published maps and institutional affiliations.
Clinical trial registrations: ClinicalTrial.gov Identifier: NCT03955393: EudraCT number: 2016-001774-15
Co-last authors are Maria Picchio and Francesco Montorsi
About this article
Cite this article
Capitanio, U., Pepe, G., Incerti, E. et al. The role of 18F-FAZA PET/CT in detecting lymph node metastases in renal cell carcinoma patients: a prospective pilot trial. Eur J Nucl Med Mol Imaging 48, 554–560 (2021). https://doi.org/10.1007/s00259-020-04936-2
Received:

Accepted:

Published:

Issue Date:
Keywords
Kidney cancer

Renal cell carcinoma

Lymph node invasion

Imaging

PET

18F-FAZA

Tumour hypoxia