Abstract
Purpose
Intrahepatic cholangiocarcinoma (ICC) is associated with a poor prognosis with surgical resection offering the best chance for long-term survival and potential cure. However, in up to 36% of patients who undergo surgery, more extensive disease is found at time of operation requiring cancellation of surgery. PET/MR is a novel hybrid technology that might improve local and whole-body staging in ICC patients, potentially influencing clinical management. This study was aimed to investigate the possible management implications of PET/MR, relative to conventional imaging, in patients affected by untreated intrahepatic cholangiocarcinoma.
Methods
Retrospective review of the clinicopathologic features of 37 patients with iCCC, who underwent PET/MR between September 2015 and August 2018, was performed to investigate the management implications that PET/MR had exerted on the affected patients, relative to conventional imaging.
Results
Of the 37 patients enrolled, median age 63.5 years, 20 (54%) were female. The same day PET/CT was performed in 26 patients. All patients were iCCC-treatment-naïve. Conventional imaging obtained as part of routine clinical care demonstrated early-stage resectable disease for 15 patients and advanced stage disease beyond the scope of surgical resection for 22. PET/MR modified the clinical management of 11/37 (29.7%) patients: for 5 patients (13.5%), the operation was cancelled due to identification of additional disease, while 4 "inoperable" patients (10.8%) underwent an operation. An additional 2 patients (5.4%) had a significant change in their operative plan based on PET/MR.
Conclusions
When compared with standard imaging, PET/MR significantly influenced the treatment plan in 29.7% of patients with iCCC.
Trial registration
2018P001334
This is a preview of subscription content, log in to check access.
Access options
Buy single article
Instant access to the full article PDF.
US$ 39.95
Price includes VAT for USA
Subscribe to journal
Immediate online access to all issues from 2019. Subscription will auto renew annually.
US$ 199
This is the net price. Taxes to be calculated in checkout.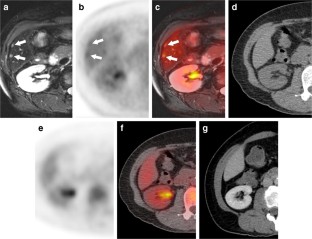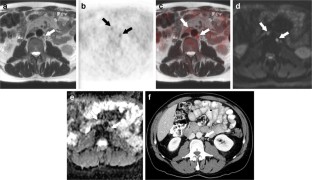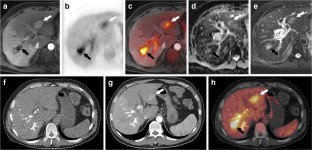 Abbreviations
ICC:

intrahepatic cholangiocarcinoma

TACE:

trans-arterial chemoembolization

PET:

positron emission tomography

CT:

computed tomography

MR:

magnetic resonance

PET/CT:

positron emission tomography/computed tomography

PET/MR:

positron emission tomography/magnetic resonance

CE:

contrast-enhanced

NCE:

non-contrast-enhanced

mOS:

median overall survival

DWI:

diffusion-weighted imaging

ADC:

apparent diffusion coefficient

18F-FDG:

18F-fluorodeoxyglucose

SD:

standard deviation

NCCN:

national comprehensive cancer network

EBRT:

extracorporeal beam radiation therapy
References
1.

Saha SK, Zhu AX, Fuchs CS, Brooks GA. Forty-year trends in cholangiocarcinoma incidence in the U.S.: intrahepatic disease on the rise. Oncologist. 2016;21:594–9. https://doi.org/10.1634/theoncologist.2015-0446.

2.

Rizvi S, Khan SA, Hallemeier CL, Kelley RK, Gores GJ. Cholangiocarcinoma-evolving concepts and therapeutic strategies. Nat Rev Clin Oncol. 2018;15:95–111. https://doi.org/10.1038/nrclinonc.2017.157.

3.

Choi S-B, Kim K-S, Choi J-Y, Park S-W, Choi J-S, Lee W-J, et al. The prognosis and survival outcome of intrahepatic cholangiocarcinoma following surgical resection: association of lymph node metastasis and lymph node dissection with survival. Ann Surg Oncol. 2009;16:3048–56. https://doi.org/10.1245/s10434-009-0631-1.

4.

Endo I, Gonen M, Yopp AC, Dalal KM, Zhou Q, Klimstra D, et al. Intrahepatic cholangiocarcinoma: rising frequency, improved survival, and determinants of outcome after resection. Ann Surg. 2008;248:84–96. https://doi.org/10.1097/SLA.0b013e318176c4d3.

5.

Kiefer MV, Albert M, McNally M, Robertson M, Sun W, Fraker D, et al. Chemoembolization of intrahepatic cholangiocarcinoma with cisplatinum, doxorubicin, mitomycin C, ethiodol, and polyvinyl alcohol: a 2-center study. Cancer. 2011;117:1498–505. https://doi.org/10.1002/cncr.25625.

6.

Park SY, Kim JH, Yoon HJ, Lee IS, Yoon HK, Kim KP. Transarterial chemoembolization versus supportive therapy in the palliative treatment of unresectable intrahepatic cholangiocarcinoma. Clin Radiol. 2011;66:322–8. https://doi.org/10.1016/j.crad.2010.11.002.

7.

Kuhlmann JB, Euringer W, Spangenberg HC, Breidert M, Blum HE, Harder J, et al. Treatment of unresectable cholangiocarcinoma: conventional transarterial chemoembolization compared with drug eluting bead-transarterial chemoembolization and systemic chemotherapy. Eur J Gastroenterol Hepatol. 2012;24:437–43. https://doi.org/10.1097/MEG.0b013e3283502241.

8.

Hoffmann R-T, Paprottka PM, Schön A, Bamberg F, Haug A, Dürr E-M, et al. Transarterial hepatic yttrium-90 radioembolization in patients with unresectable intrahepatic cholangiocarcinoma: factors associated with prolonged survival. Cardiovasc Intervent Radiol. 2012;35:105–16. https://doi.org/10.1007/s00270-011-0142-x.

9.

Rafi S, Piduru SM, El-Rayes B, Kauh JS, Kooby DA, Sarmiento JM, et al. Yttrium-90 radioembolization for unresectable standard-chemorefractory intrahepatic cholangiocarcinoma: survival, efficacy, and safety study. Cardiovasc Intervent Radiol. 2013;36:440–8. https://doi.org/10.1007/s00270-012-0463-4.

10.

Tao R, Krishnan S, Bhosale PR, Javle MM, Aloia TA, Shroff RT, et al. Ablative radiotherapy doses lead to a substantial prolongation of survival in patients with inoperable intrahepatic cholangiocarcinoma: a retrospective dose response analysis. J Clin Oncol. 2016;34:219–26. https://doi.org/10.1200/JCO.2015.61.3778.

11.

Valle JW, Furuse J, Jitlal M, Beare S, Mizuno N, Wasan H, et al. Cisplatin and gemcitabine for advanced biliary tract cancer: a meta-analysis of two randomised trials. Ann Oncol. 2014;25:391–8. https://doi.org/10.1093/annonc/mdt540.

12.

NCCN Guidelines Version 3.2018.

13.

Seo S, Hatano E, Higashi T, Nakajima A, Nakamoto Y, Tada M, et al. Fluorine-18 fluorodeoxyglucose positron emission tomography predicts lymph node metastasis, P-glycoprotein expression, and recurrence after resection in mass-forming intrahepatic cholangiocarcinoma. Surgery. 2008;143:769–77. https://doi.org/10.1016/j.surg.2008.01.010.

14.

Kim JY, Kim M-H, Lee TY, Hwang CY, Kim JS, Yun S-C, et al. Clinical role of 18F-FDG PET-CT in suspected and potentially operable cholangiocarcinoma: a prospective study compared with conventional imaging. Am J Gastroenterol. 2008;103:1145–51. https://doi.org/10.1111/j.1572-0241.2007.01710.x.

15.

Angliviel B, Benoist S, Penna C, El Hajjam M, Chagnon S, Julié C, et al. Impact of chemotherapy on the accuracy of computed tomography scan for the evaluation of colorectal liver metastases. Ann Surg Oncol. 2009;16:1247–53. https://doi.org/10.1245/s10434-009-0385-9.

16.

Berger-Kulemann V, Schima W, Baroud S, Koelblinger C, Kaczirek K, Gruenberger T, et al. Gadoxetic acid-enhanced 3.0 T MR imaging versus multidetector-row CT in the detection of colorectal metastases in fatty liver using intraoperative ultrasound and histopathology as a standard of reference. Eur J Surg Oncol. 2012;38:670–6. https://doi.org/10.1016/j.ejso.2012.05.004.

17.

Marion-Audibert A-M, Vullierme M-P, Ronot M, Mabrut J-Y, Sauvanet A, Zins M, et al. Routine MRI with DWI sequences to detect liver metastases in patients with potentially resectable pancreatic ductal carcinoma and normal liver CT: a prospective multicenter study. AJR Am J Roentgenol. 2018:W1–9. https://doi.org/10.2214/AJR.18.19640.

18.

Petrowsky H, Wildbrett P, Husarik DB, Hany TF, Tam S, Jochum W, et al. Impact of integrated positron emission tomography and computed tomography on staging and management of gallbladder cancer and cholangiocarcinoma. J Hepatol. 2006;45:43–50. https://doi.org/10.1016/j.jhep.2006.03.009.

19.

Anderson CD, Rice MH, Pinson CW, Chapman WC, Chari RS, Delbeke D. Fluorodeoxyglucose PET imaging in the evaluation of gallbladder carcinoma and cholangiocarcinoma. J Gastrointest Surg. 2004;8:90–7.

20.

Lee Y, Yoo IR, Boo SH, Kim H, Park HL, Hyun OJ. The role of F-18 FDG PET/CT in intrahepatic cholangiocarcinoma. Nucl Med Mol Imaging. 2017;51:69–78. https://doi.org/10.1007/s13139-016-0440-y.

21.

Kim Y-J, Yun M, Lee WJ, Kim KS, Lee JD. Usefulness of 18F-FDG PET in intrahepatic cholangiocarcinoma. Eur J Nucl Med Mol Imaging. 2003;30:1467–72. https://doi.org/10.1007/s00259-003-1297-8.

22.

Moon CM, Bang S, Chung JB, Park SW, Song SY, Yun M, et al. Usefulness of 18F-fluorodeoxyglucose positron emission tomography in differential diagnosis and staging of cholangiocarcinomas. J Gastroenterol Hepatol. 2008;23:759–65. https://doi.org/10.1111/j.1440-1746.2007.05173.x.

23.

Olthof S-C, Othman A, Clasen S, Schraml C, Nikolaou K, Bongers M. Imaging of cholangiocarcinoma. Visc Med. 2016;32:402–10. https://doi.org/10.1159/000453009.

24.

Catalano OA, Rosen BR, Sahani DV, Hahn PF, Guimaraes AR, Vangel MG, et al. Clinical impact of PET/MR imaging in patients with cancer undergoing same-day PET/CT: initial experience in 134 patients-a hypothesis-generating exploratory study. Radiology. 2013;269:857–69. https://doi.org/10.1148/radiol.13131306.

25.

Catalano OA, Nicolai E, Rosen BR, Luongo A, Catalano M, Iannace C, et al. Comparison of CE-FDG-PET/CT with CE-FDG-PET/MR in the evaluation of osseous metastases in breast cancer patients. Br J Cancer. 2015;112:1452–60. https://doi.org/10.1038/bjc.2015.112.

26.

Melsaether AN, Raad RA, Pujara AC, Ponzo FD, Pysarenko KM, Jhaveri K, et al. Comparison of whole-body (18) F FDG PET/MR imaging and whole-body (18)F FDG PET/CT in terms of lesion detection and radiation dose in patients with breast cancer. Radiology. 2016;281:193–202. https://doi.org/10.1148/radiol.2016151155.

27.

Souvatzoglou M, Eiber M, Takei T, Fürst S, Maurer T, Gaertner F, et al. Comparison of integrated whole-body [11C]choline PET/MR with PET/CT in patients with prostate cancer. Eur J Nucl Med Mol Imaging. 2013;40:1486–99. https://doi.org/10.1007/s00259-013-2467-y.

28.

R Core Team. R: A language and environment for statistical computing. R Foundation for Statistical Computing. Computer software. Vienna, Austria: R Core Team; 2018.

29.

Fay M. Two-sided exact tests and matching confidence intervals for discrete data.

30.

Schaarschmidt BM, Grueneisen J, Metzenmacher M, Gomez B, Gauler T, Roesel C, et al. Thoracic staging with 18F-FDG PET/MR in non-small cell lung cancer-does it change therapeutic decisions in comparison to 18F-FDG PET/CT? Eur Radiol. 2017;27:681–8. https://doi.org/10.1007/s00330-016-4397-0.

31.

Chan S-C, Yeh C-H, Yen T-C, Ng S-H, Chang JT-C, Lin C-Y, et al. Clinical utility of simultaneous whole-body 18F-FDG PET/MRI as a single-step imaging modality in the staging of primary nasopharyngeal carcinoma. Eur J Nucl Med Mol Imaging. 2018;45:1297–308. https://doi.org/10.1007/s00259-018-3986-3.

32.

Eiber M, Rauscher I, Souvatzoglou M, Maurer T, Schwaiger M, Holzapfel K, et al. Prospective head-to-head comparison of 11C-choline-PET/MR and 11C-choline-PET/CT for restaging of biochemical recurrent prostate cancer. Eur J Nucl Med Mol Imaging. 2017;44:2179–88. https://doi.org/10.1007/s00259-017-3797-y.

33.

Catalano OA, Daye D, Signore A, Iannace C, Vangel M, Luongo A, et al. Staging performance of whole-body DWI, PET/CT and PET/MRI in invasive ductal carcinoma of the breast. Int J Oncol. 2017;51:281–8. https://doi.org/10.3892/ijo.2017.4012.

34.

Goere D, Wagholikar GD, Pessaux P, Carrère N, Sibert A, Vilgrain V, et al. Utility of staging laparoscopy in subsets of biliary cancers: laparoscopy is a powerful diagnostic tool in patients with intrahepatic and gallbladder carcinoma. Surg Endosc. 2006;20:721–5. https://doi.org/10.1007/s00464-005-0583-x.

35.

Weber SM, Jarnagin WR, Klimstra D, DeMatteo RP, Fong Y, Blumgart LH. Intrahepatic cholangiocarcinoma: resectability, recurrence pattern, and outcomes. J Am Coll Surg. 2001;193:384–91.

36.

Catalano OA, Umutlu L, Fuin N, Hibert ML, Scipioni M, Pedemonte S, et al. Comparison of the clinical performance of upper abdominal PET/DCE-MRI with and without concurrent respiratory motion correction (MoCo). Eur J Nucl Med Mol Imaging. 2018;45:1–8. https://doi.org/10.1007/s00259-018-4084-2.

37.

Hope TA, Verdin EF, Bergsland EK, Ohliger MA, Corvera CU, Nakakura EK. Correcting for respiratory motion in liver PET/MRI: preliminary evaluation of the utility of bellows and navigated hepatobiliary phase imaging. EJNMMI Phys. 2015;2:21. https://doi.org/10.1186/s40658-015-0125-0.

38.

Polycarpou I, Tsoumpas C, King AP, Marsden PK. Impact of respiratory motion correction and spatial resolution on lesion detection in PET: a simulation study based on real MR dynamic data. Phys Med Biol. 2014;59:697–713. https://doi.org/10.1088/0031-9155/59/3/697.

39.

Li G, Schmidtlein CR, Burger IA, Ridge CA, Solomon SB, Humm JL. Assessing and accounting for the impact of respiratory motion on FDG uptake and viable volume for liver lesions in free-breathing PET using respiration-suspended PET images as reference. Med Phys. 2014;41:091905. https://doi.org/10.1118/1.4892602.

40.

Liu C, Pierce LA, Alessio AM, Kinahan PE. The impact of respiratory motion on tumor quantification and delineation in static PET/CT imaging. Phys Med Biol. 2009;54:7345–62. https://doi.org/10.1088/0031-9155/54/24/007.

41.

Blackall JM, King AP, Penney GP, Adam A, Hawkes DJ. A statistical model of respiratory motion and deformation of the liver. In: Niessen WJ, Viergever MA, editors. Medical Image Computing and Computer-Assisted Intervention–MICCAI 2001. Berlin, Heidelberg: Springer Berlin Heidelberg; 2001. p. 1338–40. https://doi.org/10.1007/3-540-45468-3_219.

42.

Fuin N, Catalano OA, Scipioni M, Canjels LPW, Izquierdo D, Pedemonte S, et al. Concurrent respiratory motion correction of abdominal PET and DCE-MRI using a compressed sensing approach. J Nucl Med. 2018. https://doi.org/10.2967/jnumed.117.203943.

43.

Bächler P, Baladron MJ, Menias C, Beddings I, Loch R, Zalaquett E, et al. Multimodality imaging of liver infections: differential diagnosis and potential pitfalls. Radiographics. 2016;36:1001–23. https://doi.org/10.1148/rg.2016150196.

44.

Chan JH, Tsui EY, Luk SH, Fung AS, Yuen MK, Szeto ML, et al. Diffusion-weighted MR imaging of the liver: distinguishing hepatic abscess from cystic or necrotic tumor. Abdom Imaging. 2001;26:161–5. https://doi.org/10.1107/s002610000122.

45.

Catalano OA, Sahani DV, Forcione DG, Czermak B, Liu C-H, Soricelli A, et al. Biliary infections: spectrum of imaging findings and management. Radiographics. 2009;29:2059–80. https://doi.org/10.1148/rg.297095051.

46.

Imaging of the biliary tree: infection, inflammation and infiltration. https://appliedradiology.com/articles/imaging-of-the-biliary-tree-infection-inflammation-and-infiltration. Accessed 25 Nov 2018.
Acknowledgements
We would like to remember and acknowledge Pierpaolo Catalano, JD, for his continuous support.
Ethics declarations
Conflict of interest
The authors declare that they have no conflict of interest.
Clinical trial registration
This retrospective study had not been registered with any agency. It has been conducted under IRB approval granted by Partners Healthcare Institutional Review Board (Protocol No. 2018P001334). Patient consent has been waived.
Ethical approval
All procedures performed in studies involving human participants were in accordance with the ethical standards of the institutional and national research committee and with the 1964 Helsinki declaration and its later amendments or comparable ethical standards. Patient consent has been waived.
Additional information
Publisher's note
Springer Nature remains neutral with regard to jurisdictional claims in published maps and institutional affiliations.
Cristina Ferrone and Lipika Goyal share first authorship.
This article is part of the Topical Collection on Oncology – Digestive tract.
About this article
Cite this article
Ferrone, C., Goyal, L., Qadan, M. et al. Management implications of fluorodeoxyglucose positron emission tomography/magnetic resonance in untreated intrahepatic cholangiocarcinoma. Eur J Nucl Med Mol Imaging 47, 1871–1884 (2020). https://doi.org/10.1007/s00259-019-04558-3
Received:

Accepted:

Published:

Issue Date:
Keywords
PET/MR

Cholangiocarcinoma

Clinical management

Staging