Abstract
Objective
To develop and evaluate a two-stage deep convolutional neural network system that mimics a radiologist's search pattern for detecting two small fractures: triquetral avulsion fractures and Segond fractures.
Materials and methods
We obtained 231 lateral wrist radiographs and 173 anteroposterior knee radiographs from the Stanford MURA and LERA datasets and the public domain to train and validate a two-stage deep convolutional neural network system: (1) object detectors that crop the dorsal triquetrum or lateral tibial condyle, trained on control images, followed by (2) classifiers for triquetral and Segond fractures, trained on a 1:1 case:control split. A second set of classifiers was trained on uncropped images for comparison. External test sets of 50 lateral wrist radiographs and 24 anteroposterior knee radiographs were used to evaluate generalizability. Gradient-class activation mapping was used to inspect image regions of greater importance in deciding the final classification.
Results
The object detectors accurately cropped the regions of interest in all validation and test images. The two-stage system achieved cross-validated area under the receiver operating characteristic curve values of 0.959 and 0.989 on triquetral and Segond fractures, compared with 0.860 (p = 0.0086) and 0.909 (p = 0.0074), respectively, for a one-stage classifier. Two-stage cross-validation accuracies were 90.8% and 92.5% for triquetral and Segond fractures, respectively.
Conclusion
A two-stage pipeline increases accuracy in the detection of subtle fractures on radiographs compared with a one-stage classifier and generalized well to external test data. Focusing attention on specific image regions appears to improve detection of subtle findings that may otherwise be missed.
Access options
Buy single article
Instant access to the full article PDF.
US$ 39.95
Tax calculation will be finalised during checkout.
Subscribe to journal
Immediate online access to all issues from 2019. Subscription will auto renew annually.
US$ 119
Tax calculation will be finalised during checkout.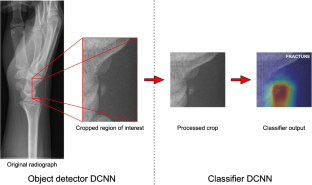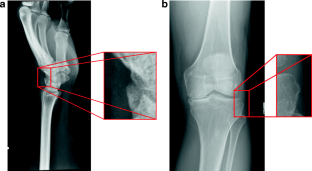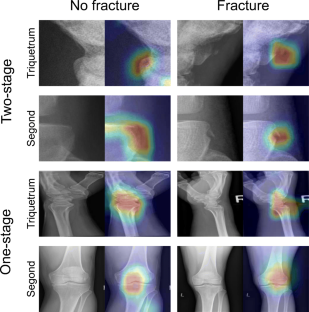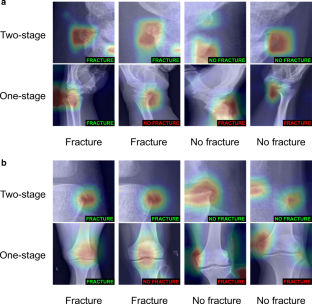 Ethics declarations
Conflict of Interest
The authors declare that they have no conflict of interest.
Additional information
Publisher's note
Springer Nature remains neutral with regard to jurisdictional claims in published maps and institutional affiliations.
About this article
Cite this article
Ren, M., Yi, P.H. Deep learning detection of subtle fractures using staged algorithms to mimic radiologist search pattern. Skeletal Radiol (2021). https://doi.org/10.1007/s00256-021-03739-2
Received:

Revised:

Accepted:

Published:
Keywords
Artificial intelligence

Machine learning

Neural network

Convolutional neural network

Deep convolutional neural network

Triquetral fracture

Segond fracture

Fracture detection

Fracture