Abstract
Objective
To investigate the diagnostic value of conventional ultrasound (US) and strain elastography (SE) in malignant soft tissue tumors.
Method
A total of 83 soft tissue masses were included prospectively. US and SE imaging were performed at the same time. Two observers assessed the B mode, color Doppler, elastic scores (ES), strain ratio (SR), and SE size to B mode size (EI/B) ratio and compared the consistency of the data between the observers. According to the pathological diagnosis of resection, the cases were divided into malignant and nonmalignant groups. The diagnostic value of conventional US and SE in the prediction of malignant soft tissue tumors was assessed.
Results
The pathology results divided cases into 36 malignant lesions and 47 nonmalignant lesions. There was no statistically significant difference in gender, location, maximum diameter, echo, tail sign, cystic component, Doppler scores, or SR between the two groups (p > 0.05). However, significant differences between the two groups were found in age, depth, heterogeneity, edge, ES, and EI/B (p < 0.05). The biggest area under the receiver operating characteristics curve (0.934) was the combination model of age, heterogeneity, edge, ES, and EI/B, and the sensitivity and specificity were 0.861 and 0.957, respectively.
Conclusions
Conventional US and SE are significant for the diagnosis of malignant soft tissue tumors, and SE can be used as a complementary technique to the characterization of STTs using conventional US.
Access options
Buy single article
Instant access to the full article PDF.
US$ 39.95
Tax calculation will be finalised during checkout.
Subscribe to journal
Immediate online access to all issues from 2019. Subscription will auto renew annually.
US$ 119
Tax calculation will be finalised during checkout.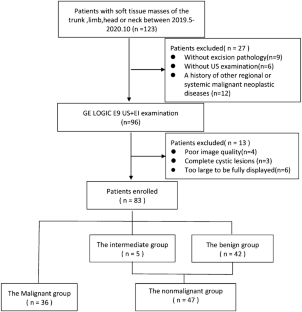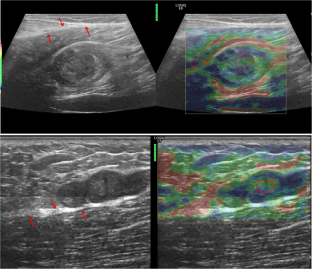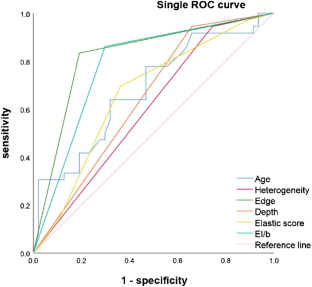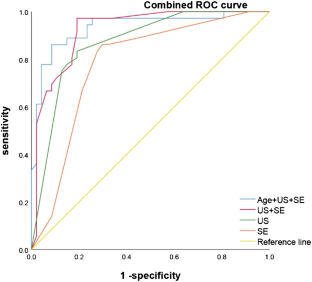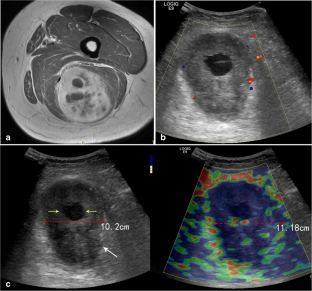 References
1.

Hung E, Griffith J. Pitfalls in ultrasonography of soft tissue tumors. Semin Musculoskelet Radiol. 2014;18(1):79–85.

2.

Rubin B, Antonescu C, Gannon F, et al. Protocol for the examination of specimens from patients with tumors of bone. Arch Pathol Lab Med. 2010;134(4):e1–7.

3.

Dangoor A, Seddon B, Gerrand C, et al. UK guidelines for the management of soft tissue sarcomas. Clin Sarcoma Res. 2016;6:20.

4.

Morii T, Kishino T, Shimamori N, et al. Differential diagnosis between benign and malignant soft tissue tumors utilizing ultrasound parameters. J Med Ultrason (2001). 2018;45(1):113–9.

5.

Nagano S, Yahiro Y, Yokouchi M, et al. Doppler ultrasound for diagnosis of soft tissue sarcoma: efficacy of ultrasound-based screening score. Radiol Oncol. 2015;49(2):135–40.

6.

Ozturk M, Selcuk MB, Polat AV, et al. The diagnostic value of ultrasound and shear wave elastography in the differentiation of benign and malignant soft tissue tumors. Skelet Radiol. 2020;49:1795–805.

7.

Chiou HJ, Chou YH, Chiu SY, et al. Differentiation of benign and malignant superficial soft-tissue masses using grayscale and color Doppler ultrasonography. J Chin Med Assoc. 2009;72(6):307–15.

8.

Sigrist R, Liau J, Kaffas A, et al. Ultrasound elastography: review of techniques and clinical applications. Theranostics. 2017;7(5):1303–29.

9.

Kim Y, Park J, Kim B, et al. Diagnostic value of elastography using acoustic radiation force impulse imaging and strain ratio for breast tumors. J Breast Cancer. 2014;17(1):76–82.

10.

Lu Q, Ling W, Lu C, et al. Hepatocellular carcinoma: stiffness value and ratio to discriminate malignant from benign focal liver lesions. Radiology. 2015;275(3):880–8.

11.

Sun J, Cai J, Wang X. Real-time ultrasound elastography for differentiation of benign and malignant thyroid nodules: a meta-analysis. J Ultrasound Med. 2014;33(3):495–502.

12.

Onur M, Poyraz A, Bozgeyik Z, et al. Utility of semiquantitative strain elastography for differentiation between benign and malignant solid renal masses. J Ultrasound Med. 2015;34(4):639–47.

13.

Cohen J, Riishede I, Carlsen JF, et al. Can strain elastography predict malignancy of soft tissue tumors in a tertiary sarcoma center? Diagnostics (Basel, Switzerland). 2020;10(3):148.

14.

Li S, Liu L, Lv G. Diagnostic value of strain elastography for differentiating benign and malignant soft tissue masses. Oncol Lett. 2017;14(2):2041–4.

15.

Hahn S, Lee Y, Lee S, et al. Value of the strain ratio on ultrasonic elastography for differentiation of benign and malignant soft tissue tumors. J Ultrasound Med. 2017;36(1):121–7.

16.

Riishede I, Ewertsen C, Carlsen J, et al. Strain elastography for prediction of malignancy in soft tissue tumours – preliminary results. Ultraschall Medizin. 2015;36(4):369–74.

17.

Park HJ, Lee SY, Lee SM, Kim WT, Lee S, Ahn KS. Strain elastography features of epidermoid tumours in superficial soft tissue: differences from other benign soft-tissue tumours and malignant tumours. Br J Radiol. 2015;88(1050):20140797.

18.

Lee Y, Song H, Suh J. Use of strain ratio in evaluating superficial soft tissue tumors on ultrasonic elastography. J Med Ultrasonics (2001). 2014;41(3):319–23.

19.

Barr R. Real-time ultrasound elasticity of the breast: initial clinical results. Ultrasound Q. 2010;26(2):61–6.

20.

Barr R, Destounis S, Lackey L, et al. Evaluation of breast lesions using sonographic elasticity imaging: a multicenter trial. J Ultrasound Med. 2012;31(2):281–7.

21.

Destounis S, Arieno A, Morgan R, et al. Clinical experience with elasticity imaging in a community-based breast center. J Ultrasound Med. 2013;32(2):297–302.

22.

Lee JH, Kim Y, Yoo HJ, et al. Prognoses of superficial soft tissue sarcoma: the importance of fascia-tumor relationship on MRI. Eur J Surg Oncol. 2020;46(2):282–7.

23.

Giovagnorio F, Andreoli C, De Cicco M. Color Doppler sonography of focal lesions of the skin and subcutaneous tissue. J Ultrasound Med. 1999;18(2):89–93.

24.

Li A, Peng X, Ma Q, et al. Diagnostic performance of conventional ultrasound and quantitative and qualitative real-time shear wave elastography in musculoskeletal soft tissue tumors. J Orthop Surg Res. 2020;15(1):103.

25.

Tavassoli FA. Pathology of the breast. New York: McGraw-Hill, 1999.

26.

Hall T, Zhu Y, Spalding C. In vivo real-time freehand palpation imaging. Ultrasound Med Biol. 2003;29(3):427–35.
Ethics declarations
Conflict of interest
The authors declare no competing interests.
Additional information
Publisher's note
Springer Nature remains neutral with regard to jurisdictional claims in published maps and institutional affiliations.
About this article
Cite this article
Dou, Y., Xuan, J., Zhao, T. et al. The diagnostic performance of conventional ultrasound and strain elastography in malignant soft tissue tumors. Skeletal Radiol (2021). https://doi.org/10.1007/s00256-021-03724-9
Received:

Revised:

Accepted:

Published:
Keywords
Ultrasound (US)

Strain elastography (SE)

Soft tissue tumors

Malignant