Abstract
Parosteal osteosarcomas and well-differentiated liposarcomas are both well-differentiated locally aggressive tumors. They both have simple karyotypes with amplification of the 12q13-15 regions including MDM2 and CDK4 genes. In this report, we describe the case of a parosteal osteosarcoma intertwined with a low-grade component similar to a well-differentiated liposarcoma. The association of a bone component with an adipose component was initially overlooked. We describe the histological, imaging, and molecular characteristics of this tumor stressing the importance of radio-pathological correlation. To our knowledge, this is the second report of a parosteal osteoliposarcoma. Awareness of this rare presentation may allow radiologists and surgeons to recognize the peripheral fatty component as an integral part of the tumor.
This is a preview of subscription content, log in to check access.
Access options
Buy single article
Instant access to the full article PDF.
US$ 39.95
Price includes VAT for USA
Subscribe to journal
Immediate online access to all issues from 2019. Subscription will auto renew annually.
US$ 199
This is the net price. Taxes to be calculated in checkout.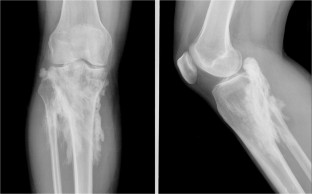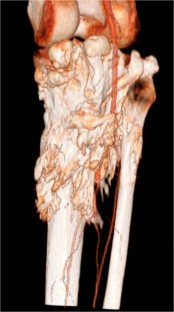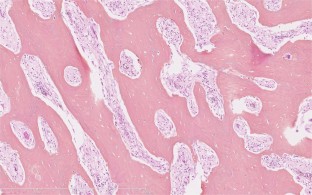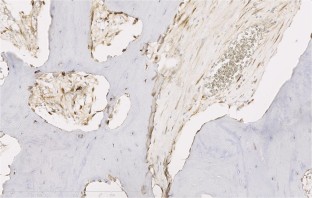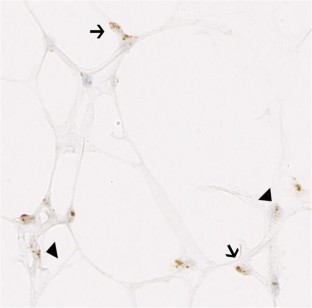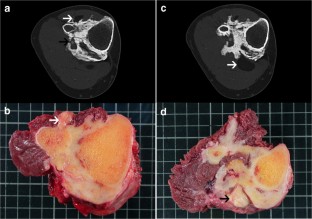 References
1.

World Health Organization, International Agency for Research on Cancer. WHO classification of tumours of soft tissue and bone. 5th ed. Cree, I editor. Lyon: IARC Press; 2020.

2.

Okada K, Frassica FJ, Sim FH, Beabout JW, Bond JR, Unni KK. Parosteal osteosarcoma. A clinicopathological study. J Bone Joint Surg Am. 1994;76:366–78.

3.

Bertoni F, Bacchini P, Staals EL, Davidovitz P. Dedifferentiated parosteal osteosarcoma: the experience of the Rizzoli Institute. Cancer. 2005;103:2373–82.

4.

Sheth DS, Yasko AW, Raymond AK, Ayala AG, Carrasco CH, Benjamin RS, et al. Conventional and dedifferentiated parosteal osteosarcoma. Diagnosis, treatment, and outcome. Cancer. 1996;78:2136–45.

5.

Szymanska J, Mandahl N, Mertens F, Tarkkanen M, Karaharju E, Knuutila S. Ring chromosomes in parosteal osteosarcoma contain sequences from 12q13-15: a combined cytogenetic and comparative genomic hybridization study. Genes Chromosomes Cancer. 1996;16:31–4.

6.

Gamberi G, Ragazzini P, Benassi MS, Ferrari C, Sollazzo MR, Molendini L, et al. Analysis of 12q13-15 genes in parosteal osteosarcoma. Clin Orthop. 2000;377:195–204.

7.

Yoshida A, Ushiku T, Motoi T, Shibata T, Beppu Y, Fukayama M, et al. Immunohistochemical analysis of MDM2 and CDK4 distinguishes low-grade osteosarcoma from benign mimics. Mod Pathol Off J U S Can Acad Pathol Inc. 2010;23:1279–88.

8.

Coindre J-M, Pédeutour F, Aurias A. Well-differentiated and dedifferentiated liposarcomas. Virchows Arch Int J Pathol. 2010;456:167–79.

9.

Yoshida A, Ushiku T, Motoi T, Shibata T, Fukayama M, Tsuda H. Well-differentiated liposarcoma with low-grade osteosarcomatous component: an underrecognized variant. Am J Surg Pathol. 2010;34:1361–6.

10.

Larousserie F, Chen X, Ding Y, Kreshak J, Cocchi S, Huang X, et al. Parosteal osteoliposarcoma: a new bone tumor (from imaging to immunophenotype). Eur J Radiol. 2013;82:2149–53.

11.

De Padua M, Bhandari TPS, Pingle J. Primary osteoliposarcoma of the bone. Indian J Pathol Microbiol. 2009;52:80–2.

12.

Szuhai K, IJszenga M, Knijnenburg J, Dijkstra S, de Schepper A, Tanke HJ, et al. Does parosteal liposarcoma differ from other atypical lipomatous tumors/well-differentiated liposarcomas? A molecular cytogenetic study using combined multicolor COBRA-FISH karyotyping and array-based comparative genomic hybridization. Cancer Genet Cytogenet. 2007;176:115–20.

13.

Li N, Yang R, Zhang W, Dorfman H, Rao P, Gorlick R. Genetically transforming human mesenchymal stem cells to sarcomas: changes in cellular phenotype and multilineage differentiation potential. Cancer. 2009;115:4795–806.
Ethics declarations
Conflict of interest
The authors declare that they have no conflict of interest.
Additional information
Publisher's note
Springer Nature remains neutral with regard to jurisdictional claims in published maps and institutional affiliations.
This case was awarded the Corinne Farrell Best Case Report Presentation at the 2013 ISS Members' Meeting.
About this article
Cite this article
Sohier, P., Rodrigues, M., Anract, P. et al. Parosteal osteosarcoma associated with a low-grade component mimicking well-differentiated liposarcoma: a case report. Skeletal Radiol (2020). https://doi.org/10.1007/s00256-020-03509-6
Received:

Revised:

Accepted:

Published:
Keywords
Parosteal osteosarcoma

Well-differentiated liposarcoma

Parosteal osteoliposarcoma

Radio-pathological correlation