Abstract
A wide variety of pathologies can affect the hallux sesamoid complex of the foot, including traumatic, micro traumatic, degenerative, inflammatory, vascular, infectious, and neoplastic conditions. Symptoms are quite nonspecific, mainly related to pain in the plantar surface of the first metatarsal head. In this context, imaging is important for the etiologic diagnosis of hallux sesamoid complex pathology with implications in patient management. The hallux sesamoid complex has a complex anatomy, and pathologic processes of this region are poorly known of radiologists. Besides, some entities such as "sesamoiditis" remain poorly defined in the literature. Schematically, conditions affecting sesamoids will be divided into two major groups: intrinsic anomalies (sesamoid bone being the center of the pathologic process) and extrinsic anomalies (diseases secondarily involving sesamoid bones). Thus, in this article, after a review of anatomical key points and pathologies affecting the hallux sesamoid complex, a practical multimodality approach for the diagnosis of hallux sesamoid pathologies will be proposed.
This is a preview of subscription content, log in to check access.
Access options
Buy single article
Instant access to the full article PDF.
US$ 39.95
Price includes VAT for USA
Subscribe to journal
Immediate online access to all issues from 2019. Subscription will auto renew annually.
US$ 199
This is the net price. Taxes to be calculated in checkout.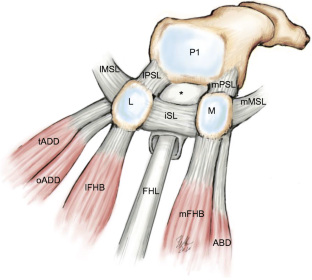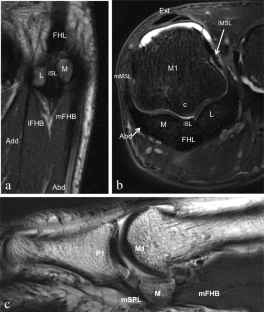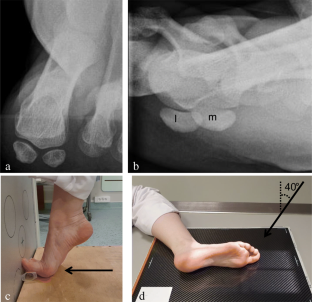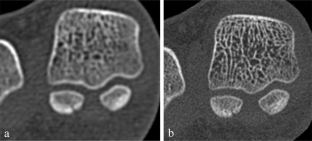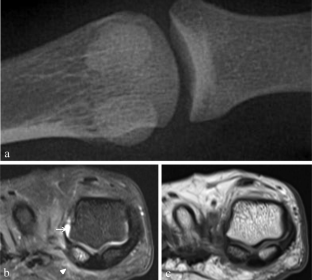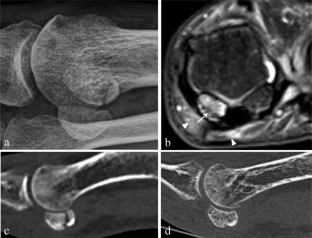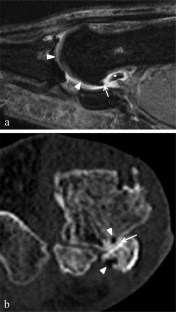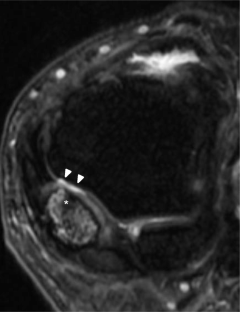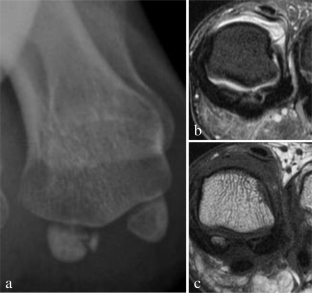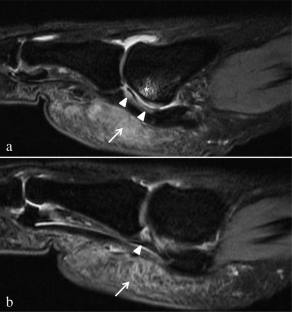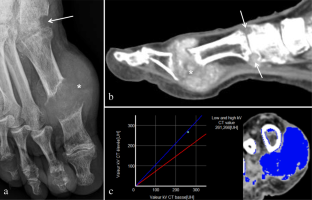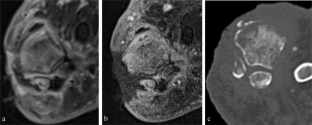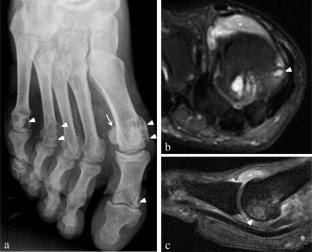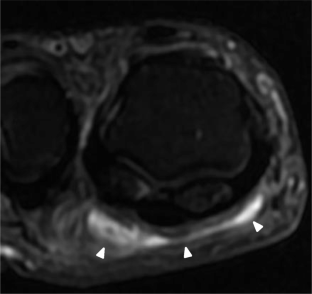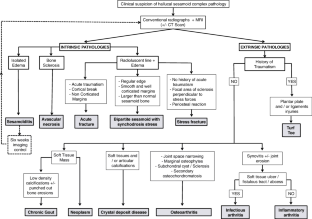 References
1.

Julsrud ME. Osteonecrosis of the tibial and fibular sesamoids in an aerobics instructor. The Journal of foot and ankle surgery : official publication of the American College of Foot and Ankle Surgeons. 1997;36(1):31–5.

2.

Kulemann V, Mayerhoefer M, Trnka HJ, Kristen KH, Steiner E. Abnormal findings in hallucal sesamoids on MR imaging-associated with different pathologies of the forefoot? An observational study. Eur J Radiol. 2010;74(1):226–30.

3.

Patel T, Song AJ, Lomasney LM, Demos TC, Dickey S. Acute fibular sesamoid fracture: one part of the spectrum of sesamoid pathologies. Orthopedics. 2014;37(10):650–711.

4.

Boike A, Schnirring-Judge M, McMillin S. Sesamoid disorders of the first metatarsophalangeal joint. Clin Podiatr Med Surg. 2011;28(2):269–85 vii.

5.

Cohen BE. Hallux sesamoid disorders. Foot Ankle Clin. 2009;14(1):91–104.

6.

Schein AJ, Skalski MR, Patel DB, White EA, Lundquist R, Gottsegen CJ, et al. Turf toe and sesamoiditis: what the radiologist needs to know. Clin Imaging. 2015;39(3):380–9.

7.

Ashman CJ, Klecker RJ, Yu JS. Forefoot pain involving the metatarsal region: differential diagnosis with MR imaging. Radiographics: a review publication of the Radiological Society of North America, Inc. 2001;21(6):1425–40.

8.

Karasick D, Schweitzer ME. Disorders of the hallux sesamoid complex: MR features. Skelet Radiol. 1998;27(8):411–8.

9.

Nwawka OK, Hayashi D, Diaz LE, Goud AR, Arndt WF 3rd, Roemer FW, et al. Sesamoids and accessory ossicles of the foot: anatomical variability and related pathology. Insights Imaging. 2013;4(5):581–93.

10.

Garrido IM, Bosch MN, Gonzalez MS, Carsi VV. Osteochondritis of the hallux sesamoid bones. Foot and ankle surgery: official journal of the European Society of Foot and Ankle Surgeons. 2008;14(4):175–9.

11.

Kadakia AR, Molloy A. Current concepts review: traumatic disorders of the first metatarsophalangeal joint and sesamoid complex. Foot & ankle international. 2011;32(8):834–9.

12.

Munuera PV, Dominguez G, Reina M, Trujillo P. Bipartite hallucal sesamoid bones: relationship with hallux valgus and metatarsal index. Skelet Radiol. 2007;36(11):1043–50.

13.

Sims AL, Kurup HV. Painful sesamoid of the great toe. World J Orthop. 2014;5(2):146–50.

14.

Taylor JA, Sartoris DJ, Huang GS, Resnick DL. Painful conditions affecting the first metatarsal sesamoid bones. Radiographics: a review publication of the Radiological Society of North America, Inc. 1993;13(4):817–30.

15.

Nouh MR, Khalil AA. Forefoot: a basic integrated imaging perspective for radiologists. Clin Imaging. 2014;38(4):397–409.

16.

Lee DK, Mulder GD, Schwartz AK. Hallux, sesamoid, and first metatarsal injuries. Clin Podiatr Med Surg. 2011;28(1):43–56.

17.

Sanders TG, Rathur SK. Imaging of painful conditions of the hallucal sesamoid complex and plantar capsular structures of the first metatarsophalangeal joint. Radiol Clin N Am. 2008;46(6):1079–92 vii.

18.

McCormick JJ, Anderson RB. Turf toe: anatomy, diagnosis, and treatment. Sports Health. 2010;2(6):487–94.

19.

Ashimolowo T, Dunham G, Sharp JW, Porrino J. Turf toe: an update and comprehensive review. Radiol Clin N Am. 2018;56(6):847–58.

20.

Theumann NH, Pfirrmann CW, Mohana Borges AV, Trudell DJ, Resnick D. Metatarsophalangeal joint of the great toe: normal MR, MR arthrographic, and MR bursographic findings in cadavers. J Comput Assist Tomogr. 2002;26(5):829–38.

21.

Hallinan J, Statum SM, Huang BK, Bezerra HG, Garcia DAL, Bydder GM, et al. High-resolution MRI of the first metatarsophalangeal joint: gross anatomy and injury characterization. Radiographics: a review publication of the Radiological Society of North America, Inc. 2020;190145.

22.

Yamashita K, Hiwatashi A, Togao O, Kikuchi K, Matsumoto N, Momosaka D, et al. Ultrahigh-resolution CT scan of the temporal bone. European archives of oto-rhino-laryngology : official journal of the European Federation of Oto-Rhino-Laryngological Societies. 2018;275(11):2797–803.

23.

Yanagawa M, Hata A, Honda O, Kikuchi N, Miyata T, Uranishi A, et al. Subjective and objective comparisons of image quality between ultra-high-resolution CT and conventional area detector CT in phantoms and cadaveric human lungs. Eur Radiol. 2018;28(12):5060–8.

24.

Feuerstein CA, Weil L Jr, Weil LS Sr, Klein EE, Fleischer A, Argerakis NG. Static versus dynamic musculoskeletal ultrasound for detection of plantar plate pathology. Foot & ankle specialist. 2014;7(4):259–65.

25.

Ottaviani S, Bardin T, Richette P. Usefulness of ultrasonography for gout. Joint bone spine. 2012;79(5):441–5.

26.

Mathieu S, Pereira B, Couderc M, Soubrier M. Usefulness of ultrasonography in the diagnosis of gout: a meta-analysis. Ann Rheum Dis. 2013;72(10):e23.

27.

Elsaman AM, Muhammad EM, Pessler F. Sonographic findings in gouty arthritis: diagnostic value and association with disease duration. Ultrasound Med Biol. 2016;42(6):1330–6.

28.

Sahler CS, Spinner DA, Kirschner JS. Ultrasound-guided first metatarsophalangeal joint injections: description of an in-plane, gel standoff technique in a cadaveric study. Foot & ankle specialist. 2013;6(4):303–6.

29.

Wempe MK, Sellon JL, Sayeed YA, Smith J. Feasibility of first metatarsophalangeal joint injections for sesamoid disorders: a cadaveric investigation. PM & R : the journal of injury, function, and rehabilitation. 2012;4(8):556–60.

30.

Sharma P, Singh H, Agarwal KK, Sudhir KS, Khangembam BC, Bal C, et al. Utility of (99m)Tc-MDP SPECT-CT for the diagnosis of sesamoiditis as cause of metatarsalgia. Indian journal of nuclear medicine : IJNM : the official journal of the Society of Nuclear Medicine, India. 2012;27(1):45–7.

31.

Srinivasan R. The hallucal-sesamoid complex: normal anatomy, imaging, and pathology. Semin Musculoskelet Radiol. 2016;20(2):224–32.

32.

Dietrich TJ, da Silva FL, de Abreu MR, Klammer G, Pfirrmann CW. First metatarsophalangeal joint- MRI findings in asymptomatic volunteers. Eur Radiol. 2015;25(4):970–9.

33.

Robertson GAJ, Goffin JS, Wood AM. Return to sport following stress fractures of the great toe sesamoids: a systematic review. Br Med Bull. 2017;122(1):135–49.

34.

Potter HG, Pavlov H, Abrahams TG. The hallux sesamoids revisited. Skelet Radiol. 1992;21(7):437–44.

35.

Kim JS, Young KW. Sesamoid position in hallux valgus in relation to the coronal rotation of the first metatarsal. Foot Ankle Clin. 2018;23(2):219–30.

36.

Chou H, Chin TY, Peh WC. Dual-energy CT in gout - a review of current concepts and applications. Journal of medical radiation sciences. 2017;64(1):41–51.

37.

Liu SZ, Yeh L, Chou YJ, Chen CK, Pan HB. Isolated intraosseous gout in hallux sesamoid mimicking a bone tumor in a teenaged patient. Skelet Radiol. 2003;32(11):647–50.

38.

Beckmann NM. Calcium apatite deposition disease: diagnosis and treatment. Radiology research and practice. 2016;2016:4801474.

39.

Cevik HB, Kayahan S, Eceviz E, Gumustas SA. Tenosynovial giant cell tumor in the foot and ankle. Foot and ankle surgery: official journal of the European Society of Foot and Ankle Surgeons. 2019.

40.

Longo V, Jacobson JA, Dong Q, Kim SM. Tumors and tumor-like abnormalities of the midfoot and forefoot. Semin Musculoskelet Radiol. 2016;20(2):154–66.

41.

Young JR, Sternbach S, Willinger M, Hutchinson ID, Rosenbaum AJ. The etiology, evaluation, and management of plantar fibromatosis. Orthop Res Rev. 2019;11:1–7.

42.

Robbin MR, Murphey MD, Temple HT, Kransdorf MJ, Choi JJ. Imaging of musculoskeletal fibromatosis. Radiographics: a review publication of the Radiological Society of North America, Inc. 2001;21(3):585–600.

43.

Santiago FR, Munoz PT, Pryest P, Martinez AM, Olleta NP. Role of imaging methods in diagnosis and treatment of Morton's neuroma. World journal of radiology. 2018;10(9):91–9.

44.

Angelini A, Bevoni R, Biz C, Cerchiaro MC, Girolami M, Ruggieri P. Schwannoma of the foot: report of four cases and literature review. Acta bio-medica : Atenei Parmensis. 2019;90(1-S):214–20.

45.

Bixby SD, Hettmer S, Taylor GA, Voss SD. Synovial sarcoma in children: imaging features and common benign mimics. AJR Am J Roentgenol. 2010;195(4):1026–32.
Ethics declarations
Conflict of interest
The authors declare that they have no conflict of interest.
Additional information
Publisher's note
Springer Nature remains neutral with regard to jurisdictional claims in published maps and institutional affiliations.
About this article
Cite this article
Lombard, C., Gillet, R., Rauch, A. et al. Hallux sesamoid complex imaging: a practical diagnostic approach. Skeletal Radiol (2020). https://doi.org/10.1007/s00256-020-03507-8
Received:

Revised:

Accepted:

Published:
Keywords
Hallux sesamoid complex

Fracture

Sesamoiditis

Avascular necrosis

Turf toe

Diagnostic algorithm