Abstract
Objective
To provide a novel MRI classification system for the symptomatic type II os naviculare by creating a standardized grading of associated bone marrow edema (BME) and correlating with patient symptoms.
Methods
BME was classified on an ordinal scale: grade 1, faint signal immediately adjacent to the synchondrosis; grade 2, intermediate signal within the os and navicular tuberosity without extending to the navicular body; grade 3, intense signal extending to the navicular body. BME on 59 MRIs was independently graded by three radiologists. Inter- and intra-observer agreement was analyzed using intraclass correlation coefficient. Univariate and multivariate analyses assessed for patient and imaging characteristics predictive of subjective pain score. A cohort of 82 patients without BME represented a control group.
Results
Inter-observer agreement of BME grade was 0.95 (CI 0.93–0.97) and intra-observer was 0.92 (CI 0.87–0.96), indicating excellent agreement. In patients with BME, predictors of more severe pain were longer duration of pain (p = 0.02) and presence of soft tissue edema overlying the os naviculare (p < 0.001). One hundred percent of subjects with BME localized their pain to the medial midfoot (59/59) versus 25.6% (21/82) of controls (p < 0.001).
Conclusions
This novel grading system provides reliable quantification of BME associated with os naviculare, which is a specific cause of medial foot/ankle pain. Early diagnosis is important as pain severity worsens with longer duration of symptoms. Pain severity is correlated with soft tissue edema overlying the os, which may be secondary to extrinsic compression, reactive to biomechanical stress, or reflect direct trauma.
This is a preview of subscription content, log in to check access.
Access options
Buy single article
Instant access to the full article PDF.
US$ 39.95
Price includes VAT for USA
Subscribe to journal
Immediate online access to all issues from 2019. Subscription will auto renew annually.
US$ 199
This is the net price. Taxes to be calculated in checkout.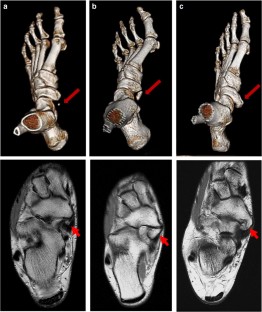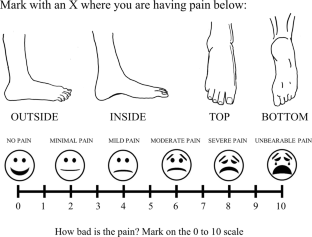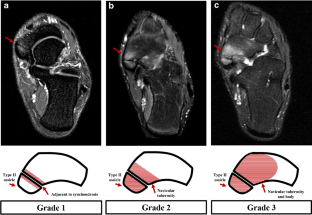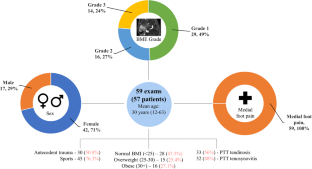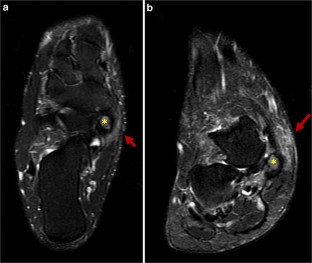 References
1.

Mygind HB. The accessory tarsal scaphoid; clinical features and treatment. Acta Orthop Scand. 1953;23(2):142–51. https://doi.org/10.3109/17453675308991207.

2.

Lawson JP, Ogden JA, Sella E, Barwick KW. The painful accessory navicular. Skelet Radiol. 1984;12(4):250–62. https://doi.org/10.1007/BF00349506.

3.

Sella EJ, Lawson JP, Ogden JA. The accessory navicular synchondrosis. Clin Orthop. 1986;209:280–5.

4.

Romanowski CA, Barrington NA. The accessory navicular--an important cause of medial foot pain. Clin Radiol. 1992;46(4):261–4. https://doi.org/10.1016/s0009-9260(05)80167-9.

5.

Sella EJ, Lawson JP. Biomechanics of the accessory navicular synchondrosis. Foot Ankle. 1987;8(3):156–63. https://doi.org/10.1177/107110078700800310.

6.

Zadek I, Gold AM. The accessory tarsal scaphoid. J Bone Joint Surg Am. 1948;30A(4):957–68.

7.

Kiter E, Günal I, Karatosun V, Korman E. The relationship between the tibialis posterior tendon and the accessory navicular. Ann Anat. 2000;182(1):65–8. https://doi.org/10.1016/s0940-9602(00)80130-2.

8.

Jegal H, Park YU, Kim JS, Choo HS, Seo YU, Lee KT. Accessory navicular syndrome in athlete vs general population. Foot Ankle Int. 2016;37(8):862–7. https://doi.org/10.1177/1071100716644791.

9.

Grogan DP, Gasser SI, Ogden JA. The painful accessory navicular: a clinical and histopathological study. Foot Ankle. 1989;10(3):164–9. https://doi.org/10.1177/107110078901000310.

10.

Shah S, Achong DM. The painful accessory navicular bone: scintigraphic and radiographic correlation. Clin Nucl Med. 1999;24(2):125–6. https://doi.org/10.1097/00003072-199902000-00012.

11.

Miller TT, Staron RB, Feldman F, Parisien M, Glucksman WJ, Gandolfo LH. The symptomatic accessory tarsal navicular bone: assessment with MR imaging. Radiology. 1995;195(3):849–53. https://doi.org/10.1148/radiology.195.3.7754020.

12.

Choi YS, Lee KT, Kang HS, Kim EK. MR imaging findings of painful type II accessory navicular bone: correlation with surgical and pathologic studies. Korean J Radiol. 2004;5(4):274–9. https://doi.org/10.3348/kjr.2004.5.4.274.

13.

Mosel LD, Kat E, Voyvodic F. Imaging of the symptomatic type II accessory navicular bone. Australas Radiol. 2004;48(2):267–71. https://doi.org/10.1111/j.1440-1673.2004.01286.x.

14.

Sampat MP, Whitman GJ, Stephens TW, et al. The reliability of measuring physical characteristics of spiculated masses on mammography. Br J Radiol. 2006;79 Spec No 2:S134–40. https://doi.org/10.1259/bjr/96723280.

15.

Rosner B. Fundamentals of biostatistics. 8th ed; 2016.

16.

Kang Y, Lee JW, Koh YH, et al. New MRI grading system for the cervical canal stenosis. AJR Am J Roentgenol. 2011;197(1):W134–40. https://doi.org/10.2214/AJR.10.5560.

17.

Chung J-W, Chu I-T. Outcome of fusion of a painful accessory navicular to the primary navicular. Foot Ankle Int. 2009;30(2):106–9. https://doi.org/10.3113/FAI-2009-0106.

18.

Kopp FJ, Marcus RE. Clinical outcome of surgical treatment of the symptomatic accessory navicular. Foot Ankle Int. 2004;25(1):27–30. https://doi.org/10.1177/107110070402500106.

19.

Prichasuk S, Sinphurmsukskul O. Kidner procedure for symptomatic accessory navicular and its relation to pes planus. Foot Ankle Int. 1995;16(8):500–3. https://doi.org/10.1177/107110079501600807.

20.

Pretell-Mazzini J, Murphy RF, Sawyer JR, et al. Surgical treatment of symptomatic accessory navicular in children and adolescents. Am J Orthop (Belle Mead NJ). 2014;43(3):110–3.

21.

Cha S-M, Shin H-D, Kim K-C, Lee J-K. Simple excision vs the Kidner procedure for type 2 accessory navicular associated with flatfoot in pediatric population. Foot Ankle Int. 2013;34(2):167–72. https://doi.org/10.1177/1071100712467616.
Ethics declarations
Conflict of interest
William Morrison: Patent owner, Apriomed. Founder and Medical Director, Trace Orthopedics.
The remaining authors have no disclosures.
Ethical approval
This retrospective study was carried out in compliance with Health Insurance Portability and Accountability Act (HIPAA) regulations and with approval by our Institutional Review Board (IRB).
Informed consent
A waiver of informed consent was granted by our IRB.
Additional information
Publisher's note
Springer Nature remains neutral with regard to jurisdictional claims in published maps and institutional affiliations.
About this article
Cite this article
Kamel, S.I., Belair, J.A., Hegazi, T.M. et al. Painful type II os naviculare: introduction of a standardized, reproducible classification system. Skeletal Radiol (2020). https://doi.org/10.1007/s00256-020-03503-y
Received:

Revised:

Accepted:

Published:
Keywords
Painful type II os naviculare

Accessory navicular syndrome

Medial foot pain

Synchondrosis

Bone marrow edema

Posterior tibial tendinosis