Abstract
Object
The purpose of this study was to assess whether fluoroscopically guided corticosteroid injections into the extrabursal tissues, trochanteric (subgluteus maximus) bursa, or subgluteus medius bursa provide better immediate and short-term pain relief.
Materials and methods
All fluoroscopically guided corticosteroid injections performed over a 67-month period for greater trochanteric pain syndrome were retrospectively reviewed. Procedural images were reviewed by two musculoskeletal radiologists to determine the dominant injection site based on final needle positioning and contrast spread pattern, with discrepancies resolved by consensus. Statistical analysis of the association between pain score reduction and dominant injection site was performed.
Results
One hundred forty injections in 121 patients met the inclusion criteria. The immediate and 1-week post-injection pain reduction was statistically significant for trochanteric bursa, subgluteus medius bursa, and non-bursal injections. However, there was no statistically significant difference in the degree of pain reduction between the groups. There was statistically significant increase in the 1-week post-injection mean pain score compared with immediate post-injection mean pain score in the subgluteus medius bursa and non-bursal injection groups (p < 0.01) but not in the trochanteric bursa group.
Conclusion
Fluoroscopy is frequently chosen over blind injection or ultrasound guidance for trochanteric steroid injections in patients with a high body mass index. Our results indicate that fluoroscopically guided steroid injections into the trochanteric bursa and subgluteus medius bursa significantly reduced immediate and 1-week post-injection pain scores, as do non-bursal injections. Steroid injection into the subgluteus medius bursa and non-bursal sites may be less effective in maintaining pain reduction at 1-week post-injection.
Access options
Buy single article
Instant access to the full article PDF.
US$ 39.95
Tax calculation will be finalised during checkout.
Subscribe to journal
Immediate online access to all issues from 2019. Subscription will auto renew annually.
US$ 119
Tax calculation will be finalised during checkout.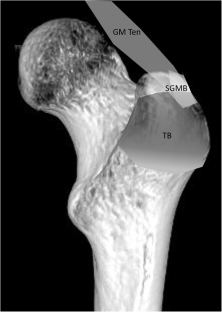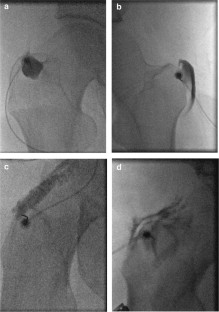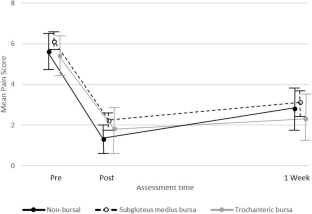 References
1.

Mallow M, Nazarian LN. Greater trochanteric pain syndrome diagnosis and treatment. Phys Med Rehabil Clin N Am. Elsevier Inc; 2014;25:279–289.

2.

Segal NA, Felson DT, Torner JC, Zhu Y, Curtis JR, Niu J, et al. Greater trochanteric pain syndrome: epidemiology and associated factors. Arch Phys Med Rehabil. 2007;88:988–92.

3.

Williams BS, Cohen SP. Greater trochanteric pain syndrome: a review of anatomy, diagnosis and treatment. Anesth Analg. 2009;108:1662–70.

4.

Tortolani PJ, Carbone JJ, Quartararo LG. Greater trochanteric pain syndrome in patients referred to orthopedic spine specialists. Spine J. 2002;2:251–4.

5.

Blankenbaker DG, Ullrick SR, Davis KW, De Smet AA, Haaland B, Fine JP. Correlation of MRI findings with clinical findings of trochanteric pain syndrome. Skelet Radiol. 2008;37:903–9.

6.

Dwek J, Pfirrmann C, Stanley A, Pathria M, Chung CB. MR imaging of the hip abductors: normal anatomy and commonly encountered pathology at the greater trochanter. Magn Reson Imaging Clin N Am. 2005;13:691–704.

7.

Silva F, Adams T, Feinstein J, Arroyo RA. Trochanteric bursitis: refuting the myth of inflammation. J Clin Rheumatol. 2008;14:82–6.

8.

Long SS, Surrey DE, Nazarian LN. Sonography of greater trochanteric pain syndrome and the rarity of primary bursitis. Am J Roentgenol. 2013;201:1083–6.

9.

Brinks A, van Rijn RM, Willemsen SP, Bohnen AM, Verhaar JAN, Koes BW, et al. Corticosteroid injections for greater trochanteric pain syndrome: a randomized controlled trial in primary care. Ann Fam Med. 2011;9:226–34.

10.

Bianchi S, Martinoli C. Ultrasound of the musculoskeletal system. Baert A, Knauth M, Sartor K, editor. Berlin: Springer; 2007.

11.

Cohen SP, Narvaez JC, Lebovits AH, Stojanovic MP. Corticosteroid injections for trochanteric bursitis: is fluoroscopy necessary? A pilot study. Br J Anaesth British Journal of Anaesthesia. 2005;94:100–6.

12.

Mu A, Peng P, Agur A. Landmark-guided and ultrasound-guided approaches for trochanteric bursa injection: a cadaveric study. Anesth Analg. 2017;124:966–71.

13.

Cohen SP, Strassels SA, Foster L, Marvel J, Williams K, Crooks M, et al. Comparison of fluoroscopically guided and blind corticosteroid injections for greater trochanteric pain syndrome: multicentre randomised controlled trial. BMJ. 2009;338:986–8.

14.

Hoffmann A, Pfirrmann CWA. The hip abductors at MR imaging. Eur J Radiol Elsevier Ireland Ltd. 2012;81:3755–62.

15.

Pfirrmann CW, Chung CB, Theumann NH, Trudell DJ, Resnick D. Greater trochanter of the hip: attachment of the abductor mechanism and a complex of three bursae--MR imaging and MR bursography in cadavers and MR imaging in asymptomatic volunteers. Radiology. 2001;221:469–77.

16.

McEvoy JR, Lee KS, Blankenbaker DG, Del Rio AM, Keene JS. Ultrasound-guided corticosteroid injections for treatment of greater trochanteric pain syndrome: greater trochanter bursa versus subgluteus medius bursa. Am J Roentgenol. 2013;201:313–7.

17.

Labrosse JM, Cardinal É, Leduc BE, Duranceau J, Rémillard J, Bureau NJ, et al. Effectiveness of ultrasound-guided corticosteroid injection for the treatment of gluteus medius tendinopathy. Am J Roentgenol. 2010;194:202–6.

18.

Mitchell WG, Kettwich SC, Sibbitt WL, Sibbitt RR, Muruganandam M, Rolle NA, et al. Outcomes and cost-effectiveness of ultrasound-guided injection of the trochanteric bursa. Rheumatol Int. Springer Berlin Heidelberg; 2018;38:393–401.

19.

McWhorter J, Francis R, Heckmann R. Influence of local steroid injections on traumatized tendon properties. A biomechanical and histological study. Am J Sport Med. 1991;19:435–9.

20.

Kennedy J, Willis R. The effects of local steroid injections on tendons: a biomechanical and microscopic correlative study. Am J Sport Med. 1976;4:11–21.

21.

Lu H, Yang H, Shen H, Ye G, Lin XJ. The clinical effect of tendon repair for tendon spontaneous rupture after corticosteroid injection in hands: a retrospective observational study. Med (United States). 2016;95.

22.

Nichols AW. Complications associated with the use of corticosteroids in the treatment of athletic injuries. Clin J Sport Med. 2005;15:370–5.

23.

Coombes BK, Bisset L, Vicenzino B. Efficacy and safety of corticosteroid injections and other injections for management of tendinopathy: a systematic review of randomised controlled trials. Lancet. 2010;376:1751–67.
Additional information
Publisher's note
Springer Nature remains neutral with regard to jurisdictional claims in published maps and institutional affiliations.
About this article
Cite this article
Mao, L.J., Crudup, J.B., Quirk, C.R. et al. Impact of fluoroscopic injection location on immediate and delayed pain relief in patients with greater trochanteric pain syndrome. Skeletal Radiol 49, 1547–1554 (2020). https://doi.org/10.1007/s00256-020-03451-7
Received:

Revised:

Accepted:

Published:

Issue Date:
Keywords
Greater trochanteric pain syndrome

Fluoroscopy-guided injections

Hip pain