Abstract
Melorheostosis, also known as Leri's disease, is a rare benign form of mesodermal mixed sclerosing bone dysplasia. We report the unusual case of a 14-year-old boy with melorheostosis in the lower extremity that went undiagnosed due to concurrent Ewing sarcoma in the opposite limb, confounding the findings for metastatic disease. The diagnosis was made on FDG PET/CT when the patient presented for post Ewing sarcoma treatment follow-up. The different types of melorheostosis as well as the challenge of diagnosing this rare entity are discussed in this report.
This is a preview of subscription content, log in to check access.
Access options
Buy single article
Instant access to the full article PDF.
US$ 39.95
Price includes VAT for USA
Subscribe to journal
Immediate online access to all issues from 2019. Subscription will auto renew annually.
US$ 199
This is the net price. Taxes to be calculated in checkout.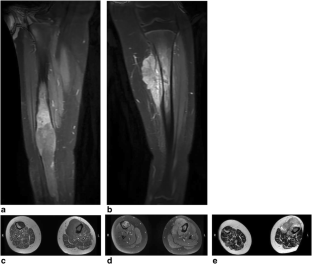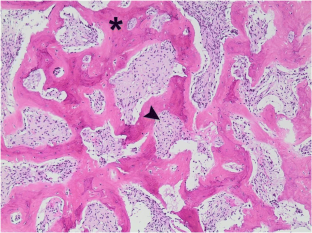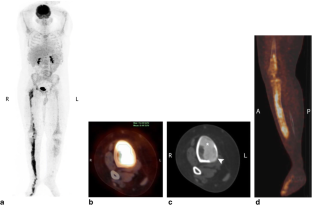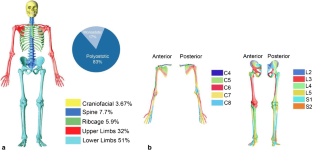 References
1.

Ashish G, Shashikant J, Ajay P, Subhash D. Melorheostosis of the foot: a case report of a rare entity with a review of multimodality imaging emphasizing the importance of conventional radiography in diagnosis. J Orthop Case Rep. 2016;6(1):79–81.

2.

Kotwal A, Clarke BL. Melorheostosis: a rare sclerosing bone dysplasia. Curr Osteoporos Rep. 2017;15(4):335–42.

3.

Campbell CJ, Papademetriou T, Bonfiglio M. Melorheostosis: a report of the clinical, roentgenographic, and pathological findings in fourteen cases. J Bone Joint Surg Am. 1968;50(7):1281–304.

4.

Younge D, Drummond D, Herring J, Cruess RL. Melorheostosis in children. Clinical features and natural history. J Bone Joint Surg Br Vol. 1979;61-b(4):415–8.

5.

Rathod T, Chandanwale A, Chavan S, Rathod S, Patil P. Melorheostosis in young adult: a diagnostic dilemma. Int J Health Allied Sci. 2012;1(3):183–5.

6.

Artner J, Cakir B, Wernerus D, Reichel H, Nelitz M. Melorheostosis: current concepts in diagnosis and treatment—a review of literature (313 cases). J Musculoskelet Res. 2012;15(02):1230002.

7.

Freyschmidt J. Melorheostosis: a review of 23 cases. Eur Radiol. 2001;11(3):474–9.

8.

Suresh S, Muthukumar T, Saifuddin A. Classical and unusual imaging appearances of melorheostosis. Clin Radiol. 2010;65(8):593–600.

9.

Fitzpatrick KA, Taljanovic MS, Speer DP, Graham AR, Jacobson JA, Barnes GR, et al. Imaging findings of fibrous dysplasia with histopathologic and intraoperative correlation. AJR Am J Roentgenol. 2004;182(6):1389–98.

10.

Hephzibah J, Theodore B, Oommen R, Cherian V, Eapen A, Deepti A. Melorheostosis - Scintigraphic and histopathological features: a case report. Internet J Orthop Surg. 2006;4(2).

11.

Anderson KM, Shintaku WH, Rosebush MS, Rawal YB, Woodard ES. Melorheostosis and central giant cell granuloma of the mandible in a 15-year-old girl. Oral Surg Oral Med Oral Pathol Oral Radiol. 2013;116(5):e399–404.

12.

Brennan D, Bruzzi J, Thakore H, O'Keane J, Eustace S. Osteosarcoma arising in a femur with melorheostosis and osteopathia striata. Skelet Radiol. 2002;31(8):471–4.

13.

Murphy M, Kearns S, Cavanagh M, O'Connell D, Hurson B. Occurrence of osteosarcoma in a melorheostotic femur. Ir Med J. 2003;96(2):55–6.

14.

Bostman OM, Holmstrom T, Riska EB. Osteosarcoma arising in a melorheostotic femur. A case report. J Bone Joint Surg Am. 1987;69(8):1232–7.

15.

Broadhead ML, Clark JCM, Myers DE, Dass CR, PFM C. The molecular pathogenesis of osteosarcoma: a review. Sarcoma. 2011;2011:12.

16.

Murray RO, McCredie J. Melorheostosis and the sclerotomes: a radiological correlation. Skelet Radiol. 1979;4(2):57–71.
Ethics declarations
Conflict of interest
The authors declare that they have no conflicts of interest.
Sources of support
None.
Additional information
Publisher's note
Springer Nature remains neutral with regard to jurisdictional claims in published maps and institutional affiliations.
About this article
Cite this article
Abi-Ghanem, A.S., Asmar, K., Boulos, F. et al. Osteoma-like melorheostosis: a rare type of skeletal dysplasia depicted on FDG PET/CT. Skeletal Radiol 48, 1299–1303 (2019). https://doi.org/10.1007/s00256-019-3149-z
Received:

Revised:

Accepted:

Published:

Issue Date:
Keywords
Melorheostosis

Bone dysplasia

FDG PET/CT

Sclerotome