Abstract
Objective
The purposes of this study was to determine the prevalence of the accessory anterolateral talar facet (AALTF); to evaluate the relationship between AALTF, focal abutting bone marrow edema (FABME), and sinus tarsi edema; and to study the prevalence of tarsal coalitions in patients with the AALTF utilizing ankle MR images.
Materials and methods
5-T ankle MR images were reviewed for the presence of AALTF, FABME, sinus tarsi edema, tarsal coalition, and location and type of coalition (cartilaginous, fibrous, and osseous). Multivariate analysis was performed to examine the correlation between AALTF and the other variables.
Results
Three hundred ninety-one consecutive patients were included (age range 5–86 years; mean age 45 years). An AALTF was present in 3.6% (14/391) of patients. The AALTF prevalence was 2% in women and 6.6% in men. There was a significantly association between AALTF and FABME (9/14, p < 0.05), sinus tarsi edema (13/14, p < 0.05), and tarsal coalition (4/14, p < 0.05).
Conclusion
AALTF is relatively often detected on MRI of the ankle and significantly associated with BME, sinus tarsi edema, and subtalar coalition. Patients with a tarsal coalition should be evaluated for the concurrent presence of an AALTF.
This is a preview of subscription content, log in to check access.
Access options
Buy single article
Instant access to the full article PDF.
US$ 39.95
Tax calculation will be finalised during checkout.
Subscribe to journal
Immediate online access to all issues from 2019. Subscription will auto renew annually.
US$ 199
Tax calculation will be finalised during checkout.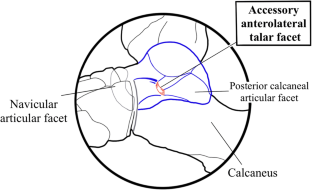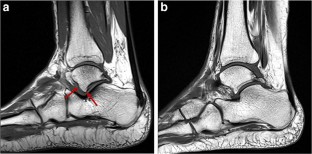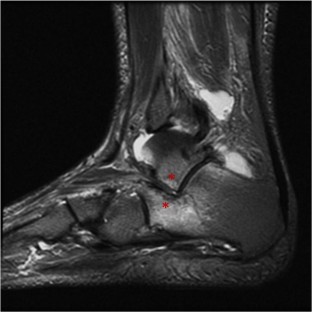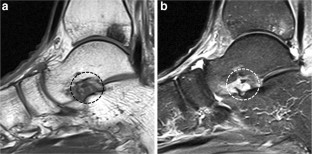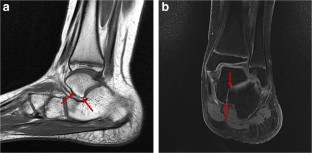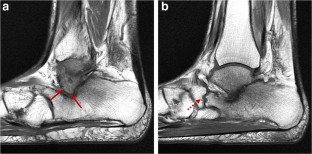 References
1.

Thomas MJ, Peat G, Rathod T, Marshall M, Moore A, Menz HB, et al. The epidemiology of symptomatic midfoot osteoarthritis in community-dwelling older adults: cross-sectional findings from the Clinical Assessment Study of the Foot. Arthritis Res Ther. 2015;17:178.

2.

Riskowski JL, Hagedorn TJ, Dufour AB, Hannan MT. Associations of region-specific foot pain and foot biomechanics: The Framingham Foot Study. J Gerontol A Biol Sci Med Sci. 2015;70(10):1281–8.

3.

Rühli FJ, Solomon LB, Henneberg M. High prevalence of tarsal coalitions and tarsal joint variants in a recent cadaver sample and its possible significance. Clin Anat N Y N. 2003;16(5):411–5.

4.

Sewell RB. A Study of the Astragalus. J Anat Physiol. 1904;38(Pt 4):423–34.

5.

Niki H, Aoki H, Hirano T, Akiyama Y, Fujiya H. Peroneal spastic flatfoot in adolescents with accessory talar facet impingement: a preliminary report. J Pediatr Orthop Part B. 2015;24(4):354–61.

6.

Aydıngöz Ü, Melih Topcuoğlu O, Görmez A, Cankurtaran T, Dilara Topcuoğlu E, Bilge EF. Accessory anterolateral talar facet in populations with and without symptoms: prevalence and relevant associated ankle MRI findings. AJR Am J Roentgenol. 2016;207(4):846–51.

7.

Cowell HR, Elener V. Rigid painful flatfoot secondary to tarsal coalition. Clin Orthop. 1983;177:54–60.

8.

Kumar SJ, Guille JT, Lee MS, Couto JC. Osseous and non-osseous coalition of the middle facet of the talocalcaneal joint. J Bone Joint Surg Am. 1992;74(4):529–35.

9.

Stormont DM, Peterson HA. The relative incidence of tarsal coalition. Clin Orthop. 1983;181:28–36.

10.

Sarrafian S. Sarrafian's anatomy of the foot and ankle: descriptive, topographic, functional. Philadelphia: Lippincott, William and Wilkins; 1993.

11.

Torres L, Dunlop DD, Peterfy C, Guermazi A, Prasad P, Hayes KW, et al. The relationship between specific tissue lesions and pain severity in persons with knee osteoarthritis. Osteoarthr Cartil. 2006;14(10):1033–40.

12.

Felson DT, Chaisson CE, Hill CL, Totterman SM, Gale ME, Skinner KM, et al. The association of bone marrow lesions with pain in knee osteoarthritis. Ann Intern Med. 2001;134(7):541–9.

13.

Malik et al. - 1999 - MR imaging of the type II lunate bone frequency, .pdf [Internet]. [cited 2019 Oct 15]. Available from: https://www.ajronline.org/doi/pdf/10.2214/ajr.173.2.10430130

14.

LiMarzi GM, Khan O, Shah Y, Yablon CM. Imaging manifestations of ankle impingement syndromes. Radiol Clin N Am. 2018;56(6):893–916.

15.

Sofka CM. Posterior ankle impingement: clarification and confirmation of the pathoanatomy. HSS J. 2010;6(1):99–101.

16.

Martus JE, Femino JE, Caird MS, Kuhns LR, Craig CL, Farley FA. Accessory anterolateral talar facet as an etiology of painful talocalcaneal impingement in the rigid flatfoot: a new diagnosis. Iowa Orthop J. 2008;28:1–8.

17.

Niki H, Hirano T, Akiyama Y, Beppu M. Accessory talar facet impingement in pathologic conditions of the peritalar region in adults. Foot Ankle Int. 2014;35(10):1006–14.

18.

Lektrakul N, Chung CB, Lai Ym null, Theodorou DJ, Yu J, Haghighi P, et al. Tarsal sinus: arthrographic, MR imaging, MR arthrographic, and pathologic findings in cadavers and retrospective study data in patients with sinus tarsi syndrome. Radiology. 2001;219(3):802–10.

19.

Klein MA, Spreitzer AM. MR imaging of the tarsal sinus and canal: normal anatomy, pathologic findings, and features of the sinus tarsi syndrome. Radiology. 1993;186(1):233–40.

20.

Anderson MW, Kaplan PA, Dussault RG, Hurwitz S. Association of posterior tibial tendon abnormalities with abnormal signal intensity in the sinus tarsi on MR imaging. Skelet Radiol. 2000;29(9):514–9.

21.

Stormont DM, Peterson HA. The relative incidence of tarsal coalition. Clin Orthop. 1983;181:28–36.

22.

Harris RI, Beath T. Etiology of peroneal spastic flat foot. J Bone Joint Surg (Br). 1948;30B(4):624–34.

23.

Lemley F, Berlet G, Hill K, Philbin T, Isaac B, Lee T. Current concepts review: tarsal coalition. Foot Ankle Int. 2006;27(12):1163–9.

24.

Nalaboff KM, Schweitzer ME. MRI of tarsal coalition: frequency, distribution, and innovative signs. Bull NYU Hosp Jt Dis. 2008;66(1):14–21.

25.

Solomon LB, Rühli FJ, Taylor J, Ferris L, Pope R, Henneberg M. A dissection and computer tomograph study of tarsal coalitions in 100 cadaver feet. J Orthop Res Off Publ Orthop Res Soc. 2003;21(2):352–8.
Acknowledgments
The authors wish to thank Scott Calcaterra for the assistance with the medical illustration.
Ethics declarations
Conflict of interest
The authors declare that they have conflict of interest.
IRB statement
This study received institutional review board approval and complied with HIPAA guidelines.
Additional information
Publisher's note
Springer Nature remains neutral with regard to jurisdictional claims in published maps and institutional affiliations.
About this article
Cite this article
Vossen, J.A., Abbassi, M., Qian, Y. et al. Correlation between the accessory anterolateral talar facet, bone marrow edema, and tarsal coalitions. Skeletal Radiol 49, 699–705 (2020). https://doi.org/10.1007/s00256-019-03335-5
Received:

Revised:

Accepted:

Published:

Issue Date:
Keywords
Accessory anterolateral talar facet

Coalition

Hindfoot

Focal abutting bone marrow edema

Sinus tarsi edema