Abstract
Diphtheria and tetanus toxoids and acellular pertussis (DTaP) vaccines were widely used since 1940s. The exceptional success of childhood vaccination is undisputed. However, the anti-diphtheria and tetanus antibody will decrease with the increase of age in human body. A boosting vaccine for tetanus and diphtheria in adult is recommended by WHO. Recombinant protein vaccine has the advantages of single component and high safety, which is one of the directions to develop boosting vaccines. Therefore, in this study, we evaluated a recombinant TTc and CRM197 combination vaccine (RTCV) that uses the fragment C (TTc) of tetanus toxin and the cross-reacting material 197 (CRM197) of the diphtheria toxin mutant. Our results displayed that RTCV (composed of 10 μg/mL TTc, 20 μg/mL CRM197 antigens, and 500 μg/mL aluminum adjuvants) could induce high levels of IgG and IgG1 antibody in mice, which were similar as those induced by DTaP. These results will provide technical support for a novel boosting vaccine against diphtheria and tetanus.
Key points
• We successfully expressed CRM197 protein in E. coli BL21 (DE3) using pET26b (+) vector.
• The anti-TTc and anti-CRM197 antibody titer (IgG) of RTCV was similar with DTaP.
Access options
Buy single article
Instant access to the full article PDF.
US$ 39.95
Tax calculation will be finalised during checkout.
Subscribe to journal
Immediate online access to all issues from 2019. Subscription will auto renew annually.
US$ 119
Tax calculation will be finalised during checkout.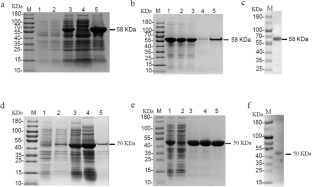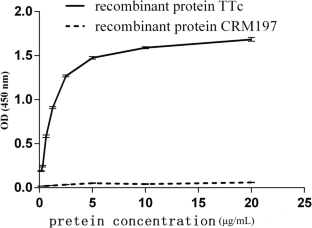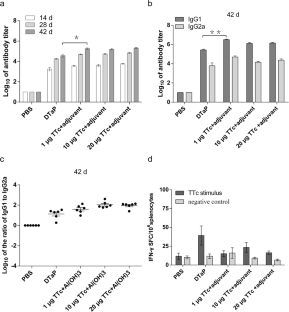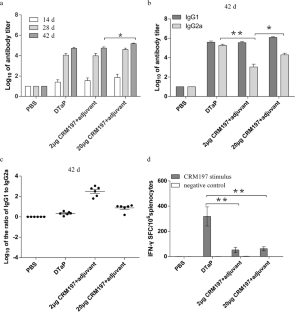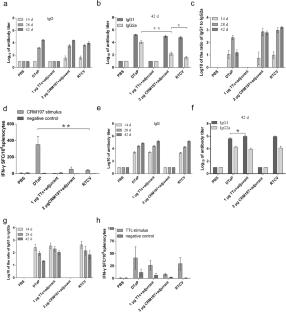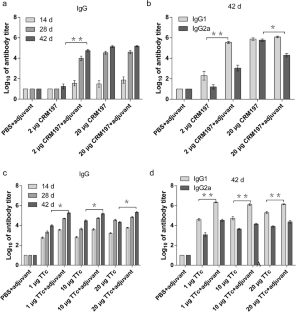 Data availability
All data generated during this study are included in this published article.
References
Amanna IJ, Carlson NE, Slifka MK (2007) Duration of humoral immunity to common viral and vaccine antigens. N Engl J Med 357:1903–1915. https://doi.org/10.1056/NEJMoa066092

Bizzini B, Stoeckel K, Schwab M (2006) An antigenic polypeptide fragment isolated from tetanus toxin: chemical characterization, binding to gangliosides and retrograde axonal transport in various neuron systems. J Neurochem 28:529–542. https://doi.org/10.1111/j.1471-4159.1977.tb10423.x

Bruce C, Baldwin RL, Lessnick SL, Wisnieski BJ (1990) Diphtheria toxin and its ADP-ribosyltransferase-defective homologue CRM197 possess deoxyribonuclease activity. Proc Natl Acad Sci U S A 87:2995–2998. https://doi.org/10.1073/pnas.87.8.2995

Buzzi S, Rubboli D, Buzzi G, Buzzi AM, Morisi C, Pironi F (2004) CRM197 (nontoxic diphtheria toxin): effects on advanced cancer patients. Cancer Immunol Immunother 53:1041–1048. https://doi.org/10.1007/s00262-004-0546-4

Calabro S, Tortoli M, Baudner BC, Pacitto A, Cortese M, O'Hagan DT, De Gregorio E, Seubert A, Wack A (2011) Vaccine adjuvants alum and MF59 induce rapid recruitment of neutrophils and monocytes that participate in antigen transport to draining lymph nodes. Vaccine 29:1812–1823. https://doi.org/10.1016/j.vaccine.2010.12.090

Chai P, Pu X, Li J, Xia X, Ge J, Luo A, Su H, Zhang W, Ma J (2020) Expression and purification of tetanus toxin fragment C in Escherichia coli BL21(DE3). Protein Pept Lett 27(11):1132–1140. https://doi.org/10.2174/0929866527666200528113327

Emsley P, Fotinou C, Black I, Fairweather NF, Charles IG, Watts C, Hewitt E, Isaacs NW (2000) The structures of the HC fragment of tetanus toxin with carbohydrate subunit complexes provide insight into ganglioside binding. J Biol Chem 275:8889–8894. https://doi.org/10.1074/jbc.275.12.8889

Fotinou C, Emsley P, Black I, Ando H, Ishida H, Kiso M, Sinha KA, Fairweather NF, Isaacs NW (2001) The crystal structure of tetanus toxin Hc fragment complexed with a synthetic GT1b analogue suggests cross-linking between ganglioside receptors and the toxin. J Biol Chem 276:32274–32281. https://doi.org/10.1074/jbc.M103285200

Galazka AM, Robertson SE (1996) Immunization against diphtheria with special emphasis on immunization of adults. Vaccine 14:845–857. https://doi.org/10.1016/0264-410x(96)00021-7

Glenn GM, Keney RT, Hammond SA, Ellingsworth LR (2003) Transcutaneous immunization and immunostimulant strategies. Immunol Allergy Clin N Am 23:787–813. https://doi.org/10.1016/s0889-8561(03)00094-8

Gupta RK, Siber GR (1995) Adjuvants for human vaccines—current status, problems and future prospects. Vaccine 13:1263–1276. https://doi.org/10.1016/0264-410x(95)00011-o

Herreros J, Lalli G, Schiavo G (2000) C-terminal half of tetanus toxin fragment C is sufficient for neuronal binding and interaction with a putative protein receptor. Biochem J 347:199–204. https://doi.org/10.1042/0264-6021:3470199

Inoue M, Yonemura T, Baber J, Shoji Y, Aizawa M, Cooper D, Eiden J, Gruber WC, Jansen KU, Anderson AS, Gurtman A (2018) Safety, tolerability, and immunogenicity of a novel 4-antigen Staphylococcus aureus vaccine (SA4Ag) in healthy Japanese adults. Hum Vaccin Immunother 14(11):2682–2691. https://doi.org/10.1080/21645515.2018.1496764

Kenney RT, Yu J, Guebre-Xabier M, Frech SA, Lambert A, Heller BA, Ellingsworth LR, Eyles JE, Williamson ED, Glenn GM (2004) Induction of protective immunity against lethal anthrax challenge with a patch. J Infect Dis 190:774–782. https://doi.org/10.1086/422694

Lacy DB, Tepp W, Cohen AC, Dasgupta BR, Stevens RC (1998) Crystal structure of botulinum neurotoxin type A and implications for toxicity. Nat Struct Biol 5:898–902. https://doi.org/10.1038/2338

Li J, Chen S, Ge J, Lu F, Ren S, Zhao Z, Pu X, Chen X, Sun J, Gu Y (2017a) A novel therapeutic vaccine composed of a rearranged human papillomavirus type 16 E6/E7 fusion protein and Fms-like tyrosine kinase-3 ligand induces CD8(+) T cell responses and antitumor effect. Vaccine 35:6459–6467. https://doi.org/10.1016/j.vaccine.2017.09.003

Li J, Ge J, Ren S, Zhou T, Sun Y, Sun H, Gu Y, Huang H, Xu Z, Chen X, Xu X, Zhuang X, Song C, Jia F, Xu A, Yin X, Du SX (2017b) Hepatitis B surface antigen (HBsAg) and core antigen (HBcAg) combine CpG oligodeoxynucletides as a novel therapeutic vaccine for chronic hepatitis B infection. Vaccine 33:4247–4254. https://doi.org/10.1016/j.vaccine.2015.03.079

Lu F, Hogenesch H (2013) Kinetics of the inflammatory response following intramuscular injection of aluminum adjuvant. Vaccine. 31(37):3979–3986. https://doi.org/10.1016/j.vaccine.2013.05.107

Mahamad P, Boonchird C, Panbangred W (2016) High level accumulation of soluble diphtheria toxin mutant (CRM197) with co-expression of chaperones in recombinant Escherichia coli. Appl Microbiol Biotechnol 100:6319–6330. https://doi.org/10.1007/s00253-016-7453-4

Mawas F, Peyre M, Beignon AS, Frost L, Giudice GD, Rappuoli R, Muller S, Sesardic D, Partidos CD (2004) Successful induction of protective antibody responses against Haemophilus influenzae type b and diphtheria after transcutaneous immunization with the glycoconjugate polyribosyl ribitol phosphate-cross-reacting material 197 vaccine. J Infect Dis 190:1172–1182. https://doi.org/10.1086/423327

McQuillan GM, Kruszon-Moran D, Deforest A, Chu SY, Wharton M (2002) Serologic immunity to diphtheria and tetanus in the United States. Ann Intern Med 136:660–666. https://doi.org/10.7326/0003-4819-136-9-200205070-00008

Mills KH, Cosgrove C, McNeela EA, Sexton A, Giemza R, Jabbal-Gill I, Church A, Lin W, Illum L, Podda A, Rappuoli R, Pizza M, Griffin GE, Lewis DJ (2003) Protective levels of diphtheria-neutralizing antibody induced in healthy volunteers by unilateral priming-boosting intranasal immunization associated with restricted ipsilateral mucosal secretory immunoglobulin a. Infect Immun 71:726–732. https://doi.org/10.1128/iai.71.2.726-732.2003

Moro PL, Yue X, Lewis P, Haber P, Broder K (2011) Adverse events after tetanus toxoid, reduced diphtheria toxoid and acellular pertussis (Tdap) vaccine administered to adults 65 years of age and older reported to the vaccine adverse event reporting system (VAERS), 2005–2010. Vaccine 29:9404–9408. https://doi.org/10.1016/j.vaccine.2011.05.100

Moro PL, Cragan J, Tepper N, Zheteyeva Y, Museru O, Lewis P, Broder K (2016) Enhanced surveillance of tetanus toxoid, reduced diphtheria toxoid, and acellular pertussis (Tdap) vaccines in pregnancy in the Vaccine Adverse Event Reporting System (VAERS), 2011-2015. Vaccine:2349–2353. https://doi.org/10.1016/j.vaccine.2016.03.049

Muttil P, Pulliam B, Garcia-Contreras L, Fallon JK, Wang C, Hickey AJ, Edwards DA (2010) Pulmonary immunization of guinea pigs with diphtheria CRM197 antigen as nanoparticle aggregate dry powders enhance local and systemic immune responses. AAPS J 12:699–707. https://doi.org/10.1208/s12248-010-9229-6

Ohlsson L, Exley C, Darabi A, Sandén E, Siesjö P, Eriksson H (2013) Aluminium based adjuvants and their effects on mitochondria and lysosomes of phagocytosing cells. J Inorg Biochem 128:229–236. https://doi.org/10.1016/j.jinorgbio.2013.08.003

Park AR, Jang SW, Kim JS, Park YG, Koo BS, Lee HC (2018) Efficient recovery of recombinant CRM197 expressed as inclusion bodies in E.coli. PLoS One 13:e0201060. https://doi.org/10.1371/journal.pone.0201060

Qazi O, Sesardic D, Tierney R, Söderbäck Z, Crane D, Bolgiano B, Fairweather N (2006) Reduction of the ganglioside binding activity of the tetanus toxin HC fragment destroys immunogenicity: implications for development of novel tetanus vaccines. Infect Immun 74:4884–4891. https://doi.org/10.1128/IAI.00500-06

Rummel A, Bade S, Alves J, Bigalke H, Binz T (2003) Two carbohydrate binding sites in the H (CC)-domain of tetanus neurotoxin are required for toxicity. J Mol Biol 326:835–847. https://doi.org/10.1016/s0022-2836(02)01403-1

Stefan A, Conti M, Rubboli D, Ravagli L, Presta E, Hochkoeppler A (2011) Overexpression and purification of the recombinant diphtheria toxin variant CRM197 in Escherichia coli. J Biotechnol 156:245–252. https://doi.org/10.1016/j.jbiotec.2011.08.024

Tierney R, Beignon AS, Rappuoli R, Muller S, Sesardic D, Partidos CD (2003) Transcutaneous immunization with tetanus toxoid and mutants of Escherichia coli heat-labile enterotoxin as adjuvants elicits strong protective antibody responses. J Infect Dis 188:753–758. https://doi.org/10.1086/377287

Tierney R, Nakai T, Parkins CJ, Caposio P, Fairweather NF, Sesardic D, Jarvis MA (2012) A single-dose cytomegalovirus-based vaccine encoding tetanus toxin fragment C induces sustained levels of protective tetanus toxin antibodies in mice. Vaccine 30:3047–3052. https://doi.org/10.1016/j.vaccine.2012.02.043

Uchida T, Pappenheimer AM Jr, Greany R (1973) Diphtheria toxin and related proteins. I. Isolation and properties of mutant proteins serologically related to diphtheria toxin. J Biol Chem 248:3838–3844

Völzke H, Kloker KM, Kramer A, Guertler L, Dören M, Baumeister SE, Hoffmann W, John U (2006) Susceptibility to diphtheria in adults: prevalence and relationship to gender and social variables. Clin Microbiol Infect 12:961–967. https://doi.org/10.1111/j.1469-0691.2006.01477.x

Weinberger B (2016) Adult vaccination against tetanus and diphtheria: the European perspective. Clin Exp Immunol 187:93–99. https://doi.org/10.1111/cei.12822

World Health Organization (2017) Diphtheria vaccine: WHO position paper, August 2017 - Recommendations. Vaccine 36:199–201. https://doi.org/10.1016/j.vaccine.2017.08.024

Yang Y, Yu R, Yang X, Liu S, Fang T, Song X, Hou L, Yu C, Xu J, Fu L, Yi S, Chen W (2017) Protection against Staphylococcus aureus and tetanus infections by a combined vaccine containing SasA and TeNT-Hc in mice. Mol Med Rep 15:2369–2373. https://doi.org/10.3892/mmr.2017.6227

Yotsumoto F, Fukagawa S, Miyata K, Nam SO, Katsuda T, Miyahara D, Odawara T, Manabe S, Ishikawa T, Yasunaga S, Miyamoto S (2017) HB-EGF is a promising therapeutic target for lung cancer with secondary mutation of EGFR T790M. Anticancer Res 37:3825–3831. https://doi.org/10.21873/anticanres.11761

Yu R, Hou L, Liu S, Yu C, Zhang X, Liu Y, Chen W (2011) Production and immunogenicity analysis of conformation-stable fragment-C mutant of tetanus toxin. Chin J Biotechnol 27:226–232

Yu R, Fang T, Liu S, Song X, Yu C, Li J, Fu L, Hou L, Xu J, Chen W (2016) Comparative immunogenicity of the tetanus toxoid and recombinant tetanus vaccines in mice, rats, and cynomolgus monkeys. Toxins 8:194. https://doi.org/10.3390/toxins8070194
Funding
This work was supported by the National Natural Science Foundation of China (No. 81260070) and the Fundamental Research Funds for Key Laboratory of Drug, Screening and Deep Processing for Traditional Chinese and Tibetan Medicine of Gansu Province (No.20180808).
Ethics declarations
Ethics approval
Following the guidelines of the Animal Ethics Committee at Lanzhou University of Technology. The sampling procedures complied with the "Guidelines on Ethical Treatment of Experimental Animals" set by the Ministry of Science and Technology, China. The procedures in the present study had received prior approval from the Experimental Animal Manage Committee of Lanzhou University of Technology.
Conflict of interest
The authors declare no competing interests.
Additional information
Publisher's note
Springer Nature remains neutral with regard to jurisdictional claims in published maps and institutional affiliations.
About this article
Cite this article
Chai, P., Pu, X., Ge, J. et al. The recombinant protein combined vaccine based on the fragment C of tetanus toxin and the cross-reacting material 197. Appl Microbiol Biotechnol 105, 1683–1692 (2021). https://doi.org/10.1007/s00253-021-11139-8
Received:

Revised:

Accepted:

Published:

Issue Date:
Keywords
Tetanus

Diphtheria

The fragment C

CRM197

A booster vaccine