Abstract
The gut microbiota plays an important role in multifaceted physiological functions in the host. Previous studies have assessed the probiotic effects of Lactobacillus salivarius LI01. In this study, we aimed to investigate the potential effects and putative mechanism of L. salivarius LI01 in immune modulation and metabolic regulation through the monocolonization of germ-free (GF) Sprague-Dawley (SD) rats with L. salivarius LI01. The GF rats were separated into two groups and administered a gavage of L. salivarius LI01 or an equal amount of phosphate-buffered saline. The levels of serum biomarkers, such as interleukin (IL)-1α, IL-5, and IL-10, were restored by L. salivarius LI01, which indicated the activation of Th0 cell differentiation toward immune homeostasis. L. salivarius LI01 also stimulated the immune response and metabolic process by altering transcriptional expression in the ileum and liver. A Kyoto Encyclopedia of Genes and Genomes (KEGG) pathway analysis revealed significant enrichment of the 5′-adenosine monophosphate-activated protein kinase (AMPK) signaling pathway, which indicated that L. salivarius LI01 exerts an effect on energy accumulation. The LI01 group showed alterations in fecal carbohydrates accompanied by an increased body weight gain. In addition, L. salivarius LI01 produced indole-3-lactic acid (ILA) and enhanced arginine metabolism by rebalancing the interconversion between arginine and proline. These findings provide evidence showing that L. salivarius LI01 can directly impact the host by modulating immunity and metabolism.
Key points
• Lactobacillus salivarius LI01 conventionalizes the cytokine profile and activates the immune response.
• LI01 modulates carbohydrate metabolism and arginine transaction.
• LI01 generates tryptophan-derived indole-3-lactic acid.
• The cytochrome P450 family contributes to the response to altered metabolites.
Access options
Buy single article
Instant access to the full article PDF.
US$ 39.95
Tax calculation will be finalised during checkout.
Subscribe to journal
Immediate online access to all issues from 2019. Subscription will auto renew annually.
US$ 119
Tax calculation will be finalised during checkout.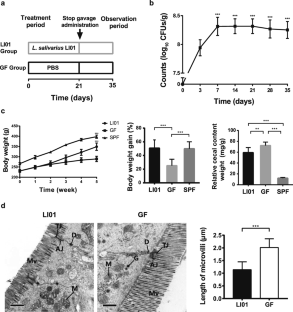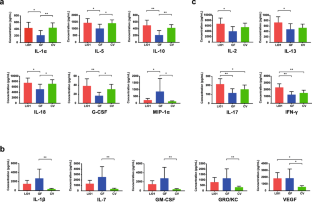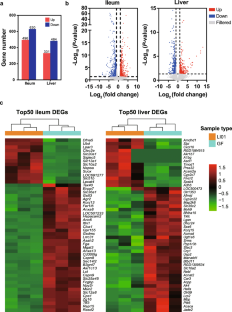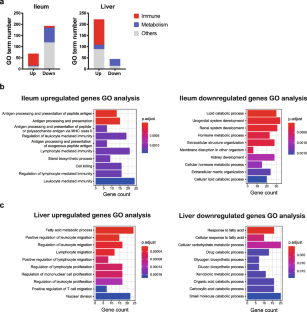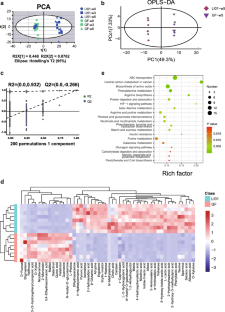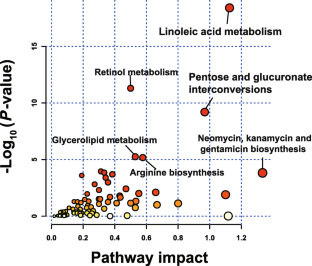 Acknowledgments
We would like to thank Yongjun Li and Yifeng Gu at the State Key Laboratory for Diagnosis, National Clinical Research Center for Infectious Diseases for their contribution to the maintenance of the germ-free rats. We would like to thank Ping Yang at the Center of Cryo-Electron Microscopy (CCEM) at Zhejiang University for the technical assistance provided with the transmission electron microscopy.
Funding
This study was funded by the National Natural Science Foundation of China (81790631, 81570512), the National Key Research and Development Program of China (2018YFC2000500) and the Natural Science Foundation of Zhejiang Province, China (LQ19H030007).
Ethics declarations
Conflicts of interest
The authors declare that they have no conflict of interest.
Ethical approval
All procedures were performed according to the 2011 National Institutes of Health Guide for the Care and Use of Laboratory Animals and were approved by the Animal Care and Use Committee of the First Affiliated Hospital, School of Medicine, Zhejiang University (permit no. 2019-1088).
Consent to participate
All the participants included in this study provided written informed consent prior to sample collection. The research is in accordance with the ethical guidelines of the 1975 Declaration of Helsinki and was approved by the Institutional Review Board of the First Affiliated Hospital of Zhejiang University.
Additional information
Publisher's note
Springer Nature remains neutral with regard to jurisdictional claims in published maps and institutional affiliations.
Supplementary Information
About this article
Cite this article
Xia, J., Jiang, S., Lv, L. et al. Modulation of the immune response and metabolism in germ-free rats colonized by the probiotic Lactobacillus salivarius LI01. Appl Microbiol Biotechnol 105, 1629–1645 (2021). https://doi.org/10.1007/s00253-021-11099-z
Received:

Revised:

Accepted:

Published:

Issue Date:
Keywords
Gut microbiota

Immune homeostasis

Metabolism

Germ-free model

Lactobacillus salivarius