Abstract
Melanin is a natural pigment present in almost all biological groups, and is composed of indolic polymers and characterized by black-brown colorization. Furthermore, it is one of the pigments produced by extremophiles including those living in the Antarctic desert, and is mainly involved in their protection from high UV radiation, desiccation, salinity and oxidation. Previous studies have shown that melanized species have an increased capability to survive high level of radiation compared with the non-melanized counterpart. Understanding the molecular composition of fungal melanin could help to understand this peculiar capability. Here, we aimed to characterize the melanin pigment extracted from the Antarctic black fungus Cryomyces antarcticus, which is a good test model for radioprotection researches, by studying its chemical properties and spectral data. Our results demonstrated that, in spite of having a specific type of melanin as the majority of fungi, the fungus possesses the ability to produce both 1,8-dihydroxynaphthalene (DHN) and l 3-4 dihydroxyphenylalanine (L-DOPA) melanins, opening interesting scenarios for the protection role against radiation. Researches on fungal melanin have a huge application in different fields, including radioprotection, bioremediation, and biomedical applications.
Key Points
• Isolation and characterization by multidisciplinary approaches of fungal melanins.
• Discovery that pathways for producing DOPA and DHN are both active even in its extreme habitat.
• Hypothesis supporting the possibility of using melanin pigment for radioprotection.
Access options
Buy single article
Instant access to the full article PDF.
US$ 39.95
Tax calculation will be finalised during checkout.
Subscribe to journal
Immediate online access to all issues from 2019. Subscription will auto renew annually.
US$ 119
Tax calculation will be finalised during checkout.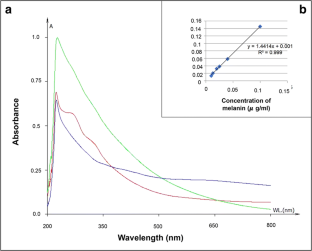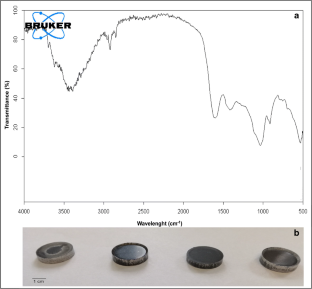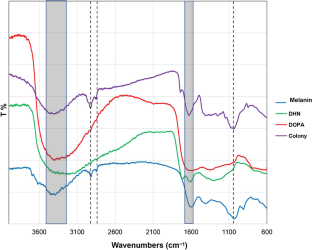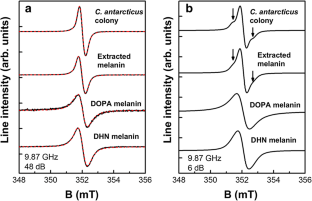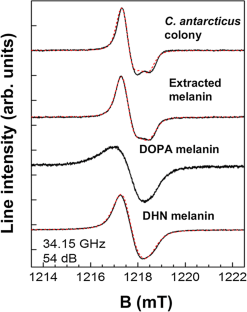 References
Almeida-Paes R, Frases S, Fialho Monteiro PC, Gutierrez-Galhardo MC, Zancope-Oliveira RM, Nosanchuk JD (2009) Growth conditions influence melanization of Brazilian clinical Sporothrix schenckii isolates. Microbes Infect 11(5):554–562. https://doi.org/10.1016/j.micinf.2009.03.002

Arun G, Eyini M, Gunasekharan P (2015) Characterization and biological activities of extracellular melanin produced by Schizophyllum commune (Fries). Indian J Exp Biol 53:380–387

Barth A (2007) Infrared spectroscopy of proteins. Biochim Biophys Acta 1767(9):1073–1101. https://doi.org/10.1016/j.bbabio.2007.06.004

Bell AA, Wheeler MH (1986) Biosynthesis and functions of fungal melanins. Annu Rev Phytopathol 24(1):411–451. https://doi.org/10.1146/annurev.py.24.090186.002211

Butler MJ, Lazarovits G, Higgins VJ, Lachance MA (1989) Identification of a black yeast isolated from oak bark as belonging to the genus Phaeococcomyces sp. Analysis of melanin produced by the yeast. Can J Microbiol 35(7):728–734. https://doi.org/10.1139/m89-118

Centeno SA, Shamir J (2008) Surface enhanced Raman scattering (SERS) and FTIR characterization of the sepia melanin pigment used in works of art. J Mol Struct 873(1–3):149–159. https://doi.org/10.1016/j.molstruc.2007.03.026

Chang PK, Cary JW, Lebar MD (2020) Biosynthesis of conidial and sclerotial pigments in Aspergillus species. Appl Microbiol Biotechnol 104(6):2277–2286. https://doi.org/10.1007/s00253-020-10347-y

Cordero RJ (2017) Melanin for space travel radioprotection. Environ Microbiol 19(7):2529–2532. https://doi.org/10.1111/1462-2920.13753

d'Ischia M, Wakamatsu K, Cicoira F, Di Mauro E, Garcia-Borron JC, Commo S, Ghaem G, Kenzo K, Meredith P, Pezzella A, Santato C, Sarna T, Simon J, Zecca L, Zucca F, Napolitano A, Ito S (2015) Melanins and melanogenesis: from pigment cells to human health and technological applications. Pigment Cell Melanoma R 28(5):520–544

Eisenman HC, Greer EM, McGrail CW (2020) The role of melanins in melanotic fungi for pathogenesis and environmental survival. Appl Microbiol Biotechnol 104:1–11. https://doi.org/10.1007/s00253-020-10532-z

Gadd GM (1982) Effects of media composition and light on colony differentiation and melanin synthesis in Microdochium bolleyi. Trans British Mycol Soc 78(1):115–122. https://doi.org/10.1016/S0007-1536(82)80083-1

Gessler NN, Egorova AS, Belozerskaya TA (2014) Melanin pigments of fungi under extreme environmental conditions. Appl Biochem Microbiol 50(2):105–113. https://doi.org/10.1134/S0003683814020094

Glass K, Ito S, Wilby PR, Sota T, Nakamura A, Bowers CR, Wakamatsu K, Simon J (2012) Direct chemical evidence for eumelanin pigment from the Jurassic period. PNAS 109(26):10218–10223. https://doi.org/10.1073/pnas

Gomoiu I, Chatzitheodoridis E, Vadrucci S, Walther I, Cojoc R (2016) Fungal spores viability on the international Space Station. Orig Life Evol Biosph 46(4):403–418. https://doi.org/10.1007/s11084-016-9502-5

Gonçalves RCR, Lisboa HCF, Pombeiro-Sponchiado SR (2012) Characterization of melanin pigment produced by Aspergillus nidulans. World J Microb Biot 28(4):1467–1474. https://doi.org/10.1007/s11274-011-0948-3

Gunde-Cimerman N, Zalar P, de Hoog S, Plemenitaš A (2000) Hypersaline waters in salterns–natural ecological niches for halophilic black yeasts. FEMS Microbiol Ecol 32(3):235–240. https://doi.org/10.1111/j.1574-6941.2000.tb00716.x

Henson JM, Butler MJ, Day AW (1999) The dark side of the mycelium: melanins of phytopathogenic fungi. Annu Rev Phytopathol 37(1):447–471. https://doi.org/10.1146/annurev.phyto.37.1.447

Horneck G, Klaus DM, Mancinelli RL (2010) Space microbiology. Microbiol Mol Biol Rev 74(1):121–156. https://doi.org/10.1128/MMBR.00016-09

Jacobson ES (2000) Pathogenic roles for fungal melanins. Clin Microbiol Rev 13(4):708–717. https://doi.org/10.1128/cmr.13.4.708-717.2000

Land EJ, Ramsden CA, Riley PA (2004) Quinone chemistry and melanogenesis. Methods Enzymol 378:88–109. https://doi.org/10.1016/S0076-6879(04)78005-2

Langfelder K, Jahn B, Gehringer H, Schmidt A, Wanner G, Brakhage AA (1998) Identification of a polyketide synthase gene (pksP) of Aspergillus fumigatus involved in conidial pigment biosynthesis and virulence. Med Microbiol Immunol 187(2):79–89. https://doi.org/10.1007/s004300050077

Langfelder K, Streibel M, Jahn B, Haase G, Brakhage AA (2003) Biosynthesis of fungal melanins and their importance for human pathogenic fungi. Fungal Genet Biol 38(2):143–158. https://doi.org/10.1016/S1087-1845(02)00526-1

Lin-Vien D, Colthup NB, Fateley WG, Grasselli JG (1991) The handbook of infrared and Raman characteristic frequencies of organic molecules. Elsevier, London

Liu D, Wei L, Guo T, Tan W (2014) Detection of DOPA-melanin in the dimorphic fungal pathogen Penicillium marneffei and its effect on macrophage phagocytosis in vitro. PLoS ONE 9:(3). https://doi.org/10.1371/journal.pone

Liu Y, Zhang Y, Yu Z, Qi C, Tang R, Zhao B, Haowei W, Han Y (2020) Microbial dyes: dyeing of poplar veneer with melanin secreted by Lasiodiplodia theobromae isolated from wood. Appl Microbiol Biotechnol 104:3367–3377. https://doi.org/10.1007/s00253-020-10478-2

Magarelli M, Passamonti P, Renieri C (2010) Purification, characterization and analysis of sepia melanin from commercial sepia ink (Sepia officinalis). Rev CES Med Vet Zootec 5(2):18–29. https://doi.org/10.1007/s13197-013-0937-7

Mbonyiryivuze A, Mwakikunga B, Dhlamini S M, Maaza M (2015) Fourier transform infrared spectroscopy for sepia melanin. Mat Chem Phys 3(2):25–29. https://doi.org/10.12691/pmc-3-2-2

Meßen J, Sánchez FJ, Sadowsky A, de la Torre R, Ott S, de Vera JP (2013) Extremotolerance and resistance of lichens: comparative studies on five species used in astrobiological research II. Secondary lichen compounds. Origins Life Evol B 43(6):501–526. https://doi.org/10.1007/s11084-013-9348-z

Mostert AB, Hanson GR, Sarna T, Gentle IR, Powell BJ, Meredith P (2013) Hydration-controlled X-band EPR spectroscopy: a tool for unravelling the complexities of the solid-state free radical in eumelanin. J Phys Chem B 117(17):4965–4972. https://doi.org/10.1021/jp401615e

Nguyen KH, Chollet-Krugler M, Gouault N, Tomasi S (2013) UV-protectant metabolites from lichens and their symbiotic partners. Nat Prod Rep 30(12):1490–1508. https://doi.org/10.1039/C3NP70064J

Nosanchuk JD, Valadon P, Feldmesser M, Casadevall A (1999) Melanization of Cryptococcus neoformans in murine infection. Mol Cell Biol 19(1):745–750. https://doi.org/10.1128/MCB.19.1.745

Onofri S, de la Torre R, de Vera JP, Ott S, Zucconi L, Selbmann L, Scalzi G, Venkateswaran KJ, Rabbow E, Sánchez Iñigo FJ, Horneck G (2012) Survival of rock-colonizing organisms after 1.5 years in outer space. Astrobiology 12(5):508–516

Onofri S, de Vera JP, Zucconi L, Selbmann L, Scalzi G, Venkateswaran KJ, Rabbow E, de la Torre R, Horneck G (2015) Survival of Antarctic cryptoendolithic fungi in simulated Martian conditions on board the International Space Station. Astrobiology 15(12):1052–1059

Pacelli C, Selbmann L, Zucconi L, Raguse M, Moeller R, Shuryak I, Onofri S (2017a) Survival, DNA integrity, and ultrastructural damage in Antarctic cryptoendolithic eukaryotic microorganisms exposed to ionizing radiation. Astrobiology 17(2):126–135. https://doi.org/10.1089/ast.2015.1456

Pacelli C, Bryan RA, Onofri S, Selbmann L, Shuryak I, Dadachova E (2017b) Melanin is effective in protecting fast and slow growing fungi from various types of ionizing radiation. Environ Microbiol 19(4):1612–1624. https://doi.org/10.1111/1462-2920.13681

Pacelli C, Bryan RA, Onofri S, Selbmann L, Zucconi L, Shuryak I, Dadachova E (2018) The effect of protracted X-ray exposure on cell survival and metabolic activity of fast and slow growing fungi capable of melanogenesis. Environ Microbiol Rep 10(3):255–263. https://doi.org/10.1111/1758-2229.12632

Pal AK, Gajjar DU, Vasavada AR (2013) DOPA and DHN pathway orchestrate melanin synthesis in Aspergillus species. Med Mycol 52(1):10–18. https://doi.org/10.3109/13693786.2013.826879

Pasenkiewicz-Gierula M, Sealy RC (1986) Analysis of the ESR spectrum of synthetic dopa melanin. Biochim Biophys Acta 884(3):510–516. https://doi.org/10.1016/0304-4165(86)90202-3

Pavan ME, López NI, Pettinari MJ (2020) Melanin biosynthesis in bacteria, regulation and production perspectives. App Microbiol Biotechnol 104(4):1357–1370. https://doi.org/10.1007/s00253-019-10245-y

Perez-Cuesta U, Aparicio-Fernandez L, Guruceaga X, Martin-Souto L, Abad-Diaz-de-Cerio A, Antoran A, Rementeria A (2019) Melanin and pyomelanin in Aspergillus fumigatus: from its genetics to host interaction. Int Microbiol 23:1–9. https://doi.org/10.1007/s10123-019-00078-0

Plonka PM, Grabacka M (2006) Melanin synthesis in microorganisms – biotechnological and medical aspects. Acta Biochim Pol 53(3):429–443

Raman NM, Ramasamy S (2017) Genetic validation and spectroscopic detailing of DHN-melanin extracted from an environmental fungus. Biochem Biophis Rep 12:98–107. https://doi.org/10.1016/j.bbrep.2017.08.008

Riley PA (1997) Melanin. Int J Biochem Cell Biol 29(11):1235–1239. https://doi.org/10.1016/s1357-2725(97)00013-7

Rosas AL, Casadevall A (2001) Melanization decreases the susceptibility of Cryptococcus neoformans to enzymatic degradation. Mycopathologia 151(2):53–56. https://doi.org/10.1023/A:1010977107089

Rosas AL, Nosanchuk JD, Feldmesser M, Cox GM, McDade HC, Casadevall A (2000) Synthesis of polymerized melanin by Cryptococcus neoformans in infected rodents. Infect Immun 68(5):2845–2853. https://doi.org/10.1128/IAI.68.5.2845-2853.2000

Schmaler-Ripcke J, Sugareva V, Gebhardt P, Winkler R, Kniemeyer O, Heinekamp T, Brakhage AA (2009) Production of pyomelanin, a second type of melanin, via the tyrosine degradation pathway in Aspergillus fumigatus. Appl Environ Microbiol 75(2):493–503. https://doi.org/10.1128/AEM.02077-08

Selbmann L, De Hoog GS, Mazzaglia A, Friedmann EI, Onofri S (2005) Fungi at the edge of life: cryptoendolithic black fungi from Antarctic desert. Stud Mycol 51(1):1–32. https://doi.org/10.3114/sim.2008.61.10

Selbmann L, Zucconi L, Isola D, Onofri S (2015) Rock black fungi: excellence in the extremes, from the Antarctic to space. Curr Genet 61(3):335–345. https://doi.org/10.1007/s00294-014-0457-7

Selbmann L, Onofri S, Coleine C, Buzzini P, Canini F, Zucconi L (2017) Effect of environmental parameters on biodiversity of the fungal component in lithic Antarctic communities. Extremophiles 21(6):1069–1080. https://doi.org/10.1007/s00792-017-0967-6

Stoll S, Schweiger A (2006) EasySpin, a comprehensive software package for spectral simulation and analysis in EPR. J Magn Reson 178(1):42–55. https://doi.org/10.1016/j.jmr.2005.08.013

Wang Y, Casadevall A (1994) Decreased susceptibility of melanized Cryptococcus neoformans to UV light. Appl Environ Microbiol 60(10):3864–3866

Watanabe A, Fujii I, Tsai HF, Chang YC, Kwon-Chung KJ, Ebizuka Y (2000) Aspergillus fumigatus alb1 encodes naphthopyrone synthase when expressed in Aspergillus oryzae. FEMS Microbiol Lett 192(1):39–44. https://doi.org/10.1111/j.1574-6968.2000.tb09356.x

Wheeler MH, Bell AA (1988) Melanins and their importance in pathogenic fungi. In Current topics in medical mycology. Springer, New York, pp 338–387

Zhdanova NN, Zakharchenko VA, Vember VV, Nakonechnaya LT (2000) Fungi from Chernobyl: mycobiota of the inner regions of the containment structures of the damaged nuclear reactor. Mycol Res 104(12):1421–1426. https://doi.org/10.1017/S0953756200002756
Acknowledgments
The authors acknowledge the CERIC-ERIC Consortium for the access to experimental facilities and financial support and the Italian National Antarctic Museum (MNA), Section of Mycology, for making available the strain of C. antarcticus. MS and DG acknowledge the financial support from Romanian Ministry of Research and Innovation in the frame of the Core Program PN19-03 (contract no. 21 N/08.02.2019).
Funding
This work was funded by ASI grant (ASI N. 2019-3-U.0, Life in Space). This work was performed also in the frame of Europlanet 2020 Research Infrastructure. Europlanet 2020 RI has received funding from the European Union's Horizon 2020 research and innovation programme under grant agreement No 654208.
Ethics declarations
Conflict of interest
All authors declare that they have no conflict of interest.
Ethical issue
This article does not contain any studies with human participants or animals performed by any of the authors.
Additional information
Publisher's note
Springer Nature remains neutral with regard to jurisdictional claims in published maps and institutional affiliations.
Electronic supplementary material
About this article
Cite this article
Pacelli, C., Cassaro, A., Maturilli, A. et al. Multidisciplinary characterization of melanin pigments from the black fungus Cryomyces antarcticus. Appl Microbiol Biotechnol 104, 6385–6395 (2020). https://doi.org/10.1007/s00253-020-10666-0
Received:

Revised:

Accepted:

Published:

Issue Date:
Keywords
Extremophiles

Melanin

Antarctica

Raman

Infrared spectroscopy

Radiation

Electron paramagnetic resonance