Abstract
Endoplasmic reticulum stress (ERS) is a protective response to restore protein homeostasis by activating the unfolded protein response (UPR). However, UPR can trigger cell death under severe and/or persistently high ERS. The NLRP3 inflammasome is a complex of multiple proteins that activates the secretion of the proinflammatory cytokine IL-1β in a caspase-1-dependent manner to participate in the regulation of inflammation. The NLRP3 inflammasome involvement in ERS-induced inflammation has not been completely described. The intersection of ERS with multiple inflammatory pathways can initiate and aggravate chronic diseases. Accumulating evidence suggests that ERS-induced activation of NLRP3 inflammasome is the pathological basis of various inflammatory diseases. In this review, we have discussed the networks between ERS and NLRP3 inflammasome, with the view to identifying novel therapeutic targets in inflammatory diseases.
Key points
• Endoplasmic reticulum stress (ERS) is an important factor for the activation of the NLRP3 inflammasomes that results in pathological processes.
• ERS can activate the NLRP3 inflammasome to induce inflammatory responses via oxidative stress, calcium homeostasis, and NF-κB activation.
• The interactions between ERS and NLRP3 inflammasome are associated with inflammation, which represent a potential therapeutic opportunity of inflammatory diseases.
Access options
Buy single article
Instant access to the full article PDF.
US$ 39.95
Tax calculation will be finalised during checkout.
Subscribe to journal
Immediate online access to all issues from 2019. Subscription will auto renew annually.
US$ 119
Tax calculation will be finalised during checkout.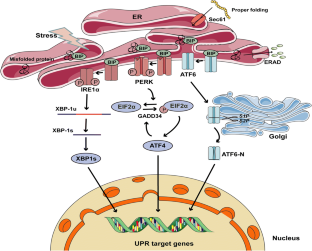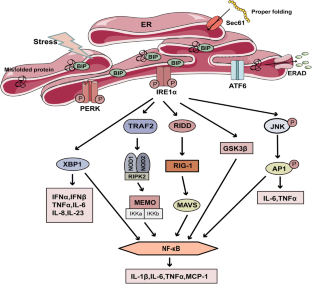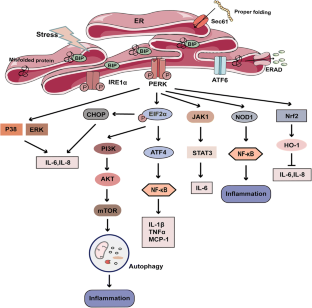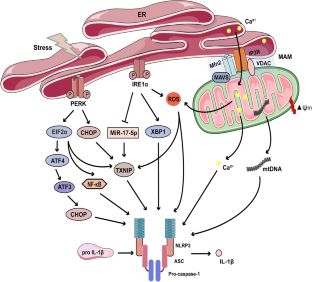 Acknowledgments
Thanks to everyone who helped me in the past three years, and thank my boyfriend to accompany me through those difficult times.
Funding
This study was supported by the National Natural Science Foundation of China (No 81201331) and Major special projects of the Hunan Provincial Health and Family Planning Commission (A2017011).
Ethics declarations
Conflict of interest
The authors declare that they have no competing interests.
Ethical approval
This article does not contain any studies with human participants or animals performed by any of the authors.
Additional information
Publisher's note
Springer Nature remains neutral with regard to jurisdictional claims in published maps and institutional affiliations.
About this article
Cite this article
Li, W., Cao, T., Luo, C. et al. Crosstalk between ER stress, NLRP3 inflammasome, and inflammation. Appl Microbiol Biotechnol 104, 6129–6140 (2020). https://doi.org/10.1007/s00253-020-10614-y
Received:

Revised:

Accepted:

Published:

Issue Date:
Keywords
Endoplasmic reticulum stress

NLRP3 inflammasome

Inflammation

Reactive oxygen species

NF-κB