Abstract
A recombinant Escherichia coli strain was developed to produce guanosine 5′-diphosphate (GDP)-l-fucose, donor of l-fucose, which is an essential substrate for the synthesis of fucosyloligosaccharides. GDP-d-mannose-4, 6-dehydratase (GMD) and GDP-4-keto-6-deoxymannose 3, 5-epimerase 4-reductase (WcaG), the two crucial enzymes for the de novo GDP-l-fucose biosynthesis, were overexpressed in recombinant E. coli by constructing inducible overexpression vectors. Optimum expression conditions for GMD and WcaG in recombinant E. coli BL21(DE3) were 25°C and 0.1 mM isopropyl-β-d-thioglucopyranoside. Maximum GDP-l-fucose concentration of 38.9 ± 0.6 mg l−1 was obtained in a glucose-limited fed-batch cultivation, and it was enhanced further by co-expression of NADPH-regenerating glucose-6-phosphate dehydrogenase encoded by the zwf gene to achieve 55.2 ± 0.5 mg l−1 GDP-l-fucose under the same cultivation condition.
Access options
Buy single article
Instant access to the full article PDF.
USD 39.95
Price includes VAT (USA)
Tax calculation will be finalised during checkout.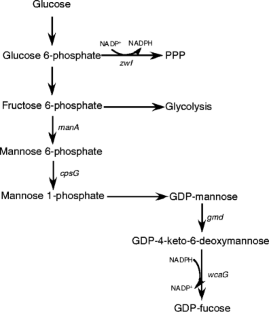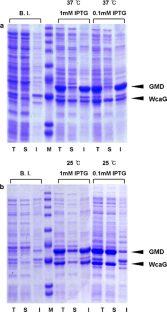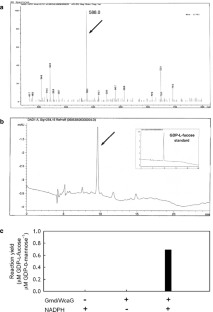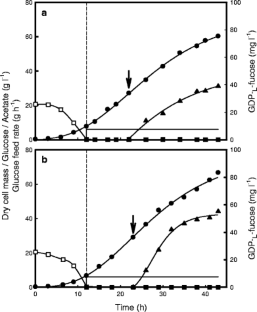 References
Albermann C, Distler J, Piepersberg W (2000) Preparative synthesis of GDP-β-l-fucose by recombinant enzymes from enterobacterial sources. Glycobiology 10:875–881

Albermann C, Piepersberg W, Wehmeier UF (2001) Synthesis of the milk oligosaccharide 2′-fucosyllactose using recombinant bacterial enzymes. Carbohydr Res 334:97–103

Becker DJ, Lowe JB (2003) Fucose: biosynthesis and biological function in mammals. Glycobiology 13:41R–53R

Berrios-Rivera SJ, Bennett GN, San KY (2002) Metabolic engineering of Escherichia coli: increase of NADH availability by overexpressing an NAD(+)-dependent formate dehydrogenase. Metab Eng 4:217–229

Boonstra B, Rathbone DA, French CE, Walker EH, Bruce NC (2000) Cofactor regeneration by a soluble pyridine nucleotide transhydrogenase for biological production of hydromorphone. Appl Environ Microbiol 66:5161–5166

Bülter T, Elling L (1999) Enzymatic synthesis of nucleotide sugars. Glycoconj J 16:147–159

Coffey JW, Miller ON, Sellinger OZ (1964) The metabolism of l-fucose in the rat. J Biol Chem 239:4011–4019

Crane JK, Azar SS, Stam A, Newburg DS (1994) Oligosaccharides from milk block binding and activity of the Escherichia coli heat-stable enterotoxin(STa) in T84 intestinal cells. J Nutr 124:2358–2364

Dube DH, Bertozzi CR (2003) Metabolic oligosaccharide engineering as a tool for glycobiology. Curr Opin Chem Biol 7:616–625

Endo T, Koizumi S (2003) Large-scale production of oligosaccharides using engineered bacteria. Curr Opin Struct Biol 10:536–541

Endo T, Koizumi S, Tabata K, Ozaki A (2000) Large-scale production of CMP-NeuAc and sialylated oligosaccharides through bacterial coupling. Appl Microbiol Biotechnol 53:257–261

Galkin A, Kulakova L, Yoshimura T, Soda K, Esaki N (1997) Synthesis of optically active amino acids from alpha-keto acids with Escherichia coli cells expressing heterologous genes. Appl Environ Microbiol 63:4651–4656

Kataoka M, Rohani LPS, Wada M, Kita K, Yanase Y, Urabe I (1998) Escherichia coli transformant expressing the glucose dehydrogenase gene from Bacillus megaterium as a cofactor regenerator in a chiral alcohol production system. Biosci Biotechnol Biochem 62:167–169

Kim JE, Kim EJ, Rhee WJ, Park TH (2005) Enhanced production of recombinant protein in Escherichia coli using silkworm hemolymph. Biotechnol Bioprocess Eng 10:353–356

Koizumi S, Endo T, Tabata K, Ozaki A (1998) Large-scale production of UDP-galactose and globotriose by coupling metabolically engineered bacteria. Nat Biotechnol 16:847–850

Koizumi S, Endo T, Tabata K, Nagano H, Ohnishi J, Ozaki A (2000) Large-scale production of GDP-fucose and Lewis X by bacterial coupling. J Ind Microbiol Biotechnol 25:213–217

Kretzschmar G, Stahl W (1998) Large-scale synthesis of linker-modified sialyl LewisX, LewisX and N-acetyllactosamine. Tetrahedron 54:6341–6358

Kunz C, Rudloff S (1993) Biological function of oligosaccharides in human milk. Acta Paediatr 82:903–912

Kunz C, Rudloff S, Baier W, Klein N, Strobel S (2000) Oligosaccharides in human milk: structural, functional, and metabolic aspects. Annu Rev Nutr 20:699–722

Lim SJ, Jung YM, Shin HD, Lee YH (2002) Amplification of the NADPH-related genes zwf and gnd for the oddball biosynthesis of PHB in an E. coli transformant harboring a cloned phbCAB operon. J Biosci Bioeng 93:543–549

Mattila P, Räbinä J, Hortling S, Helin J, Renkonen R (2000) Functional expression of Escherichia coli enzymes synthesizing GDP-l-fucose from inherent GDP-d-mannose in Saccharomyces cerevisiae. Glycobiology 10:1041–1047

Na KI, Kim MD, Min WK, Kim JA, Lee WJ, Kim DO, Park KM, Seo JH (2005) Expression and purification of ubiquitin-specific protease (UBP1) of Saccharomyces cerevisiae in recombinant Escherichia coli. Biotechnol Bioprocess Eng 10:599–602

Newburg DS (1997) Do the binding properties of oligosaccharides in milk protect human infants from gastrointestinal bacteria? J Nutr 127:980S–984S

Park YC, Kim SJ, Choi JH, Lee WH, Park KM, Kawamukai M, Ryu YW, Seo JH (2005) Batch and fed-batch production of coenzyme Q10 in recombinant Escherichia coli containing the decaprenyl diphosphate synthase gene from Gluconobacter suboxydans. Appl Microbiol Biotechnol 67:192–196

Sullivan FX, Kumar R, Kriz R, Stahl M, Xu GY, Rouse J, Chang XJ, Boodhoo A, Potvin B, Cumming DA (1998) Molecular cloning of human GDP-d-mannose 4,6-dehydratase and reconstitution of GDP-l-fucose biosynthesis in vitro. J Biol Chem 273:8193–8202

Tabata K, Koizumi S, Endo T, Ozaki A (2000) Production of UDP-N-acetylglucosamine by coupling metabolically engineered bacteria. Biotechnol Lett 22:479–483

van der Donk WA, Zhao H (2003) Recent developments in pyridine nucleotide regeneration. Curr Opin Biotechnol 14:421–426

Yamamoto K, Maruyama T, Kumagai H, Tochikura T, Seno T, Yamaguchi H (1984) Preparation of GDP-l-fucose by using microbial enzymes. Agric Biol Chem 48:823–824
Acknowledgements
This work was supported by Korea Ministry of Education through the BK21 program and by Korea Research Foundation Grant (KRF-2005-042-F00051). M.D. Kim was supported by a 2006 research grant from Kangwon National University.
About this article
Cite this article
Byun, SG., Kim, MD., Lee, WH. et al. Production of GDP-l-fucose, l-fucose donor for fucosyloligosaccharide synthesis, in recombinant Escherichia coli . Appl Microbiol Biotechnol 74, 768–775 (2007). https://doi.org/10.1007/s00253-006-0730-x
Received:

Revised:

Accepted:

Published:

Issue Date:
Keywords
Nucleotide Sugar

G6PDH Activity

IPTG Concentration

Glycosyl Donor

Human Milk Oligosaccharide