Abstract
Several genetic studies have implicated genes that encode for components of the innate immune response in tuberculosis (TB) susceptibility. The complement system is an early player in the innate immune response and provides the host with initial protection by promoting phagocytosis of apoptotic or necrotic cells. The C1q molecule is the first component of the classical pathway that leads to the activation of complement by binding to immune complexes and is encoded by the C1Q gene cluster. We investigated variants in this region to determine its association with TB susceptibility. Five single nucleotide polymorphisms (SNPs) (rs12033074, rs631090, rs172378, rs587585, and rs665691) were genotyped using TaqMan® SNP assays in 456 TB cases and 448 healthy controls and analysed by logistic regression models. The rs587585 variant showed a significant additive allelic association where the minor G allele was found more frequently in TB cases than in controls in both the discovery (p = 0.023; OR = 1.30; 95% CI, 1.04–1.64) and validation cohort (p = 0.038; OR = 1.31; 95% CI, 1.22–1.40). In addition, we detected increased C1qA expression when comparing cases and controls (p = 0.037) and linked this to a dosage effect of the G allele, which increased C1qA expression in TB cases. This is the first study to report the association of C1Q gene polymorphisms with progression to tuberculosis.
This is a preview of subscription content, log in to check access.
Access options
Buy single article
Instant access to the full article PDF.
US$ 39.95
Price includes VAT for USA
Subscribe to journal
Immediate online access to all issues from 2019. Subscription will auto renew annually.
US$ 199
This is the net price. Taxes to be calculated in checkout.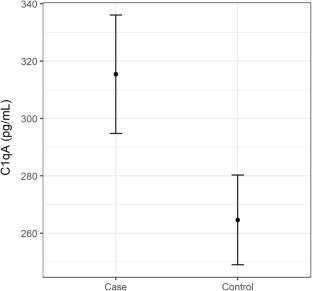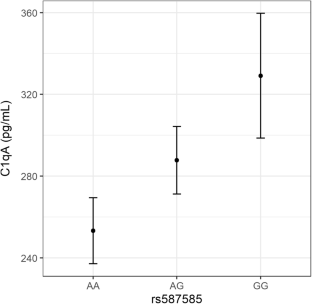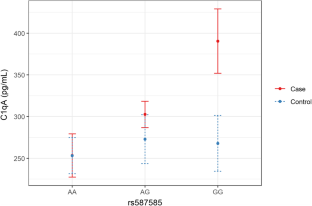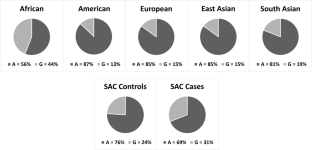 Data availability
The summary statistics from the case-control cohort will be made available to researchers on request, while access to the raw data will only be available to researchers who meet the criteria for access to confidential data after application to the Health Research Ethics Committee of Stellenbosch University. Requests can be sent to Prof. Marlo Möller, E-mail: marlom@sun.ac.za.
References
Abebe M, Kim L, Rook G, Aseffa A, Wassie L, Zewdie M, Zumla A, Engers H, Andersen P, Doherty TM (2011) Modulation of cell death by M. tuberculosis as a strategy for pathogen survival. Clinical and Developmental Immunology 2011:1–11. https://doi.org/10.1155/2011/678570

Alexander DH, Novembre J, Lange K (2009) Fast model-based estimation of ancestry in unrelated individuals. Genome Res. 19:1655–1664. https://doi.org/10.1101/gr.094052.109

Barrett JC, Fry B, Maller J, Daly MJ (2005) Haploview: analysis and visualization of LD and haplotype maps. Bioinformatics (Oxford, England) 21:263–265

Beards GM, Campbell AD, Cottrell NR, Peiris JS, Rees N, Sanders RC, Shirley JA, Wood HC, Flewett TH (1984) Enzyme-linked immunosorbent assays based on polyclonal and monoclonal antibodies for rotavirus detection. J. Clin. Microbiol. 19:248–254

Bohlson SS, O'Conner SD, Hulsebus HJ, Ho M-M, Fraser DA (2014) Complement, c1q, and c1q-related molecules regulate macrophage polarization. Front Immunol 5:402. https://doi.org/10.3389/fimmu.2014.00402

Cadena AM, Fortune SM, Flynn JL (2017) Heterogeneity in tuberculosis. Nat. Rev. Immunol. 17:691–702. https://doi.org/10.1038/nri.2017.69

Cai Y, Yang Q, Tang Y, Zhang M, Liu H, Zhang G, Deng Q, Huang J, Gao Z, Zhou B, Feng CG, Chen X (2014) Increased complement C1q level marks active disease in human tuberculosis. PLoS ONE 9:e92340. https://doi.org/10.1371/journal.pone.0092340

Chimusa ER, Zaitlen N, Daya M, Möller M, van Helden PD, Mulder NJ, Price AL, Hoal EG (2013) Genome-wide association study of ancestry-specific TB risk in the South African Coloured population. Hum. Mol. Genet. 23:796–809. https://doi.org/10.1093/hmg/ddt462

Cliff JM, Lee J-S, Constantinou N, Cho J-E, Clark TG, Ronacher K, King EC, Lukey PT, Duncan K, Helden PDV, Walzl G, Dockrell HM (2012) Distinct phases of blood gene expression pattern through tuberculosis treatment reflect modulation of the humoral immune response. J Infect Dis. 207:18–29. https://doi.org/10.1093/infdis/jis499

Cobat A, Gallant CJ, Simkin L, Black GF, Stanley K, Hughes J, Doherty TM, Hanekom WA, Eley B, Beyers N, Jas J, van Helden PD, Abel L, Hoal EG, Alcas A, Schurr E (2010) High heritability of anti-mycobacterial immunity in a hyper-endemic area for tuberculosis disease. J.Infect.Dis 201:15–19

Daya M, van der Merwe L, Galal U, Möller M, Salie M, Chimusa ER, Galanter JM, van Helden PD, Henn BM, Gignoux CR, Hoal E (2013) A panel of ancestry informative markers for the complex five-way admixed South African Coloured Population. PLoS ONE 8:e82224. https://doi.org/10.1371/journal.pone.0082224

Daya M, van der Merwe L, Gignoux CR, van Helden PD, Möller M, Hoal EG (2014a) Using multi-way admixture mapping to elucidate TB susceptibility in the South African Coloured population. BMC Genomics 15:1021. https://doi.org/10.1186/1471-2164-15-1021

Daya M, van der Merwe L, van Helden PD, Möller M, Hoal EG (2014b) Investigating the role of gene-gene interactions in TB susceptibility. PLoS ONE 10:e0123970. https://doi.org/10.1371/journal.pone.0123970

Daya M, van der Merwe L, van Helden PD, Möller M, Hoal EG (2014c) The role of ancestry in TB susceptibility of an admixed South African population. Tuberculosis (Edinb) 94:413–420. https://doi.org/10.1016/j.tube.2014.03.012

de Wit E, van der Merwe L, van Helden PD, Hoal EG (2010) Gene-gene interaction between tuberculosis candidate genes in a South African population. Mammalian Genome:1–11

den Boon S, Van Lill SW, Borgdorff MW, Enarson DA, Verver S, Bateman ED, Irusen E, Lombard CJ, White NW, de Beyers VCN (2007) High prevalence of tuberculosis in previously treated patients, Cape Town, South Africa. Emerg.Infect.Dis. 13:1189–1194

Ferguson JS, Weis JJ, Martin JL, Schlesinger LS (2004) Complement protein C3 binding to Mycobacterium tuberculosis is initiated by the classical pathway in human bronchoalveolar lavage fluid. Infect. Immun. 72:2564–2573

Gabriel SB, Schaffner SF, Nguyen H, Moore JM, Roy J, Blumenstiel B, Higgins J, DeFelice M, Lochner A, Faggart M, Liu-Cordero SN, Rotimi C, Adeyemo A, Cooper R, Ward R, Lander ES, Daly MJ, Altshuler D (2002) The structure of haplotype blocks in the human genome. Science 296:2225–2229

Gallant CJ, Cobat A, Simkin L, Black GF, Stanley K, Hughes J, Doherty TM, Hanekom WA, Eley B, Beyers N, van Helden P, Abel L, Alcas A, Hoal EG, Schurr E (2010) The impact of age and sex on anti-mycobacterial immunity of children and adolescents in an area of high tuberculosis incidence. International Journal of Tuberculosis and Lung Disease 14:952–958

Gao F, Chang D, Biddanda A, Ma L, Guo Y, Zhou Z, Keinan A (2015) XWAS: a software toolset for genetic data analysis and association studies of the X chromosome. J. Hered. 106:666–671. https://doi.org/10.1093/jhered/esv059

Genomes Project Consortium, Auton A, Brooks LD, Durbin RM, Garrison EP, Kang HM, Korbel JO, Marchini JL, McCarthy S, McVean GA, Abecasis GR (2015) A global reference for human genetic variation. Nature 526:68–74. https://doi.org/10.1038/nature15393

Jepson A, Fowler A, Banya W, Singh M, Bennett S, Whittle H, Hill AV (2001) Genetic regulation of acquired immune responses to antigens of Mycobacterium tuberculosis: a study of twins in West Africa. Infect.Immun. 69:3989–3994

Kinnear C, Hoal EG, Schurz H, van Helden PD, Möller M (2017) The role of human host genetics in tuberculosis resistance. Expert Rev Respir Med 11:721–737. https://doi.org/10.1080/17476348.2017.1354700

Kritzinger FE, Den BS, Verver S, Enarson DA, Lombard CJ, Borgdorff MW, Gie RP, Beyers N (2009) No decrease in annual risk of tuberculosis infection in endemic area in Cape Town.South Africa. Trop.Med.Int.Health 14:136–142

Lubbers R, Sutherland JS, Goletti D, de Paus RA, van Moorsel CHM, Veltkamp M, Vestjens SMT, Bos WJW, Petrone L, Del Nonno F, Bajema IM, Dijkman K, Verreck FAW, Walzl G, Gelderman KA, Groeneveld GH, Geluk A, Ottenhoff THM, Joosten SA, Trouw LA (2018) Complement component C1q as serum biomarker to detect active tuberculosis. Front Immunol 9:2427. https://doi.org/10.3389/fimmu.2018.02427

Mahasirimongkol S, Yanai H, Mushiroda T, Promphittayarat W, Wattanapokayakit S, Phromjai J, Yuliwulandari R, Wichukchinda N, Yowang A, Yamada N, Kantipong P, Takahashi A, Kubo M, Sawanpanyalert P, Kamatani N, Nakamura Y, Tokunaga K (2012) Genome-wide association studies of tuberculosis in Asians identify distinct at-risk locus for young tuberculosis. J. Hum. Genet. 57:363–367. https://doi.org/10.1038/jhg.2012.35

Martens HA, Zuurman MW, de Lange AHM, Nolte IM, van der Steege G, Navis GJ, Kallenberg CGM, Seelen MA, Bijl M (2009) Analysis of C1q polymorphisms suggests association with systemic lupus erythematosus, serum C1q and CH50 levels and disease severity. Ann. Rheum. Dis. 68:715–720. https://doi.org/10.1136/ard.2007.085688

Miura-Shimura Y, Nakamura K, Ohtsuji M, Tomita H, Jiang Y, Abe M, Zhang D, Hamano Y, Tsuda H, Hashimoto H, Nishimura H, Taki S, Shirai T, Hirose S (2002) C1q regulatory region polymorphism down-regulating murine c1q protein levels with linkage to lupus nephritis. J. Immunol. 169:1334–1339

Namjou B, Gray-McGuire C, Sestak AL, Gilkeson GS, Jacob CO, Merrill JT, James JA, Wakeland EK, Li Q-Z, Langefeld CD, Divers J, Ziegler J, Moser KL, Kelly JA, Kaufman KM, Harley JB (2009) Evaluation of C1q genomic region in minority racial groups of lupus. Genes Immun 10:517–524. https://doi.org/10.1038/gene.2009.33

Newport MJ, Goetghebuer T, Weiss HA, Whittle H, Siegrist CA, Marchant A (2004) Genetic regulation of immune responses to vaccines in early life. Genes Immun. 5:122–129

Png E, Alisjahbana B, Sahiratmadja E, Marzuki S, Nelwan R, Balabanova Y, Nikolayevskyy V, Drobniewski F, Nejentsev S, Adnan I, van de Vosse E, Hibberd ML, van Crevel R, Ottenhoff THM, Seielstad M (2012) A genome wide association study of pulmonary tuberculosis susceptibility in Indonesians. BMC Med. Genet. 13:5. https://doi.org/10.1186/1471-2350-13-5

Prabu V, Agrawal S (2010) Systemic lupus erythematosus and tuberculosis: a review of complex interactions of complicated diseases. J Postgrad Med 56:244–250. https://doi.org/10.4103/0022-3859.68653

Purcell S, Neale B, Todd-Brown K, Thomas L, Ferreira MAR, Bender D, Maller J, Sklar P, de Bakker PIW, Daly MJ, Sham PC (2007) PLINK: a tool set for whole-genome association and population-based linkage analyses. Am. J. Hum. Genet. 81:559–575. https://doi.org/10.1086/519795

R Development Core Team, 2013. R: A language and environment for statistical computing. www.r-project.org. R foundation for statistical computing, Vienna, Austria.

Radanova M, Vasilev V, Dimitrov T, Deliyska B, Ikonomov V, Ivanova D (2015) Association of rs172378 C1q gene cluster polymorphism with lupus nephritis in Bulgarian patients. Lupus 24:280–289. https://doi.org/10.1177/0961203314555173

Ramanathan VD, Curtis J, Turk JL (1980) Activation of the alternative pathway of complement by mycobacteria and cord factor. Infect. Immun. 29:30–35

Schaid DJ, Rowland CM, Tines DE, Jacobson RM, Poland GA (2002) Score tests for association between traits and haplotypes when linkage phase is ambiguous. American Journal of Human Genetics 70:425–434

Schlesinger LS (1993) Macrophage phagocytosis of virulent but not attenuated strains of Mycobacterium tuberculosis is mediated by mannose receptors in addition to complement receptors. J.Immunol. 150:2920–2930

Schlesinger LS, Bellinger-Kawahara CG, Payne NR, Horwitz MA (1990) Phagocytosis of Mycobacterium tuberculosis is mediated by human monocyte complement receptors and complement component C3. J. Immunol. 144:2771–2780

Schurz H, Kinnear CJ, Gignoux C, Wojcik G, van Helden PD, Tromp G, Henn B, Hoal EG, Möller M (2019) A sex-stratified genome-wide association study of tuberculosis using a multi-ethnic genotyping array. Front. Genet. 9. https://doi.org/10.3389/fgene.2018.00678

Simmons JD, Stein CM, Seshadri C, Campo M, Alter G, Fortune S, Schurr E, Wallis RS, Churchyard G, Mayanja-Kizza H, Boom WH, Hawn TR (2018) Immunological mechanisms of human resistance to persistent Mycobacterium tuberculosis infection. Nat. Rev. Immunol. 18:575–589. https://doi.org/10.1038/s41577-018-0025-3

Sinwell, J.P., Schaid, D.J., 2010. haplo.stats: Statistical analysis of haplotypes with traits and covariates when linkage phase is ambiguous.

Skol AD, Scott LJ, Abecasis GR, Boehnke M (2006) Joint analysis is more efficient than replication-based analysis for two-stage genome-wide association studies. Nat. Genet. 38:209–213. https://doi.org/10.1038/ng1706

Stein CM, Guwatudde D, Nakakeeto M, Peters P, Elston RC, Tiwari HK, Mugerwa R, Whalen CC (2003) Heritability analysis of cytokines as intermediate phenotypes of tuberculosis. J.Infect.Dis. 187:1679–1685

Stein CM, Nshuti L, Chiunda AB, Boom WH, Elston RC, Mugerwa RD, Iyengar SK, Whalen CC (2005) Evidence for a major gene influence on tumor necrosis factor-alpha expression in tuberculosis: path and segregation analysis. Hum.Hered. 60:109–118

The International HapMap Consortium (2007) A second generation human haplotype map of over 3.1 million SNPs. Nature 449:851–861

Thye T, Vannberg FO, Wong SH, Owusu-Dabo E, Osei I, Gyapong J, Sirugo G, Sisay-Joof F, Enimil A, Chinbuah MA, Floyd S, Warndorff DK, Sichali L, Malema S, Crampin AC, Ngwira B, Teo YY, Small K, Rockett K, Kwiatkowski D, Fine PE, Hill PC, Newport M, Lienhardt C, Adegbola RA, Corrah T, Ziegler A, Morris AP, Meyer CG, Horstmann RD, Hill AV (2010) Genome-wide association analyses identifies a susceptibility locus for tuberculosis on chromosome 18q11.2. Nat.Genet 42:739–741

Thye T, Owusu-Dabo E, Vannberg FO, van Crevel R, Curtis J, Sahiratmadja E, Balabanova Y, Ehmen C, Muntau B, Ruge G, Sievertsen J, Gyapong J, Nikolayevskyy V, Hill PC, Sirugo G, Drobniewski F, van de Vosse E, Newport M, Alisjahbana B, Nejentsev S, Ottenhoff THM, Hill AVS, Horstmann RD, Meyer CG (2012) Common variants at 11p13 are associated with susceptibility to tuberculosis. Nat. Genet. 44:257–259. https://doi.org/10.1038/ng.1080

Velez DR, Hulme WF, Myers JL, Weinberg JB, Levesque MC, Stryjewski ME, Abbate E, Estevan R, Patillo SG, Gilbert JR, Hamilton CD, Scott WK (2009) NOS2A, TLR4, and IFNGR1 interactions influence pulmonary tuberculosis susceptibility in African-Americans. Hum.Genet. 126:643–653

Verver S, Warren RM, Munch Z, Vynnycky E, van Helden PD, Richardson M, van der Spuy GD, Enarson DA, Borgdorff MW, Behr MA, Beyers N (2004) Transmission of tuberculosis in a high incidence urban community in South Africa. Int.J.Epidemiol. 33:351–357

Warnes, G., Gorman, D., Leisch, F., Man, M., 2008. genetics: Population Genetics.

Watford WT, Ghio AJ, Wright JR (2000) Complement-mediated host defense in the lung. American Journal of Physiology-Lung Cellular and Molecular Physiology 279:L790–L798. https://doi.org/10.1152/ajplung.2000.279.5.L790

WHO | Global tuberculosis report 2017 [WWW Document], WHO. URL http://www.who.int/tb/publications/global_report/en/ (accessed 11.7.17).

Xu W, Berger SP, Trouw LA, de Boer HC, Schlagwein N, Mutsaers C, Daha MR, van Kooten C (2008) Properdin binds to late apoptotic and necrotic cells independently of C3b and regulates alternative pathway complement activation. J. Immunol. 180:7613–7621
Acknowledgement
We thank the study participants.
Funding
This research was partially funded by the South African government through the South African Medical Research Council. The content is solely the responsibility of the authors and does not necessarily represent the official views of the South African Medical Research Council. This work was also supported by the National Research Foundation of South Africa.
Ethics declarations
Conflict of interest
The authors report no conflict of interest of any kind.
Ethics approval
All protocols were approved by the Health Research Ethics Committee of the Faculty of Medicine and Health Sciences, Stellenbosch University, before participant recruitment, and written informed consent was obtained from all study participants prior to blood collection (project numbers 95/072 and S17/01/013).
Additional information
Publisher's note
Springer Nature remains neutral with regard to jurisdictional claims in published maps and institutional affiliations.
Electronic supplementary material
About this article
Cite this article
Bruiners, N., Schurz, H., Daya, M. et al. A regulatory variant in the C1Q gene cluster is associated with tuberculosis susceptibility and C1qA plasma levels in a South African population. Immunogenetics 72, 305–314 (2020). https://doi.org/10.1007/s00251-020-01167-5
Received:

Accepted:

Published:

Issue Date:
Keywords
Tuberculosis

Susceptibility

C1q

Association

Dosage